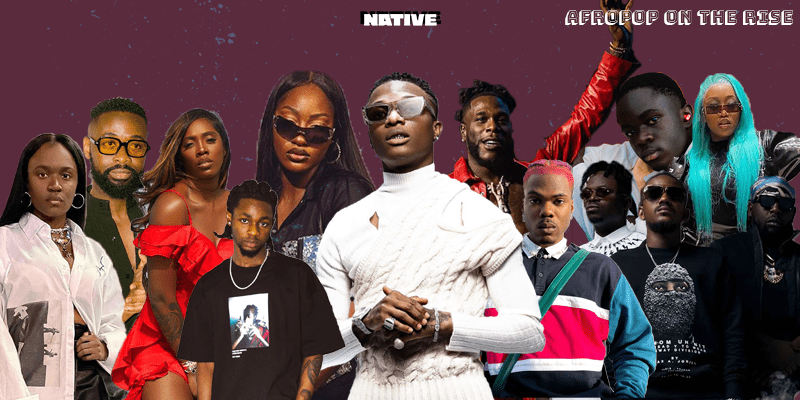 Afropop On The Rise: We're Truly Global
Grammy wins, global smash hits, and more indicators of sustained momentum
Afropop has a unique characteristic of making something where there was previously seemingly nothing. From the streets of Johannesburg to the fringe communities of Lagos and the suburbs of Kumasi, tangible gold continues to spring up from the leanest resources. Last year was no different. The most enduringly positive thing to emerge from Africa in 2020—with all its disruptions, chaos, deaths, protests, and confusion—was music. As we clung to our phones for daily updates on the rising poll of COVID-19 infections during the thick of various national lockdown, musicians across the continent, big and small, were constantly at work to ensure that the most communal aspect of our way of life was not lost to the exigencies of pandemic living. 
The entire cultural plain that stitches together to form the sonic fabric of Afropop was working overtime: from Burna Boy's emotionally-cathartic sonic tour de force, Twice As Tall, to Tiwa Savage's expertly-arranged major label debut, Celia; Stonebwoy's genre-meshing Anloga Junction; the spirit-turning, afro-futurist slant of the Nyege Nyege collective's L'Esprit de Nyege; and Kabza De Small's peerless I Am The King Of Amapiano: Sweet and Dust, Afropop powered quarantine culture in ways that will be dissected for years to come. And in our biggest moments of need, on October 20, 2020, when bullets rained down on innocent citizens in locations across Nigeria while the world watched, Afropop was a salve for the rebuilding process. Wizkid's mellow, Black diaspora crisscrossing, re-interpretation of Afropop, 10 years after his classic debut, found broader expression on Made In Lagos; Davido's A Better Time was a solid throwback to the before times when we were unscarred by the loss of the COVID era; and Amaarae's debut album, The Angel You Don't Know, was a lilting, shape-shifting boon to see out the year. 
All this amazing music and highlights have coalesced into a giant unending showreel for Afropop that has continuously been reflected in the music and culture-pushing gains of this year. Very early into 2021, many projections were already being cast around about when the world would start to get back to its pre-pandemic grind, and in many ways, Afropop—with all its border-crossing urgency—has already reflected that propulsive energy. Teni Makanaki, the most prominent connective point between Afropop's current young core and their immediate elders—Wizkid, Burna Boy, Tiwa Savage, and Davido—released her debut album, WONDALAND, a body of work coursing with the songbird's eccentricity and knack for rhythmicity. Joeboy also put out his debut, the sappy but melodious Somewhere Between Beauty and Magic that confirmed him as probably the genre's biggest enigma. In many ways, after playing a major role in the events of the #EndSARS protest, Nigeria's Afropop stars were often conscious of stirring the nest but Yaadman Kingsize, Yung L's powerfully incisive sophomore, directly confronted the ghost of the protest while delivering the most exciting music of his career. 
Just one month later, the tremendous effect of releasing three consecutive thrilling albums in three years paid dividends for Burna Boy when he became the first popstar in the contemporary Afropop wave to land a Grammy for an original body of work, winning in the Best Global Music Album category for Twice As Tall. Completing a remarkable night for Afropop, Wizkid also won his first Grammy for "Brown Skin Girl," his collaboration with Beyoncé off The Lion King: The Gift. Aspirations for a Grammy that seemed fanciful or a huge ask one decade ago now seem like the next logical destination for Afropop. 
West of Nigeria, in Kumasi, historically Ghana's second city, a social revolution driven by a distinct local interpretation of drill music had garnered international attention and was being called Asaaka, an inversion of Saka, a street vernacular spoken in Kumasi suburbs like Santasi and Bantama. The avatar of the Asakaa movement, Yaw Tog, saw his profile blow up and had his anthemic breakout single, "Sore," house an enthusiastic Stormzy verse on its remix, in tandem with a biting verse from local sing-rap hybrid, Kwesi Arthur. Since then, the movement has evolved from the gritty singles of its earliest month to fleshed-out projects that capture the irrepressible energy of Kumasi. Between Jay Bahd's self-mythologizing The Return of Okomfo Anokye, Reggie's 2 Times A Guy, Kwaku DMC's spiraling RoadToTrapHouse3, and Tog's euphonious Time, we got a perspective into the rowdy energy that is making the Kumasi scene one of the hottest drill hubs in the world right now.
In further proof of Afropop's increasing global visibility, knee-deep into the "E Choke" era, Davido linked with Drake, and the two shared a comical moment where the Canadian pop giant tried to repeat "E Choke" after Davido. In a career that is into its 11th year, Davido has shown a remarkable ability to contort slangs in his image, and getting Drake on the wave was the ultimate flex. Similarly, from the rabbit-hole of the Internet, Wizkid's "Essence," featuring a dynamic Tems showing, started to re-emerge, becoming a silent soundtrack to the renewal of bonds that had been put on hold during the pandemic and soirees that never panned out. By the end of August, "Essence" was the unofficial song of the summer, peaking at number 13 on the Billboard Hot 100 chart after a Justin Bieber-featuring remix that inspired a broader discourse about maintaining some ownership of the culture, amid claims about the gentrification of Afropop when it steps into western spaces. Focus on "Essence" also increased the spotlight on Made In Lagos, leading to a re-discovery of the album among American audiences who had slept on it in 2020.
After teasing the public with the prospect of an album for the better part of the last 12 months, Drake belatedly confirmed the release date of his sixth album in September, renting out billboards across the world to announce the name of his collaborators in their hometown. In Lagos, Tems' name flashed from billboards across town, continuing her hot streak after the success of her debut EP, For Broken Ears, and her star turn on "Essence." The Drake collab, "Fountains," is an Amapiano-influenced heat rock with co-production and writing credits from Congolese-South African artist TRESOR. Despite not quite capturing the languid exuberance of the best Amapiano tracks, Drake operating within the orbit of the Gauteng-pioneered kwaito offshoot was irrefutable proof that the sound had meandered its way out of the townships of South Africa to become an international phenom. 
All year long, South Africans have been constantly locked in their own conversations about cultural appropriation of Amapiano that reached feverish levels when Jorja Smith teamed up with Italian-Ghanaian producer, GuiltyBeatz to make her own Amapiano tribute, "All of This." The attempt was at best a cheap imitation, compounded by allegations that the beat had been unimaginatively cribbed from Heavy K's "Easy to Love," leading one-half of the Scorpion Kings, DJ Maphorisa, to make a retort about consulting local experts before such undertakings. He's not wrong: the trajectory of Amapiano continues to be shaped by inventive on-the-ground acts like Tyler ICU, Kamo Mphela, Sha Sha, Mas Musiq and Vigro Deep. Their work best captures the enduring grace that made Amapiano 2020's breakout sound. Mr. JazziQ displayed an ingenious capability for spectacular arrangement on his Party With The English project; the British-based radio station, NTS, tapped some of the hottest Amapiano talents for an expansive journey into the heart of the genre on Amapiano Now, while many South African rappers, including Focalistic, Kwesta and Cassper Nyovest, have shown a willingness to tincture their hip-hop preferences with lush keys and log drums to commercially successful ends.
In the midst of all the global recognition and festival spots for artists, producers have made some of the most forward-thinking projects of the year.  The Scorpion Kings returned with a pan-Africanist interpretation of Amapiano on their latest body of work, Rumble In Jungle, inviting TRESOR along for the full expanse of the ride while looping in sonic tidbits from Afrobeat, kwasa kwasa, and rumba. On his debut album, A True Champion, Rexxie exploded all conceptions of what street music can sound like while teasing out stellar performances from his cast of collaborators. Emerging from the cult success of I Love Girls With Trobul, his joint EP with WurlD, Sarz has taken 2021 by storm, introducing the rising artist Lojay across the slick 15-minute runtime of their joint project, LV + ATTN. Sarz's savant-like approach to music reached new levels with the crate-digging, disco-leaning infusions of Sweetness, another joint project with the genre-bending UK-based Nigerian artist, Obongjayar.
As the disillusion with governance on the continent has spiked, more people have turned their attention to the various iterations of hyperpop anthems that are springing forth across Africa, hoping to lose themselves in simple delights for a few moments. Backed by a local audience and nostalgic emigrants in the diaspora, Afropop is entering a new moment—a specifically digital one—where it is legitimately among the biggest forces in global pop. It will most likely translate to sustained success in the most profitable markets.
If you need proof, here goes: CKay's 2019 song "Love Nwantiti" is the latest global Afropop smash hit, recently joining "Essence" on the U.S Billboard Hot 100; Tems and Omah Lay are in the thick of solo American tours off the back of two individual extended plays, as is Amaarae; at the end of the year, Wizkid would have performed at a packed O2 Arena three times, Burna turned out the same venue earlier this year; led by Focalistic, whose Davido-assisted "Ke Star (Remix)" became an early year global hit, 'Piano acts—including Kamo Mphela, Mr JazziQ, and Vigro Deep—are tearing up festival stage across Europe off the back of his; and the Asakaa boys have inspired a continent-wide renaissance amongst young African rappers while going toe-to-toe with their international colleagues and making their way to stages across the Atlantic.
---
@walenchi0 Is A Lagos-based Writer Interested In The Intersection Of Popular Culture, Music, And Youth Lifestyle.
---