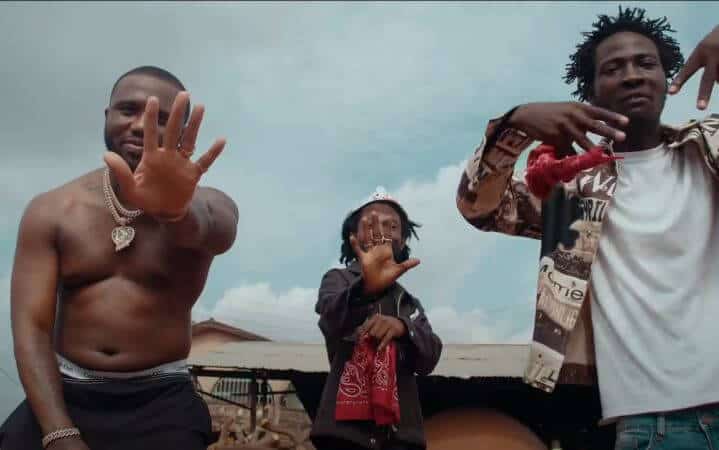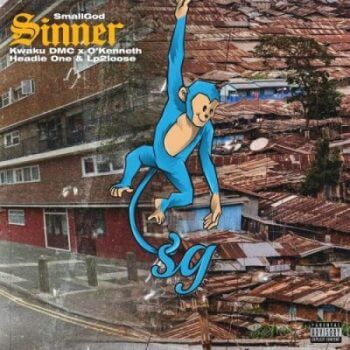 Best New Music: Smallgod unites Headie One, O'Kenneth, Kwaku DMC & LP2Loose for "Sinner"
Kumerica meets UK Drill
When pictures of Headie One visiting Ghana surfaced on the timeline a few weeks ago, it was expected that the rapper had not only linked with local Drill artists—specifically those in Kumasi—but had also collaborated with them on wax. Facilitated and headlined by Ghanaian producer Smallgod, we can now hear the result of that meeting on "Sinner", a gritty new number that finds the North London mcee join ranks with O'Kenneth and Kwaku DMC, both prominent names in Kumasi Drill, as well as fellow British Driller LP2Loose.
These four heavyweights come together for a cross-continental slapper that brings a healthy balance of potent technical proficiency with an aura of levity. Without feeling forced, "Sinner" finds the four rappers spinning quips about their rockstar lifestyle, revelling in various types of pleasures—materialistic, hedonistic, fatalistic. "Oh Lord I'm a sinner/I'm stuck in my ways, I'm a driller", O'Kenneth chants on the instant repeat-worthy hook, his confession coming across as gleeful instead of remorseful. His colleagues follow suit, all sounding thrilled to list out the vices they indulge in without seeking any absolution.
In his stunning verse, Kwaku DMC admits to kneeling and praying to the Lord for being a savage and sinner, but his unrepentance is glaring in lines where he claims to link with "5 bad bitches", and rhymes Breaking Bad with "breaking law". Much like his other excellent features, Kwaku conveys supreme confidence in his verse, rapping with slack-jawed rhythmicity that falls right into the pocket of the fast-ticking beat. On this song, he and O'Kenneth's contributions are symbolic of Kumasi Drill's continued evolution with respect to the forebears that inspired the scene.
An obvious touchstone for the Drill music coming out of Kumasi is African-American culture. Widely referred to as Kumerica—an amalgamation of Kumasi and America—the scene is packed with rappers who consistently reference the Bloods street gang sect, namedrop popular American streetwear brands, and even wear their American Drill influences on their sleeves. At the same time, there's a musical connective tissue between the increasingly distinct style of Drill being made in Kumasi and UK Drill music.
In his tragically short but hugely impact career, Pop Smoke (R.I.P) became a global source of inspiration for budding Drill artists, Kumerica rappers included. While he indented his songs with the recognisable and unflappable Brooklyn swagger, pioneering Brooklyn Drill in the process, Pop Smoke famously worked with UK Drill producers, whose fusion of oddball samples and foundation-shaking bass provided both sublime melody and grimy knock. Within this sonic framework, Drill songs could be brash, menacing, groovy, catchy, and everything in between. Kumasi Drill has adapted this musical ethos and continues to refine it to resonate even more with locals, without losing its global appeal.
"Sinner" is a blistering example of that slightly twisted bridge between UK Drill and Kumasi drill. Smallgod's beat is uncluttered but also booming, comprising an immaculate piano sample riff, greasy hi-hats, reverb echoes and stomping bass. There's enough negative space to accentuate the hassle-free flows of the Ghanaian contingent, and it has enough momentum to rival the faster-paced delivery of the UK rappers. Rapping with his trademark deadpan fervour, Headie's verse leans heavily into his star power, referencing Louis Vuitton duffle bags filled with cash, hitters for hire, a Ghanaian girl on his speed dial named Akos, and "street niggas turnt entrepreneurs".
LP2Loose closes out proceedings with a high octane verse visualising the ways he can (and will) violently see to his opps. He's also reverential of Kumerica, underlining the obvious sense of kinship that fuels this song, even though there's a clear contrast in style. "Sinner" is a blistering example of the possibilities for collaborations between Ghanaian drillers and UK drillers, and perhaps could be a blueprint because there will undoubtedly be more collabs between players from both scenes.
Watch the video for "Sinner" here.
---
@dennisadepeter is a staff writer at the NATIVE.
---