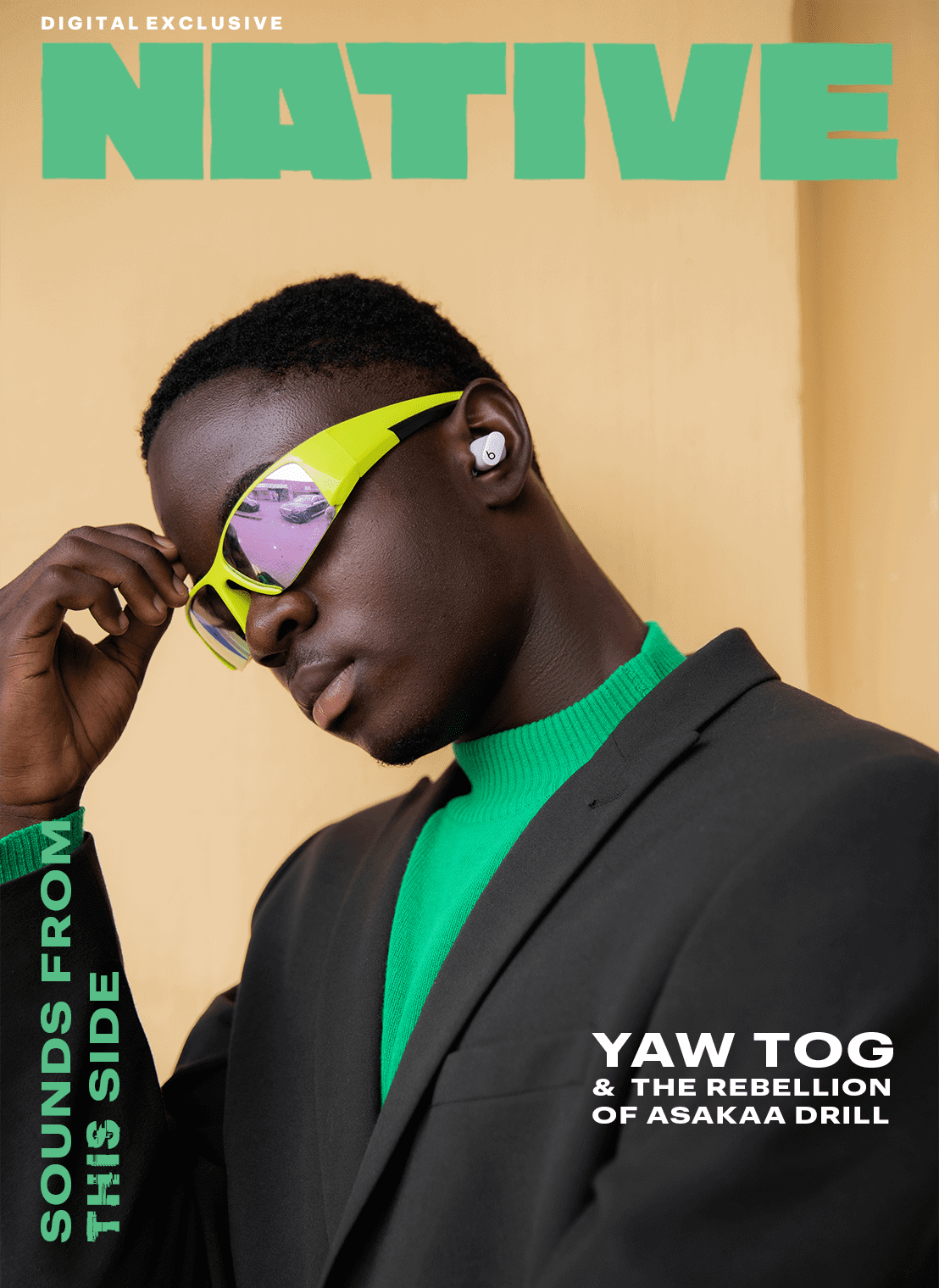 Credits:
Editor-In-Chief: Seni Saraki 
Lead Editor: Damilola Animashaun
Writer: Sarah Osei 
Creative Assistant: Ada Nwakor
Editorial Assistant: Wonu Osikoya
Editorial Interns: Mooreoluwa Wright, Nwanneamaka Igwe, Bolakale Ogboye
Creative Producer – Ekow Barnes @ekowbarnes_
Production Manager – Prince Suasie @prince_suasie
Photographer – Fiifi Abban @thefiifiabban
Stylist – Shadrach Stone  @shadraq_stone
Co- Stylist :  Emmanuel Affedzie @wizkojo
Designers : @studio.kojokusi @ghanatotheworld 
Hair/Mua –  Judah Odei @judahsmakeover 
Director-  Maxwell Adjavon @maxwelladjavon
Dop –  Kwesi Botchway @kaybotchway 
Co- Dop – Kofï Sarpong @kofi.picasso
Edit – Kwesi Botchway @kaybotchway 
Colour – Fiifi Asiamah Kusi @Tytanium
One thing's for sure when you're riding through Kumasi: you're gonna hear some drill music. It reverberates through the city's streets, audible at each corner on portable radios, roadside stands, or blares from passing trotros (minibuses that operate as shared taxis). But these menacing melodies punctuated with gunfire adlibs and brooding 808s seem odd in what's popularly known as Ghana's second city, a much more pastoral and conservative city, compared to her bustling bigger sister, Accra. In fact, the Ghanaian capital has always stolen the shine from Kumasi. With its international glitz and thriving creative industry, Accra's prosperity has led many young people of Kumasi to believe that they can only "make it" in the capital – until now. Over the past year, Kumasi's demure reputation has been gradually replaced by global acclaim, and the unlikely ambassadors to the city are a group of rappers called the Asakaa Boys, who caught the world's attention with their vibrant new drill sound.
The nine young men who make up the Asakaa Boys: O'Kenneth, Jay Bahd, Kawabanga, Cedi City Boy, Reggie, Kwaku DMC, Sean Lifer, Rabby Jones, and Braa Benk, all signed to their self-made label Living Life Records. They've been hard at work urgently hopping on Drill beats and using the music to give life to the world around them. Writing in a mixture of English, the Akan language Twi, the Asakaa boys also adopt a local slang referred to as Saka. Used by a lot of young boys in Kumasi the informal language consists of inverting syllables in a word. So kasa, which means "talk" or "language" in Twi, becomes Saka – add an "a" to each end and you've got Asakaa, slanging their signature nimble-witted rhymes. "Asakaa is a translated version of drill," explains O'Kenneth, indicating that the term now connotes more than the boys and their collective. But how did this sound rumbling in Kumasi's streets go from Ghana's youth to the world?
It's fair to say Kumasi has a chip on its shoulder. Situated at the heart of the ancient Ashanti kingdom, the city's proud cultural history is at odds with its presently waning infrastructure and rising poverty. Add to that a widespread sense of anger at the country's ruling elite and Kumasi makes the perfect location for Drill's disaffection. It's a sentiment perhaps best illustrated by the subgenre's inaugural hit, "Sore," which means "rise up" in Twi. "Sore" went viral and currently counts over 3.5 million views on YouTube alone. The anthemic single featured several imminent Asakaa rappers, O'Kenneth, City Boy, Reggie, and Jay Bahd, and launched one unassuming 18-year-old's career into the stratosphere, Thorsten Owusu Gyimah, but you might know him as Yaw Tog. 
When NATIVE speak to Tog, the highschooler is just finishing up exams – under strict orders from his momager to only do interviews and music on the weekends. In 2018, like many young boys he had turned his ambitions from wanting to be a footballer to becoming a rapper and before he ever called himself Yaw Tog or even stepped behind a mic, he was already convinced he was going to become Kumasi's most popular rapper. "I always felt like I'll be a super big star in the world after school, but it came really, really early," he confesses. "I was a very different artist when Drill wasn't popping. I was singing, I was rapping, doing different stuff. But then Drill, yeah, Drill changed everything." Thanks to the Asakaa boys, Drill was "the trend in Kumasi" in early 2020, that's when Tog and the boys connected and hopped on a track that would change everything. Somehow, with the release of his very first song, "Sore," he had already hit on the sound that would turn him into a star. It's not far-fetched to see the similarities between Yaw Tog's ascent and that of Drill's brightest stars, such as the Chief Keef-led GBE Boys in Chicago, the Harlem Spartans, and of course Pop Smoke. "Pop Smoke," Tog says unflinchingly, "Pop made me love Drill." It's a fact the Asakaa drillers are always ready to acknowledge: that the Brooklyn rapper's tragic passing in February 2020 really set this all off. 
And while Asakaa is a proud part of Pop Smoke's legacy, Kumasi Drill crucially refrains from the violence that ultimately saw him killed. With a name that comes from gang violence – "Drill" is commonly used in Chicago as slang for "kill" – the subgenre initially formed around a deadly street mentality. Hence, the genre hailing from the East coast city, and its offshoots from around the world, have been accused of encouraging violence among its youthful audience.But Asakaa is different in that regard. The boys might rock red bandanas in their videos, but their gang affiliation, unlike in the US and the UK, is supposedly non-violent, with only the family aspect being of interest to them. These references are just a natural extension of Kumasi youths' fascination with the American gang world, a cultural phenomenon that has earned the city the name "Kumerica." The parallel world of Kumerica uses the US as a creative prop, but feels rooted in their own reality of far less menacing streets. In their lyrics, there's no talk of beefs or animosity with rival crews, rather the boys document the thrills of life in Kumasi, "the good and the bad," Yaw Tog tells us. Asakaa's lyrics are designed to make fans laugh, dance, or even jerk tears, because after being ignored for so long, Kumasi's frustrations are finally being put on wax.
"When you listen to UK Drill, it's like fights and crime, you feel me? But we, the Kumasi people, we talk about our lives, how we want to win so bad, how God should help us, stuff like that," Tog explains. "We do talk about gang, but it's a peaceful gang, a friendly gang. Not a crime gang, not a fight… No. It's about love gang. That's what separates us from all of them." The young rapper also points out that Kumasi Drill sounds very different from its predecessors. "We're creating something new," he says of the Afro-Drill fusion his producer Khendi Beats has helped develop. Reggie concurs, telling The NATIVE, "Ghanaian Drill stands out due to the unique local elements in our productions." The music does carry a very distinctive American influence that is recognisable in the dark punishing beats and growling adlibs (featured heavily in the recent Brooklyn-based Drill movement). Where Kumasi differs is its mixes with local sounds and flair to create an experience that stands out against their international competition. 
This isn't just the sound of Kumerica anymore. A late-2019 Pitchfork feature anointed Drill "the Decade's Most Important Rap Subgenre." Kumasi's might be its most important frontier yet. Within this short amount of time, on a global level, Asakaa has been gathering momentum by cleverly inserting itself into the wider Drill movement. It's a tactic that piqued when Yaw Tog got a co-sign from UK Rap goliath Stormzy, who hopped on a remix of "Sore" earlier this year. The cross-cultural exchange doesn't end there. You hear it in the production tag of UK producers like Chris Rich on Asakaa songs, when Headie One was rhyming side-by-side with the Asakaa boys in Kumasi on Smallgod's "Sinner," or in the many international stages the boys have booked. Even when they're rapping in Saka, their art resonates with young, disenfranchised listeners around the world. It's clear the tide is beginning to turn: The Kumericans are quickly becoming the inspiration for the rest of the world.
In so doing, Asakaa Drill has managed a crossover that has often failed African Rap. Even at home, there have been few subgenres that have enjoyed this height of success, namely Afropop and Amapiano.  But even while Afropops' established stars have had decades to get to these numbers and infrastructures, just a year in, Asakaa's impact is startling. It's best observed when NATIVE caught up with the movement's newest star on the streets of Kumasi. Black Sherif hasn't been in the game as long as the Asakaa boys who he is largely indebted to. The 19-year-old burst onto the scene just this May with an impassioned freestyle titled "First Sermon," dropping a "Second Sermon" two months later – the sermons now boast a combined 6.5 million views on YouTube. His visceral rhymes about street life in Konongo (a mining community 30 miles east of Kumasi) and dreams of making it big, paired with catchy sing-song hooks and unmistakable Drill beats came straight out of the Asakaa playbook and the people have embraced him accordingly. 
Just three months into the music industry, Black Sherif can't walk down the street unrecognized. A crowd of young kids surround him and everyone, it seems, can rap the sermons word-for-word. "Honestly, I didn't expect people in Ghana to raise me so quickly. With the 'Second Sermon,' it cuts across all ages. Like market women are singing, kids are singing, everyone is singing. Grown ups and youths. Everyone is singing the song. It's crazy. It's so surprising." To be a driller means to be royalty here and that's because Asakaa is deeper than Rap, collaborations, and grim production. "I actually don't box Asakaa as just a mere genre," says Sherif. "I think Asakaa is a word of unity because it actually brought everyone together. From Ghanaians in the diaspora to the people in Kumasi. Everywhere, it brought everyone together."
"Everything has happened so fast," Yaw Tog says. And in all our conversations, the rappers echo much of the same sentiments. Who would have thought that a genre born from Chicago's cold streets, reborn by a rapper in Brooklyn, could invigorate a slighted city across the globe? And as Drill becomes a mainstay in Ghana's popular music, the Asakaa boys and their cohorts have found a way to channel their daily realities in Kumasi into a sound that Ghana's youth – and now the rest of the world – can put their faith in. In the immediate future, rappers like Yaw Tog, O'Kenneth, Reggie, and Black Sherif will carry the sound forward and they're ready.  "I want my music to take me world wide and be an inspiration for every black kid around the world," Sherif vows. "In Africa and outside Africa. Every kid everywhere should think that you can also make something for yourself. You shouldn't have to wait on anyone. You can do something for yourself with whatever you've got. You can start with zero and end up making it big."