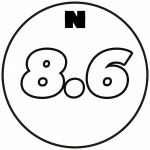 On her debut album 'The Angel You Don't Know', Amaarae reinvents her familiar pop sound, colouring outside the lines as she melds a range of genres from hip-hop, afropop, r&b, garage, punk-rock and more. This time, exhibiting more confidence and power than she's shown in her earlier work, she takes us on a journey of escapism and hedonism in 14 tracks. Often using unexpected stylistic shifts, she still manages to stay true to the person she's always been – this is as real as it gets, and she's certainly not afraid to tell it how it is.
---
Three years since her debut EP 'Passionfruit Summers', the project that put her on the map and at the centre of conversations surrounding neo-soul in Africa, Amaarae has shown great potential and talent, which has marked her throughout her career as one to watch. With the release of her debut album, The Angel You Don't Know, it's apparent that her place in the zeitgeist of the new afropop vanguard was cemented – and boy, did she deliver.
There were several indications that Amaarae was about to release one of the best projects to come out of Africa this year. Months before whispers of a new album began to fill our timelines, she conducted weekly Sunday Instagram Live sessions with her fans where she sometimes answered questions about herself, other times teased new songs – both in the effort to include her growing fanbase in her creative process. Very soon, hushed whispers turned into singles, and she brought us into her world where we joined the singer to demand for space on the self-isolation anthem "LEAVE ME ALONE". When the song was released, she explained in a tweet that the song was "for the young OGs to smoke and be happy to", serving as the perfect backdrop of a year dominated by a need for social distancing. Two months later, she followed up with another single, this time taking more risks and adopting the cadence of a rapper on "FANCY". By this point, the rumours were confirmed, there was an album incoming and it became clear that it would be dedicated to bad bitches – a relatively new phenomenon in Afropop. 
'The Angel You Don't Know (TAYDK)' at its best, is an afro-fusion affair involving a range of genres, pulling inspiration from wherever Amaarae sees fit. We find her testing out Southern rap styles on records such as "CELINE" and "FANCY", before plunging into unmistakable rhythmic afropop on numbers like "SAD, U BROKE MY HEART" and sultry r&b on "PARTY SAD FACE/CRAZY WURLD". It's a thrilling musical adventure, taking listeners on a sonic journey entirely of Amaarae's design, where nothing is off-limits and there's no boundary to which sounds can be pushed. Amaarae has been hinting towards this subtly for quite some time, now; her angelic vocals on AYLØ's "Whoa!" opened up the floodgates for her rise, wielding a once-in-a-generation voice, and shortly after, she made an indelible mark on the then-burgeoning alternative scene (dubbed the alté scene).
#thatyear, the Internet and its possibilities were teeming and a young generation of artists were discovering that they could bypass set rules and go around the gatekeepers of music entirely. They released their music on Soundcloud and tapped directly into their millennial and Gen Z audiences – young people like them, who had grown tired of the stringent codes that defined African society and aimed to bring a fresh, modern outlook to everything from fashion to entertainment and music. In Nigeria, we had DRB, Odunsi The Engine, Cruel Santino, Zamir, Lady Donli, and more who were standing at the frontlines of what would be a cultural reset, while over in Ghana, acts like La Même Gang, Joey B, Odartei and Amaarae were building their own fan base, oftentimes crossing borders to Nigeria where they found a home in the alte scene. Amaarae tried her hand at a retro maniac string of singles and features over the years– lending a major guest verse on Santi's "Rapid Fire", Odunsi's impressive sex-positive bop, "Body Count" and even Kojey Radical's "Sugar". Before her debut, she was unmissable, making the kind of music you've never heard anywhere else for sure. 
Now three years later, the scene has grown out of the estimate placed by naysayers and those whose limited view still hinders their vision of its greatness. Cruel Santino has since been signed to and created a joint venture with bigwigs, LVRN (home to other acts such as Summer Walker and 6lack); Odunsi the Engine is without a doubt at the top of his game and growing into his own with experimental music such as his debut, 'Everything You Heard Is True'. Over the years, what was labelled as 'alternative' has since become society's new normal, with the coming of age of the last generation of millennials and the first of Gen Z. The age range of those who define what culture is has now shifted, making room at the top for creatives all over African to flex their muscles without much question. 
Given this, it seems like the right time and the best climate for a new Amaarae project, and she showed the girls exactly how it's done. In her album's press release, Amaarae highlighted that her creative process was achieved through "[striving] to colour outside the afro-pop parameters and re-define for [her]self what it means to create African music". Staying true to this, on the minute and a half long album standout, "TRUST FUND BABY", she audaciously sings "Trust fund baby with this pussy, nigga you should feel privileged", brazenly straying beyond what society has made it such that we expect from women in afropop. African music, which is largely seen on a global scale as anything synonymous to "afrobeats" only tells one side of a multifaceted sonic story, and Amaarae, who has been existing outside these parameters already, portends her global success by segueing effortlessly between a myriad of genres. As a frontrunner of those who managed to make the soundscape more independent of itself than ever, she effortlessly blurs the lines between what's mainstream and what's alternative through her cadence, lyrics, and choice of sonic bedding. Since she broke out, Amaarae has been an afro-fusion dream and is in a position where she doesn't need to chip at any part of herself to endear to a global audience. Amaarae has always been ready for a moment like this, and all that was needed was the audience meeting her where she was. 
Amaarae could not have expected the 2020 we've all had. At the start of the year, a global pandemic forced life as we know it to a halt, disrupting live shows around the world, adversely affecting streaming revenue at a point before we even began to find innovative ways to drive revenue in the new normal. In the midst of this, a distinct type of music soared and there was room for slower-paced music to shine through, with the likes of Omah Lay, Oxlade, Fireboy, Tems, and more gaining massive momentum during the pandemic. Currently, Tems' single "Damages" sits at the #8 spot on the Nigerian Turntable charts and #12 on the official UK afrobeats charts, a remarkable feat for an artist who only broke out 2 years ago. Similarly Omah Lay has established himself as one of Nigeria's most promising contemporary artists all within the space of a few months. It's ostensibly been a great year for pitched-down, rhythmic music, which under normal circumstances, may have gone under the radar. Perhaps this is why Amaarae, an artist who once operated firmly within the hallways of neo-soul and bedroom pop on 'Passionfruit Summers', has emerged three years later with 'TAYDK', willing to take more sonic risks and expand her soundscape. Hearing her on a record is akin to reaching the end of a hazy dream, her voice is reminiscent of the type of music you'd hear at an inexplicably cool party. 
Immersing listeners into a world entirely of her own making, 'TAYDK' feels like an arrival of sorts. Though short, running just below the 40-minute mark, Amaarae stretches her voice without limits, creating a commingling of afropop, rap, r&b, and even rock. She starts off the album with grit and intensity, snarling the words "fuck it up sis" on the project's intro "D*A*N*G*E*R*O*U*S", a sharp contrast to 2017's 'Passionfruit Summers'. Instinctively, anyone listening will know to leave expectations at the door, and the thrilling snippets of hardcore punk rock presents a portrait of who she's growing to be on this project –an artist who is coming out of her shell, and brimming with megastar promise through the entire 14-tracker. Described as "non-stop affirmations and incantations 4 bad bitches", 'TAYDK' is punky, femme, and sonically uplifting. 
Here, nihilistic party girl anthems have a new appeal, with special meaning for African women who have never really seen representation from another woman just like them on this level. On "JUMPING SHIP", Amaarae admits being done with a relationship while she's on a night out and we see her pining for a chance to switch partners, a theme that flows into the next track, the Moliy-assisted "FEEL A WAY". Her intentions are more direct and sensual, she sings "I wanna take you to my condo, I wanna fuck you but I don't know" embracing her inner fuck boy and entertaining whoever looks good for the moment. On "HELLZ ANGEL", she's cocky as ever singing "Racks on racks I bleed/try test me, bitch please", a cocksure boast that is in sharp contradiction to the lover girl persona she wore proudly on 2017's "Fluid" and "Sunday". Here, Amaarae moves through highs that last on end, only going where the party is at as she declares on "FANTASY". The album sounds exactly like a hallucinogenic high in sound and form,  and Amaarae doesn't wish to be alone smoking marijuana on "FEEL A WAY" because she's inebriated, then swallows mind-numbing pills on "PARTY SAD FACE/CRAZY WURLD" with Odunsi The Engine before disputing the use of drugs all together on "HELLZ ANGEL".
Whether there's been any use of trippy substances is far beyond the point, the airiness of her voice is made to sound like it, blending seamlessly into the futuristic psychedelic-productions on the album courtesy of Rvdical the Kid, Kyu Steed, Yinoluu, and Kuvie among others. Constantly moving through different paces and genres, it holds your interest, never losing its excitement as it builds. The entire project has a cinematic feel as though it plays like an entire party sequence, beginning from the bellicose messages to "fuck it up sis" on the ephemeral album opener "D*A*N*G*E*R*O*U*S" to the soft-toned voice asking you to swallow a pill under the sparkly night lights on "FEEL A WAY", right to the moody number that closes the project "PARTY SAD FACE/CRAZY WURLD" where Amaarae encourages a muse to be her "little slut" for the night. Her lusty intentions are made known, without the awkward edges that once immersed 'Passionfruit Summers', here, the album's angelic production provides the perfect background for these inimitable contrasting lyrics. The singer herself has even confirmed that the intent of the sequencing and theme was to soundtrack the intoxicating feeling of euphoria at the function. The invaluable role of audio engineers isn't spoken about enough in music creation but when you consider how crucial their contributions are towards the album's overall sonic quality, it seems a bit wild that this is the case. This year alone, more and more afropop stars are tapping into the best of the crop to create cohesive bodies of work. Wizkid enlisted Leandro Hidalgo for his fourth studio album 'Made in Lagos', whose CV boasts of artists like Khalid, Skepta, Mr Eazi, and more, and judging by the incredible fanfare since its release, it's not hard to see why it's already being labelled a classic. Similarly, on 'TAYDK', Amaarae's voice is only slightly upstaged by the mixing mastery of Christian Van Rootselaar and Jaap Wiewel from Killing Skills Music, who left an indelible mark on the album by meticulously creating an unbreakable sequence during the project's lean 35-minute run-time. 
Amaarae's focus never strays beyond the world she has created, remaining within the confines of her own experiences. She contemplates buying her mama a Bentley on "HELLZ ANGEL", a telltale sign of success for any rapper, then elsewhere on "JUMPING SHIP" she toys with the idea of leaving her partner while inebriated on liquid luck at the function and later coyly asks to be held down by a love interest on "3AM". However, outside of this, she never strays too far from the pure adrenaline of getting up to no good, of longing for someone who's heart can't be trusted and fucking your worries away. As she sings, you're moved one way or the other, whether it's the beat or the lyrics builds towards a deeper narrative – albeit one that doesn't take itself too seriously. One of the markers of good pop music is the feel-good quality, which all but demands you dance to it. Listening to some of the greatest pop stars from Ariana Grande to Katy Perry is an aural experience made memorable by recognisable uptempo beats that appropriately soundtrack a night in a dimly-lit club.
The same can be said of afropop artists such as Davido or Wizkid, and now Amaarae whose albums this year have dealt with less serious subject matters but which still deserve to be enjoyed for music's sake. They operate within a genre that seeks to get the clubs or dance floors moving, and if they so choose to stray out of these confines, as artists like Burna Boy often do, then that's entirely up to them. Speaking to Pitchfork, Amaarae shared that: "I was thinking, what do I want to say to people or how do I want my message to come across. Then I got to the point where I didn't even care. I don't have to have depth, I can also just have a good time making music that people can also have a good time listening to and that was eventually what I arrived at". The result is 'TAYDK', a moody collection of avant-pop pieces where the one thing on Amaarae's mind is to enjoy life's pleasures as she boldly revels in her latitude. All this irresistible sex might be too much for many of us, especially given that we're still in a global pandemic that has put on pause many intimate casual activities. But Amaarae's duty here is to run us through what could be on offer if things were different in a drowsy, pacified tone.
She employs a variety of forms on 'TAYDK', at one moment mashing up r&b with afropop and at other moments sprinkling in bits of cloud rap, a nod to her earlier days as a rapper. 'TAYDK' in its entirety, often reads like a coalescence of all her backgrounds as she flips between tones and dialects, a nod to America and Ghana, her two homes growing up, and Nigeria where found a tribe of fans and listeners to resonate with. In that breath, there's no denying that the album shows her growing ability to integrate her multi-facets into her work. Whether that's by asking to fuck or by inviting a lover to fall into her arms, she's showing a clearer picture of the artist we see today. Amaa Serwah Gaafi clearly has many sides to her personality. Artist's personalities are an important facet of how fans relate to them, female artists especially have used personas to communicate different sides of them and different sounds that accompany these alter-egos. We've seen Beyonce and Sasha Fierce, Megan thee Stallion and Tina Snow or Suga, Nicki Minaj with Roman Zolanski and Lady Donli as both Cash Mummy and Space Whore. Though Amaarae does not outwardly purport any new alter-ego's (there's still a case for making Hellz Angel her moniker), she's more willing to share the full range of her personhood. She shared recently that "In many ways people are getting to know a really delicate, multifaceted version of me – my mission is that they meditate on it, enjoy it for what it is and allow some of these records to be the soundtrack to some beautiful memories in their lives." 
Earlier in the year, when I interviewed Odunsi the Engine, we discussed a similar conundrum with artist-fan relationships. As someone who's endlessly been scrutinised for the stylistic changes he employs, he was never too worried about alienating older fans if it meant sacrificing his sonic and personal growth. But where people were more apprehensive about The Engine's, the opposite can be said of Amaarae who has been fully embraced since 'TAYDK' was being teased and even more so now that it's in our hands. Speaking to day-one Amaarae stans from Ghana, a group popularly known as Raenbows which has been operating since mid-2018, I'm told that the change is welcome. Founder Owiredua and Helena tell me that: "it's been incredible to see Amaarae go from a new but well-loved artist from Accra become the rising international star she is today. Collaborations with other artists have definitely played a big role, especially in growing the Nigerian fanbase. We've seen a lot of love from Naija Raenbows recently, and only hope that the momentum continues and more people around Africa and the world find and love Amaarae's music". 
Production-wise, Amaarae gets comfortable with the darkness. In stark contrast to 'Passionfruit Summers', listening to 'TAYDK' can be a bit eerie especially at moments when L.A. artist Gothic Tropic punctures the air with shrill menacing screams. But right from the album's title, you're reminded that suffering and joy often exist in tandem. Amaarae juxtaposes a familiar saying replacing the devil you don't know for an angel, accepting that although there may be darkness lurking underneath in numbers like "DAZED AND ABUSED IN BEVERLY HILLS", that doesn't make her any less of an angelic being, we all have a bit of darkness in us. Instead of softening her truth, Amaarae is forthcoming about the details. She's taken the drugs or has lost herself on the dancefloor to numb the pain, it's a hedonistic cure, but a cure-all the same. Afropop –a genre typically upbeat and catchy to match the equally vibrant lyrics is stretched to include even the most distressing of topics. It's evident that there are no rules when Amaarae is in her zone and her close work with a myriad of producers from around the world brought the vision to life. Speaking to Yinka Bernie, I'm told that Amaarae knew exactly how she wanted "SAD GIRLZ LUV MONEY" to sound, giving him details of the heavy drums and chords she needed to pass across her message. "I had this in mind when I was making the beat and it just worked out together to be a distinct afropop number. I think it was a nice inclusion in the project overall, it's very bumpy and danceable and sad gurlz (and boyz) do love money so yeah," he reveals to me. 
Clearly, Amaarae's deep understanding of her own psyche results in music that's equal parts fiery and reflective. She's created her own planet and we're just visitors admiring how she bends genres to her desired outcome, a detail that seems to now dominate so many conversations surrounding her. All these years later, Amaarae has delivered a record that scratches far beneath the surface of her persona and it's a stunning debut that takes into account the multi-layered experience of being a Gen Z creative in the world today, from sexuality to shenanigans. This is what sets this project apart: a rare and rounded glimpse into her world. And as she accurately says on the album closer "PARTY SAD FACE/CRAZY WURLD": "[she's] a crazy girl, [she's] come to rock the crazy world". 
Listen to 'The Angel You Don't Know' below.