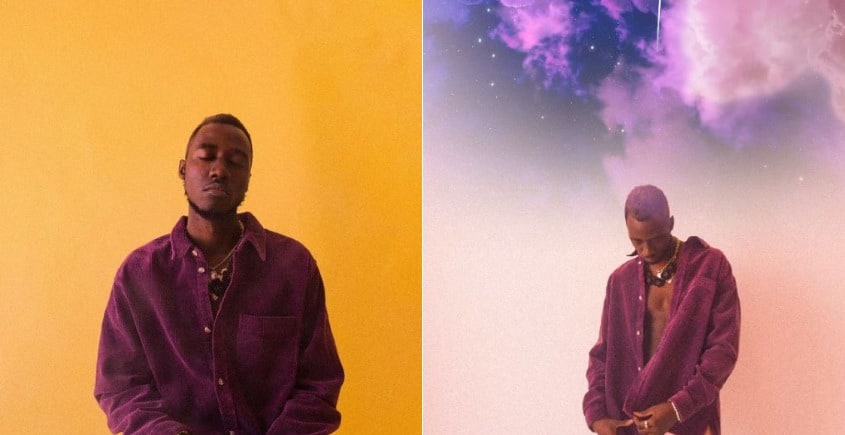 1-Listen Review: DAP the Contract's 'Powers, Vol. 2'
Personal and personable raps over eclectic beats
DAP the Contract has several positive descriptions to define his artistry, one of them is prolific. In the era of music streaming, being a high-volume artist is often an indicator of placing quantity ahead of quality, however this is far from the case with DAP. Over his creatively stellar and productive career, the independent rapper, songwriter and producer has stacked up a catalogue brimming with brilliant projects, both as a solo act and as part of groups.
Heavily steeped in lived-in experiences, with a preference for part-introspective and part-exuberant lyricism, DAP's music is always a potent snapshot of where he is as a young person, at every given time. Each project is a status update, with every new release leaving an impression and adding new details to the mosaic representation of DAP as a person and musical polymath with a clear vision.
In March, he followed up the February-released EP, I'm Glad You Made it this Far, with an accompanying live performance piece, reinforcing his engagement with every facet of his artistry. Today, he's back with the sequel to last year's Powers, Vol. 1, putting out his third project within the span of about 16 months. That's a short turnaround period between projects, however, DAP's project never lacked purpose and it's why I'm excited to hit play on Powers, Vol 2.
In usual 1-listen review fashion, all reactions are in real-time while the music plays. No pauses, rewinds, fast-forwards or skips.
"Sacrifices" (feat. Tim Lyre)
I love this cover art. These synths have a heaving groove to them, sounds something like the beginning of summer. There go the bass, a really nice knock. DAP just entered a nice falsetto and this song already has a few movements in this song, very dynamic intro. Tim Lyre has one of my favourite voices, it's deceptively rangey and it's quite spry here. This delivery has a Santi-esque bounce to it, love the feature. Not too many can really know what people sacrifice to achieve their dreams, but I guess you've to keep pushing regardless. Solid intro.
"It's Not a Gun"
This guitar has some character to it, and this boom bap drum pattern is just vibey. DAP is really good at conversational love songs from a speaking standpoint. "Good girls love bad guys" might be cliché but I'm not going to argue it. A tighter rap flow but the charm is still there, his intent is unmistakeably. This is the anthem good guys need and deserve, but then again, who's a good guy when we're all villains in at least one person's story? I really like this, keeper.
"TDK" (feat. SirBastien)
For an artist who tries out new things every time, it might seem trite to say DAP is experimenting quite well here, but it's true. This has a very summery vibe to, mellow Afropop meets Tropical House vibe, and his singing is the apt amount of playful. Hold up, is that a Zanku-type drum pattern? On a DAP song? I'm positively shocked. But the song is still mellow and his triplet flow is hitting the right pocket. SirBastien has a dreamy voice and it fits in perfectly here. A drumless transition, these keys have a cosmic warmth to them and SirBastien is pulling off a charming serenade. Nice.
"Chaos"
We're going back to the '80s, an era that will never die in music. This reminds me of something from Roisin Murphy's Roisin Machine, which I firmly believe was the best album from last year to channel and retool Disco's golden years. This is such a nice tactic, couching serious socio-political observation in a bewitching groove. Ear-grabbing lines here and there but I can't hear any quotables, which isn't really a bad thing. Beat switch. Well, that was short-lived.
"Mo Fe Jaiye [Live]" (feat. Bryan Bliska)
Immediately I saw this on the tracklist, I knew it had already been featured on the "You Made it this Far" live performance piece. The singing is so heartfelt, and it's aided by the vocoder. I just remember Usher telling T-Pain he ruined music for using auto-tune and I'm mad all over again. Technology, when used right, won't obscure emotion or replace actual singing. This is the umpteenth example. Not sure if I'll be running this back as a standalone, but I definitely won't skip when revisiting the full project.
"UFO"
This project has featured a fair bit of experimentation, proof that DAP is anything but stagnant with his approach to music. This is a dance beat but it has a chill warmth to it, and his voice is muffled. Can't make out much of what he's singing, and the melody isn't really holding me. Another mid-song switch, atmospheric piano and vocal chants. This is quite chilly but he's expressing warm, love-struck sentiments. Another short transition.
"Go Slow"
The mood is still chill. I spoke too soon, this bass has some knock to it, groovy but not disruptive. Asking a partner to part ways slowly doesn't resonate with me, just rip the thing real quick so the injury can be swift, I'll play with the scab later. Another beat switch, it's keeping things interesting. It's not rapid fire, but this is nice pacey flow. "She wanna know everywhere I've been/I've been in the friendzone." Interesting line. DAP raps about love from a realist standpoint, even though he infuses tropes from the nice guy gospel and I've already stated how I feel about that. Beat switch and breakdown to close things out.
"Open Letter III"
Horns and beautiful keys, that's always a killer opening combo for me. "I don't know where it go for me but God involved," that's a bar right there. Those drums tumbled in gracefully, so much soul on this song. DAP getting personal is my favourite DAP, every line touches the heart. The nostalgia of simpler times is a touchstone in DAP's music, but those are simply gazes at the past. Nearly every line here is laced with the heaviness of loss, but that mention of his mother has an undeniable, alleviating warmth to it. "I just want to be great, why is there something that's greater?" I'm sure a lot of creatives ruminate over this same question. Living a life with a constant purpose can be daunting when the goalpost seems to move further back as you get closer. This is immediately in my all-time favourite DAP songs. Keeper.
"Mo Fe Jaiye" (feat. wavythecreator & KALINE)
Final song. Spacey post-dub instrumentation is not really my thing, but I can understand that this is an optimistic follow-up to the previous, contemplative song. Heh, this won't be my cup of tea, I can already tell. I'm guessing this is wavy, haven't listened to her in a while, she sounds alright, I guess. This is discordant enough to keep me interested, but it's still not for me. I love these high-pitched vocals, just not enough to like this as a closer.
Final Thoughts
On last year's Powers, Vol. 1, DAP largely rapped with a tunnel vision focus on projecting security in his artistic skill-set. For its new sequel, DAP is far less unflustered but no less compelling. This time around, he varies his approach to reflect an artist capable of constantly questioning himself, his purpose, his relationship, and everything around him. On first listen, it seems like a spiritual kin to the third instalment of the Contract Thursday series, released over a couple of weeks in 2019.
Perhaps the most intriguing part of Powers, Vol. 2 is the musical selection, which pulls from multiple, disparate sources. Primarily self-produced, the project darts between soulful Hip-Hop ("Open Letter III"), Folktronica ("Mo Fe jaiye [Live]"), contemporary R&B ("Go Slow"), summery Pop ("TDK"), and more. It's a pointer to the fact that DAP isn't just prodding himself to find new ways to portray his experience, he's also on the constant hunt to make his music feel novel to familiar listeners.
As typically open as he is, DAP weaves in enough surprises to ensure it will take more than one listen to fully appreciate the project's musical scope and thematic concerns. At that, Powers, Vol. 2, in addition to being the latest status update from the polymath, is a statement that DAP will continue to give listeners access to his perspective as he continues to figure life out, for as long as he possibly can.
Listen to Powers, Vol. 2 here.
---
@dennisadepeter is a staff writer at the NATIVE.
---