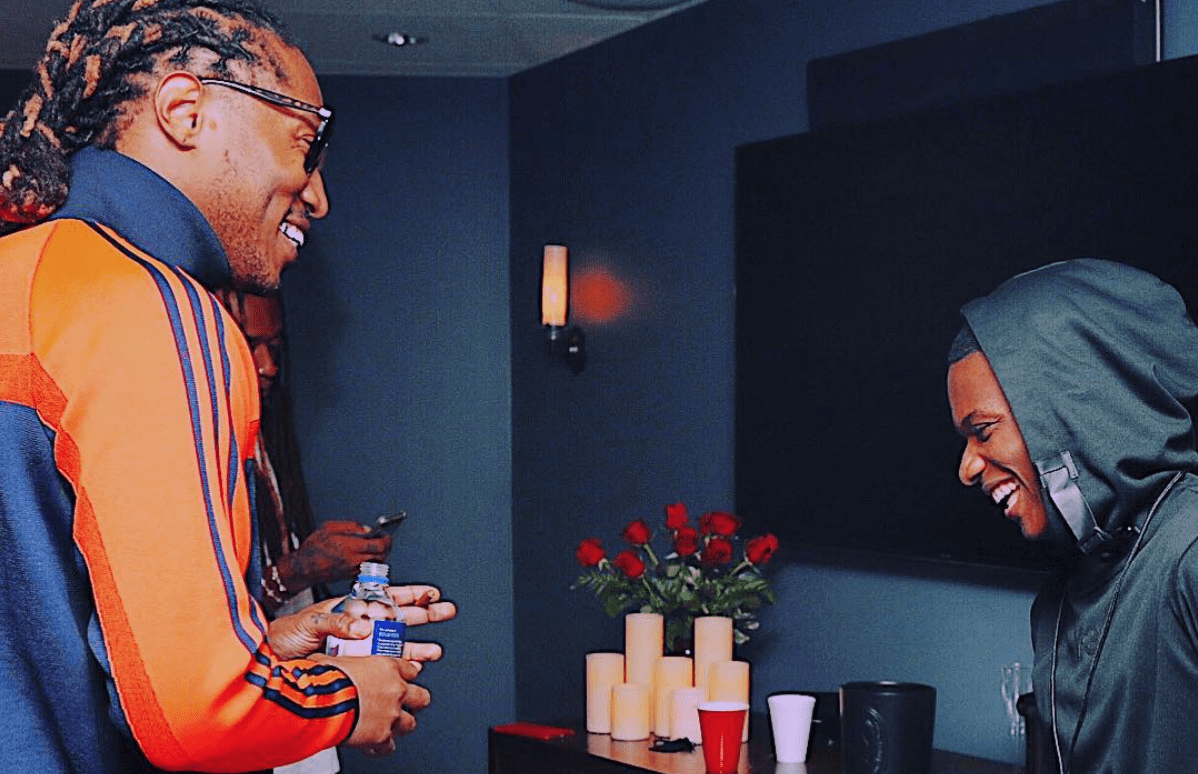 The prospects of a Wizkid and Future feature looks bright
The implications for our Starboy
Wizkid has lived off the underdog narrative since his Superstar debut. But as he grew older and won over the hearts of music lovers with his songs, he transformed from being marketed as a high school aged heartthrob to adored Nigerian superstar right before our eyes. Perhaps inspired by Nigerian's mixed reactions to his sophomore album, Ayo, Wizkid quickly realized he couldn't keep milking his humble beginnings in an industry already saturated with his music. Fortunately, Wizkid partnered with Drake for "One Dance" and they crafted a collaboration playbook that worked perfectly for both artists and continues to work for Wizkid today.
Future and Wizkid kicking it in London.

via @wizkidayo's Instagram story, 7/24. pic.twitter.com/MVWqYuFrDY

— Wizkid News (@WizkidSource) July 24, 2017
To date, Wizkid has retained international artist status with his RCA recording deal, his international debut tape, SFTOS and other news worthy appearances. On his hunt to cement his place in the American music industry as other dancehall artist like Sean Paul have done, he joined Future, one of Atlanta's biggest artists on his "The Future Hndrxx Tour". However, their time on the road wasn't limited to just stage performances, Future recently announced that they have recorded a single together, expected to be released shortly. And even if Wizkid's more recent releases have peaked just shy of the top sport, a Future feature is a sure way to ensure positive audience growth.
But asides the increase in his audience, Wizkid and Future working together has other implications. First of, Future's work ethic could rub off on him and maybe he releases a new album just weeks after his SFTOS like Future did with his Future and Hndrxx tapes. He already said he considered the album as a mixtape anyway.
Future and Wizkid's releases tend towards discussing the grit and grime of growing up on the streets. Their biggest songs, "Mask Off" and "Ojuelegba" respectively portrays the realities of street hustling being the foundation for their successful careers. But while Future seems proud to embrace the thug life, Wizkid almost sounds like he's glad to be done with that part of his life. It would be interesting to hear where both artists meet and find a balance on their expected collaboration.
Future has cashed in on his collaboration in the past with his Drake assisted What A Time To Be Alive. Going by how much his relationship with Wizkid has grown from mere tour listing to leisure rides and Snapchat features to joint studio track, perhaps we could expect a joint album from the Starboy and Future in the near future.
Though Future leans on a darker aesthetic than the Starboy is used to, his collaboration with Drake on tracks like "Jumpman" worked beautifully. And it's not as if he's a saint, most of his releases are just more laid-back and relaxing than Future's. His preference of dancehall emphasizes this while Future's trap music is all about the violence of flipping rocks and such. That being said, we really look forward to a Wizkid verse over Metro Booming or Mike Will Made It beat.
He has come a long way since his cover of "Turn On The Lights" in 2012. He finally gets a chance for an actual feature to prove just how much of a talent he is and establish a firmer foot in international music scenes.
Featured Image Credit: Instagram/@wizkidayo
---
You are meeting Debola at a strange time in his life. He wandered into a dream and lost his way back. Tweet at him @debola_abimbolu
---