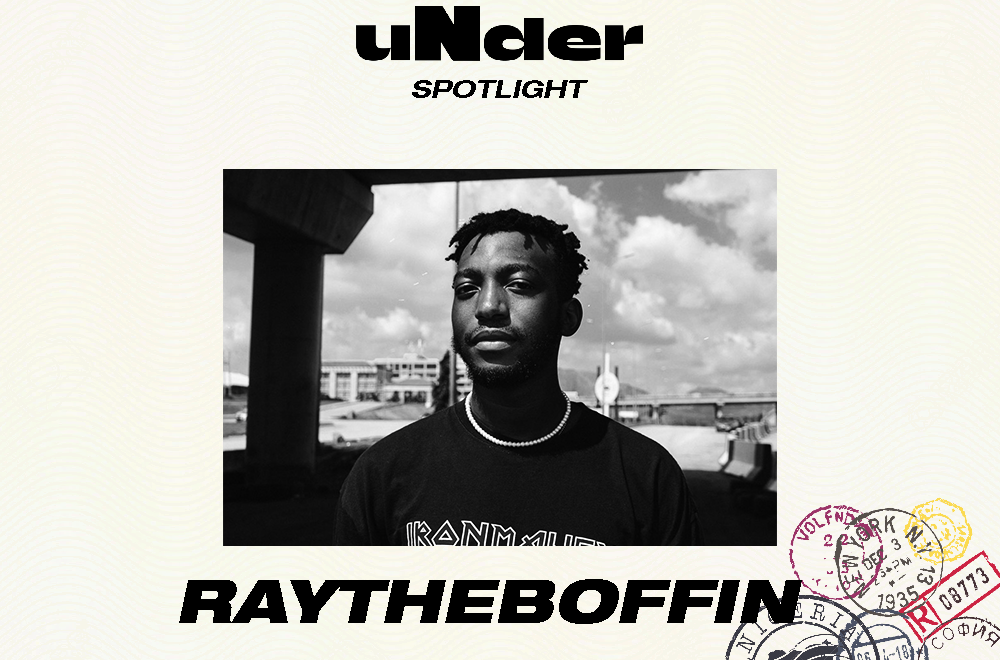 uNder Spotlight: RayTheBoffin's Music Shines Via Community & Experimentation
"I'm always big on trying to make my own sound."
RayTheBoffin, in a way, is a man of the people. The Nigerian singer and producer makes genre-blending music mined from his experiences as well as those of the people closest to him. It is those experiences that power his latest project, the six-track 'Freckles.' "I like to think of myself as somebody that listens well so my friends like to tell me stuff and [that stuff] inspired the making of the songs every day," he says. Aside from being a solo act, RayTheBoffin—real name Joseph Chikak—is also a member of Riverays (with Iver Rivers) and Dancing in the Desert (with Iver Rivers, Jess ETA and 3kene). For RayTheBoffin, the warmth of a community is necessary to his creative process. 
"I really like to work with other artists because I love the process," he tells the NATIVE. "And the main thing is about the sound, right? I want to push [my] sound. I want to make [my] unique sound and I discovered that I can't do that alone. I mean, it's possible but I felt like it was better to collaborate, push people and let me hear other artists on [my] sound so people can know that not only Ray can be on a Ray beat. Before you know [it], it becomes a sound you hear different people on—you hear Wizzy on, you hear Davido on. That can only work by collaboration."
View this post on Instagram
RayTheBoffin's sound incorporates a multitude of genres—R&B, Hip-Hop, Afrobeats and more. His 2020 project 'Run Boy, Run'  was the first solo body of work where RayTheBoffin showcased his ability to draw out pristine rhythms from the elements borrowed from a host of genres. On 'Freckles,' the same is true: its sonic world moves with assuredness as RayTheBoffin masterminds its compatibility with the messaging of him and his featured artists. 
"I always want to experiment. Since when I started making music, I just wanted to have my own sound, that's what I always tell everybody," he says. "If you meet anybody that I've worked with in the past, you can just ask them what I usually say and they will always tell you that I'm always big on trying to make my own sound. I'm trying to get something unique and I stayed true to that, and I feel like that's what brought me up to this place because I'm getting to a point whereby you just hear this and you know it's Ray. It's just refreshing."
RayTheBoffin recorded his first song in 2013 while in his late teens. Before that, he had started learning to play the guitar in junior secondary school and testing his vocals by singing and rapping, inspired at the time by Wizkid, Drake, Jaden Smith and Justin Bieber. After he graduated high school, he ventured into music production, similarly inspired by Sarz and Don Jazzy. It was also in high school that RayTheBoffin got his stage name when friends called him Ray because he was always happy most of the time and because he liked the word boffin, an old English term for scientists adept at complex experimentations.
While RayTheBoffin pursued music as a teenager, his parents, who weren't sold on his music dream, still gave him their support. "The thing is that I was an A-student, top of my class right from primary school and secondary school. I was also in the Nigerian Olympiad team so I did a lot of science competitions in and out of the country," he says. "So my parents always knew that I was okay with school. So if I had an interest, they were not overly against it. My mom actually bought me my first guitar. When I finished high school [and just] before I started uni, I was like, 'Oh, since I'm at home for [a] couple of months, I want to go to this studio,' and she gave me some money to give the producer like 'Okay, take. My son wants to come and be here.' It was not a full support but they always knew I was interested in it and they were always like, 'As long as it doesn't affect these other parts, you can do what you want to do.'"
For his university education, RayTheBoffin went to Ukraine, which was where he met his close collaborator Iver Rivers. At university, RayTheBoffin set up a recording studio in his room and watched YouTube videos to improve his production skills. At some point, he got tired of making music alone, feeling the need to connect with other people who did music on campus.  He reached out to a friend who was quite popular in school about his dilemma and the friend told him about Iver Rivers and sent him Rivers' SoundCloud link. After listening to Rivers' music and liking what he heard, RayTheBoffin asked that friend to connect him to Rivers and sent Rivers a song that he was working on.
"I remember I was going to the cinema with my friends when [Iver] sent [the song] back with his verse. On my way to the cinema, I heard it and I was like 'Shit. This is hard,'" RayTheBoffin says. "We never did anything with that song. After a while, I had another song and I was like 'Ah, let me send it to Iver again,' and then I sent it to Iver again and after he recorded it, he just called me and was like 'Brah, we have good chemistry. Let's make a tape,' and that was it. We just made the tape and formed the group and dropped it."
As Riverays, RayTheBoffin and Iver Rivers have four projects: 2019's 'Riverays,' 2020's 'Peek,'  2021's 'A Riverays Two-Pack' and 2023's 'Peek 2.'  On these projects, RayTheBoffin and Iver Rivers have merged their strengths of rapping, singing and producing to make music that extracts from their perspectives on life. In 2021, they released 'Petal Scent,' a collaborative tape with fellow Nigerian act Yinoluu, who had shown interest in working with them since their earliest days. RayTheBoffin ascribes his relationship with Iver Rivers to the chemistry that they share.
"It's so easy and it's so seamless," he says. "For example, when we were in uni, he used to come to my side a lot and then we would record but most times we didn't even record at the same time and it was so easy. I could just send him something with a verse or I send him a beat and he sends me back a hook and a verse. We don't have to be in the same place. We just understand each other musically and that works."
It was through RayTheBoffin's relationship with Yinoluu, via 'Petal Scent,' that he got his deal with Outer South, the London- and Johannesburg-based record label. Adam Tiran, who was working with Africori at the time, had been instrumental to the release of 'Petal Scent,' and so when RayTheBoffin reached out to him about releasing 'Run Boy, Run,' Tiran asked RayTheBoffin if he was interested in signing a deal with Outer South and RayTheBoffin answered in the affirmative.
RayTheBoffin's 'Freckles' had been titled 'Purple Lens.' Last year, the Russo-Ukrainian War escalated after Russia invaded Ukraine, resulting in the death of thousands of Ukrainian civilians and Ukrainian military personnel. Among those affected were people of other nationalities who lived, worked and schooled in Ukraine. RayTheBoffin and his Nigerian contingent were also victims of the war, with many forced to return to Nigeria or seek refuge in other countries. That experience and the stories that RayTheBoffin's friends told him about facing danger or losing romantic connections through distance inspired the thematic path 'Freckles'  treads.
The songs beam light on the different configurations of human relationships, as regards family, love and society. There's the investigation of regrets on "Okay" with Twelve XII and BUSA; the disconnect between lovers on "Alive" with Yimeeka; the flirtatious gestures of "Lifeline" with 3kene and Tim Lyre; and the praise of the female gender on "Baaaddie." For RayTheBoffin, having a message in his music is paramount. "It is really important," he says. "I do have some times where I feel like I just want to make fun songs or I just want to express what I'm feeling but I like telling stories. I love working on projects. I like telling complete stories. Usually, even if I'm releasing a single it's usually part of something I'm working on." 
All the songs on 'Freckles,' which he finished earlier this year, are produced, mixed and mastered by RayTheBoffin—a routine that he immensely enjoys. As part of Dancing in the Desert, RayTheBoffin ventured further in his experimentations, following the suggestions of Jess ETA and Iver Rivers to make sounds from a blend of Rock and Afro-tinged music. That dream became the 2023 project 'Afrorock,' where RayTheBoffin, Jess ETA, Iver Rivers and 3kene paired Rock music elements with Afro percussions. "We had fun making 'Afrorock' and we'll surely have fun making some other crazy shit," RayTheBoffin says.
At the moment, RayTheBoffin is taking pleasure in the positive reception that 'Freckles' enjoys. Since its release, he's had artists who he looks up to, especially in the Nigerian alternative music scene, reach out to him and express their admiration for his talent. "To be honest, I don't think you ever expect it. You always hope every time and then when it actually starts, you're like damn," he says.  He reveals that he's in the recording studio making more music, which he plans to share with the world.
"I'm just trying to work with more artists because I feel I have people's attention. [I want to] put more people on a Ray beat. I want them to see how much they have influenced my music and see how they can put their own influence on my sound," he says. "I [also] have a collab tape with someone that I actually did look up to as well. That might drop before the year runs out. So that's very exciting for me. That's like a dream as well. [I look forward to] more collaborations. That's just the goal now."
---
---
Featured image credits/NATIVE