The day before our FaceTime interview, Odunsi The Engine is tweeting. Multiple tweets. For most people, especially during the pandemic-induced lockdown, this wouldn't be out of sorts – we're all posting more, going out less. But Odunsi is infamously cryptic on social media, rarely posting more than a few discernible words, if any. This particular afternoon though, he's opening up, by his standards. Reminiscing over his 2016 debut and some key lessons he's learnt since then, his trademark style of short, sharp sentences doesn't immediately add up to anything more than an artist connecting with his fans.
Said fans, in a rare moment of instant (digital) proximity, quickly tap into this as an opportunity to demand new music, namely "wicked, sexy!", the mosh-starting single that premiered at close friend and collaborator, Santi's December headline show, No Tears In The Jungle. After a little playful back and forth, he closes the series of tweeting with a cloudy promise of new music. It is not until the following day, about 6 hours before release, that they realised not only was he dropping their long sought after single, but he was giving them seven new songs, in the form of an EP aptly-titled Everything You Heard Is True. 
The EP – the result of many months of soul-searching following a cancelled European tour – is an action-packed, genre-mashing 14-minute project that has already garnered considerable fanfare, with standout records like the empowering rap cut "body count" and the aforementioned "wicked, sexy!" inspiring a plethora of Nolly-memes, Instagram captions and Tiktoks – not to mention they both peaked at #7 and #9 respectively, on Apple Music's Top 100 Chart. The project has also attracted its fair share of criticism from the media, and skepticism from his fans – something he tells me he was expecting, and is well-prepared for.
Tami: So tell me, how did you go from "Can't you see I'm falling in love, no one else can make me feel this way" on 'rare' standout "falling" to "Fell in love in a mosh pit, shawty gonna ride till I'm bussing" on the EVERYTHING YOU HEARD IS TRUE opener, "luv in a mosh"?
Odunsi: With ['rare'] I was definitely trying to achieve a particular sound. I was [consciously] trying to make 80s Pop music, where the music is like really simple, very catchy and very colourful. That was the music I was consuming heavily at that time, I wanted to make music from that era. But like, it's all me. I'm just a more rounded person now; I have more things to say directly. If anyone actually remembers, "Alté Cruise" dropped in March 2018, and that Odunsi is the same Odunsi on 'EVERYTHING YOU HEARD IS TRUE'. It's the same Odunsi from "Gangsta Fear", that's all me. It's the same Odunsi that made "falling" that made "shuga rush".
He comes across as someone who no longer wishes to be understood, reinforcing that the new project may alienate older listeners but may also bring his music to an entirely new crop of followers. He wants his fans to know he hasn't changed, they're just getting to know him better. He's always been this guy. It is an interesting conundrum in the fan-artist relationship in 2020: you think you know everything, but as with anyone, you only really know what they share. Odunsi doesn't blame some of his fans who are instinctively rebelling against what they perceive as a new sound, he just wants them to know this was in some way inevitable. Whilst he enjoyed making the 80s pop songs inspired by Steve Monite and Oby Oniyioha on debut album rare, as a producer first and an artist second, his soundscape has always been wider than that.
O: I have always said that 'rare' would be an album that stamps a period in time. A certain set of people will live and die by that album, and there's nothing else I am going to make after it that they will like because they love that album for a particular reason. But people that know me, and follow my social media, every project I have dropped, they already know how different I am, how polarising I am, and how my mind works. I do stuff based on my instincts and I have lots of sides to show. Some of the Gemini musicians we love to hate the most, like Prince, Kanye West we all think the same. You have so many personalities, that it's just like you don't have time to compete with anyone but yourself. I need to be better than me, I need to do a newer thing than yesterday me. I hate yesterday me and love today me. I want to be last year me, next week.
T: What was the process like creating this EP?
O: It became a social experiment, I would tease music and see how fans reacted. It's almost like I wrote it with the fans. The songs were like living, breathing objects. Like "wicked, sexy!" already had [inspired] Instagram captions, fan art, and memes, and the song wasn't even out. The song was alive and having its moment, with everyone talking about it like it's out. This whole EP is like our party – me and the fans. 
This social experiment is not a new feat by any means for the twenty-three year old-artist as he admits to me it's been a mainstay from early on in his career. His debut album 'rare.' was home to the fan-favourite astrological single "star signs" which came about after he received positive feedback from fans on a tweet he sent out. His Soundcloud page 'fridaycruise' is also another avenue for him to test out the waters with fans as he's been using the unlisted page to freely create with his friends. Creating within a community, and forging strong bonds has been a key pillar in Odunsi's 4-year career. With close affiliations with The Monster Boys, he himself talks up the "great chemistry" he shares with Santi. But on his latest release, it is the relatively new bromance with Maison2500 that produces two of the biggest records, and he says it was the most organic collaboration he's had.
T: What's the story behind "wicked, sexy!"?
O: Maison is one of my closest friends. So when I made the hook, I sent it to him and I was like "maybe this is the one, listen to this." It was just me guessing, we didn't want to rush what we were making together, because we knew we had two different type of styles. He sent his verse back and I was like yeah this it. I was not even supposed to perform it at Santi's show it got played by mistake and that was the first moment, where the song came to life. Where it created its own life.
T: Maison2500 features twice on 'EYHIT' and you have a verse on his new single "Dirty Fanta." What does it feel like finding someone you creatively bond with so well?
O: He's not the first person I've creatively bonded with, because I have that [bond] with Santi too. It's interesting to have chemistry with someone whose music is totally different from mine. I met him in 2018, we didn't make any music but we were friends. He would send me his music, and I would send mine too, but it wasn't like us trying to hop on each other's songs. A few months later, when he sent music, I could tell he'd picked some things from me, and I also noticed I was picking up lot from him and infusing it into the way I wanted to make music. We both tried new melodies, new bounces, new techniques with our voices.. It made us get better and better, so it's like that was when we had that moment. With us, its more than music. We were friends first.
T: On 'rare.' you presented the girls' anthem, "hectic" giving women like SOLIS and 234jaydaa a seat at your table. Now you seem to be following suit with "Body Count."Why is it important for you to feature women in your music?
O: It's something I am passionate about. I love women that make music. My favourite rappers at the moment are all women. If I am not listening to BKtherula, it's Baby Sosa, or Flo Milli, or Amaarae, or Deto Black, or Princessa. The flows are very different, it's very interesting. I would have thought that the new gen of female rappers would sound like Nicki but most of them don't sound like her. I have a way of just showing people what I like, if you are listening to Odunsi then I want people to hear them on my music.
"Body Count" is the undoubted standout off the new project. Peaking pretty at #7 on Apple Music's Top 100 Songs in Nigeria, it is the highest charting off the set, and it is swiftly garnering organic buzz on TikTok, Triller and Instagram, with young women rapping along to the catchy bop. Explaining its creation, Odunsi seems to acknowledge he knew it would be a potential hit song, and that gave him more reason to refrain from adding a verse. Whilst some artists may have looked to shoehorn a vocal contribution to a song regardless of chemistry, as a producer first, he realised it had all it needed.
"I already had the hook for "Body Count" last March, but it was in my voice. I called Gigi and asked her if she could do it, which she did. Then I changed the beat a bit, added more of the bounce [that you hear now]. I sent it to Amaarae, and when she sent it back, I was like 'wow, she has ended this song'. It was one of the hardest verses I'd ever heard. I played it for Deto in London, just as friends, and she said she wanted to add a verse. At this time, I'd never heard her rap but I just said yeah. And she sent me the verse a while later, and it was really good!"
The result is witnessed by all today–the union of three strong and powerful voices from the music scene talking their shit and dismantling years of ingrained purity politics. Odunsi taking the backseat on such a culture-resetting record for women is particularly poignant. He's particularly excited that he got to give DETO Black her debut, as he states she has been "sonically important in Lagos for years now." In what immediately feels like a "Star Is Born" moment reminiscent to Nicki Minaj's scene-stealing verse on Kanye's "Monster", it's safe to say DETO Black is a name you'll be hearing a lot more of. 
As an MTV baby, growing up as part of the social media generation, Odunsi is all too aware of the spoils and perils of living by the "likes". Whilst musically, he states his seemingly new sounds have always been there, on a personal level, he's a far cry from the Odunsi that started out in the music scene at 19. He's no longer the shy boy from Magodo who would steal his mother's laptop to produce beats–and he knows this, as he tells me he was more sensitive earlier in his career to people's comments about him. Nowadays, he's not focused on the noise surrounding him, "All the comments online made me see the world differently because I started to realise that everyone is completely different and if you decide to do things because of how people see things, you are going to be very lost. From that moment, I just decided I am going to do what my instinct tells me."
Easier said than done, but Odunsi truly is doing just that. Each new hairstyle is greeted with virtual cries and shrieks, every snippet is greeted with calls for more music, each glimpse into his life is analysed to the finest detail. Whilst he has become accustomed to it, he does admit that before he started creating this EP, it is something that triggered him to retreat into his shell to some degree.
"There are just loads of things that people say about me. Earlier in my career, I was very sensitive because I came in the game at 19 and I was just making music with my friends. I remember going on my first [U.K.] tour in January 2019 and when I got off stage, everyone was talking about how I was dressed on Twitter. Because my first reaction is kind of to recoil into myself and go away from everything, which is something I still do now….because I know [posting] could start something that triggers a conversation, and I may not be in that mind-state to feel that pressure."
Tami: How did you come up with the name 'EVERYTHING YOU HEARD IS TRUE'?
Odunsi: When I came to London last Fall, I had just released "Wetin Dey/Better Days", I had a fresh mind and was looking forward to new things and new experiences. I get to London, and I am there preparing for my first ever European tour and then that gets postponed. I am completely devastated and I could feel the devastation from my fans, too. Even though I didn't even have a new record out, some people were coming to see me perform for the time, to see me play rare. I could feel the energy shift. 
After the tour being cancelled, I felt the weight of everything so I took time out for myself. I stopped posting on social media. I wanted to isolate myself to get new energy and create music, but I feel people just thought I was being reclusive [for no reason]. I lost touch with a lot of people in Lagos, time was just going by super fast, I met so many people and I was going out more than ever and experiencing things I hadn't experienced before, I was consuming things and learning so much about music history. I was reconnecting with things I saw as a kid but never went into depth. The more I was going through this experience, the more I felt like I had not been thinking about a lot of things for myself. It kept feeling like this is the first time I am every properly thinking for myself.
I'm looking a bit different, I'm talking a bit different, and because I wasn't dropping music it became like "is everything ok?". I guess when you don't tell people why something happened, then they make up their own reasons. The whole thing created a domino effect on my personal life, my career, my professional [relationships]. So it's just a combination of everything anyone's ever felt about me, everything anyone wants to believe, because at the end of the day, it's their perspective and I can't battle someone's views. Literally, because everything you hear is true, because if you believe this or that, then that's what it is. It's not a war thing, I'm not going to war with anyone about my personality or my vision, it's more like if you're with it, you're with it. If you're not then…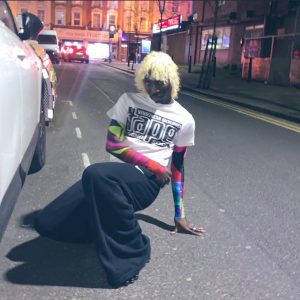 Odunsi sees himself as rockstar; a sort of Prince-like character, a delinquent, "the leader of the sluts" as he confidently proclaims on the project's closing track. With clear influences from artists like Kanye West, Toro Y Moi and Young Thug, Odunsi refuses to be boxed in, aesthetically or musically.
'I feel like I was built for change. I have never really held on to anything too much. I love nostalgia but in terms of my own music, I hate nostalgia because it will stop you from growing and that's why every year it feels like I'm a new artist starting from the ground' he tells me, with a strong conviction laughing about how he's equal parts calculating, and equal parts self-destructive. The aim for Odunsi is to never get comfortable, when you think you have him all figured out he's ripped that all apart and started again, just because he can.
So 'Everything You Heard is True' may alienate people that loved 'rare.' but it'll bring new listeners in as well, who are on the same energy I am on. And then who knows what the album is, that might bring everyone together. I don't really think of what everyone is doing, I just create what I feel and I know there will be people who feel the same.
View this post on Instagram
On 'Everything You Heard is True' Odunsi strips down the artist you thought you knew, in what he calls slightly "self-destructive" fashion. He tells me he's been spending lockdown watching rock music documentaries and definitely more rap music. "I've always been listening to rap but I never really kind of used it, only in like "alté cruise", and DRB's "Necessary". 
"I was watching a lot of documentaries about rock stars; I definitely felt like one and still do.
Prince, Grace Jones and David Bowie, Lil Reed are some of the artists I really connected with. I started relating more and more to the rock genre, not so much sonically but the energy the '80s and that individuality. I felt exactly like them and how they saw the world as their playground."
The last time we sat down with the NATIVE 003 cover star, he told us he was witnessing a full circle moment with 'rare.' but that stance seems to have changed now and I can hear it in his voice as we continue our conversation, it's minutes till the EP drops and he sounds tired but pleased. He talks with the conviction of someone who knows that everything will soon be clear to the non-believers.
"For me, music is more than just something I do, it was my escape and my only hope for a better reality at a point in time. I put everything I have into it, because when I started making it, I had nothing. Even if the project isn't received well, I will still drop my music because that is how I started out anyways, just dropping music on Soundcloud. Same thing, nothing's changed. I'm just dropping my music and expressing myself".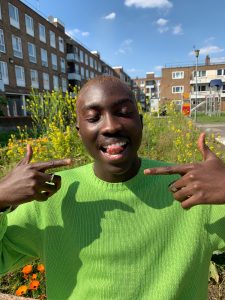 'Everything You Heard is True' is Odunsi in his purest form, he's experimenting more because there's nothing to lose and the ever-changing state of the world today has shown him the rules simply do not exist. Many of his newer fans may not know that Odunsi actually started out as a producer, and he credits his producer side for giving him the freedom to experiment more with his sound. Through the project, Odunsi builds on his sonic harmonies, and relies on sounds to pass his message across, "It's like psychedelia but it has bounce. It's just like a lot of emotion, no heavy bass, just snares and of course the bounce," he explains, speaking on the project's production which on the surface may sound like Playboi Carti and Toro Y Moi inspired mood music, but on further reflection, is a deep dive into the mind of a bedroom popstar whose life has changed dramatically in four short years. To go from a feature verse on a friend's mixtape, to millions of stream and back-to-back #1 projects, is something that would surely have an effect on someone's psyche.
On "airplane mode", a song whose creation he credits as the "go-ahead to experiment more", Odunsi unpacks his sentiments towards love in his new world: "I'm too wise to be all yours." On "luv in a mosh", which he admits is his favourite song on the new EP, he paints the picture of a psychedelic, rollercoaster love experience while dealing with the whispers from the peanut gallery. 'It's basically like all the things that make my character or my personality. And that's why "luv in the mosh" is my favourite song, it's like my entire personality in a song. it's one of my most concise, perfect expressions so far."
"
Not everyone is going to be the artist that everyone loves, I am always going to do what I want to do.
I need to be better than me, I need to do a newer thing than yesterday me, I hate yesterday me and love today me. I want to be last year me next week, it's kind of like bouncing between all of these ideas and influences".
View this post on Instagram
For now, Odunsi is content. He's just doing the shit he said he would, and with the help of close friends and family. He knows there are many eyes watching now, and the stakes are higher. It's what he's betting on. It's what he's waited this whole time for. He speaks glowingly of his peers in the industry, saying that the music he's heard from Santi and Maison2500 is "some of the best in the world right now". He feels they, along with the likes of Lady Donli, Amaarae, DND Section, Wani hold a global duty. "Since I was younger, I have always thought about where I am from as a Nigerian kid and me being on the world stage. We're all at a stage where the music is less about just the music and more about digging deep into your own source, and creating something that makes people feel. Somebody, somewhere is going through the same thing."
As conversations around a new age of Afropop emerge, this new vanguard of talented, fearless creatives from West Africa see no limit to their dreams. In what is perhaps their most defining element, this class isn't looking to replace the predecessors; it's all about staying true to themselves and evolving their own craft. There's something in the air, I feel it, Odunsi feels it and you probably feel it too, it's the time to dismantle all the rules and create sounds and experiences that live far beyond you and I, here and now.
"
I feel like Nigerian kids are going to speak it best. We work very well with pain, and a lot of pessimism mixed with optimism and I think this is what makes us interesting. We hope for the best even though we know things are really bad. An awareness that is poisonous but will definitely bring out some of the best work ever. W
e have something special, all eyes are on us now. Everyone is watching. It's time to do the things you always wanted to do."
Stream 'Everything You Heard is True' below.
Featured image credits/PauseOnline/SeyeIsikalu
---
Hell hath no fury like Tami. Tweet her your fave female rappers @tamimak_
---