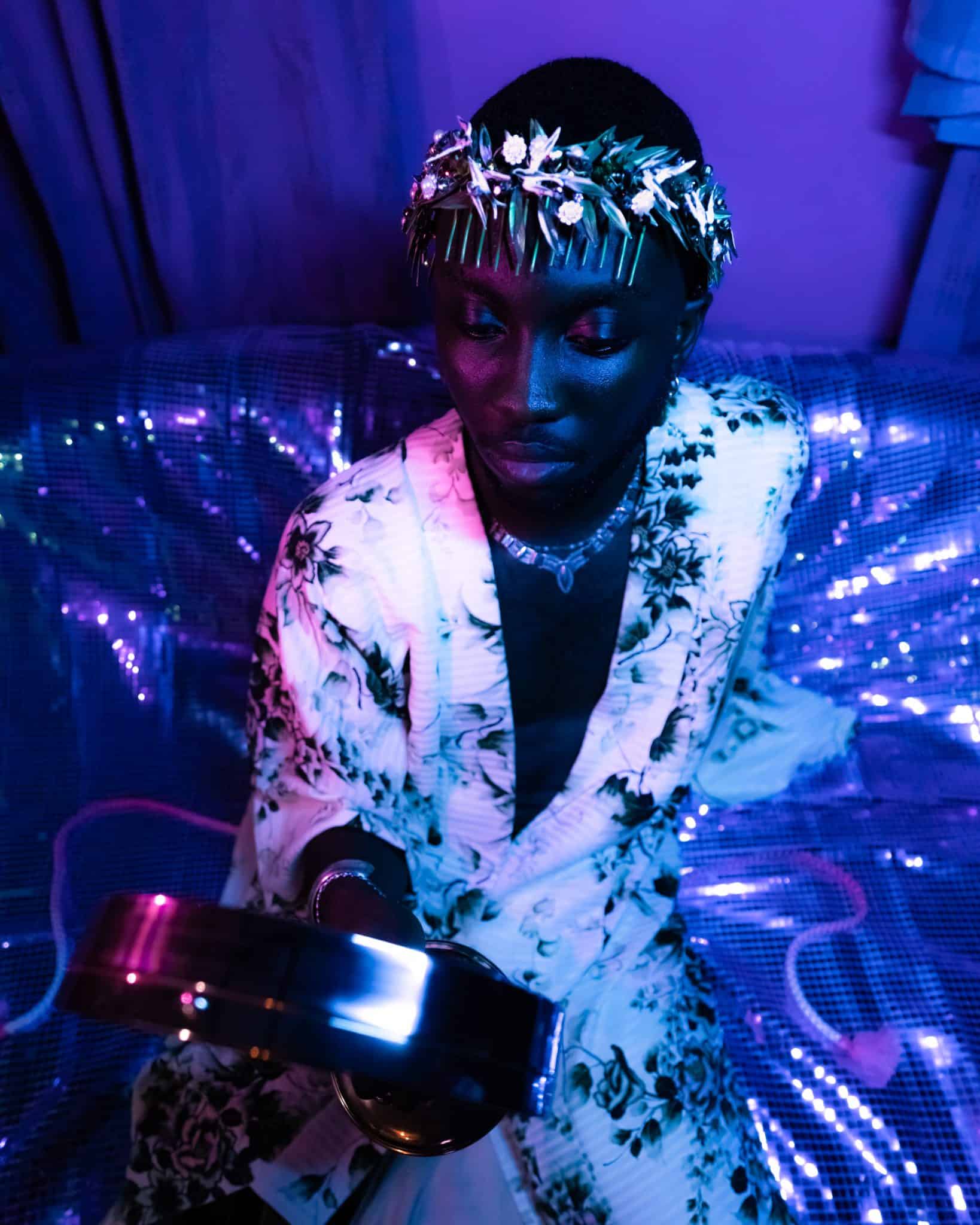 Odunsi The Engine: The Dark Prince of Afro-Pop
Odunsi The Engine lost his halo.
In just three years, Odunsi The Engine has gone from college dropout bedroom-producer, to The Boy who can do no wrong. Now, he's preparing for the next act.
Words: Seni Saraki
Photography: Shaheen Soofi
Creative Direction + Styling: VIVENDII
Assistant: Morinsola H-O
MUA: Adewojumi Aderemi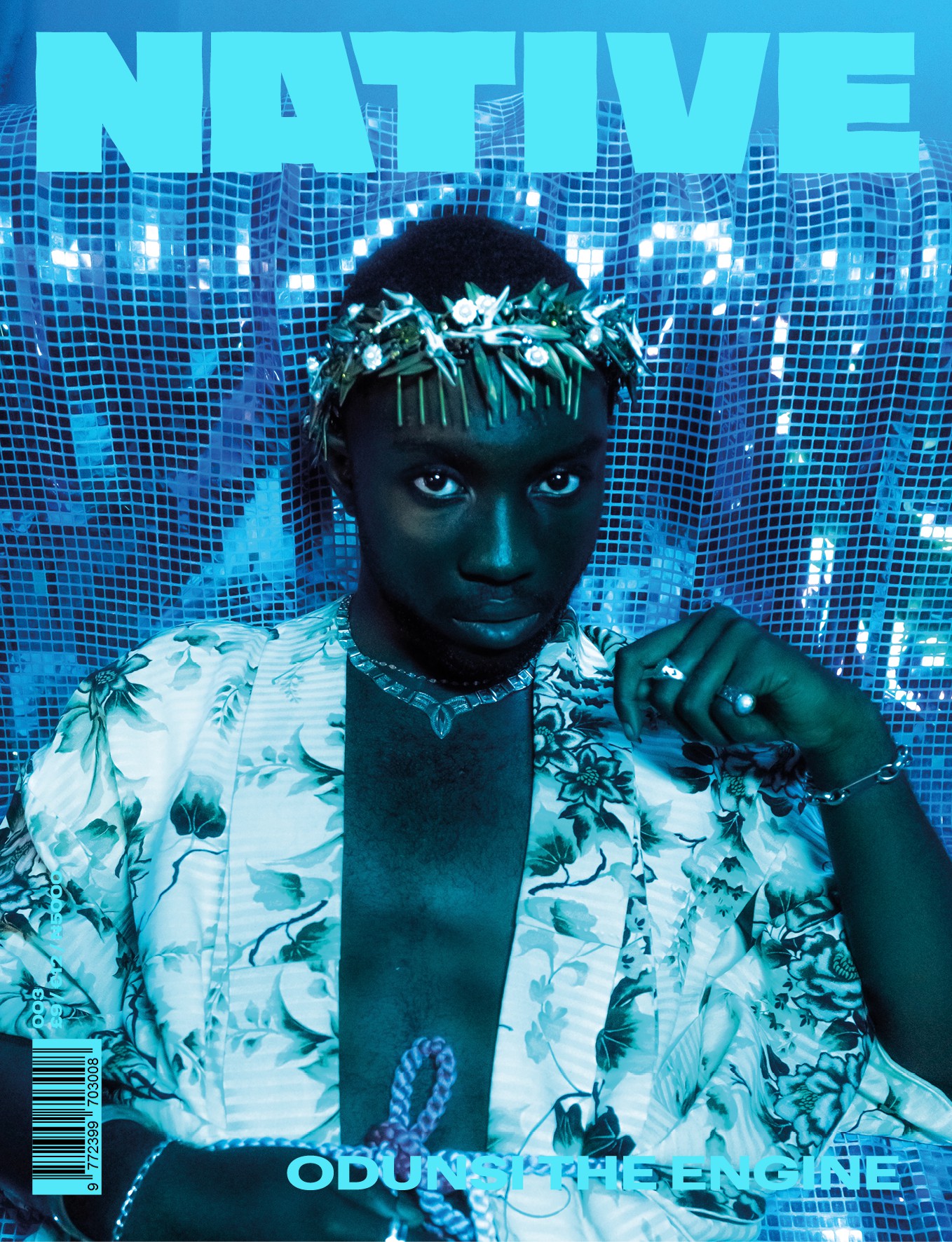 Bowo has always embraced the darkness.
Ever since he was an early teen, Odunsi (his family name by which he is most commonly known now) has felt alone. He doesn't state it to draw sympathy, but it's just the fact of the matter.
He grew up with his parents and four siblings – two brothers and two sisters. He credits his older brother with introducing him to R&B, by playing him a classic Donnell Jones record. It was a loving household, and he had a good relationship with his siblings, but during his teens he felt more alone than ever. "It felt like my older siblings were too old for me, and that my younger brother was too young for me. That's when I really became who I am today."
Odunsi would hole himself away for a year – not by choice, but due to leaving his first high school – and sneak into his mum's room every day when she went to work, to make beats on her computer. Gifted a FruityLoops crack by the keyboardist at his local church, and Odunsi would go on to spend every available hour of freedom honing his craft. He says that, at a point, he's sure his mum knew he was nicking her computer, but she let it slide since he wasn't getting into trouble anymore.
Although he previously interned at studios frequented by LOS and DRB – two groups that were seen as the leaders of the revolution in Nigerian music at the time – Odunsi The Engine never saw himself as an artist.
"At the time, I was in awe. These guys were the most talented people I had seen in real life."
The formation of beats had always intrigued him more than anything. As the Limewire generation graduated to the storied halls of Soundcloud, Odunsi began to find more kids just like him. In late 2015, after dropping out of school for the last time, Odunsi began exchanging messages with a man he is proud to call his friend and peer today: Santi. Although they are now regarded as part of the same class, Odunsi looked to Santi as an elder brother figure, at the time. Having developed a cult underground following amongst the youth population in Lagos, during his days as rapper Ozzy B, Santi's rager fanbase only continues to grow.
"I remember Santi had tweeted one day, that he was looking for alternative beats, and someone recommended me to him." Odunsi considered this a pivotal moment in his artistic journey. "At this point, I was only making beats for Santi – no one else. We were working on this project called The Valleys. It was very hip-hop and very dark. Then suddenly one day, Santi called me to tell me he was scrapping it and changing the direction of the tape. He sent some samples, and from that, I made 'Steal A Dime'."
This was Odunsi's first real breakthrough as a producer, and his debut as a de-facto member of the Monster Boyz – the collection of creatives that has become Santi's braintrust. Following this, came his "Star Is Born" moment: the scene-stealing verse on his next Santi collaboration, "Gangsta Fear." This was only his third ever vocal performance, after dropping two songs on Souncloud to minimal fanfare. His verse, crystallised by the underground Lagos community, was monumental in the life of a young Odunsi. It felt like he had arrived.
Odunsi is late.
Having returned home after sound-check earlier in the day, he's rushing to get back to the storied London venue The Garage. Just three years on from releasing "Vibrate" – a bouncy hip hop infused cut – Odunsi is headlining a sold-out 600 capacity venue in North London. He's in a small apartment close to the venue, set up strategically by his manager Kimani Moore, to negate any possible mishaps. Sifting through looks for the night with his stylist Josephine, he can't hide his excitement when the 'fit he really wants to wear finally gets delivered, just hours before the show. "Mowalola just dropped this off," he says, beckoning me to look at the custom ensemble he plans to wear to close the show. Whilst they're not exactly the best of friends, it serves as an example of the close-knit, cross-code community that young Nigerian creatives have formed between themselves.
Odunsi has just come off a three-city U.K. tour, with London being the final stop. It's a far cry from the boy who used to steal his mum's laptop just to make beats. But this has been life for The Engine since he dropped his debut album, rare. Despite dropping out of school, Odunsi has always been a diligent student of the game, and this comes through tenfold on his first studio album, which he released independently, despite some public confusion behind his situation with Universal Music Nigeria – he merely signed a singles deal with them, Bowo confirms.
rare. is a blast from the past. Inspired by the Funk music he heard around the house, and then later on by The Lighthouse Family, it is a concise snapshot into the life of a rising star. He says he thought the sound would take some getting used to, as it was extremely different to his output beforehand.
"I knew I was taking a risk with the sound of the album. That's why I spent the whole year killing features and collaborations," he explains, speaking of his work on M.I.'s generation-bridging album Rendezvous, and the cult-classic single "Alté Cruise". Producing the majority of the album himself, it gave Odunsi the freedom to create freely without any judgment or interference.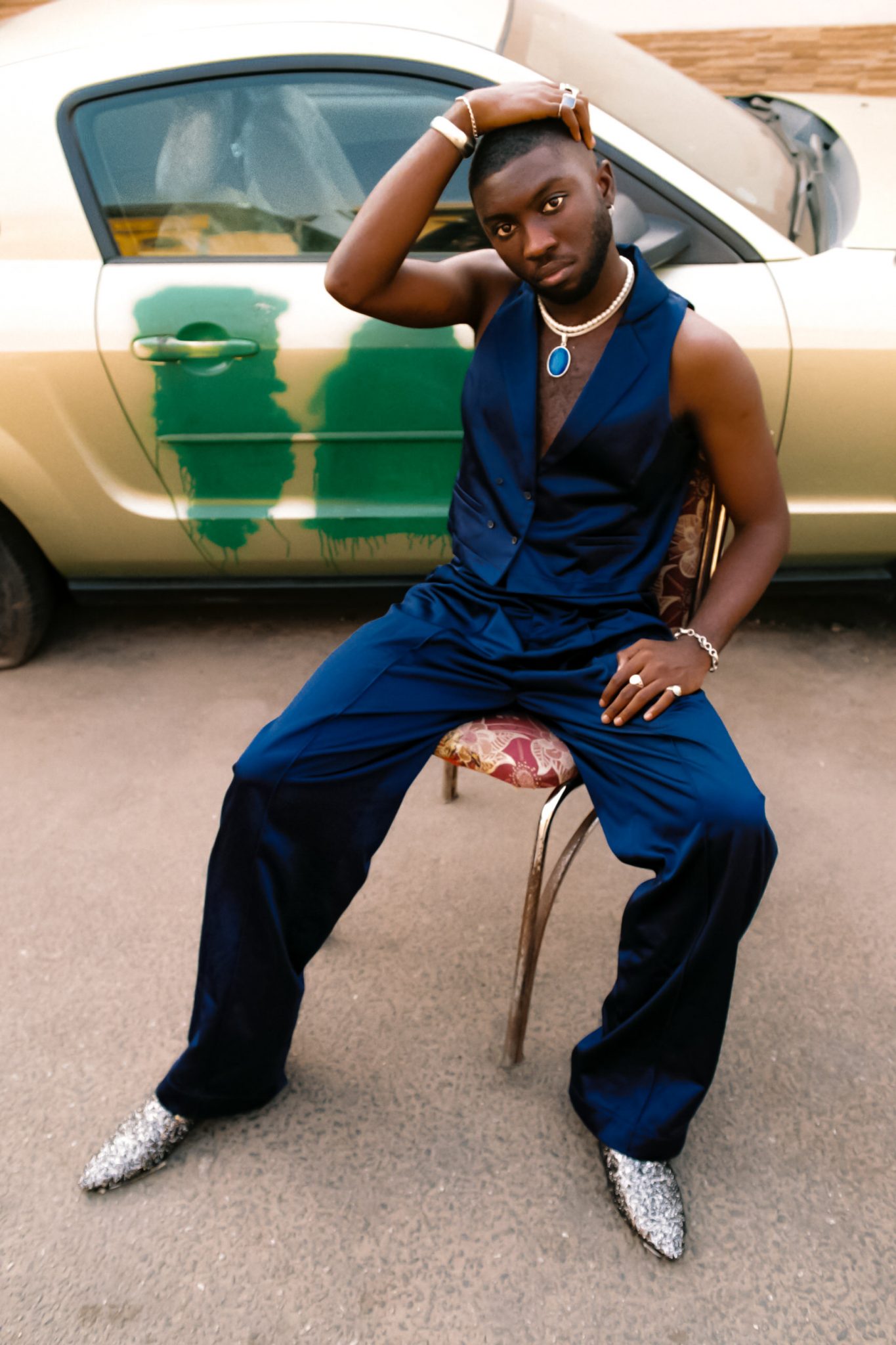 This leap of faith he took in himself, was manifesting into everything he ever fantasised about, alone in his room. He describes the full circle moment of returning to Accra for his album release party, years after dropping out of university there, as "a literal dream". Everything was falling into place for The Engine, and it was all because he decided to do things his way. But the increased scrutiny, and subsequent pressure, slowly seeps into his designer armour.
Odunsi is sitting in an apartment in West London, having just returned from another gruelling 8-hour production session. It's the weekend, but he barely knows it. He has spent the week in and out of writing labs and production sessions – some for his own music, but mostly for other people.
"I came up as a producer first, so this isn't weird for me. Working with these writers and producers that have worked with Ed Sheeran, Young Thug, Justin Bieber …everyone. It's crazy to be here." He sounds content, but not exactly over the moon, as one might expect him to be. Odunsi has been in England for just over a month, and he loves it. He visits the thrift shop almost every week, and is enjoying trying out new iterations of his favourite meals – he's currently hooked on Vapiano. However, since he's been away, the mood back home has changed considerably. 
At the end of 2018, Odunsi The Engine was the poster boy for the Alté movement. Alongside Santi, he was seen to be ushering in a new generation of Nigerian creatives who did things their own way, or no way. Whilst this was first greeted with admiration and groundswell support, the bigger it has become, the more pushback it has received from those determined to to keep the status quo.
Al Gore's internet is a strange place. You can ignore something for so long, but the minute you decide to just "check it out", it suddenly becomes inescapable from then on. Odunsi admits he rarely entertains social media commentary about his appearance or his music, but says the comments following the completion of his U.K. tour were slightly more barbed than usual. "I know it had nothing to do with my outfits, or my music," he says, almost sharing the bitter taste those who put him down must have. "It's just that these people have finally realised that these kids can actually do something. And it's not just me – Tay, Donli, Santi, everyone. They're scared." He's smiling now, almost relishing the fear they're putting into the hearts of the old guard. He may be right, but this isn't the first cultural revolution we've seen. And being a student himself, he remembers:
"LOS and DRB did what they did, so we could get here. Then even when Santi was Ozzy, he did what he did, so we could get here. Now all of us are coming together. There's this new generation of fans that don't even know Santi put me on. They don't even know he was Ozzy B. And there's another generation that Santi is bringing to the future, introducing them to us." It almost sounds like an Avengers Assemble type situation, but he's right. This time, it does feel different. And that's not a slight at any revolution before them, but more an indication of changing times. The barriers that streaming has broken down are none more apparent than in Nigeria. Despite constantly being reminded of the low penetration that Apple Music (the only major streaming platform set up in the country) has made in the market, music is still travelling faster and more freely than ever before. Odunsi describes going to Port Harcourt for a university show, before the album was released, and being amazed they knew his songs so well. As an independent artist, he hadn't made a concerted effort to crack the market yet, but they were in the loop. Not only this, but he hilariously describes how they asked him why he didn't "bring" Santi and Lady Donli. The revolution was spreading, but still, Odunsi can't shake the hurt.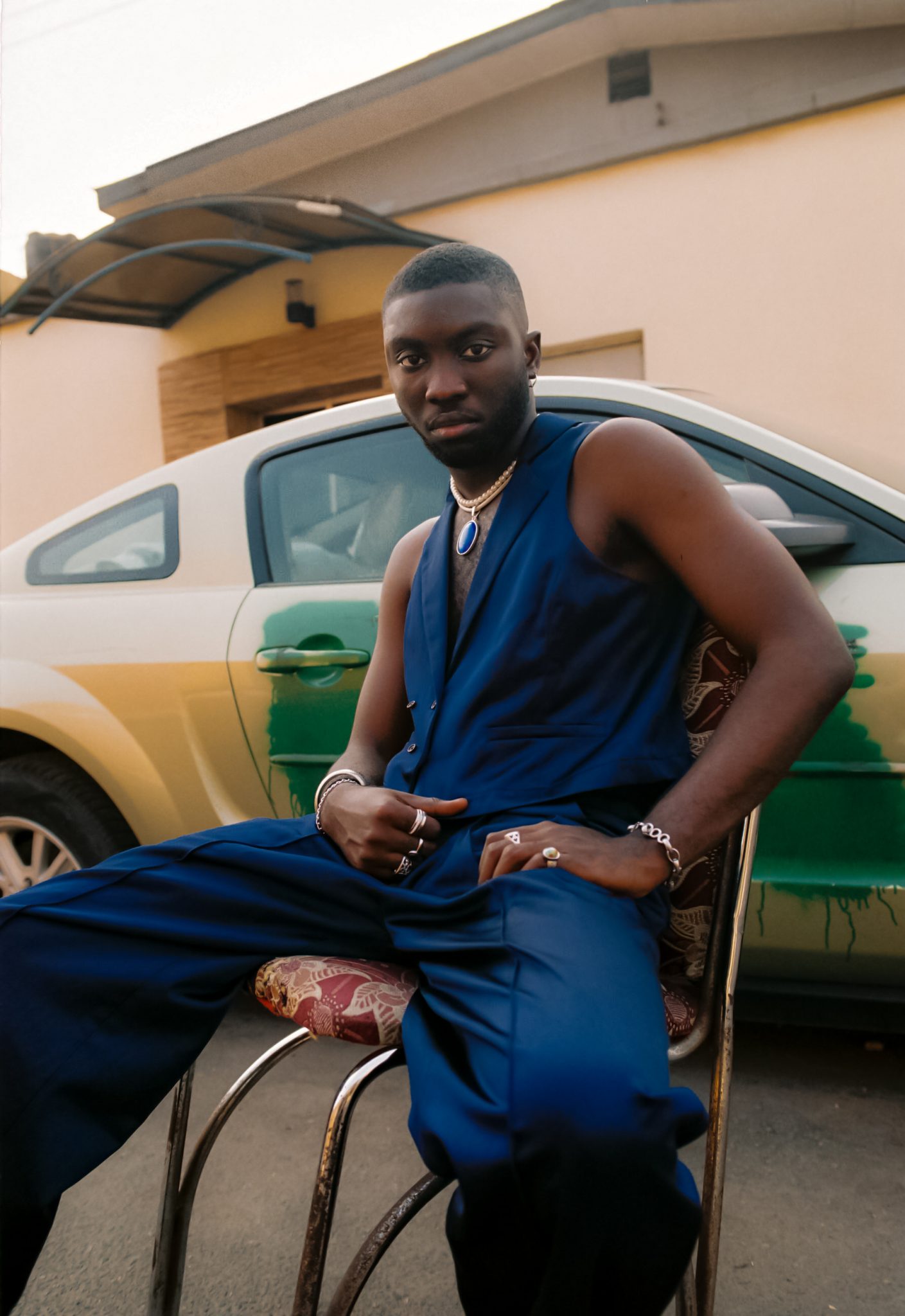 Despite spending the weeks following his tour holed up in the studio, he was yet to start work on his sophomore album, one he thinks will define him forever. He doesn't want to rush it, but is slightly concerned at the time it is taking to rediscover his mojo.
"This will be my most honest piece of work, so I can't rush it. I need to live a bit more. Because of the clear sonic direction on rare. I was able to write songs without really opening up on what was happening in my life. This one will be different. I have to embrace the darkness, the opps. Things have changed, but some things are still the same."
Throughout our conversation, Odunsi rarely shows any signs of true sadness. Vulnerability, yes – he needs it to be who he is. But rarely does a dark cloud completely consume him.
Odunsi went home shortly before flying to London. He wanted to visit his mum before he left, but the trip shook something inside of him. "She asked me why girls were dancing on me in my video, but that was it. Nothing was different," he says, staring blankly into space. Despite everything he had accomplished up until this point, he laments that everything back home was still more or less the same. "In other countries, an artist on the same level as me would already be able to buy their mum a new house or a car or something. Look at America, once a rapper blows up, a year later they're good." He emphasises the "good" to indicate he's talking about their financial situation. Money isn't something Odunsi primarily concerns himself about, but as he approaches his 23rd birthday, he feels more responsibility to provide for those around him.
And he's embracing this responsibility, even when it comes to his relationship with his peers and the industry as a whole.
"I want to understand how to move with my gift. Santi is a practical leader, he's very methodical. Like Santi will call a meeting and say 'yo guys, this is how we're moving this year' and everyone listens. I've never been that person. I kind of just go out there and try to lay my out blueprint, that you can follow if you want."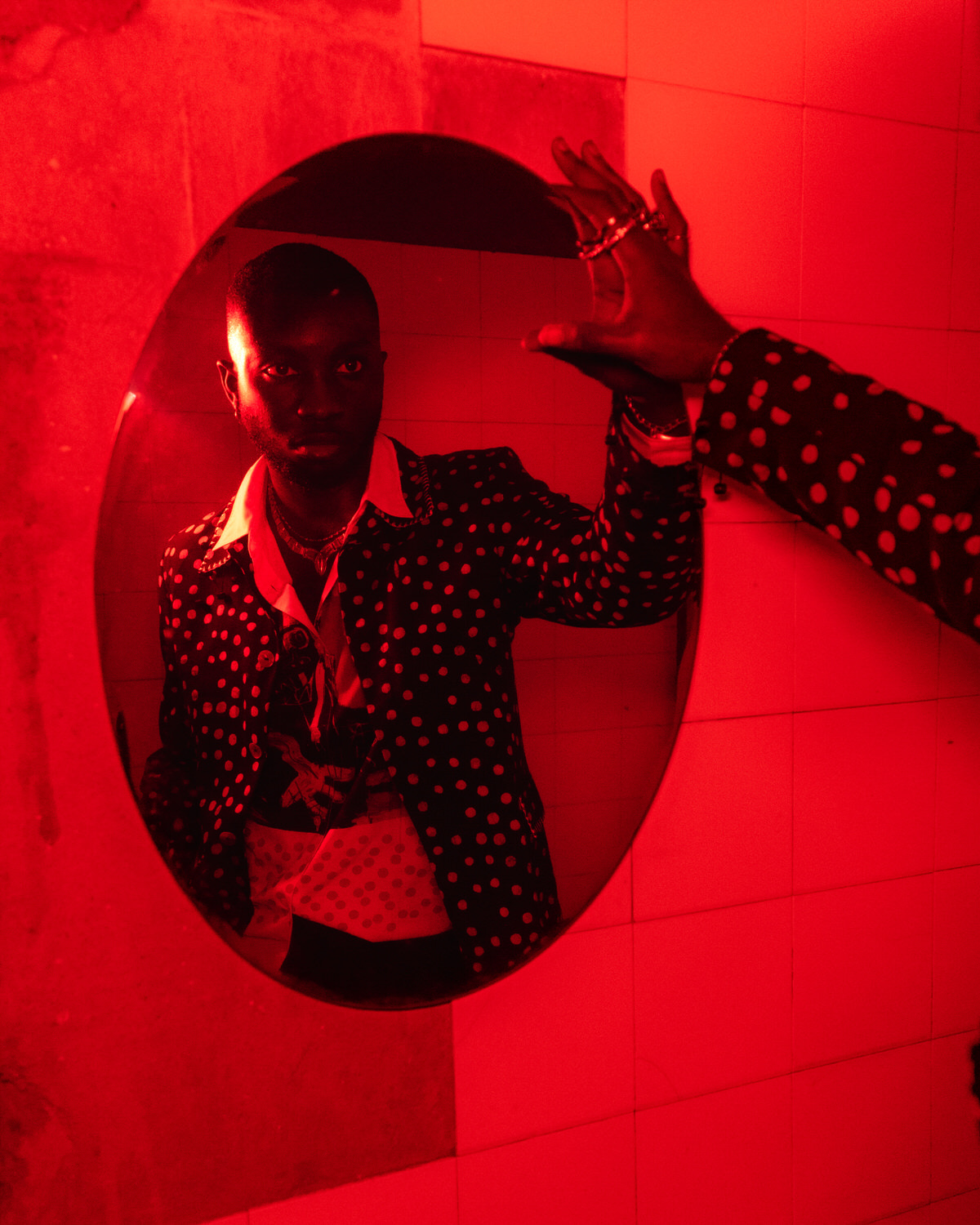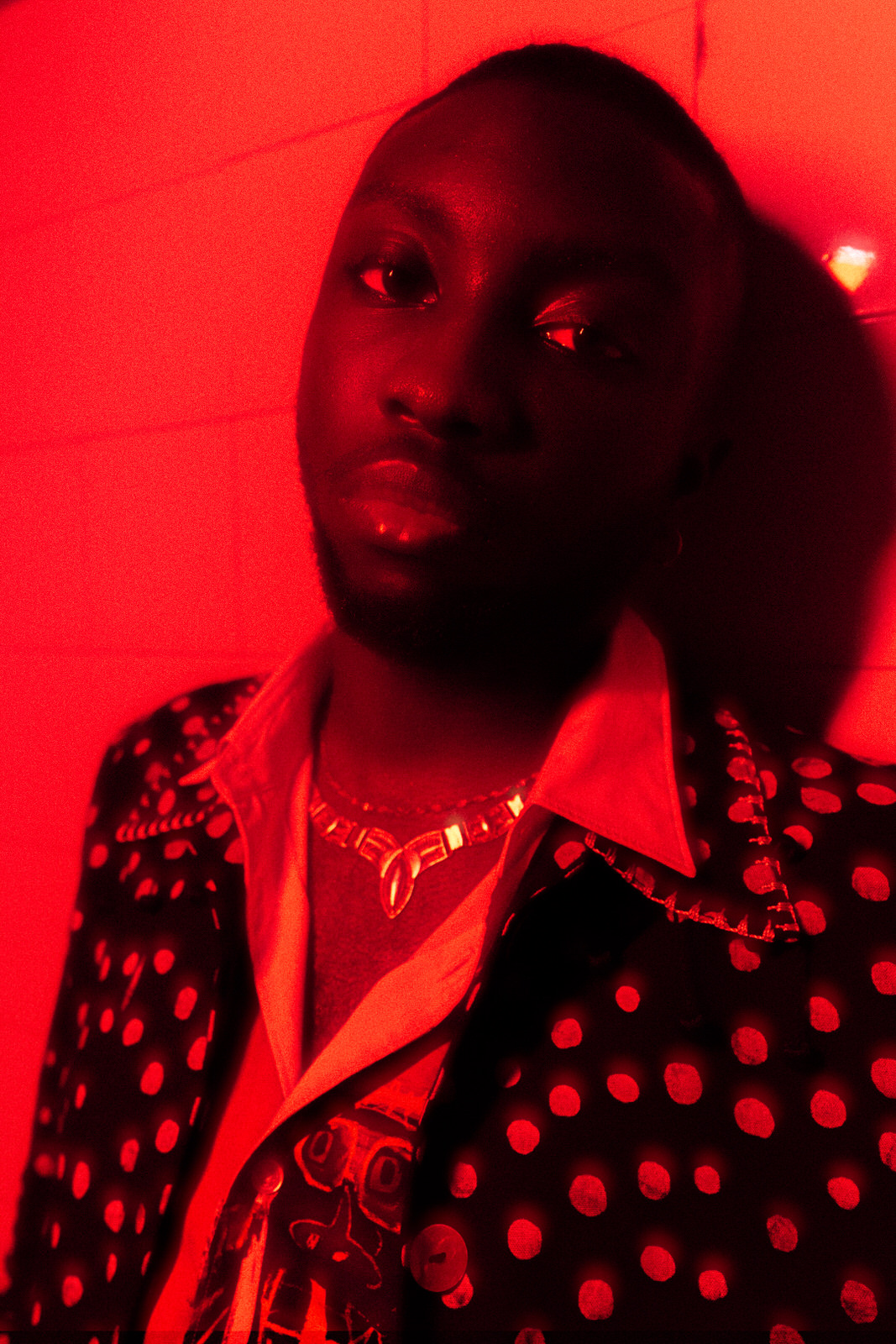 Part of this blueprint, is bringing his shade of darkness to the Pop music landscape in the country. Traditionally looked down upon, Odunsi wants to change the perception of what we hear on the radio and on the dance-floor. As a producer at heart, he's quick to draw inspirations from the records most may see as vapid. He talks about the deep connotations behind street-hits like Harrysong's "Reggae Blues", whilst hitting the woah to a Solange and Playboi Carti collaboration.
Odunsi spent the year leading up to his album testing the waters. In the dark of the night, he started an anonymous Soundcloud page under the alias "friday cruise." Throughout this year, he would preview singles, references, riffs and mumblings to his few dedicated fans that unearthed the hidden gem. It became vital outlet for him to dip his toe in and read the room – and one that even his peers utilised, as the Iwar brothers both released loosies on cruise. "friday cruise" also served as the birth of the R&B Odunsi we see on "Tipsy", and one he says we will be saying a lot more in the future. "I want to make the best pop music coming out of Nigeria, whilst redefining what Nigerian pop music even is. I want to bring my darkness to Pop."
***
Odunsi's flight is tomorrow, and he's finally ready to leave London. His demeanour has changed significantly from the Boy from Magodo, with the bleached-blonde hair and wide smile. He's going out more, religiously drenched in black. I  ask him if he thinks he's changed since rare. and he answers frightening honestly.
"Before the album, I was so happy with my fanbase. Dropping songs and doing shows, and knowing they loved me and I loved them. But now, after seeing all I've seen, I need to be the greatest. Whatever that means."
He pauses for a moment, packing the duffel bag he originally came with, into fresh suitcase of new things.
"I need to start the second album. It's time now."