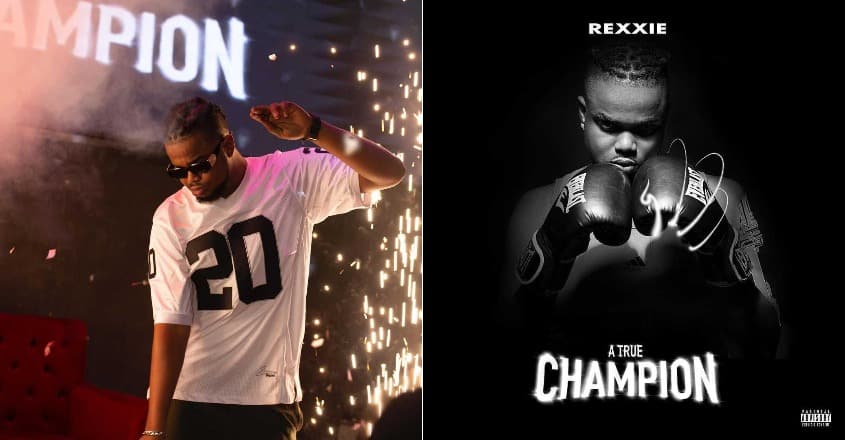 A 1-Listen review of Rexxie's 'A True Champion'
Featuring Davido, Naira Marley, Sarkodie & more
Unless you're entirely oblivious of everything recent in mainstream Afropop, Rexxie needs no introduction. In the last three years and counting, the Lagos-raised producer has personified the infectious song-craft and madcap experimentation that have made the streets overwhelmingly great–again. Coming on the back of the Shaku Shaku wave, the Zanku followed suit as the latest frontier of innovation provided by Lagos' inner hoods to Nigerian pop music scene. At its forefront is Rexxie, integral to a sound that is now innately Nigerian.
Packaged with a dance style that has continued to mutate rather than disappear over the years, Zanku's musical attributes are a massive leap from the Gqom-inspired style that soundtracked the ephemeral but hugely impactful reign of the Shaku Shaku. It was a sonic evolution that the streets wholly embraced and champion till date, which meant mainstream Afropop had to follow suit. With a long list of foundational hits—including Zlatan's "Leg Work (Zanku)," Chinko Ekun's "Able God," nearly everything from Naira Marley's phenomenal 2019 run, and a lot more—to his name, Rexxie can aptly be described as a maestro.
Although he's a reliable hit-maker with a predominant sound, Rexxie has been anything but stagnant, constantly refining his expertise while strengthening the edge that makes him this generation's greatest codifier of street-hop. Last December's "KPK (Ko Por Ke)," featuring Marlian Music's MohBad, took vivid inspiration from the South African-originated Amapiano and retooled it into something equally refreshing and identifiable with the ever-broadening Zanku sound. He applied the same trick to Naira Marley's "Coming" to great results, another proof of his commitment to staying a step ahead.
"KPK," which has gone on to become a huge hit, is the lead single off Rexxie's newly released, star-studded debut album, A True Champion. It's the follow-up to last year's EP, Afro Streets, a project which excellently centred Rexxie's beat-making capacity. With a sprawling cast around him and clear growth in his craft since his emergence, the possibilities for 'A True Champion' are truly endless. Let's hear the statement Rexxie makes with his full-length.
In usual 1-listen review fashion, all reactions are in real-time while the music plays. No pauses, rewinds, fast-forwards or skips.
"Frenemies (feat. Oxlade)"
Getting the grove right from the start, but it's quite mellow. Oxlade should create a sample pack of his chants, he'll probably make a ton of money from licensing them. I like the mindset of this song, very self-assured with a lot of personal substance. I love that Oxlade is repping Surulere, always a joy to hear artists uplift their beginnings. This melody could be catchier, but he does sound very comfy over this groove. Those guitars are a really nice touch, solid intro.
"Boi Boi" (feat. Teni)
It's a travesty that Teni and Rexxie haven't worked a lot more, "Foti Foyin" is still a banger. This is a full-bodied banger, my head is darting back-and-forth. These percussions are fire, really nice breakdown with this shimmering piano has a playful grandiosity to it. "Don't be stupid o, collect your money o" is basically the message of this song. I'm not mad at it and I'm sure people can relate with it, but the lyrical content is doing little to match the utter catchiness of this beat. Rexxie's dad, I think, with a prayerful cameo.
"Mofoti 2.0" (feat. Naira Marley & Sarkodie)
I always get hyped whenever Sark shouts "what else!". Ooooof, these guitars have some old-school sauce to them but it feels perfect for a street-hop banger. The log drums came out! The way Rexxie uses the log drums as a rimshot trick needs to be applauded more often, he knows how to bring the drum pattern but the layers make everything even better. Naira Marley is such an infectious presence, very assured and unbothered. Sark's flow is slightly stiff but I'm loving every bit of his enthusiasm. Safe to say this sequel is better than the initial installment. Electric guitars going crazy! Absolute keeper!
"Banger" (feat. Asake)
More Amapiano, with a twist. This sounds very influenced by Vigro Deep, a strong emphasis on the drums but the crystalline keys and sax pad is what make it captivating. I haven't paid attention to Asake in a while, and he's giving me reasons I should change that. The flow is pretty catchy, and I can see the lyrics getting love on the streets. "Them no know say e no easy to get the money." Preach!
"Motherland" (feat. Kida Kudz)
This opening musical sequence is positively hypnotising, and Kida Kudz is obliging with his trademark Jiggy flow. "She give me all the time, no denial" is an iteration of a line many male Afropop singer use, but I find it absurd because that all the time thing sounds like all of them are moving with nymphs. I like this a fair bit, not sure I'll be playing it a lot but it's a serviceable song. Not this guy bragging about an ECOWAS passport, please let's know what we're doing.
"KPK (Ko Por Ke)" (feat. MohBad)
I remember Shina (NATIVE's Digital guy) repeatedly yelling that we should go listen to this song two days after it dropped, he was so sure it was the eighth wonder of the world. Well, he was right. What is left to be said about this masterpiece? Every time I listen, I find new ways to appreciate the layers of the music, the way the organ gives way to the guitar without losing the groove is absolute madness. MohBad came with all the catchiness. I remember going to Ikorodu the next weekend and I heard "KPK" everywhere, someone (read: me) has to do a story on street marketing in 2021. Still a slapper! Forever a slapper!
"Back2Back" (feat. Bella Shmurda)
This song absolutely slaps! Bella Shmurda has an unassailable vim about him, it's almost impossible to not be captivated by his star power. Of all the Nigerian producers trying to adapt Amapiano, Rexxie is heads and shoulders above them. Bella sprinkles crack on his hooks, and he repeats those lines with a sense of newness. A perfect follow-up to "KPK," that's a sequencing bonus right there.
"Birthday" (feat. Buju & Moelogo)
We need to talk about the influence of Juju music on Afropop, I mean extensively. Moelogo's voice is perfect for this instrumental, he's putting on a pretty good show. I like the cohesion of his writing, it's a good trademark to have. Buju knows how to jump on a song, very unique but nothing disruptive. Sincerely happy he's regained some momentum since exiting Spaceship, his on wax personality has gotten much more riveting and it's translated into several well-accepted songs and features. This is a really good song, Rexxie came with the heat.
"Booty Bounce" (feat. Bad Boy Timz & Ms Banks)
This album has been moving at a really good pace, not breakneck but it's fast enough to not feel like I'm nine tracks in. This Timz hook is not doing much for me, but I can see the appeal. "Big booty girls yapa for here," I'd like an invitation to wherever "here" is. Ms Banks! The swagger is plenty. As in, O.P.P. I liked that verse, nothing too crazy but she elevates the song. Anytime I hear Ghana bounce, I just think Ajebutter22, maybe that's why I'm not into the hook. I like the drunken knock of this beat, mirroring the perfect time it should be played at a club or party. It's also a potent reminder that Rexxie has a good ear for melodies.
"Hobby" (feat. Perruzi)
Lively piano chords, I know the drums will drop with some verve. Ah, there they are alongside an animated and instantly raunchy Perruzi. If someone tells me I'm their hobby, I'll roll my eyes at the silliness, but I get that it makes for a catchy Afropop lyric line. There's the log drum breakdown anyone could've seen coming, it keeps the song interesting since the lyricism isn't doing much for me. Serviceable track, keeps things moving.
"Zanku 2.0" (feat. Zlatan)
Zlatan is Nigerian music's version of the energizer bunny. Davido might be the only competitor for that title, but I'm giving it to Zlatan. He's giving these drums a run for their money. This is a hypeman track, and I can see this doing really well. Related: I've seen Zlatan on stage once, and he was even more hype than his hypeman. I like that verse, a pretty funny storyline. Zlatan is an adlib god! This is a premium example, but it wouldn't work without this Rexxie beat. The way he's co-opted Amapiano and used it to embolden how bombastic and malleable African Dance music is. Banger.
"40 BTC" (feat. Seyi Vibez)
More Amapiano-inspired melodies, craving a little more versatility but I'm not entirely mad at it. There's a beautiful and affecting relationship between the aspirational ethos of the streets and deference to a higher power. Well, "a ma gbese ti'le a fi mo" is a strong rejoinder that this is primarily a dance track. I like when featured artists acknowledge the prowess of the host producer, and by God, Rexxie is one of the best out here. This should do well if it ever becomes a focus track, it has the makings of a street hit. I can even hear Reece Madlisa and Zuma on the remix for a South African crossover play.
"Ginger Me" (feat. Midas the Jagaban & Zinoleesky)
This oriental string riff is beautiful. Midas has one of those voices suited for crafting club-ready hit songs. She's spilling her heart out to a love interest, and it's quite charming. Zinoleesky! Haha, this loveless shtick is a wonderful contrast to Midas' warm croon for assurance. They're addressing different people but their perspectives dovetail perfectly. This is a really nice, radio-ready groove. Very catchy, dancey even, but it's far mellower than most of this album, which is a good thing for variety. Whoever played the guitars on this album deserves more money. Keeper, this one.
"All" (feat. Davido)
This has pretty Afropop meets Dembow vibe to it, and there's no one better than Davido to add a magnetic essence to it. This reminds me a bit of A Good Time, which I consider his opus. The log drums are, here again, a pretty solid trick. "Ejiro, na you I go fuck till we age oo" is going to be one of those memorable, maybe not as an Instagram caption but it will get a few shouts if at a live show or in a club. It's great how Afropop has gotten effortlessly raunchy, fuck all that NBC ban and shout-out to the explicitness of streaming.
"KPK [Remix]" (feat. Sho Madjozi & MohBad)
Initially, I didn't see the need for this remix but it's grown on me a fair bit. Sho Madjozi and Zlatan need to be on a song to see who outlasts the other in terms of on-wax energy. One day, we will look back on this MohBad feature and consider it one of the greatest feats of songwriting in Afropop. The streets already approve, the wider populace will follow suit soon. Sho Madjozi radiates unbridled joy, like a child left to run wild at an Ice Cream store. Great addition, especially with her reverence for Nigerian street slangs. Beat ride out is perfect, those organs are just crazy.
"For You" (feat. Lyta & EMO Grae)
I knew we'd get into a slower bag with this track. I like how Marlian Music is setting up Lyta and EMO Grae as heartthrobs with a streetwise edge. Fan appreciation will never not be a graceful touch, and there's the connection between the streets and God. Clanging percussion and luminous keys, perfect groove for this type of grass-to-grace introspection. Lyta is singing his precious heart out, it's actually moving. Stopped typing for a bit, EMO Grae's verse is a highlight on this album, the honesty is show-stopping. Keeper, this one.
"Champion" (feat. T-Classic & Blanche Bailly)
That should've been the final song if you ask me but I have to give this song a chance. Faster paced, but the appreciative tone is still constant. T-Classic, like the title of his EP, is actually underrated. This isn't the best I've heard from him but he's still such a wonderful presence on wax. This must be Blanche Bailly, never heard of her and this isn't a bad introduction. She sings in French, too? Sign me up. This hook reminds me of DaGrin, IYKYK. I can see why this is the closer, it ties into the album title pretty well. Not an instant favourite but it'll do as an outro.
Final Thoughts
Rexxie's A True Champion is a victory lap—a well-earned one at that. Although it's just his debut album, it's a celebration of the thousands of hours he's put in to achieve an undeniable level of mastery. Across the album's 17 tracks, the level of craft displayed teeters between effortless and painstaking, a generally well-stitched effort hinging on his instincts as a hit-maker and inclination towards pushing beyond any perceived boundaries around his musical preferences.
Where Afro Streets benefitted from a laser focus on the identifiable Zanku sound, albeit with some melodic shake-up, A True Champion expands Rexxie's musical purview to applause-worthy reception. At his core, he makes Dance music, which is made evident on the project. He does, however, vary his approach to match the respective tenor of his sprawling guest cast, shifting tempos and moving between styles without jamming up the album's momentum. There's a significant reliance on the South African-originated Amapiano, which happens to be his most potent trick on the album, but there's a healthy dose of innovation attached to that choice too.
A True Champion reinforces Rexxie's adeptness at cobbling together grooves of varying kinds. On a project with Davido, MohBad, Ms Banks, Zlatan, Midas the Jagaban and Zinoleesky being amongst those who brought their A-game, Rexxie shows himself to be singular. He doesn't utter a word or sing a melody, but he's the loudest star of them all here.
Listen to A True Champion here.
---
@dennisadepeter is a staff writer at the NATIVE.
---