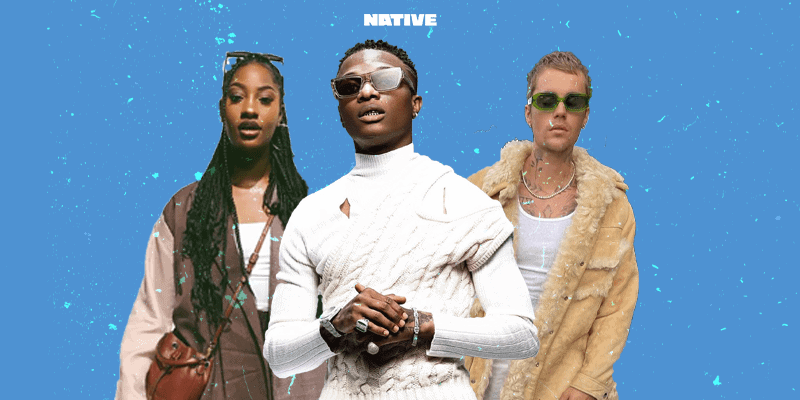 Would "Essence" have come this far without its remix?
Another Despacito?
As "Essence" clocks yet another milestone, Adaobi Ajegbo offers a critical analysis of the record. Examining the songs paced success, she discusses the discourses that came with the release of the song's Justin Bieber remix, including the possibilities of sought western validation.
---
This year, no song has exuded the omnipresent certitude that Wizkid's "Essence" has. Released close to one year ago as part of his long-awaited fourth studio album, 'Made in Lagos', the Tems-featuring song has slowly but surely worked itself to a place of prominence. First warming the mouths of speculative party-goers in the early months of 2021 as hopeful ravers returned to clubs, "Essence" has now taken its position as the song to soundtrack our trudge to the simple delights of pre-COVID-19 life. As former RCA executive Tunji Balogun clearly elucidated of the song's appeal in a statement to Billboard last month, the "song has become emblematic of being back outside." 
Buried deep into the song's sweltering core is a message of longing and, ultimately, free-spirited desire that many had not been able to feel for a while. "You don't need no other body, only you fi hold my body," confesses Tems in a distinct vocal tone that is almost impossible to accurately emulate. As I hark back to the song's release last October, trailing its steady climb afore its summer peak, I am faced with the realisation that this was hardly anyone's first pick for song of the summer.
In its entirety, the album was regarded as the singer's magnum opus with many key standouts including a feature from Burna Boy, the self-acclaimed African Giant who has spent the last few years enjoying global success. In the words of Audiomack's Olive Uche, who ranks "Ginger" as the best song on the album, "the back and forth bit between Wiz and Burna, the ad-libs to the intro and outro, it's the catchiness of the chorus, the play on words, it's perfect!" "Ginger", like many other songs on the album could have stolen our attention, yet it was "Essence" that opened up a playground of possibilities for both singers. 
In their album review, British-based publication NME suggests the impracticality of "Essence" on the project with the statement, "Yet this latest project meanders for a few tracks too many; 'Mighty Wine' and 'Essence', for example, are expendable." As weeks have turned into months, and the summer days have rolled on, it's become increasingly clear that the P2J-produced "Essence" is anything but expendable. It has not only attained good standing as the song of the summer but consistently broken records previously unfeasible for Afropop artists. Recently earning its Gold RIAA certification "Essence" has hit a peak position at #13 on the Billboard Hot 100 and is currently the most Shazamed song in the US. Of course, these victories didn't 'just happen' in a vacuum, after emerging as a fan favourite, the song received a worthy jolt in promotion, alongside an alluring music video shot in Ghana. 
"It blew in Nigeria and then the UK and by the time we both got over it, the US was just catching up and here we are today," Nigerian music reporter Makua Adimora tells me as we discuss "Essence"'s travel through different borders. This inquisition of "Essence" necessitated a different but pertinent conversation: America's late consumption and co-opting of Afropop. A closeup shot followed the 2017 release of Davido's "Fall", which only started getting US radio play – the precursor and rationale behind the song's success in January of 2019 – over 20 weeks after its release. This gives the impression that African music – distinctly Afropop – is still a conditional product to Western media. While the music is undeniably good, Afropop records must still face trial on how their sounds suit the narrative of what the US-dominated global entertainment system has prescribed for the catch-all 'African' genre of Afrobeats.
In a piece written by Ivie Ani, titled 'The New Exportation of African Music', the Nigerian-American culture critic tackles this theme of international visibility, explaining, "What is clear is the type of sounds and artists that are granted visibility on global stages. But when Western audiences and gatekeepers hyperfocus on a singular sound and conflate much of everything else with it, they run the risk of rendering African music a monolith and dismissing the diversity and dominance of other artists and sounds on their own turfs." This monolithic view of Afropop has continued to exist as we constantly revisit the need to progress beyond boxing music into stringent categories.
View this post on Instagram
As "Essence" rose on the Billboard charts, less than a year after its release – comparatively rapid for an album cut with no international features – a hopeful question emerged on the minds of those on the ground, who'd been hip to the single since its 2020 release. Will this potential hit fall into the trappings of the Western gaze? Will we see "Essence" employ marketing strategies in favor of Western audiences? Ultimately, will our song of the year spread its wings across shores, only to land in search of validation and unnecessary pandering? 
The incessant discussion surrounding the compulsive desire for Afropop to thrive in international spaces through Western cosigning and features is one that we always seem to return to. An important concept to Africa's most conscious musical ambassadors, Burna Boy – from his vocal discomfort with Coachella's font use, to his self-acclaimed album title – has championed the challenging of our position in Western perception. Similar was the Beyoncé saga that graced social media after 'Lion King: The Gift' album; a self-explanatory case eliciting from its content, feature list, roll out, and more. These, as well as many other instances, order a raging discourse between Africans on the continent and Black people around the world. Yet again, the debate has found a place in our conversations following the announcement of "Essence"'s remix featuring America's Justin Bieber. 
Reeling off the commercial success that came with the song's original version, Wizkid and Tems joined forces with the "Peaches" singer on a surprise "Essence" remix shared a week to the eventual 'Made in Lagos: Deluxe' release. Introducing JB's vocals with "I prayed for this moment, I would be by your side," the addition, which received mixed feelings from fans and listeners, was speculated to be an attempt at a "Despacito" rehap, aiming for a top 5 or even a number 1 on US charts (though new projects from chart juggernaughts, Drake and Kanye seem to have crushed that dream). While contemplating the added value of the remix, the Audiomack Lagos team explains, "Necessary musically, no. For reach, yes. It's a strategic play that will guarantee chart positioning easily and get listeners. To be quite honest this can encourage someone to listen to the original and be so amazed they probably won't revisit the remix again, listen to the whole album, or better yet explore the Afrobeats genre." 
The Scramble for Africa has recently taken a different form. Particularly aiming for the entertainment industry, musicians are now the favoured apostles that have been granted increased global visibility and are now exposed to a divergent take on the music business and commercialisation. A sign of heightened acclaim, crossover collaborations remain heavily contested grounds. Some argue that they are a good thing for the evolution of Afrobeats, as they score good numbers, simultaneously generating opportunities and creating a space for Afrobeats in a global market. Others deride the local artists for pushing out content that will invariably sound less "organic", as is much of the criticism for "Essence". Meeting in the middle is where Burna Boy found support, as he told Fader in a 2019 piece, "I care about crossing over, but in the opposite way, I want to come here and cross you over to where I am. You understand? Because where I am is the actual home of the beginning." 
A more comforting system, perhaps would be for decision-makers and music heads to employ less profit-oriented approaches and instead, make the art form the focal point of the scheme. As Burna implies, the goal is not to crossover, modifying original art forms into some Europeanised versions, but to rather bridge gaps between cultures, whilst prevailing organically. For "Essence", the newly established benchmark for Afropop success fails in prioritising the organic art form that came with the original song but instead utilised schemes to commercialise the song in form of the JB remix. When we think about Wizkid's multiple sold-out shows – within minutes – or Tems earning a place on the long-awaited, meticulously crafted 'Certified Lover Boy' and how these moves all occurred without the extra push of a Justin Beiber remix, it is clear that success for African artists, and songs, is attainable without a commercialised Wester co-sign. However, that isn't to deny the JB remix of any impact at all.
Ultimately, profit-making as this move might be, "Essence" continues to clinch further to the top 10, opening a world of success and global growth for Wizkid, but most especially for Tems – and this remix has been an unequivocal catalyst. With this personal gain, the genre as a whole inevitably also bags a win, creating an avenue for artists like Tems, who are springing up with new, riveting music styles that diversify the world of Nigerian music and inspire the world with Nigerian music. 
Featured image credits/NATIVE
---
Adaobi Ajegbo is a multidisciplinary freelance writer specialising in Music, culture, the arts, social issues surrounding sex and gender, and African creative development.