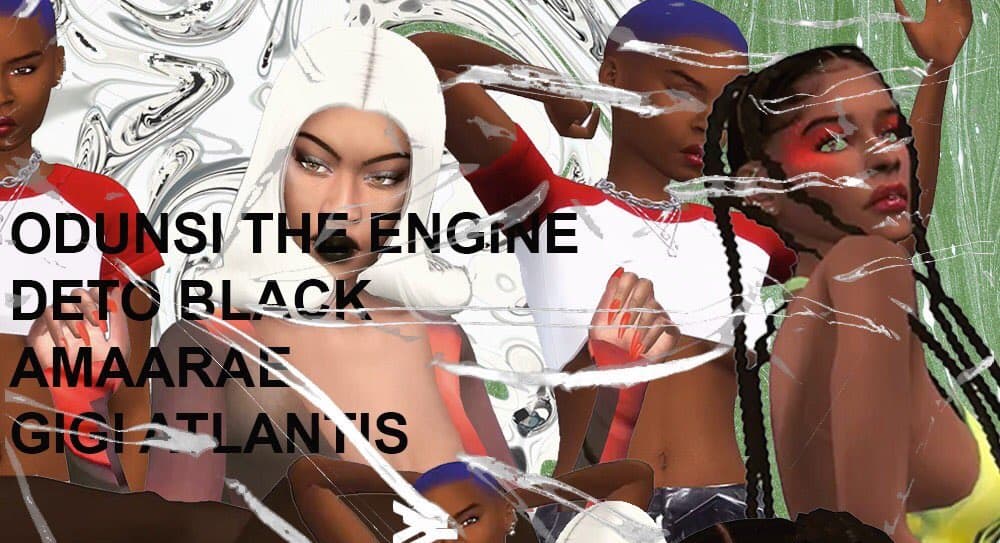 The importance of a song like 'Body Count' for African women
If you a bad bitch, run it up
Female sexuality is a mainstay in afropop, yet for some reason isn't a space women themselves are allowed to occupy, and also tend to shy away from. Women in music are marginalised by gender inequality and with respect to this are often forced to repress their own sexuality in order to satiate an audience who would rather view them as sexual objects.
"Not today, sis" said Amaarae, Gigi Atlantis & DETOBLACK with their outstanding performance on "Body Count" the undoubted standout off Odunsi's recently released EP, 'Everything U Heard Is True'. Beyond the incredible sonic quality, this track is a big moment for women, and I'm going to explain exactly why.
Odunsi, Amaarae, DETO BLACK, Gigi Atlantis. Coming Soon 🤯 pic.twitter.com/v1gVxIoMCw

— The NATIVE (@NativeMag) May 10, 2020
Lyrically, each artist is operating well outside of the space carved out for African women in general, starting off with Gigi's infectious hook where she chants: 'Don't worry about your body count, let your body bounce'. While we all know that these conversations surrounding a woman's autonomy over her own sexuality are tired and outdated, society doesn't seem to follow suit in their treatment of the topic. Just last year, Kizz Daniel brazenly released the slut-shamey anthem, "Fvck You", where he dedicated an entire song to berating his lover of sleeping with the grand total of 11 people – travesty. Only a few weeks ago, we saw Kelz, a British-Nigerian contestant from Netflix's Too Hot To Handle mansplaining the issues he has with a woman's body count being high, and why this is a reflection of her self esteem. He also explained that this doesn't apply to men, because in his opinion, they experience sex differently to women, which supports the age-old myth that sex is something a man takes from a woman to enjoy, whilst a woman gives rather than enjoys for herself. The entire premise of "Body Count" and Gigi's hook especially is here to defy this 'norm' and remind us that all of that is nothing but a load bullshit.
Sexuality in pop music is a nuanced concept, especially for women. It's very empowering for them and their listeners when an artist completely controls how her sexuality is perceived, however, can be a bit cringe if it's done solely for the appeasement of the male gaze. With her music in general, Amaarae has always embraced and presented sexuality on her own terms from songs like "Spend Some Time" and "Like It". With this in mind, her contribution to "Body Count" sees her on form, where she flips the typical tenets of rap on its head, telling us about having the hots for the stereotypical 'bad boy', with lines such as "young rich nigga with blade and the chains, call me wifey", and "big dick for me, then he fighting off the R.I.C.O". This is especially powerful, considering how men love refer to women as gold diggers and hoes in their music, and it's interesting to see an African woman flipping the script and giving them a taste of what they do. That's not even all she had to offer, she also dabbles a bit into the politics involved in dating and situationships, with lyrics that negate the idea that women need emotion to enjoy sex. Men (in music and in real life) are notorious for refusing to claim the women they're dealing with, and Amaarae takes a page from their book when she says "that's not my man, that's my amigo", and also completely objectifies them with her cheeky Ludacris sample, saying "we got hoes in different area codes".
Amaarae and deto black on that song pic.twitter.com/ctCyXvCd6w

— MADONNA OUT NOW🇳🇬 (@thelegendkunte) May 12, 2020
Songs such as Khia's  "My Neck My Back",  Lil' Kim's "How Many Licks", Missy Elliot's "One Minute Man" and several others, prove that black women have been talking their shit and taking charge of representing their sexual autonomy for decades, however, we're still always taken aback when we hear more recent artists like City Girls, Cardi B, Megan Thee Stallion, Doja Cat and others taking up this space. While they've held it down for women all around the globe, this is a completely untapped niche in the African music sphere, and freshman DETO BLACK introduces it in the best way with her verse on "Body Count".
African women are expected to conform to the purity culture society has preached to us all our lives, and DETO single-handedly challenges this with her debut on the music scene, with confident delivery and explicit lyrics which defy everything we've been taught. For her first attempt and introduction to her music, she raps with the cadence of any other rapper you've heard, introducing her signature drawl at the end of each bar and switching up her flow to ride the wave of the beat. She's also flexing the same way you would expect any rapper to, spitting body and sex-positive lyrics which show that she is entirely in control of her interactions, expressing carnal desire and demanding the way she wants to be treated – "I know you saw me looking cute on the 'gram/don't step if you ain't got a plan", "Gotta keep it on the low though, raw dinner eat this pussy real slow though.
Deto's penmanship elevates the gravity of what she's saying, and completely eradicates any possibility of her ability as a rapper being challenged with wordplay and specific references to things we all go through. She speaks directly to other women like her when she reminds us to ensure that we're actually enjoying sex, saying; "better throw it back sis, gotta let this body count", or when she pumps us with much-needed vim to live loudly and break set barriers, putting a middle finger up to the older generation of women who enforce these norms when she says to let these aunties know that she's a bad bitch.
This isn't even a particularly new feat in afropop. Songs like Tiwa Savage's "Written All Over Your Face" (which never quite took off), or literally every other Niniola song where she sneaks in Yoruba lyrics about sexual desires between her afro-house beats exist, however, don't quite directly address women's sexual autonomy in the way "Body Count" does. Outside of this, you'll find that anything to do with a woman's sexuality in music, is controlled by the male perspective, and Odunsi taking a step back on his own project to give women the platform to do this seems like a request for a revolution.
More than a catchy bop for women to twerk to in the mirror whilst we wait for outside to open so we can hit the clubs, "Body Count" is a bold statement for women and breaks ground for a new reality to emerge. We've spoken about the importance of women sharing their experiences in music, and whether we realise it or not, songs like this are a great contribution to the fight for women's liberation from the shackles of patriarchy. When Megan & Beyoncé released their "Savage" remix, it brought women from all over the world together, and "Body Count" should be met with the same reverence for women in Africa.
Enjoy the music, but also make sure you don't worry about your body count and let your body bounce.
Featured image credits/@Jessicnnt
---
Damilola is the head bitch in charge around here. Don't tweet at her @damdamxx 
---