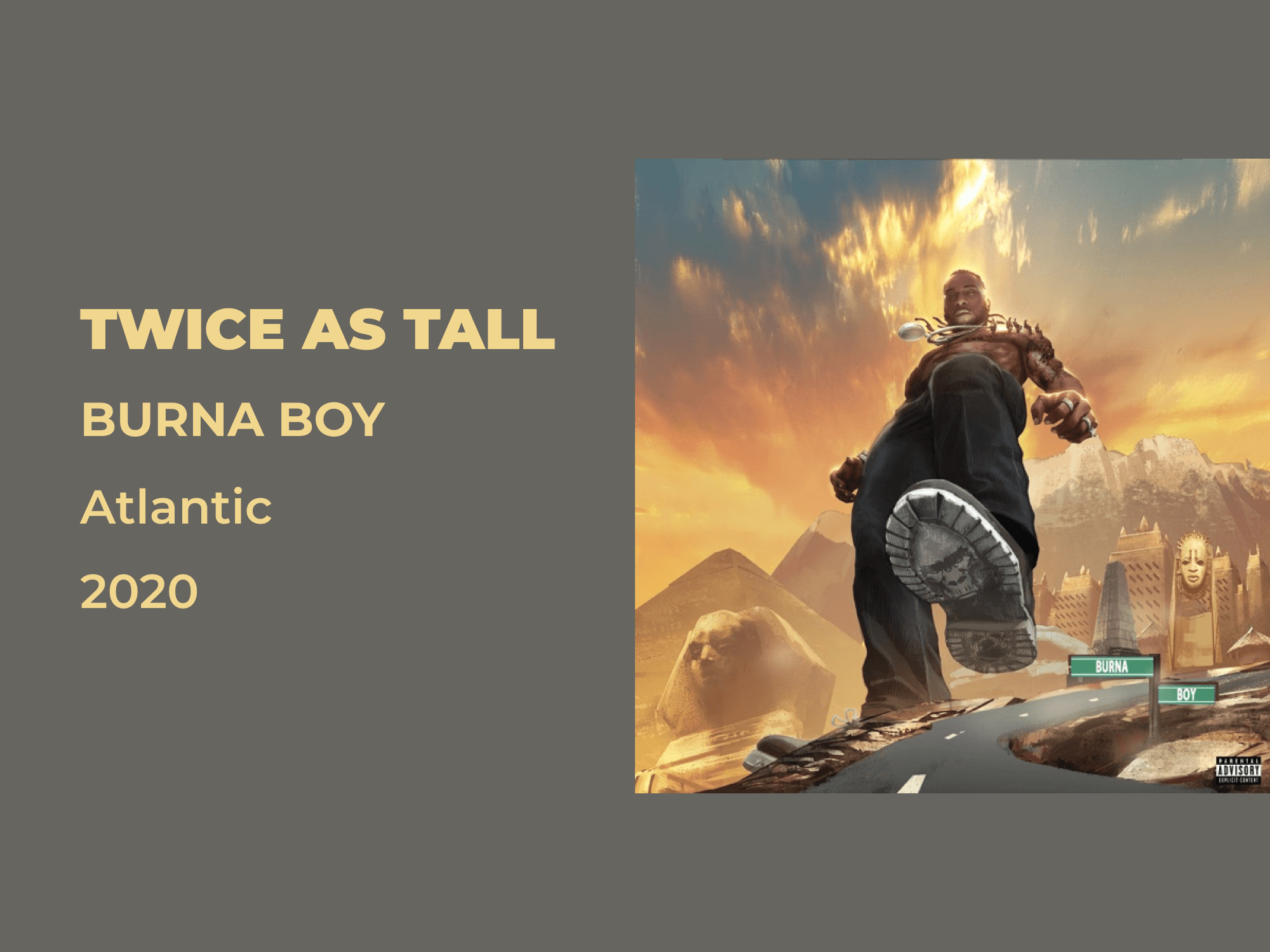 Review: Burna Boy's Twice As Tall
Burna Boy goes deep on the follow up to Grammy nominated 'African Giant'
'Twice As Tall', the third major label release from Burna Boy, is the triumphant third act in what has been an unrelenting, unforgiving, and unapologetic three-year crusade to the top of the African Music mountain, and, if this record is anything to go by, far, far beyond.
---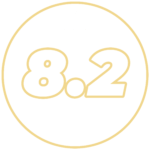 As the cheerful, Disney-like "Twice As Tall" by Bernard Hermann plays, taken from 1950s classic Journey To The Centre of Earth, it welcomes us to the latest project from Burna Boy, his third in as many years, following the signing of a joint venture deal with Atlantic Records. It is a welcome reminder that the arrival of 'Twice As Tall', the album, is the final destination of a near 1000-day voyage by Burna Boy and his critically-acclaimed team, around the world and back. But one can't help but think the immediate journey to this particular LP started on that fateful day in Los Angeles, California. With the city still mourning the tragic death of Kobe Bryant – an event which still feels surreal to type – in true Hollywood fashion, the show went on in The Staples Centre, the arena Bryant himself entertained and won in, for twenty years.
The 62nd Grammy Awards kicked off at 7PM local time, but for most of us in town for the festivities, it was over before the television coverage even started. The infamously catch-all "World" Album Award is one of many awards handed out before the stream begins on national television, and from my hotel room, still shocked and paralysed by the news that morning, we learnt that Burna Boy's triumphant 'African Giant' – the album that was the soundtrack to the previous summer and the months to follow – lost out to multiple Grammy winner, Angelique Kidjo. In her acceptance speech, Ms. Kidjo tipped her hat to the Nigerian artist, going as far as to say the award was "for him", but of course that didn't change its final resting place in her own home. It was an anti-climatic end to a weekend, and in truth a whole year, which seemed to be building to that very moment. Seeing Burna in LA during Grammy weekend was everything you see in the movies before the big crowning ceremony – the adoration from party to after party, the packed industry audiences at every exclusive Grammy Weekend event, locked in to see the African Giant they'd heard all about, for themselves. Everything seemed to be building up to validation on Sunday evening, but that didn't come.

And here we find ourselves. Over a year since the last album, and nearly seven months since that dark day in California, the world has changed drastically in that time. Even before pressing play on Burna Boy's latest offering, given all that has come before it, it would be disingenuous not to point out the gramophone-shaped elephant in the corner of the room. And to his credit, it's one that Burna addresses quickly and honestly on "Level Up", the album's brooding opening track: "I remember when I couldn't level up/Cause the Grammys had me feeling sick as fuck, throwing up and shit/Asking questions like, 'why it wasn't us?', almost had a nigga feeling envious/Tell em, say them can't bury us/Cause the love make me stand up every time when me fall/Come back standing twice as tall." Defiant, reflective intros are somewhat of a Burna Boy album tradition; the grandiose 'African Giant' title track, 'Outside''s moody "More Life", 'Redemption''s uplifting "Pree Me", and the cinematic "Intro" on his debut album 'L.I.F.E', Burna clearly singles out these moments to really talk his talk, showing off his lyrical chops whilst setting the tone for what more is to come.
At it's best, 'Twice As Tall' is a victory lap for the back-to-back MVP. Urgent, frenetic tracks like "Alarm Clock" and "Wetin Dey Sup" sound like the futuristic brothers of the young(er) Burna displayed on "Run My Race", the classic street record off his debut album – more polished, more laser-focused, but not missing an ounce of the energy we first heard back in 2013. Coincidentally, "Alarm Clock" and "Wetin Dey Sup" are two records which have assigned production credits to the surprise guest of The African Giant's album: Sean "Diddy" Combs. The Hip-Hop polymath was said to have been drafted into proceedings as an executive producer "80%" into the completion of the album. His addition has been a relatively significant point of contention for many listeners – Nigerians are notoriously protective of Western influences on our music.
Since Burna's 'Outside' release, music from the continent has come on leaps and bounds as a whole – be it Burna's own unique brand of Afro-fusion, Rema's infectious strain of Afropop,  Kabza De Small's arresting Amapiano rhythms, or Santi's refreshing take on Hip-Hop (as well as the numerous other genres and sub-genres that exist) – the rules are being written and rewritten. In 2016, When Drake and Skepta hopped on Wizkid's "Ojuelegba", it felt like a win, for Nigeria at least. But in 2019, When Beyoncé dedicated a whole album to the continent, with numerous African artists and producers featured across a body of work inspired by Disney classic The Lion King, it felt not just deserved, but to an extent not enough, and maybe even not needed. This has less to do with The Queen B, and more to do with just how far music from the continent has gone. It no longer needs an "introduction" to the international audience – at this point, you either get it or you don't. It is not to say artists are no longer interested in crossing over internationally – this is the goal for many – but they are now more willing to do it on their terms, on our terms. The days of excessive sonic pandering are truncating with each New Music Friday, and Burna Boy, through his trifecta of major label releases, has been a significant factor in this.
That being said, although it's easy to decline to look further and beyond Diddy's infamous dramatic narrations during track transitions on 'Twice As Tall', delve a bit deeper and you see his subtle but full-bodied touches throughout the project. Be it pulling in the unicorn Anderson .Paak to supplement the combative live drums on the aforementioned P2J-produced standout, "Alarm Clock", or orchestrating a poetic meeting of the two ends of Burna's near decade long career, as Leriq, his long-time go-to producer, collaborates with Hip-Hop legends Mike Dean and Timbaland, to deliver the weighty offering on early fan favourite, "Way Too Big". And you simply can't miss the '90s Golden Era touches Combs made his name with, as they reverberate on "Naughty By Nature" – featuring the legendary Hip-Hop duo that Burna sampled on his previous project, showing just how far you can level up in a little over a year. On the record, young Spaceship Collective producer Telz shares credits with Diddy himself and Mario Winans. Whilst some may point to marketing as the reason for the drafting in of the man that built Bad Boy Records (and they just may be right), you can't help but feel that, for the young Nigerian producers on the album, it must have been an irreplaceable experience. Telz, who engineered the album and has lead production credits on five songs, describes the feeling of now making music with people he looked up to in secondary school as "crazy." He says, "Just In October, I was selling beats for ₦20k, and now I'm changing the mindset of other young producers. Nigerians producers just need exposure, there's talent here." Speaking to Apple Music's Tobi Oke, Burna seems especially honoured to be able to provide these opportunities himself: "[the] part of the album I'm proud of is having top producers from the UK and Nigeria here alongside guys like Mike Dean, to co-produce, to add that extra to it. It's giving that best of both worlds and trying to bridge the gap between them." As Burna has grown from a young flame himself to a leader in his own right, the responsibilities go further than just making good music, and he seems to be well aware of what comes with that.
Despite the guidance by Diddy, and the production offered by the likes of Leriq, Jae5 and P2J, the glue of the album, and the real star of the show that isn't mentioned nearly enough is Burna's phenomenal and versatile vocal performances throughout. Artists like Adele, Asa and John Legend are renowned by fans and critics alike for their generational voices, however, this praise sometimes seems reserved for vocalists in particular genres and music styles. Notorious B.I.G's music would not be what it is without his deep, bellowing voice emanating the flows he became known for. Lil Wayne's hits like "Lollipop" and "A Millie" similarly wouldn't be what they were without his growling southern drawl. In the same vein, Burna's vocal inflections throughout his career, but particularly on this album, truly brings his entire soundscape together. On "Level Up", he uses a clear, rap-like delivery – with his vocal pitch almost identical to his speaking voice – to adequately present his opening memo to the people, addressing his last couple of years in the game, and all its high and lows. Vocally, It's eerily similar to his 2011 breakout record "Freedom Freestyle", and lyrically, it shows just how far he has come, from the teenager just trying to make it out of the pack, to becoming the giant at the top of the mountain. On the bigger, stadium status songs like the phenomenal "Time Flies" – which features an expertly laid out, recurring sample of Sade's "Sweetest Taboo" – Burna adopts a near falsetto style singing cadence, fleeting between the legendary drums perfectly. On the the other hand, on the radio-ready "Monsters You Made", accompanied by Coldplay's Chris Martin and an epic "Dirty Diana" interpolation, Burna sticks to a deliberately simplified flow to match the PA-address style production on his voice and to complement the message behind the song. Although 'Twice As Tall' doesn't consistently venture into the sociopolitical realms of 'African Giant', this song seems particularly targeted, as Burna Boy urges those in power to look at the roots of the problems around the world today. Inspired by the Black Lives Matter movement that gripped the world during lockdown, Burna also alludes to happenings back home, particularly in his home state of Rivers. It is a brief but emotive foray into heavier subject matter that many feel Burna could touch on more, as a voice for young people around Nigeria.
Before dubbing himself The African Giant, Burna and his team have always made a concerted effort to link up dots around the continent with cross-country collaborations, in an effort to diversify his sound and expose him to new audiences. On "Wonderful", the album's lead single, despite being a solo song, does appear to be attempting to utilise the same formula. Although it does listen better within the album as opposed to a standalone single, "Wonderful" doesn't come near the highs of his recent Pan-African leaning forays like his scene-stealing outings on Kabza De Small's riveting "Sponono" and the remix to Master KG's inescapable "Jerusalema". Beyond this attempt however, 'Twice As Tall' doesn't really see Oluwaburna reinventing the wheel or pushing himself to his creative limits, but rather perfecting his aim and doubling down on what he does best. It's a welcome surprise of sorts to hear two Rexxie produced songs in "Bebo" and "Comma", but the former comes across as slightly trite at this point, whilst the latter hardly shifts the needle creatively, either – though it must be said, "Comma" does have immediately tangible dance-floor potential, and could be a slow burner primed for explosion whenever we're allowed to party again. Burna could be excused for slipping into the generic Afropop hit-making methods on such records, when just a matter of songs later, he delivers the magnum opus of the album, the brilliant and introspective "23". An ode to the greatness of Michael Jordan, Ogulu uses a soft, stripped back vocal inflection throughout the song – a baring of soul of sorts. Due to the single-dominating market we find ourselves in in Nigeria, "23" is the type of record we are usually robbed of, at least from the mainstream players. Burna said he was inspired watching The Last Dance, and particularly related to the scene in which Jordan explains the sacrifices he made to get to the top. For Afro-beats/fusion/pop (whatever you want to call it), there's a propensity to strictly relate the genre to the good times. It's the soundtrack to our good times, but just like us, the voices and minds behind the music we love so much, go through it too. In three short years, Burna has gone from perennially "underrated" to the main man. That comes with a lot of baggage.
On the mellow, Skread-produced beat, Burna sings somewhat reflectively "music makes me feel I be Jordan." For the first time since the album's intro, the Grammy shaped elephant raises its trunk almost in agreement.
The similarities between music and sport, and the stars that populate the two professions, knows few bounds. But the one key difference is the legitimacy of the accolades in both industries. Despite the recent addition to the Recording Academy of the likes of veteran A&R Bankulli in an effort to be more representative, The GRAMMYs, like every award show, is inherently flawed. Winning a Grammy is not the same as winning an MVP title in the (W)NBA or the Balon D'Or as a footballer. Every black artist, producer, songwriter and critic knows that. But for the music industry, it's all they have. As much as we continue to try and dissociate ourselves from material things, we are all human. A Grammy is the material pinnacle for most people in the music industry. There's a reason even Jay-Z, after years of boycotting the ceremony due to its numerous flaws, finally attended in 2018 following a record number of nominations, hoping to win a coveted Album Of The Year award. As Burna compares himself to Michael Jordan on "23", the question pops into this writer's head: "What's Jordan without his MVP awards?" Does it take away from his greatness or skill level or other accomplishments? No, not at all, anyone who says that doesn't know ball. But no one wants to be Jerry West – the man widely believed to have inspired the iconic NBA logo, but who doesn't have a single MVP to his name. As Drake eloquently put at the 2019 ceremony – whilst collecting his own award – "music is an opinion based sport". But it is a sport, and there's nothing wrong with wanting to win.
'Twice As Tall' is not just the Burna Boy's third project in three years, but also his eighth solo body of work in nine. By any definition, he is an album artist to the core. This is particularly poignant and relevant when examining the journey that has led to this point for him as an artist, and in the terrain he made it in – or made it through, however you wish to look at it.
Due to the nature of the Nigerian music industry structure, many artists are heavily reliant on live show revenue. This leads to an almost non-stop hamster wheel throughout the year, consisting of shows upon shows. In Davido's dominating 2017 year, he famously played over 100 shows, ranging from club gigs in Paris to Wireless Festival in London to sold-out stadium shows on behalf of the Ugandan president. For many of these artists, the pandemic-induced lockdown we all experienced would have been a rare moment of stillness. It was for Burna. The first six months of this year were probably the first time since 'Outside' that he could hop off the hamster wheel, and, even lyrically, you can hear it.
Singles rule the game in the era of streaming. Even before streaming, singles have long since been the main currency within Nigerian music. Between the rampant piracy encouraged by the music blogs of yesteryear, and having to negotiate with the good folks at Alaba, many artists and local labels saw singles as the only viable creative outlet that delivered returns. The costs of making and promoting an album far outweighs those of a single, but in a region with a poor record of royalty collection, the benefits of a full body of work were minimal. On the other hand, there was extreme potential in live revenue one could amass if you managed to get your single to catch fire. The tradeoff here is one that happens all over the world and every individual must deal with: creative vs business. Piracy and the booming live revenue space led to artists prioritising singles over albums, but one could argue this led to periods in time dominated by an overarching lack of quality in the mainstream music sphere. Streaming has been seen to balance this back out again. With the presence of Boomplay, UduX, Gbedu and MusicTimes, joined by international players Audiomack, Apple Music, Tidal and Spotify (still not available in West Africa), all operating with market adjusted subscription options, the hope is that the collective streaming power on the continent will grow, and local artists can begin to view record sales as a viable revenue stream, no pun intended.
Burna Boy, despite these limitations, played the long game and consistently stuck to his project-orientated approach, whilst some of his peers were blown by the winds of the singles and whichever style seemed to be working. He has had to be patient, but that patience he showed is being rewarded handsomely now, and not just financially. Building up a loyal and genuinely invested core fanbase, in those years, has been the crucial support system during his crusade to the very top in the last three years. This is the trade off between being a singles artist or an album artist – the former may experience more immediate wins, but you are forever at the mercy of us, the fickle listeners. You are forever having to twist and turn to the new style. Album artists set their own terms. They invite you into their world, not meeting you on the crowded grounds between radio stations, dance-floors, barbershops, hair salons, wedding receptions or the countless places people congregate to hear music.
For the last three years, we have all been living in Burna Boy's World. On 'Twice As Tall', he lets us in once again. On records like "Level Up" and "Naughty By Nature", we see his dreams and aspirations – ones he admits have changed and graduated themselves, the further he goes on this journey. On songs like "Comma" and "Wetin Dey Sup", we see the elements of the same old Burna from #thatyear with the faded out Afro, looking for trouble, and inevitably singing his way out of it. On songs like "23" and album closer "Bank On It", we spend time with a deeper, more introspective Burna I'd certainly like to hear and see more of. Since Burna's riotous debut in 2011 with the 'Burn Notice Mixtape', he began on a path that has led us to this recent trio of projects, catapulting him to the very top of the totem pole. Whilst many conversations around the album seem to revolve around a potential Grammy nomination, this feels like a side-note by the end of the hour, viewed through the lens of Ogulu's near decade long career.
This is the simultaneous ending of a chapter, and the beginning of a new one. 'Twice As Tall' does not have the high celebration points of 'African Giant', or the raw creative roulette showcased on 'Outside', but it packs an abundance of growth of the man himself, one we are fortunate enough to witness on record, and that feels like an even more significant accolade than any one award, in my ears at least.