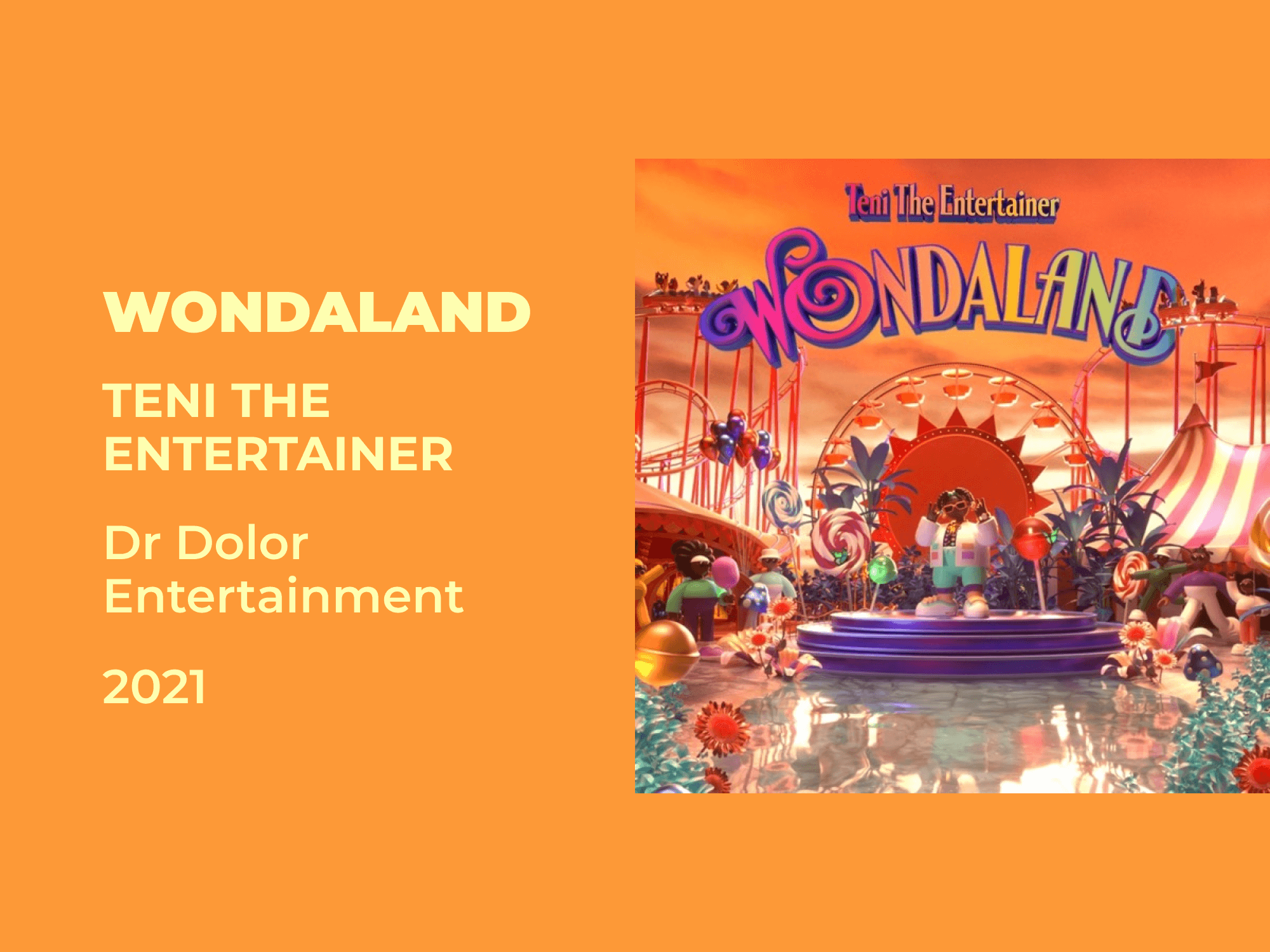 Review: Teni The Entertainer's 'Wondaland'
The singer's debut LP is teeming with truths about her life and her artistry
Teni Makanaki lives in technicolour. Since registering on mainstream consciousness with songwriting credits on Davido's 2017 coda, "Like Dat", the singer has taken residence in a singular exploratory universe, merging colour and sounds to push the boundary of popular Nigerian music in a joyous, no-frills direction that she, more than anyone in the current climate, seems equipped to tap into effortlessly.
In the four years since "Like Dat", Teni has morphed from supremely talented upstart to unavoidable pop fixture – as her astonishing run in 2018 proved – by making the sonic equivalent of resplendent hues that brighten gloomy, overcast days. Due to this, her songs live long in your memory. She is non-formulaic, and her personality is bubbly enough to lend further impetus to the pop offerings that endeared her to us. While these characteristics have no doubt strengthened her allure, the clincher has always been the fact that, at the core of her artistic essence, Teni remains a griot. A troubadour in the fashion of, say, famed style-bender, Beautiful Nubia or a 21st century scion of Fuji praise-singers like K1 De Ultimate and Wasiu Alabi Pasuma. A viral video of her singing a folk song on the day of her university graduation in 2018 became "Uyo Meyo", a denouement on her breakout year, and a stunning back-and-forth with Zlatan on Rexxie's 2019 single, "Foti Foyin", further proved her free-form genius.
For all of her talent, left to her devices, Teni's intuitive approach to music can hamper the overall  strength of her music, as proven by 2019's debut EP, 'Billionaire', where she seemed fixated on conjuring the nostalgia of old gems like "Askamaya" and  "Case" at times, and at other points seeing her creative risks fall through. 2020's 'The Quarantine Playlist', a slick collection of evocative and enchanting R&B-influenced cuts made in collaboration with DJ Neptune, showed an artist in evolution, who is willing to temper the bombast of her first act with more textured singing and writing. On "Lockdown", over warm guitar riffs, Teni slows the pace of the song considerably to draw out her words and emotions in a way she has not revealed in previous showings. As she bounced between sets like this and deft showings on songs with other collaborators like LADIPOE, Bad Boy Timz, and K1 De Ultimate, it was always going to be interesting to watch the sonic advancement of the next stage of her career. 
The answer to that question presents itself on 'WONDALAND', Teni's 17-track album that displays all the effortless talent and vocal flourishes that made her a star in the first place, as well as the experimentation and vision that will ensure she remains at the top of her game for a while yet. At differing points in the album, Teni examines affection, prayer, and lust, displaying a knack for imaginative constructions and innuendos that compensates for the album's largely formulaic subject matters; when she does go beyond the scope of usual Afropop fodder, she delivers memorable pieces of music. Album opener, "MAJA", is a reaffirmation of the determined streak that allowed her transition from being a university student in America to being one of Afropop's brightest stars in less than 12 months. To staple this, it eventually segues into a prayer session featuring her aunt in their native Ondo dialect, a feature that is now par for the course on Nigerian pop albums but no less significant for Teni's career trajectory.
Teni mostly carries 'WONDALAND' on her own, only joined on the album's lead single, "FOR YOU" by Davido. The duo scoring another chart-topping pop anthem that seems to be the only currency that the DMW boss deals in these days. While most of her peers write strait-jacketed songs about love that assume its divine preordination, Teni has thrived in writing songs that examine the complexity of affection, sleuthing through its murkier waters for inspiration. On "FBI" , her knack for witty writing matches the emotional subject matter of having to win over a love interest. "Na me dey in charge, na me be the new commodore," she squarely proclaims on the song for all to hear. Curiously, the song that directly follows "FBI" contradicts her message from there. After declaring that she has won her love interest's heart, Teni wants to convince us that she's only interested in a friend with benefits arrangement on "TOXIC". In the song, she considers her emotional detachment quite honestly: "I get problem with commitment," and reinforces it repeatedly for all to hear. Despite the thematic dissonance, it's a fun, light-hearted ditty that represents the best of Teni's insouciant approach to making music.
The non-linear pattern of her thoughts aside, Teni fleshes out the middle of 'WONDALAND' with humorous bops about sexuality that don't excessively theorize or conform to typical power dynamics. Put in close proximity to each other on "INJURE ME", the lines, "You just want to injure me with that thing/ Omo yi wa jegba," show Teni's comfort with discussing sex even if its nuances are slightly subverted. A slight change in her inflection gives "ON" a wonderful sheen that flips a song about attraction into a would-be emo-trap anthem that's buoyed by its magnificent echoed sections. 
'WONDALAND' benefits from its revolving cast of producers as evinced by its mostly eclectic beat selection. The production is serviceable and encourages Teni to tunnel into different aspects of her personality but the connection between Teni and Pheelz provides some of the album's strongest songs. "WERE", is cut from the same cloth as "MAJA," but instead of channelling her strong headedness for inner resolve, Teni crafts an outward-looking inspirational song inspired by elements of folk and gospel culture – while Pheelz's featherlight percussion transfixes the scene into something nearly akin to a solo choir performance that gently coaxes Teni's blithe voice to the surface.  On "WONDA WHY", Pheelz is in inspired form, balancing Teni's almost operatic delivery style with a muzzy bassline that embraces Teni's pathos, showing a vision of transforming her off-the-cuff instincts into well-honed songs.
As much as the album contains spurts of enjoyable melodies and precise lyricism, at times, Teni lapses into old ways, maxing out her vocals on thematic dead-ends and casual freestyles that could have been better fine-tuned further before their release. "100 Meter" starts out with Tempoe and P.Priime's hazed instrumentation and some assiduous rhythmicity from Teni but peters out near the middle of the number, while "Okocha" is a bouncy pseudo-tribute to one of Nigerian football's most iconic figure that sees Teni fall-back on the tired, whimsical writing that beclouded segments of 'Billionaire'.
Some of the biggest criticism that has dogged afropop albums is the casual detach between the creators' life and the body of works they birth, presenting projects that are divorced from their realities and situated in a fantastical parallel universe that many can't tap into. For much of her career, Teni has often found a way to navigate the existing reality that Nigeria remains bleak, by constructing her crowd-sized anthems with the people who are going through it in mind, using lurid lyricism that reminds one of places, emotions, and people they experience. Even with the bright lights of 'WONDALAND', she finds newer ways to strip the superstar veneer and remind us that, deep at heart, she is still just a person. One song, "HUSTLE", a guitar-led slow burner, sees the singer give a gaze into the tunnel vision that is powering her career. "So if you see me outside and I no greet you, no vex, baba my head full o," she sulkingly apologises, or rather explains as a function of a larger apology. Her grasp of these complex emotions sees her make a tribute to her slain father, General Simeon Apata, near the albums end on "DAD'S SONG" where she weaves a connective thread between his death in 1995 and her flourishing career more than 25 years later; fittingly, she is at her most assured here, emoting over Pheelz and Priime's polyphonous production. 
Part of what has made Teni such an interesting personality is how she glides over the news cycle when it comes to her life, responding with humour or opacity when the narrative focuses on her. In 2018, when there was conversation about her weight and its role in her perception as a female popstar, she simply went about her business, continuing to make skits that created a plain of acceptance for her by herself and ignoring offensive comments. The stage of her debut album presented her with the opportunity to address the weight comments and instead of differing to full-on comedy, she approaches it with clarity on "XXXL", opening the song with a faux-mocking line that name drops Tiwa Savage. Importantly, she moves on from that opening to make the song an oasis for her thought and comfort in her skin. "Plus sized and loving it/Ain't nothing wrong with it," she says, fully embracing herself. You can hear the emotion with which she belts about this, with the conviction of someone with lived experience and the strength of character to genuinely not be weighed down by it.
Clocking in at 49 minutes, 'WONDALAND' manages to map out a clear picture of Teni's conviction and motifs with stunning clarity, as she luxuriates and quips over some of the most smartly engineered beats out of Nigeria this year. It is an album of moments: there are songs that remind of the dynamo that Teni remains, moments when she taps into her undoubtable potential to conjure instances of pure elation; there are also moments when we are confronted with the humanity of Teni, the human behind the artist.
On the cover of 'WONDALAND', Teni is seen in a colourful park that is presumably themed after the Disney Park in Orlando. It is supposed to set the pace for what should be fun-packed album, instead what we get is a project teeming with truths about Teni's life and her artistry. She is fun, yes, but she is so many other things, often at the same time. 
Listen to 'WONDALAND' here.
---
@walenchi Is A Lagos-Based Writer Interested In The Intersection Of Popular Culture, Music, And Youth Lifestyle.
---