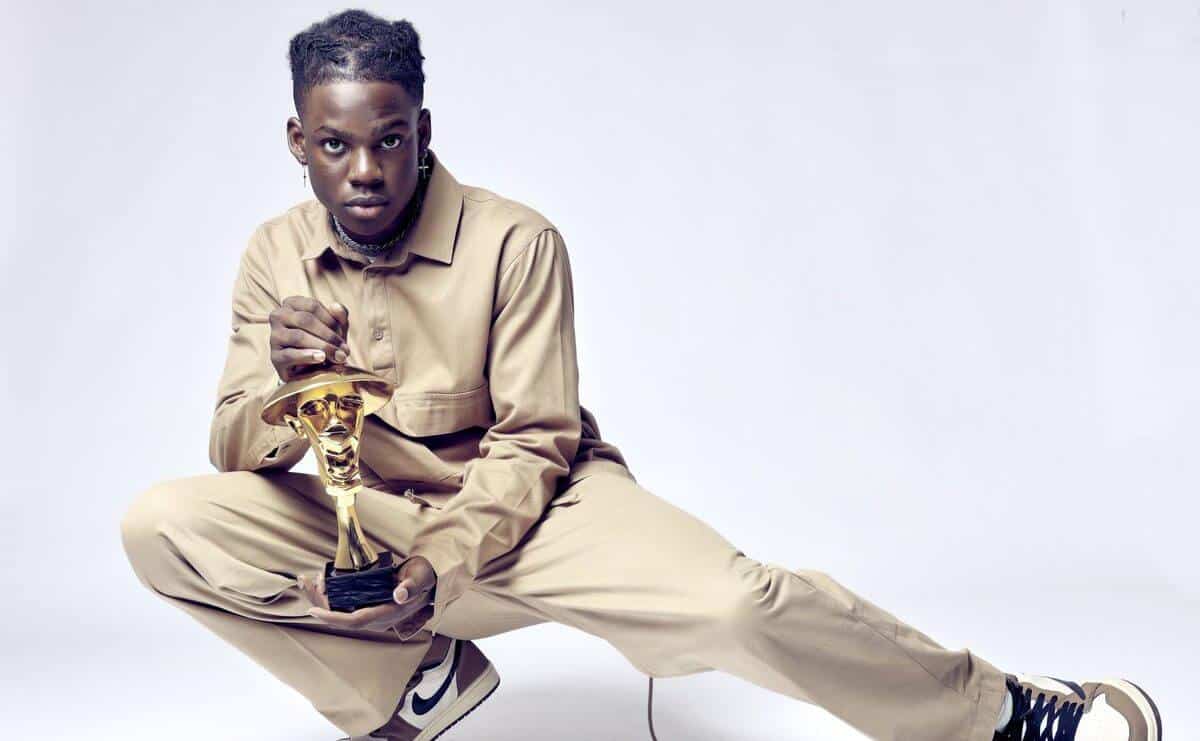 Six takeaways from The Headies 2020 nominations
The good, the not-so-good and the befuddling snubs
Formerly known as the Hip-Hop World Awards, the Headies has become the premier award event in Nigerian music, with its longevity preserving its prestige despite public reservations with its awarding system, and the production quality of the event. Since debuting in 2006, the award event had been constant in its annual outing, until its last two instalment, which both had to condense over a-year-and-a-half into its period in review, due to wavering consistency.
Last Friday, nominations for the 14th edition of the Headies were announced, and it takes into account a 15-month period—July 2019 to September 2020. Fireboy DML leads the pack of nominees with seven nominations, picking up nods for Best Recording ("Dreamer"), Best R&B Album ('Laughter, Tears & Goosebumps'), while his sophomore album 'Apollo' is nominated for Best Pop Album and Album of the Year. WurlD follows closely with six nods, including Best Recording ("Ghost Town"), Best R&B Single ("Mad"), Best R&B album ('I Love Girls With Trobul') and Songwriter of the Year.
View this post on Instagram
Burna Boy—who, similar to Fireboy, also released two albums in the period in review—and Wizkid both follow with five nominations each, both picking up nods for Artist of the Year and Headies viewer's choice, while Burna's 'African Giant' is nominated for Album of the Year and Wiz's "Joro" is up for Song of the Year. For the much coveted Next Rated award, nominees are Tems, Omah Lay, Bella Shmurda and Oxlade, a competitive, fan-voted category comprising the shining breakout stars of the year. Nominees for the Headies Revelation category are Rema, Fireboy DML, Teni, Victor AD, Joeboy and Chike.
Last year saw the most inclusive and diverse Headies nominee list up to that point, and looking to further that agenda, the award body has broken up the Best Pop/r&b category into two new categories, while two new ones have been added: Best Alternative Album and Songwriter of the Year. It's an admirable step to ensure every facet of Nigerian pop music is properly represented. After taking a look at the full list of nominees, below are our takeaways, including the good, the not-so-good and the befuddling snubs.
Consistency
Music has been really helpful while dealing with the traumas this year brought, and it's only right that artists get recognised for their work. One major takeaway from the 2020 Headies list of nominees is the award show's consistency since they started in 2006. Besides the adjourned 2017 edition, Hip-Hop World Magazine have honoured artists who deliver outstanding performances at the Headies Awards show which celebrates the different talents within the Nigerian music scene. The consistency has allowed them to develop a reputation as one of Africa's most high-profile and anticipated award shows, especially with the Next Rated category that highlights the breakout artists who are likely to stand the test of time. The pandemic put a big dent in artists' plans for 2020, but we're pleased to see the Headies Award Show will still hold and honour artists who deserve their trophies.
Best Vocal Performance (Male and Female)
Though it seems the rest of the world is developing past the need for gender-specific award categories, it makes sense that we have a male and female category for Best Vocal Performance at the Headies. We can see from the male-dominated non-gender-specific categories that the music industry is partial to men over women as only Tems, Tiwa Savage and Simi got nominated in the major Categories; Tems for Next Rated, Tiwa Savage for Artist of the Year and Simi's "Duduke" for Song of the Year.
Men are still dominant over women, in nomination for gender-neutral awards, and contrary to what is said, it's not because men produced more work or even better work. With the Best Vocal Performance (Female) category, it shows some effort from the Headies to be more inclusive of women in the Nigerian music industry.
The Next Rated
The viability of award shows as a true marker of the culture has been called into question many times in the past few years. Award events like the Grammys, the Oscars, and more have failed to accurately represent the diverse sonic and cultural landscape that the world now operates within and although there have been steps to ensure that award shows become more diverse in their nominations, none of the steps have yielded any practical results. Very recently, artists like The Weekend and Rina Sawayama were snubbed for Grammy nominations and the lacklustre breadth of nominations on the refurbished Best Global Music category. It's impossible for these awards to accurately represent the culture when those spearheading them are too out of touch to the communities that make up our diverse society.
The Headies isn't that much different in that regard. The Next Rated award has always been one of the most contentious of all the awards at the Headies being the most coveted achievements of the year and a marker of how influential an artist has been in the music scene in these parts. Past winners of this award have been Asa, Wande Coal, Wizkid, Davido, Burna Boy, Mayorkun, Rema, and more – all artists who have gone on to exceed the need for such title. Through the years, the award has tried to be fairly representative of which artists are controlling the streets and keeping the clubs on lock, but they have also bestowed awards on artists much later than they deserved to be recognised for their achievements such as Wizkid's boycotting of the show back in 2016.
This year, the Next Rated award boasts of nominated artists such as Tems, Oxlade, Omah Lay and Bella Shmurda, all of whom have made stellar contributions to the music scene this year. But although all these artists have more than held their own this year with hit singles and projects that have sustained the attention around them well into the end of the year, it is worth noting that Tems is the only woman who has been nominated this year, joining the likes of Asa, Yemi Alade, Tiwa Savage, Seyi Shay, Cynthia Morgan and more, who have received nominations in the past. Out of these women, Asa has been the only one who has actually won the award, and that's not to say the other women lost out solely because of their gender alone, but it does go to show how performative award shows can be. In a bid to seem in tune with the culture, nominations are given solely to make a category appear representative, when in actual fact, the winner will typically end up being the male choice.
Seeing an alternative artist like Tems beat the odds and gain a nomination is a testament to the Headies being more willing to include a broader selection of artists from the country's diverse sonic environment. But it's less exciting once you realise that she's set up against winning solely by the fact that she's the only artist in the list yet to have mainstream domination. Tems' track record is one to be marvelled by, having rounded up a successful 2019 performing at Wizkid's Starboy Fest in Lagos. Her 2019 single "Try Me" was also #1 on Apple Music charts following its release last year, with the singer making chart history again this year after the release of her standout single "Damages" off her debut EP, 'For Broken Ears'. It's clear that the singer is carving out her own lane despite all the odds in the music industry but even at this, it will take a long time before an award show like the Headies pays attention to anything other than the mainstream.
Rema Snubbed?
Rema is among the few artists who had a good run this year, and it seems like a bit of an oversight one of the most refreshing afropop acts of the year only received one nomination. His 2019 bop, "Lady" got a Headies nod for Best Pop Single, a category that's determined by votes. Having won last year's Next Rated Award, Rema is now being nominated for Headies Revelation along with new acts, Teni, Chike, Fireboy DML, Joeboy and Victor AD. According to the Turntable charts, Rema's "Woman" has spent 14 weeks in the top 10 Radio Airplay Chart, which makes it tie with Patoranking's "Abule" for the song that has spent the longest period on the charts. But besides the song's popularity with music lovers, even the video deserves some recognition with UAXStudio's impressive depiction of Rema's world where he "too like woman".
After introducing a unique sound with his own spin on it to the scene last year, Rema spent this year doubling down with trap single, "Alien" and afropop bangers that were accepted by mainstream audiences, "Lady", "Woman", "Ginger Me" and "Beamer". Rema's unique versatility has defined a new generation of talent in music and artistry and he deserves to be recognised for it.
Expansion of categories
Like most award bodies stuck in its ways, the Headies haven't always been the ideal gauge for the diversity in Nigerian music, mainly due to a focus on what's "mainstream". In recent times, however, the award body is clearly looking to balance what's popular with the more experimental and idiosyncratic sounds that are increasingly eminent within the broad scope of locally made music.
At the last edition, there were nominations for Odunsi (the Engine), Lady Donli, Tay Iwar and Tems, indicating that the Headies were finally acknowledging the "alté" scene and its importance to the omnivorous nature of the new vanguard in Nigerian music. This year's nominees list continues to front the award body's seeming dedication to better reflect the diversity in Nigerian, specifically through the expansion of categories. Very notably, the slightly claustrophobic Best Pop/R&B album category has been opened up to draw a finer line between pop, r&b and alternative albums, a welcome innovative move.
With each category containing five nominees each, this expansion allows recognition for more excellent projects, rather than clumping the most popular five into one category. Considering that we're in an era of music where full-lengths constantly defy easy categorisation, grouping albums by genres is quite the head-scratcher, but the Headies have done a pretty alright job. For example, The Cavemen's retro-futuristic highlife debut LP, 'ROOTS', is up against DRB's 'Pioneers' – a cocktail album that blends afro-fusion, rap & r&b – in the Best Alternative Album category. Stylistically, these are widely disparate projects, but they do fit into that category.
Hopefully, there are wins for these "sub-mainstream" artists, unlike last year where these sort of nominations lead to zero wins. If the same thing happens this year, it will only bolster the idea that the Headies is only interested in paying lip service instead of truly recognising the diversity of Nigerian music.
Hip-hop in Nigeria is not homogeneous
One of the more pleasant surprises of this year's Headies nominees list was seeing Psycho YP's 'YPSZN 2' picking up a nomination for Best Rap Album. Being one of the younger rappers injecting a more flamboyant and melodic flair into the canon of rap music in Nigeria, YP has encountered his fair share of resistance for his non-conforming approach, but he's remained defiant and has amassed a loyal following, so his nomination is a reflection of the fact that rap music in Nigeria is not homogeneous.
In fact, the diversity of nominees in the rap album category – which includes Paybac's poetic portraiture, 'CULT!' and Erigga's pidgin odyssey, 'The Erigma II' – seems quite fitting for the period in review (except, very notably, the snubbing of Odunsi 'EYHI'). At that, it feels very odd that indigenous styles of rap music isn't represented in the other rap categories. Granted, it hasn't been a very eventful period for indigenous rap projects, but some of the biggest and very best rap songs have been delivered by indigenous rap artists, and it's downright ridiculous that this isn't represented in the Best Rap Single and Lyricist on the Roll categories.
There's a rhetoric about the ailing state of rap music Nigeria, an untrue inference that's ironically reinforced by taking one look at those categories. Almost exclusively dominated by rappers who perform in English, those nominations do very little to showcase the heterogeneity of rap music, and of greater consequence, its sizable impact on Nigerian music. Not say the nominees were undeserving, but there's no reason why Zlatan's playful philosophical musings on "Quilox" or Naira Marley's catchy bars on "Mafo" aren't contending for Best Rap Single, or Davolee and Jaido P's ferocious and technically impenetrable Yoruba raps on "G.O" aren't deserving of Lyricist on the Roll nods.
Rap music in Nigeria comprises multiple dimensions, and it's undeniable that the street-bred, indigenous aspect is its most impactful. The failure to represent this buys into the "differences" of English rap and indigenous, an agenda that obviously needs to be eradicated very soon. Maybe the Headies will get the memo next time.
---