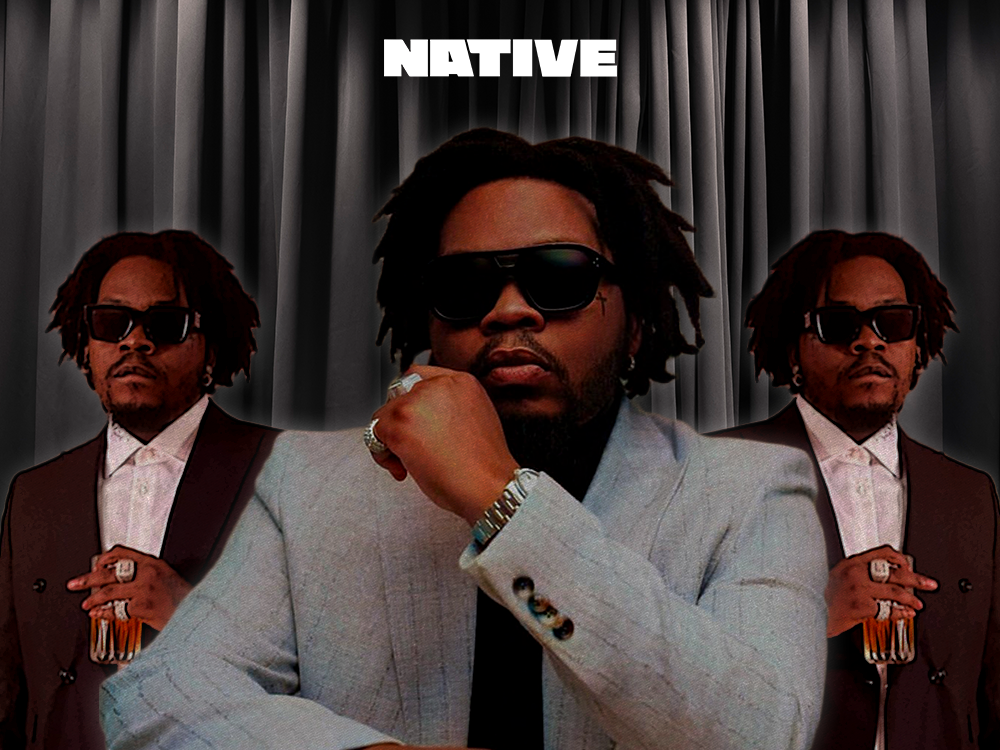 A 1-Listen Review Of Olamide's 'Unruly'
A triumphant display of mastery from the Bariga-raised rap artist
Ten years ago, Olamide released his third studio album, 'Baddest Guy Ever Liveth'. Widely regarded as his opus, that project was a real time signifier of the grizzled street boy from Bariga ascending from Yoruba rap acolyte to Nigerian music Dominus. Today, he's a walking, breathing personification of greatness; a living lore whose greatness transcends the undisputed fact that he's one of the greatest musicians Afropop has ever seen.
Next Album = #Unruly 95% ready
Release date = I don't know
Taking my time to make it the best ever… probably my last album.. dough I'll drop singles once in a blue moon when I feel like it.. it's been a mad ass run !! giving albums back to back 🙏🏾💛

— Olamidé (@Olamide) February 5, 2022
Stories of his philanthropic impact on the Nigerian music ecosystem are abundant and he's the head of a record label with scorching hot talents. Naturally, thoughts of retirement have crossed his mind and Baddo—as he's affectionately known—has aired them out. Rap and pop music in Nigeria, after all, is a game being taken over by the younger generation. 'Unruly', his tenth LP, has been teased as his last studio album. Olamide himself said as much well over a year ago, causing speculation on whether the most prolific artist of his generation would truly hang his boot or end up pulling a 180 in a 'Fade to Black' re-enactment.
For a man who rattled off seven albums (and a joint project with Phyno) in seven years, retirement feels like a stretch. Maybe it happens and we only get singles, short EPs and guest features, or he never even drops music at all. It's unfathomable at this moment but the slight chance that this might happen is a big reason to treat 'Unruly' as a marquee affair. Every Olamide album is an event, this tenth one has the stakes to be as extra-special as his opus from ten years ago. I'm all ears, as I'm sure you are too.
In usual 1-listen review fashion, all reactions are in real time while the music plays. No pauses, rewinds, fast-forwards or skips.
"Celebrate"
Man, I'm so excited. These chords and the violins are giving me endorphins, shout-out Magicsticks. This production reminds me of the music on Venom and Shishiliza's 'Love is Pain', shout-out South Africa. E get why, LOL. I like this verse, triumphant Olamide but the energy is perfect as an easy tone-setter. That Oshimen line caught my ear, don't know why. "O ti ka l'oju e bi carnival" is a line Olamide has definitely spat before. This is "Sho Boy" without the overt exuberance. Let's go! My excitement is getting justified.
"Jinja"
Already some more colour on this one. I know 'UY Scuti' upped the pop dimension of Olamide artistry but it was missing an edge, and "Jinjah" already has that. "Anywhere wey I dey, I keep it 100" is a caption-worthy bar. The way his voice is booming even with the switching between cadences is the sign of an artist who hasn't run out of ideas, there's no ginger lost in his tone. This can't be his last album, man. This is a hit song in the waiting. I knew another Nigerian rap artist would tap into the rap-amapiano fusion after M.I did "Soft Life Tony," my mind didn't think it would be Olamide and I apologise for that.
"Problem"
This is definitely a Magicsticks arrangement, sounds like an unofficial sequel to "Basquiat." I just can't tell if that's a bad thing or not, yet. Okay, I'm with it. Very with it. It has the relatively romantic dreaminess of 'UY Scuti' but it's Baddo in his element as a kingpin. I like this melodic flow a lot, it's just another show of how Olamide has evolved his craft without losing the most recognisable trait. Ha, what an imagery for a closing line!
"Gaza"
The energy is up! This feels like "ZaZoo Zehh" with a little more gloss in its sheen. Yo, this is a very drill-esque flow. For those who don't know, Portable has a feature on a drill song. It might be unrelated but it feels apt to mention. These drums are jamming, I like this groove. I could definitely hear Drake say "combination" on this beat. "Ara n kan gaza" is a line that I expect to hear when next I pass through Mushin or Bariga. This is a jam.
"Doom"
Okay, he's rapping! Yeah, this is the Bronx Drill-type record he shared on social media. It sounds better than I remember, or maybe it's the mix of my excitement and my headphones. Shout-out to Big Shaq and Kanye for these gun ad-libs. These bars are all about levity, this man is having a lot of fun. I might end up having reservations on repeat listens but right now, I'm Hov nodding his head to the beat.
"Trumpet" (w/ CKay)
Yeah, the poppy lead single. This song is a reminder of Olamide as a supreme collaborator, how he can follow the lead of his guest without being dusted on his own song. I'm not entirely surprised that this isn't a smash hit but I can see people still groove to it at the parties. Don't play that first verse anywhere near kids or hypersensitive elders, LOL. The second verse is slightly less vulgar but no less 18+. CKay's hook is cool, too.
"Come Alive" (w/ BNXN)
BNXN on features is a cheat code, if you ask me. Think Ty Dolla $ign, which may be a bad thing because Ty gets the rep that his solo music isn't good, which is false. At least, BNXN has beat the charges. To the matter at hand, this intro verse and hook is hitting! Reminds me of "Do Me Nice" and how he defined that song. Fuck! This cadence and flow from Olamide is absolutely bonkers! Oh damn! He's gliding!!! This is a verse! This delivery is mint, Benjamin Franklin mint! "If your nigga too dey flop, give me a chance" is a Yoruba demon-ready line. This is the best song on 'Unruly'.
"New Religion" (w/ Asake)
Ah yes, the second single. Asake will forever be famous, dawg! Forever! This is how you deliver a chorus on an Olamide song. Pure magic. Blackface is a legend to the Nigerian ghetto youth that grew up in the 2000s, deserves his flowers despite all the drama. I was mouthing this entire verse even though I've heard this song like twice. "I accept say I change" is a code to live by, within context and reason sha. Second best song on this album.
"Shibebe" (w/ Fireboy DML)
It's interesting how Olamide is closing this song with the verses rather than bringing back the hook. Fireboy sounds really vibrant, more vibrant than most of his lovey-dovey voice. I'm a little put off by this mix, he's the first feature that feels like he's screaming a little in my ear. Olamide is a pop-rap maestro, all the flows on these last couple of songs are works of art. Nice verse, overall. That's all? Okay, cool.
"Mukulu" (w/ Rema)
Rema on an Olamide album wasn't on my bingo card for this album, but let's go. I don't know that this could've fit into 'Rave & Roses' but Rema's essence as a singer is all over this. Log drum base is a pleasant surprise. I wanted to hear Olamide spin a great rap flow on this, the singing is cool sha. I can almost guarantee that Rema has sang "You've got me like whoa" more than once. Okay, I'm warming up to Baddo's melodic approach, best part is how brisk the verses are. I'm predicting this ends up more as a deep cut than an outright hit song.
"Hardcore"
My ears are open! Oh shit! These drums! Where's Reminisce? This is his bag. Man, Olamide is a master at his craft. The gruff vocal cadence and swaggy flow is a match made in rap heaven and he's throwing in a patois-indented touch on the hook. "Dem wan take R&B go spoil my own galala" is an ear-catching bar. This is a banger, like he says.
"Supplier"
"Bariga is in the building, streets is in the building." You know the vibes! Let's go. "We don't do no tiki taka," haha. I wasn't trying to rhyme, please. "We nor run from problem, problem run from we." So many quotables. You can take the man out of Bariga, you can't take the Bariga out of the man. Olamide has always known who his music primarily faces, even the more recent excursions in Nigerian pop don't dampen that. It just means he has more dimension to his powers, but it hasn't changed who he is at heart. This is a keeper.
"Life Goes On"
This album has been a breathless listen. More rap/R&B-amapiano fusion. This is confessional, touching stuff. The Tupac influence feels tangible, even beyond the song title. It's not rending, though, it's more rooted in conviction. "What another brother doing is none of my business" is a mind-set to live by. I like that he lets this beat breathe into a fade. Definitely a keeper, this one.
"No Worries"
I subconsciously expected to hear "clear road for Shallipopi" with this beat. Oh, okay. This gets positively rowdy, a representation of his own version of happiness. If there's any artist that deserves to be loud about enjoying their life and having no worries, it's Olamide. "Killing 'Piano and mixing this shit with Lo-Fi" is an interesting description, except that Lo-Fi part isn't entirely true. Regardless, every line glimmers with an infectious certainty. This man really went from "Anifowoshe" to this, such an inspiration! Keeper.
"Street Jam"
Nothing anyone can tell me, 15 songs at about 40 minutes is the perfect length for an album in 2023. Butter fans getting a shout-out, I stan a king that understands the importance of representation. These raps have a searing quality even though he's just yarning. Ladipoe getting a shout-out on an Olamide song is heartening in ways I can't even describe. Anyways, hello to the Nigerian Hip-Hop heads, LOL. This feels more like an addendum/bonus track. I like it, though.
Final Thoughts
Triumph suits Olamide really well. For most of his seminal 2010s run, he mined hunger and exuberance for greatness into rap songs that were urgent in text and pop songs that were ultra-groovy in sound. By 2020's '999', he was clearly settling into an elder statesman's role, but what 'Unruly' does, better than any of his releases since then, is finding a way to work the rugged charisma from his earlier form into music that reflects how self-assured he is these days.
The music on 'Unruly' is as varied as his 2013 opus, and it reflects a new kind of ascension for the dynamic rap artist. There's conceitedness in place of burning hunger, while swaggering joy takes over from youthful exuberance. His skill as a hit-maker is still intact, the same guy that makes people from Bariga to Awoyaya move and relate to his quips. Taking from the glossy pop overtones of his last two albums, he's even more refined than he's ever been, switching between Teflon rap flows and gruff, ear-catching singing.
The Olamide we hear on 'Unruly' is maestro that has nothing to prove and everything to deliver. It's expected but it's no less delightful. Some of it feels like a neat resolution; he came, he's seen a lot, and he keeps on conquering. This isn't the final act, I refuse to believe that. If it is, it damn sure is a hell of a way to go out.
---