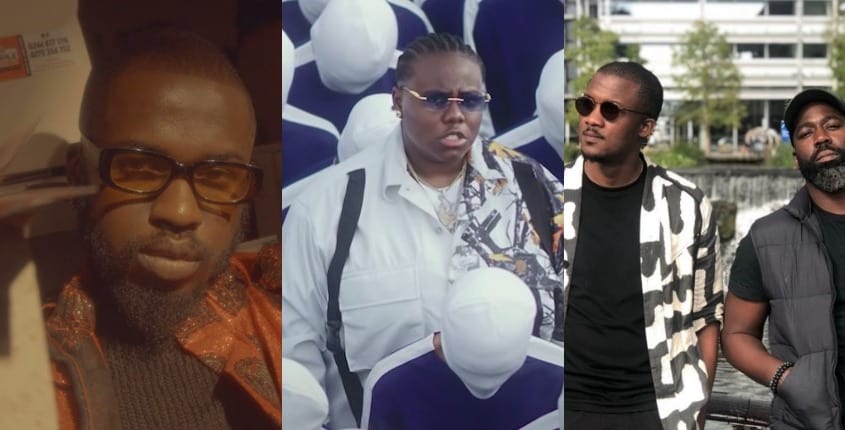 Songs of the Day: New Music from BOJ, Teni, Show Dem Camp & more
Stuff to add to your playlist
As we cross into the second half of the year, the amount of music we consume continues to grow exponentially by the second. With amazing songs dropping at an unrelenting pace, it's not always easy to cut through the noise and the sheer volume of it all to find the music that will accompany our melancholy, inspire our next creative breakthrough, allow us our loved ones more securely, or take us to a place of unencumbered elation.
That's where our 'Songs of the Day' column comes in. We try to keep our fingers on the pulse of music from across the continent and beyond, bringing you exciting songs from talented musicians who are continuously trying to bounds of artistry with their music. Last weekend, we brought you new releases from Bella Shmurda, Zamir and Odunsi The Engine, Bianco, Yung D3mz and more. For this mid-week curation, our roundup includes recent drops from BOJ, Teni, Costa Titch, Kwesi Arthur, Show Dem Camp, and much more. Enjoy.
BOJ – "Money & Laughter" (feat. Zamir & Amaarae)
Following the release of his last single "Emotions," and in preparation for his forthcoming project out later this summer, DRB top member, BOJ is back. This time around, he's linked up with former LOS member Zamir and Ghananian rapper Amaarae for a smooth and seamless song. Produced and Engineered by a member of the 44DB producer collective Trill Xoe, BOJ on the hook would like to know what the muse in question truly wants from him, "What are you after? Is it money or laughter?" he asks. A very strong selection of features, as everyone seems to have brought their A-Game. The accompanying video is also equally captivating, with glimpses of money counters, dollar bills, Amaarae as art, and Zamir in a plush lounge.
Kashcpt – "ROCKETS"
For his second single of the year, South African rapper Kashcpt is back with a heavy new tune titled "Rockets." The braggadocious new hit finds the rapper talking about all the finer things of life that he now enjoys with his newfound fame; from stacks of cash to glittering diamonds. "All my diamonds glit shit" he raps over the song's futuristic production, seemingly unbothered by the state of the world and laser-focused on making the bag.
Teni – "Hustle"
Earlier in the year, Teni released her long-awaited debut album, WONDALAND, a well-received project that has spawned widely loves songs including "FOR YOU" and "MOSLADO." Keeping the promotional focus on the LP, she's released the video for "HUSTLE," an introspective song where she bares her mind on the pressures of fame and public expectations. Helmed by the director, TG Omori, the video is a cinematic effort with a fatal plot, and it features shots of Teni singing her lyrics with an impassioned, visibly emotional verve.
Infamousizak – "Public Enemy" (Kwesi Arthur Remix)
After the release of the original track in 2019, Infamousizak has released a remix to his single, "Public enemy," with a new Kwesi Arthur verse. Kwesi Arthur's ability to deliver on every song is a little mind-blowing and this number is no different. The catchy beat of this song already tells you what to expect as Infamousizak talks about his accomplishments and getting to where he seems to be now. "They don't wanna see me shining/They wanna see me down low," he quips, self-assured in his abilities despite pushback from the opps. "Public Enemy" was already a distinct song at the time of its release and now with a Kwesi Arthur guest verse, it's an even more enjoyable listening experience.
Zodivc – "Kwabrane" (feat. Nii M & Yaa Pono)
Record producer Zodivc teams up with Nii M and Yaa Pono to deliver the single "Kwabrane". This record speaks about the struggles of the artists and how much they've fought for success. With lyrics such as "These niggas must be kidding when they thought a nigga from the street would never make it", the rapper paints a clear picture that visualises his experiences on the come up. With heavy kicks on the beat, all three rappers deliver a stellar performance on this track.
Kiiwii – "My Crew" (feat. Lil5ive)
Drill music is becoming increasingly prominent in Africa. While it's not as pronounced in countries like Ghana and Kenya, Nigeria has a few proponents of the rap subgenre, the latest entrant being rapper, Kiiwii. "My Crew," his second single of the year, is an experimental Drill banger with a groovy, thumping low end and ticking hi-hats. Joined by Fresh Meat alum Lil5ive, the pair brag about the exuberant and hedonistic antics they get up to alongside their crews. The song comes with a glossy, TG Omori-directed video, capturing the lifestyle they brag about in their lyrics.
Timzil – "Latifah"
On last year's sophomore EP, Songs About Exes Past, Lagos-based singer TImzil immortalises past loves and infatuation with joy and nostalgia-tinted fondness. Off the project, he's released the video for "Latifah," a ginger, acoustic song remembering a past crush. Directed by Maussi, the video places the timing of this crush around junior secondary school, taking Timzil and his supporting cast back to school to dramatize a blue-eyed recall of events.
Costa Titch – "UTHINI" (feat. Blxckie & Phantom Steeze)
Following a phenomenal 2020 run that saw him emerge as one of the more exciting rap artists on the continent, Costa Titch is back to delivering the bops. Shortly after dropping the Amapiano-infused "NOMAKANJANI," he's returned with "UTHINI," a catchy Trap thumper that finds him in his usual ebullient and boastful form. "Can't get hits, so they hating on Titch," he spits on his second verse, taking a swipe at detractors faulting his run. On either side of his verses are guest appearances from Fresh Meat alum Blxckie and Phantom Steeze, both following his arrogant lead. "UTHINI" also comes with a video entirely shot at an outdoor location in black and white, showing all three artists with a posse rapping their lyrics and performing energetic dance moves.
Show Dem Camp – "All the Above"
This Friday, July 9, Nigerian rap duo Show Dem Camp will be releasing the fifth installment of its Clone Wars project series. Ahead of the album, subtitled The Algorhythm, they've shared a new single, "All the Above," an outtake that couldn't make the album last minute due to sample clearance issues. Considering how solid the song is, it's obvious why SDC chose to release the song exclusively on freemium platform Audiomack, as they concisely juxtapose the mass chase for money, power, and the ultimate dream to "japa," in a country where poverty and social oppression is prevalent.
---