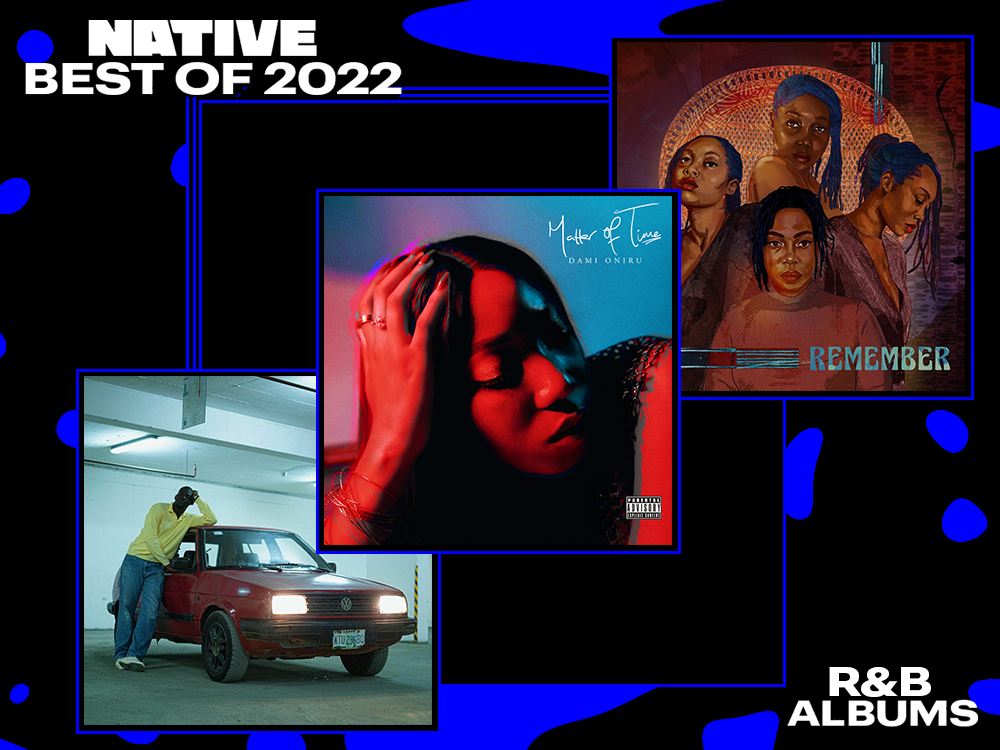 The Best R&B Projects of 2022, Ranked
Including CKay, Maya Amolo & more
Fusion has always lain at the heart of African music, but never so more than now. Each day new subgenres are tested for their quality and relevance, even though emerging from relative unfamiliarity onto the stage of mainstream attention has been a landmark of the truly great. Alongside the sonic experiments found in the year-long influential amapiano and African drill for instance, the presence of R&B continues to create enviable lores of its faithful practitioners while soundtracking the greater conversation of love in the modern era, imbibing a soulful sensitivity than the hyperrealist pomp of Afropop allows.
Repurposing narratives possessed with unarguable emotional weight, 2022 has seen the release of many accomplished projects whose tapestry are audibly inspired by the swirling, plush and sometimes experimental sonics we associate with R&B. From the glorious live-centric vision of Ria Boss' 'Remember' to the electronic-lined admissions of mental health in Yinka Bernie's 'Something New,' the projects on this list are thematically varied and musically vibrant, revealing a curiosity to probe the mutations being carried out in African music.
15. Blxckie – '4LUV'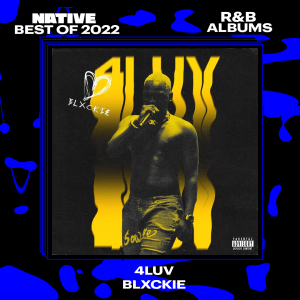 With '4LUV', Blxckie introduces a softer-hued edge to his rap-dominated catalogue. Sidestepping any rap messiah pressures, Blxckie continues to showcase an artistic sensitivity that propels his music to unpredictable highs. Here he fuses rap-originated quips and evocative melodies which harkens to his early experience with soul and deep house classics. "umoya" employs twinkling Rhodes keys and stuffed pads to create its pensive atmosphere, with Blxckie delivering an affectionate performance in isiZulu. Elsewhere he's similarly versatile: making a case for a lover's supposed intimacy, "cry" exists as a stark contrast to the A-Reece-assisted "sneaky" on its deluxe drop, which dubs their silky rap performances with the gloss of late night revelries. Without ceding the record's sonic currency, '4LUV' translates the potential of imperfect relationships into contemplative pieces.
Emmanuel Esomnofu
14. Halo Yagami – 'You Can't Replace the Sun'
On his debut album, 'You Can't Replace the Sun', released eight months after his EP 'Usiba', South African artist Halo Yagami curates an atmosphere so soothing and mesmerising, you'd want to stay there and grow roots. Defying straightforward classification, with musical cues from Maskandi to mid-tempo Afropop, the stylistic trademarks are indelible on 'You Can't Replace the Sun' and it's all anchored by a golden voice with a rustic tinge and a soulful verve. Sincere in its intention, Yagami urges listeners to return their attention to the seemingly small things that really matter – love, romance and human connection – expressing feelings unabashedly ("Cuddles" and "Miss My Baby") and dealing out lived-in declarations of hope ("Nyamazane" and "Tolikela"). 'You Can't Replace the Sun' is Halo Yagami's reminder to the world that the big, helpful feelings live in the small, often neglected moments.
Uzoma Ihejirika
13. WurlD – 'My WorlD With U'
It takes an abundance of talent and a remarkable sense of purpose to deliver three excellently executed and well-received projects in just over a year, with one of them being a near-classic collaboration with one of the most revered producers in Afropop. For his official debut album, Nigerian singer WurlD strengthens his standing as the quintessential soul singer with an incredibly diverse music project. A moving portrait with a lived-in premise, 'My WorlD With U' traces the path to wholesome personal growth through a romance-themed framing. That path is littered with colourful and groovy musical choices, from House and Electronic pop inflections to a Fuji-meets-Salsa standout and a wonderful Sarz reunion. Even as it's slightly flawed due to its sprawl, there's a cumulatively riveting allure from the gorgeous intensity of WurlD's voice and the affecting candour of his writing.
Dennis Ade Peter
12. Maya Amolo – 'Asali'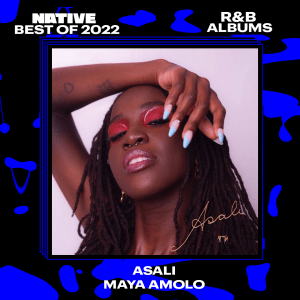 Maya Amolo turned her angst at the difficulties of modern dating into atmospheric tunes on her remarkable debut EP, 'Leave Me At the Pregame'. Two years later, following a much needed break, the singer returned with 'Asali' , a debut album carrying a more wholesome perspective. Leaving the sourness behind, Maya's personality here is more mature and happier as she focuses on the honeyed experience of embracing love while accepting that love isn't linear, whether that's in platonic relations or more intimate ones with dizzying infatuation at their core. Expanding her musical choices, 'Asali' features airy songs with an ambient mood and cuts with gentle, shoulder-rolling grooves, like the SirBastien-produced title track, where Maya sings in Kiswahili—a lyrically novel approach that makes her sound more lustrous and deepens her identity as a Kenyan R&B songbird.
Tela Wangeci
11. Nanette – 'Bad Weather'
After months of teasing the possibilities of being a vital voice in South Africa's booming new age R&B scene, Nanette eclipsed the potentials she flashed in fringe feature roles with 'Bad Weather', a striking debut EP that evokes an impenetrable inner toughness. Translating the direct writing style she'd already shown—like on her standout appearance on lordkez's "handmedowns"—into a full project, Nanette calls out "mama's boys", embraces the consequences of her less-than-deal choices, ponders life with a melancholic flair and ultimately offers herself some grace. Drawing from Neo-soul and contemporary R&B, the production choices amplify the detail-oriented tilt of Nanette's writing and the consistent beauty of her vocal performance.
Wonu Osikoya
10. Jinku – 'Oasis Park III'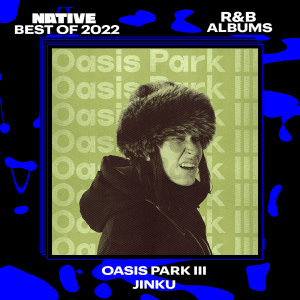 For the third and longest instalment of his 'Oasis Park' series, Jinku recounts a tale of two cities—looking back to his roots in Nairobi while forging on to his new and uncertain future in Stockholm, Sweden. The entire project exerts the feeling of becoming and embracing change, which is in line with its synopsis, soundtracking Jinku's final two weeks in Kenya and his first-ever winter in Sweden. To represent this unsettled period in his life, Jinku employs talented hands from back home, and his new life in Sweden, bringing together a talented spate of artists including Wendy Kay, Swahili Papi, Lina Hansson and more, into his orbit. "Looking for peace/Still searching for peace…I be feeling like Malcolm in the middle these days," frequent collaborator DEZ sings on opener "Tena", an introspective tone-setter for 'Oasis Park III' that also embodies Jinku's focus on the album.
Tami Makinde
9. CKay – 'Sad Romance'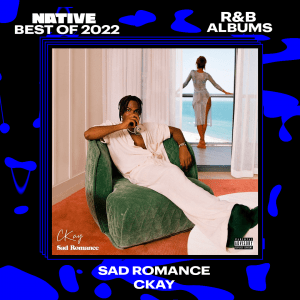 CKay describes his music as 'Emo-Afrobeats' but there's an obvious R&B nature to the scope and sound of 'Sad Romance'. His first project since becoming an international star, the debut album is a clean execution of the singer's take on the side of modern male R&B where solipsism is king, as he tells a love story from an unapologetic and blameless standpoint. Think "you cheated, I cheated too" or "leave me alone", titles that instantly give away the tone of the project. The language is direct and the music is eclectic, incorporating mid-tempo Nigerian pop percussion, Amapiano influences on all-star standout "WATAWI", and a lot of guitar riffs that recall 2000s R&B. Taking on the role of a protagonist in his narration—like many often do despite wrongdoing—CKay shows, with his indubitably plush and dulcet vocals, that it's OK to engage with your pernicious side once in a while.
Nwanneamaka Igwe
8. Njeri – 'D.R.U.G.S (Dear.Romance.U.Got.Sweet)'
In an interview with The NATIVE only a few months ago, Njeri shared that everything on 'D.R.U.G.S' is seamless, especially the music, and I have to agree. When the Kenyan singer and songwriter released the body of work in May, it was evident that Kenya's growing R&B scene had a special talent in its vanguard. On 'D.R.U.G.S,' Njeri combines stellar writing abilities with eclectic vocal strength, to create the near perfect album. The artist serenades listeners with enchanting songs that have emotional honesty at its core, urging listeners to join in and be just as vulnerable as herself. 'D.R.U.G.S' sees the singer cycle through the high of romance, the complications that can lead to heartbreak and, eventually, a willingness to go through the finding new love and wholesomely fanning its flames. The optimism of its closer, "Love Again", feels earned.
Wonu Osikoya
7. Jinku & Karun – 'Passenger 555'
Karun's voice keeps getting better. In June, she teamed up with Kenyan electronic producer Jinku for 'Passenger 555', a sublime partnership resulting in some of the most engaging music in either artists' catalogue. A simultaneous two-way listen, the album moves through the motions of a failing relationship in its front-to-back order, while the reverse order sees a relationship fight its way into a wholesome rebound. Karun's writing intentionally focuses on expressing emotions over sharing details, allowing listeners the licence to build the project's characters however they want. Jinku constructs a soundscape of downtempo house and ambient R&B around Karun's fluttering voice, wrapping listeners in a spacey bubble where time is suspended and all that matters are the characters they envision from the music.
Dennis Ade Peter
6. Sha Sha – 'I'm Alive'
Even as she's regularly touted as the Queen of Amapiano, it's always been obvious that the base of Sha Sha's artistry is that porcelain voice with breathy overtones. It just happened that the Zimbabwean singer found continental success and global interest with her ability to whip repetitive lines into siren chants. On 'I'm Alive', Sha Sha splits her debut LP into two slightly unequal halves, opening with silky and adequately thumping amapiano tunes, and a run of smoother tunes making up the back half of the project, but it's the balmy melodies she consistently corrals that places the album in firmly soulful terrain. In the process of affirming her personal strength, through songs that delve into the complicated intricacies of modern romance, Sha Sha leans into her breathtaking range, reinterpreting a Sade classic over a gently smouldering 'Piano beat and exuding joy on the closer, "Holiday", while a piano melody reminiscent of '90s R&B creeps alongside.
Dennis Ade Peter
5. Dami Oniru – 'Matter of Time'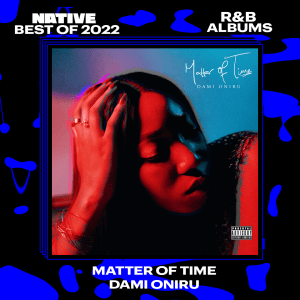 When Dami Oniru released her early 2019 debut EP, 'Bri's Lounge', it felt like a joyful exhale. After a few years hovering around as a promising R&B act with a few singles and several features, the singer turned up with a largely lovestruck EP, her voice radiantly snapping over groovy percussion and soulful melodies. After a hiatus, Dami Oniru returned with her sophomore EP, 'Matter of Time', a worthwhile representation of her growth as an artist.
From their cover arts, it's telling that 'Matter of Time' is a direct sequel to its predecessor, more as a juxtaposition than a straightforward companion piece. Where she basked in the tingly feeling of attraction and asked for reciprocity on her debut, this project sees Dami Oniru grapple with the disappointment of being let down. There's resentment but there's no whining; in fact, it leads to a project laced with profound and playful moments of self-assurance, as she alternately broods and luxuriates in a sonic canvas that skates across atmospheric R&B, '80s New Wave inflections and UK Garage influences.
Wonu Osikoya
4. Manana – 'but could the moments in between'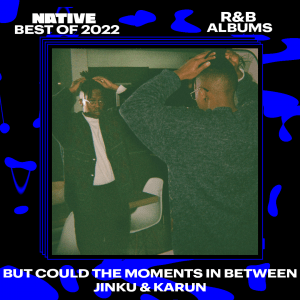 A glittering sensitivity remains the hallmark of Manana's music. Released this year, 'but could the moments in between' extends its ethos of charting young love through the epic prism and acoustic-laden soundscape of R&B. Manana's formal training as a musician informs his flawless pacing and weight, buttering the seams of this eight-track EP with electric layering and the serenade of his warm vocals. Through its 22 minutes runtime, the vulnerable writing finds perfect alliance with its nearby influences of neo-soul and Dance, endowing the project with undeniable replay value.
"Pulchritudinous" counts among the most beautiful songs released all year, each lyric charged with poetic intent while the music stirs with celestial arrangement. A similar tone permeates "But you first", a sentimental ballad that echoes Frank Ocean and Moses Sumney. African musicians are cutting timeless gems from the golden quality of R&B and Manana's second project in a planned trilogy highlights his unwavering focus as an A-level purveyor of his generation.
Emmanuel Esomnofu
3. Venom & Shishiliza – 'LOVE IS PAIN'
As a greatly malleable sound, it helps that there's no shortage of inventors and visionary curators in Amapiano. Late last year, Venom and Shishiliza showed their hand at being inventive curators with "Sho Boy", a star-studded 'Piano-meets-rap slapper. To start off this year, they put together the instant classic "Sondela", a gorgeous love song that brought together Raspy's dulcet singing, Blxckie's near-spiritual melodic mutters, Tshego's impassioned croon, a vigorous and emotive rap verse from the late Riky Rick, and Yumbs' soulful, incredibly smooth 'Piano-indented production.
Their attendant debut album, 'LOVE IS PAIN', chooses an emotionally stirring direction over slaps but it's one glorious haymaker for the creativity that drives South Africa's Amapiano, contemporary R&B and rap scenes. Packed with a litany of featured star artists and a myriad of producers behind the boards, the album is an exhortation on the commitment that is required of love, with a rotating cast that share perspectives on romance, relations between friends and even divine love. The standout appearances are innumerable, as is the overall wondrousness of the album's palette. Many might be hesitant to call this an R&B project, but there aren't many that have its stunning level of rhythm, blues, heart and soul.
Dennis Ade Peter
2. Yinka Bernie – 'Something New'
There are very few African artists who can brag of an intricately self-produced project, robust with remarkable storytelling and stark vulnerability. In five songs and barely 13 minutes, that's what Yinka Bernie achieves with 'Something New', his first solo multi-song release in well over three years. As much as it's a nod to the 5-year gap between this sophomore EP and his debut project, '19 & Over', the title undersells the music's deeply emotional core.
The dazzling product of a polymath, one with a clear understanding of the synergy between what he wants to say and how he wants it to be heard, 'Something New' works through some of the most intimate parts of the human condition with a moving tenderness. Sung in his richly textured and deceptively agile baritone voice, over gently percolating percussion and sombre yet gleaming piano melodies, each line on each song embraces raw emotions without navel-gazing, a deeply relatable batch of songs without a contrived second. Two-year old lead single, "It's Okay to Cry" with Joyce Olong, remains a resonant standout: "Look, it's okay to feel lost inside, Man it's okay to cry/ It's okay to feel numb inside, Man it's okay to cry." Chills.
Nwanneamaka Igwe
1. Ria Boss – 'Remember'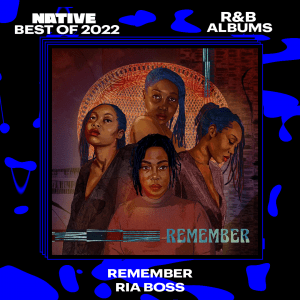 Ghanaian-Burkinabe R&B/Neo soul singer and songwriter Ria Boss had already begun work on her debut album 'Remember' before she lost her grandmother last year. She recounted that it was the grief that shook the project out of her. Seeking an outlet for the pain and sadness she felt, she proceeded to record 'Remember' as a live album, with the help of music director Emmanuel Nii Quaye Aryee, Ghanianan band The Musical Lunatics and a couple of music producers.
'Remember' is a moving collage of being lovestruck and lovelorn, of grief and memory, a declaration of the singer's determination to live without the restrictions hoisted on women by society. Across the eleven tracks, she's supported by a few guests and backed by a live band with tight technical chops and a loose feel. Ria Boss, armed with formidable vocals, spills excitement, ponders uncertainty and embraces personal joy, darting from sexually intense moments on "Somali Rose" to the giddy exuberance of the T'neeya-assisted "Damn" to the tender feelings brimming on "Kisses Under the Moon." Recorded in one take, 'Remember' is a masterful and assured performance from a vocalist in touch with all of life's complications and pleasantries.
Uzoma Ihejirika
---
Written by Tami Makinde, Emmanuel Esomnofu, Nwanneamaka Igwe, Wonu Osikoya, Tela Wangeci, Uzoma Ihejirika & Dennis Ade Peter.
---