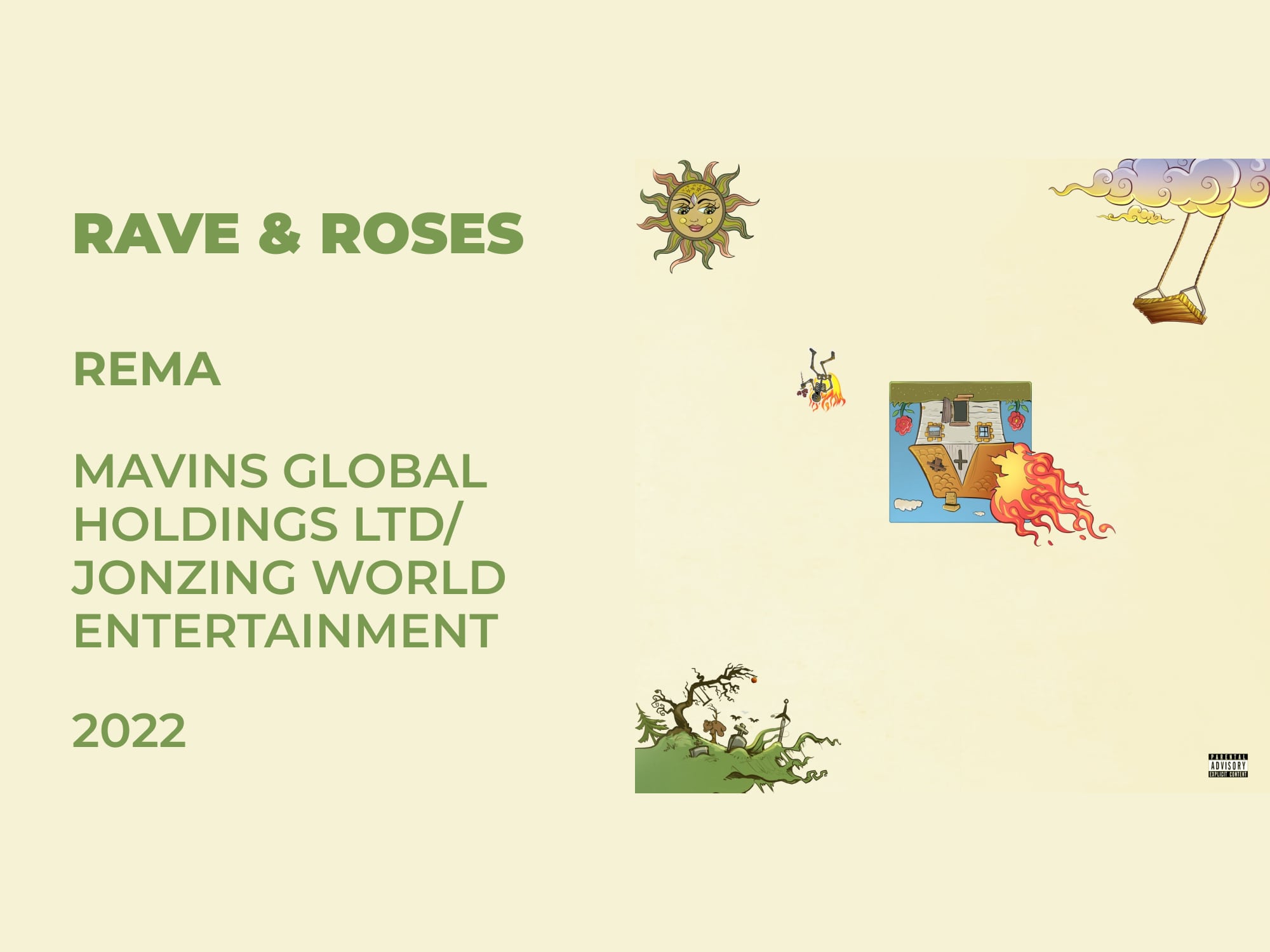 Review: Rema's 'Rave & Roses'
Rema confirms himself as one of the most compelling artists of the now.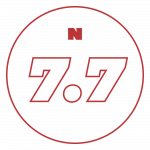 Mystery is not always a prelude to greatness, but Rema has wielded it well. The Benin-born superstar donned teddy bears and balaclavas as early branding totems, while his music expressed amorphous intent far wider than any of his contemporaries. For three years, the artist born Divine Ikubor powered into the quintessential unclassifiable artist, readily adapting various sounds and eras in his presentation. Cue in his affiliation to Mavin Records, and you have a classic talent-meets-opportunity story, one with chapters of genre-hopping ability and unpredictable scenes of sustained brilliance.
Rema's music has frequently divided opinions. Even with his mainstream success, his flitting across a range of genres, including emo rap and Afropop bangers laced with Bollywood-style melodies has not always sat well with some listeners, while others readily gave him the acclaim of a generational talent. His output across three EP's showed this off, earning him the love of a dedicated fanbase, respect within and outside African music circles, and most importantly anticipation for his debut project, officially announced in June 2021 with the caption: "Album – Rave & Roses".
Being his debut, and so far from his breakout moment with "Dumebi," expectations partly hinged on what sonic journey he would carve out, and if he'd tread the path with the confidence as he's shown on shorter projects. In the run-up to 'Rave & Roses' release, Rema acknowledged these concerns with the new music, including his three-pack run with "Soundgasm", "Calm Down" and "FYN". The earlier two singles expressed masterful ability to turn half-enunciated melodies into important conductors of space, with his writing immersed in sexual innuendos. On the third single, the Kel P-produced "FYN," AJ Tracey became the first act to feature on a Rema song, introducing vivid sketches of his superstar lifestyle to the stateside swag Rema has picked up on his many travels.
Since his debut back in 2019, Rema's magnetism has been obvious, making him one of the most documented artists in recent times. The internet contains a multitude of pages that chart his personal and artistic evolution, threaded by the artist's inherent sense of personal narrative—a journalist's delight. Even with this awareness, Rema still inches towards full form.
On 'Rave & Roses' he creates one of the most striking openers in Afropop history, solely for that intent. "Divine" tells the story of his birth, poignantly narrated from his mother's perspective. It's a searing, vulnerable portrait of Rema's formation, impressing the colourful hues of a superhero origin story. Popular music is full of artists adapting larger-than-life personas, but Rema's ability to sound convincing makes the record stick. "Nothing fit come against my destiny/ I fight battles wey nobody ever see/ As I dey this industry with God company," he sings at its latter parts, reiterating its central messages of strength and timeliness. "Script wey God mark, you wan cancel it?" he later quips, alternating between lived-in brags and supernatural assurance.
The song's introspection unarguably secures its elevated position in Rema's catalogue, but the musician doesn't stretch its perspective. Such moments are spaced, while love and sexual activity portends the centrepiece of this album, the spring from which Rema's most expressive tendencies flow. The duo of "Bounce" and "Lady" were early explorations of desire that advanced the cherry outlook of "Dumebi". In the more recent songs, he was approaching a silkier realm of sensual experience, revelling in the confidence he projected and the shock value of his eccentric tales.
On 'Rave & Roses,' Rema continues to salute the salacious nature of Afropop, but his vocal deliveries are far-ranging, existing on the seams of diasporic affiliations and dreamy inventiveness. His melodies sometimes sound like mutterings from the depth of sex-induced sleep, but with his endless cache of Nigerian references, he emerges with records such as "Hold Me" and "Mara". Affectionate lines of affirmation abound the former, while the latter is more spritzy, with a percussive bounce that sets Rema for brilliance. "I loved you once, I no get time to crush/When you no get money na me make you posh/Now other boys dem go wan dey rush/They no know say na person cook the food for pot," he sings on the second verse, employing the linguistic nuances that makes him one of the more inventive songwriters in Afropop. "Jo" and "Love" wear similar hues, warm enough for a family meeting, but could also play out of dimly-lit nightclubs, pulsing with the possibility of intercourse. He's usually humorous, whether comparing a lover's attention to the dopamine rush of a cigarette or making parallels between her booty and the Taliban. Ever so often, such chuckle-inducing lines are sprinkled throughout the album, reminding listeners of Rema's youthful ways.
On the other side of attraction rests physical intimacy. At least, according to Rema. 'Rave & Roses' has its love affairs, but the door opened by "Soundgasm" stays open; speaking to the song's brilliance that on the album, it remains the most immersive of its kind. The soft patter of the chorus is mirrored in "Dirty", where he places the name 'Ifeoma' in a series of oh-sounding moans, the intent slightly hidden. Those melodic vibrations contributed to the excitable reception of "Calm Down," with the album placing those stylistic pattern on a grander view. A soft hum follows every line in the chorus of "Carry" where he contrasts 'Obianuju' with juju, reaching for extremes to form what are perhaps the most obsessive-sounding lyrics on the tape.
View this post on Instagram
Occupying the space between boyish cool and adult desires, Rema traverses them at will and combines their peculiarities for wholesome experiences. No songs on 'Rave & Roses' encapsulate this better than "Runaway" and "Addicted". The former tenderly closes the album, engaging the rather trite theme of eloping with trademark zest. Although true, it's still weird to hear "many get money pass me die" from Rema, but above the cinematic synths and rural-style percussions, he delivers the second verse with more ingenuity, singing "I know say I meet you for street, but baby girl you no dey for the streets" with deep sincerity, forming the sweet lover perspective he intended on.
Upon release, "Addicted" was among the fan favourites, understandably so given its outsized level of musical awareness. The synth-wave production echoes of '80s Michael Jackson, shimmering like a thousand lights in a ball room. With the drip to match, Rema skirts around the beat with unorthodox deliveries, melding emo-rap sensibilities into hedonist tales. The track centres a female character who's "addicted to the lifestyle" in the same way MJ's Billie Jean might have been. As with "Divine", Rema's artistry shines differently when he enters the skin of someone who's removed from his confident mien, relaying their minute actions with empathic clarity. "Love is not a source of income", meanwhile, is one of the sickest caption-worthy lyric in an album full of them.
If captions were the metric by which a musician's understanding of popular culture was gauged, "Are You There?" indisputably enters the highest echelon of conscious music, a term that's been translated problematically over the years. To be fair, Nigeria's rotten institutional deficiencies continue to befuddle the sanest and most educated among us, rendering Fela Kuti's messages relevant 25 years after his death. For the Gen Z and millennial generation, the EndSARS protests of 2020 portended the biggest chance at making positive change; which they did until the shattering events of October 20, 2020. In the aftermath, Rema cut his dreadlocks as a statement of alignment with the masses, soon after releasing "Peace Of Mind". That song broadened Rema's relevance in a way few superstars of his generation have cracked. Songs of protest usually project heroism on the musician but Rema's wasn't righteous in its outlook, rather harrowing and inspired by events that clearly hit close to home. When he sang "this pain no be only my pain, many people pain e join my pain/ many people dun die in vain," the stories of Rema's troubled personal life comes into perspective. "Are You There?" thus enters this thread of vulnerable records that engages with the complex nucleus of society.
View this post on Instagram
From the first line, Rema addresses his proficiency for sensual themes but quickly switches the focus on the negativity of Nigerian society. The song takes the nature of satire, decked in groovy production even as Rema makes profound observations on the state of modern Nigeria. Everyone from Buhari to the musician's critics gets the stick, rendered in an aloof perspective which ultimately elevates the record. Among the contemporary hallmarks of an Afropop album is the sociopolitical song; unlike this one though, most are barely in conversation with the artist's previous work. Lyricism aside, the song's production underscores the brilliance of beats, which Rema coasts through on the sixteen songs, becoming the grid that lights up other aspects of his artistry.
Over the years, Rema has proven himself capable of operating across sonic extremes, whether on the propulsive percussions of "Bounce" or the trippy psychedelia of "Why". 'Rave & Roses' cedes experimentation in favour of cohesion, with Grammy award winning producer, London's hand in every song but five. Even with Rema's sprawling vision, the familiarity of his co-creators retains an intimate feel across the tape. The satisfying progression from "Divine" to "Hold Me" underscores the relevance of curating an experiential album, a house with several rooms. The Sarz-produced opener mirrors his lyrical direction by building melancholy around his narrative, the way a film score evolves from zero to hundred, moving with the character development. Elsewhere the beats remain in sync with Rema's singing.
On "Dirty", neo-Highlife percussion is coloured by the brazy saxophone; between the middle-belt of the song, a rich backend of live instrumentals elevates the potency of Rema's delivery. "Addicted" and "FYN" capture various strata's of the American imagination, decades existing between the birth of their sonic inspirations. The disco-pop sound of the former counts Fireboy DML and The Weeknd among its recent adaptors while "FYN" bounces with the summery vibe of late afternoons in Atlanta, the barbecue sizzling with chicken and red cups littered about the front lawn.
Higo's production on "Carry" ranks among my favourites on the album, mixing bright percussions with the woozy keys one would hear across the alté soundscape, where he's an influential tastemaker. The sizzling bounce of "Oroma Baby" and "Are You There?" further immerses Rema into Nigerian experiences. It's intriguing how both songs can be placed side by side and are yet distinct; the former's boisterous vibe against the latter's referencing of Konto, a sub-genre popularised in early 2000's Ajegunle, a renowned area of Lagos's mainland.
As with any debut from a major artist signed to a major label, 'Rave & Roses' was always bound to extra scrutiny upon release. Added to the fast pace with which music is being consumed nowadays, it is not uncommon for audiences to expect novelty in order to hold their attention. For newer acts, this forces them into a pot filled with various ingredients that are then undercooked, leaving them with a project that aims for the moon but falls abruptly back to earth.
Rema is wiser. He knows he's proven himself as a versatile act. As any veteran will agree, mastery at one skill is better than floundering at everything else. Make no mistake: this is an Afropop album, but he makes credible efforts at diversifying their presentation by lining their seams with other sounds. Where it sometimes falters is that Rema's songwriting, however humorous and engaging, sometimes needs a counter view, which means the album could have benefited from more features. 6Lack brilliantly complemented "Hold Me" with vocal contributions which underscore his almost unparalleled knowledge of Afropop among other American acts, while AJ Tracey and Yseult had invigorating features on "FYN" and "Wine" respectively.
Easily too, a couple of songs could have been left off the album to make for a more air-tight listening experience. Rema's writing tires out after all the love songs, meeting the lover's parents being a particularly redundant image. As we've always known, he's most lyrically focused when he talks his shit and the trio of "Divine", "Are You There?" and "FYN" are unmissable high points of 'R&R', together portending weighty mission statements that another young musician in his position might be careful about making.
Ultimately, 'Rave & Roses' sparkles with brilliance. It's the creation of a 21-year-old, one who's nevertheless accrued vast experiences and lessons. If you fault his sexual enthusiasm, you can't fault the hard work that's earned him the flex. As gleaned on the cover art, there's been a consistent progression from the kid who left Benin City for Accra on his own before he was sixteen. While 'Rave & Roses' doesn't cover the breadth of that narrative, there'll always be more opportunities for Rema to speak on such matters. "People expect complex lyricism but let me grow, I'm a kid!" he recently told GQ. "Well, that kid has delivered a debut many will continue to take note of in the months and years to come.
Stream 'Rave & Roses' below.
Featured image credits/NATIVE
---