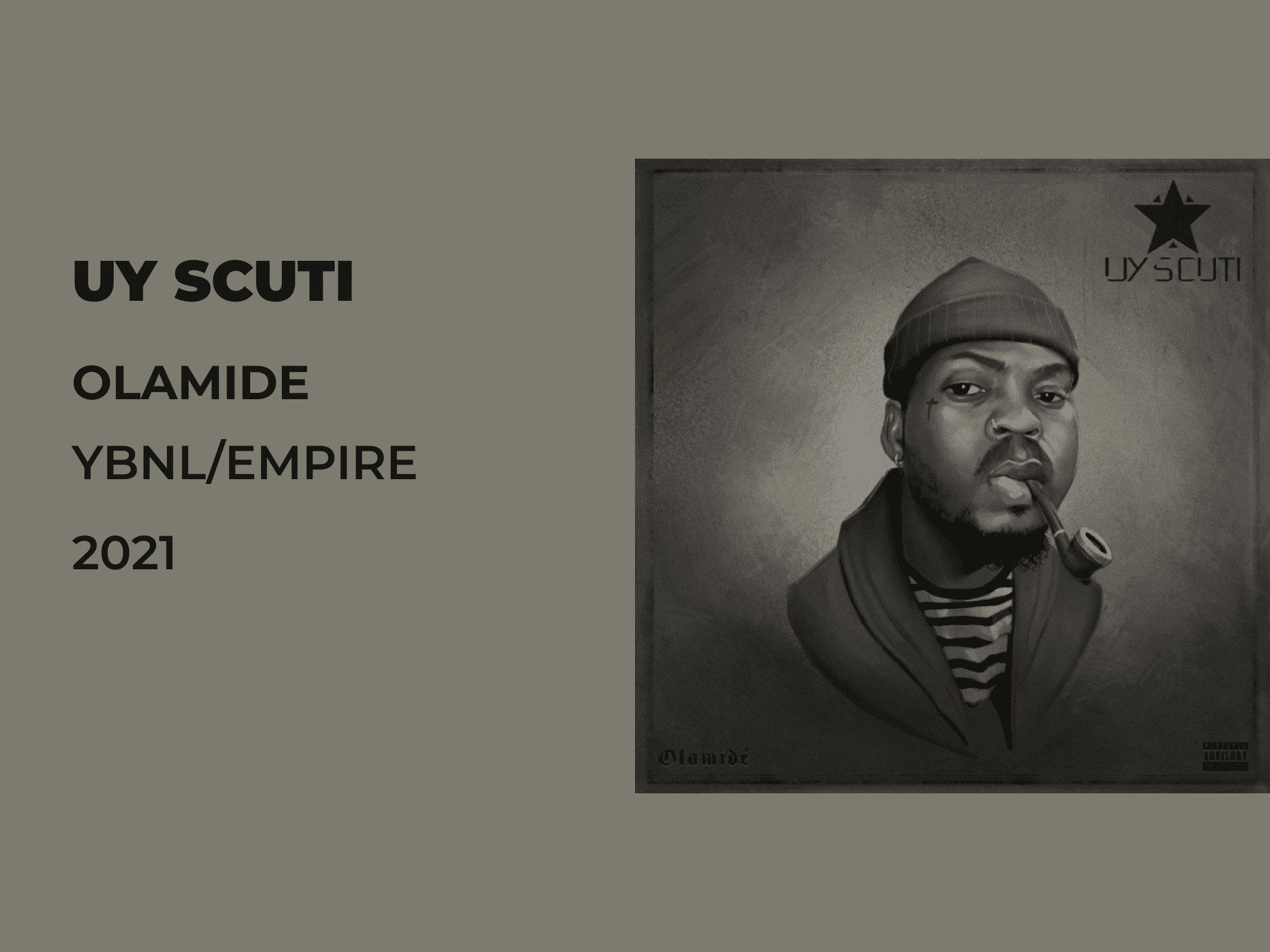 Review: Olamide's 'UY Scuti'
Olamide delights over glistening mid-tempo instrumentals attuned to his drawling flow
Depending on how far down the YouTube rabbit hole you are willing to sleuth, there's a chance you'll come across a grainy DaGrin tribute video released by Olamide about 11 years ago in memoriam of the rapper's tragic passing just as his career was gathering momentum. Together, at the turn of the last decade, DaGrin and Olamide represented the sun and moon of indigenous rap in Nigeria, inspiring the steering away of popular music in the country away from its pseudo-Western sheen to a more authentic reflection of the life and realities of being Nigerian. Operating from different spectrums in the indigenous network, the duo were supposed to usher in a new epoch in Nigerian pop with their unique skill sets—DaGrin, a rapid-fire delivery scheme as well as a penchant for anthemic hooks and Olamide's elastic voice that was equal parts memorable and zesty.  In a cruel twist of fate, DaGrin exited the world without ever meeting Olamide, not to talk of collaborating or codifying the tenets of indigenous rap.
In the tribute video for DaGrin, Olamide raps about having tears in his eyes at the icon's passing but those tears became fuel for his drive when the mantle of representation fell on his shoulder as the music industry grappled with a world where indigenous music wasn't the order. In 2011, Olamide began a run of production that is unprecedented in modern Nigerian pop. Starting from 'Rapsodi', Olamide released at least one studio album per year until 2017. The music on those LPs is an eruptive, panoramic view of the streets that raised Baddo, the places where his faith was burnished, and the aspirations that motivated his rise. Many have also criticised some of the music from that time for being rudimentary and guttural without appropriate care for sequencing and cohesion, with the lustre that powered Olamide's work receding near the end of his glorious run of projects.
Exiting the decade when Olamide rebuilt Afropop in his image, it was clear that the Bariga-born impresario needed fresh impetus to maintain the prolific streak that he kept in the 2010s. That shot in the arm came in the form of a joint venture deal with US-based label and distribution service, EMPIRE. Carpe Diem, the first album released in partnership with Empire, smoothed over the edges of previous efforts and re-established a nexus between Olamide and the zeitgeist of Nigerian pop. On UY Scuti, the quick-fire follow-up to Carpe Diem, Olamide is in a euphoric mood, delighting over glistening mid-tempo instrumentals attuned to his drawling flow. Much like one decade ago when Olamide's voice helped secure indigenous music's permanence, the net reward of UY Scuti could be a landscape where even-paced, mid-tempo ditties might become de rigueur of Nigerian pop; the attraction is obvious following the critical and commercial success of Get Layd and Made In Lagos.
Yet, while Omah Lay and Wizkid's efforts were primarily composed of soft-edged tales of hedonism and lustrous desire, Olamide's lo-fi sound here extends on that narrative to present a more stripped down version of the sound that almost borders on the labyrinthine in its grunge aesthetic. Olamide's writing captures the tension of straddling this introspective streak with his excesses as a popstar; at times, this results in him teetering on the edge of apologetic acceptance and nihilistic indifference. "Mercedes Benz splash dirty water for my face inna mi ghetto one day / I saw myself speeding and I did the same thing for Lagos island one day," Olamide gently offers on "Need For Speed," as he considers the contradictions of his life over Eskeez's fluid instrumental.
Described as his "first official pop album," UY Scuti eschews the voracious appetite of typical Afropop projects, focusing on an integrated vision of Olamide's woozy echoes and coos. Lead single, "Rock," owes some of its origin to shoegaze but Olamide's restrained delivery has shades of the orchestral elegance of "Melo Melo," while a witty line like "Ma lo fe broke nigga, fight for your life" has gotten the women on-board to Olamide's vision of blissful, financial worry-free romance. "Julie" is a pithy anthem powered by sepia guitar riffs that have tenderness at its core even if it's not an entirely believable performance by Olamide. More importantly, both singles are an accurate portent of where Olamide's music is headed towards when he stands alone: less bombastic pop and more sanguine emoting over mellow beats.
One of the most constant criticisms that has been lobbed the way of Olamide since the early days has been the duration of his projects, with a few dragging on till they became slugfests. Carpe Diem was a course correction in that regard, closing out at 38 minutes. UY Scuti is even shorter, holding just ten tracks and taping off at 28 minutes, a move that is sure to increase its streaming potential. Some might even view the reduced runtime as a shameless play for replayability but Olamide sounds genuinely refreshed, presenting his thoughts in clear, lucid strokes that are as glossy as they are melodic. The mischievous ad-libs and background effects on this album prove as much.
Over the last 18 months, very few established figures have kept their ears out for the emergent powers of Afropop with the purposeful intent that Olamide has, crate-digging for the most exciting sounds coming out of sections of Lagos and beyond. The most exciting songs on Carpe Diem—"Triumphant," "Infinity," and "Loading"—are products of Olamide's ability to coax stellar performances from some of today's exciting voices while urging them to his level. 75% of the guests on UY Scuti are singers stepping out of the underground and on the precipice of mainstream breakthroughs; Olamide allows them space to showcase their gifts without inhibition. On "Jailer," Jaywillz delivers a honeyed chorus over a highlife-influenced beat that Olamide nonchalantly weaves a charming story around. Layydoe rises to the occasion on "Rough Up," with her siren voice setting the stage for the cinematic feel of a song that sees her and Olamide blur the line between Dancehall and Afropop.
Much of the album builds up to "Want" and "PonPon," the two Fave-assisted tracks that pairs Olamide unhurried flow with the "Beautifully" singer's sinuous melodies. "Want," structured as a typical rap-sung collaboration, maintains its twinkling feel for the full length of the song before tantalizingly ending with a phone dial-in that hints at more. On "PonPon," Olamide goes toe to toe with Fave for the opening sequence before launching into a verse that she keeps up with via warm adlibs. It doesn't have the star power of Burna Boy and Jorja Smith's "Gum Body" or the sun-sprinkled delight of Wizkid and Tems' "Essence," but it is just as effective at articulating desire with a smouldering urgency that is contagious. Phyno steals the show with an impressive spell of musicality on "Somebody" near the end of UY Scuti, enunciating his feelings for a love interest with a well-threaded verse that packs in all the clichés of love in a Nigerian pop music sense, but is the rare exception that has soul.
Olamide's beat selection is also squarely on the money, seeking out quaint beats that present a serviceable canvas for him to bare his mind on sex, love, and his life without any jarring stops in the overall messaging. It all hints at how much of a shot in the arm the EMPIRE deal has been. Carpe Diem was scrapped and reworked when Olamide met P.Priime last year, UY Scuti benefits from a similar partnership with burgeoning producer, Eskeez, who has production credits on all the songs on the album. His minimalist, noir instrumentals are familiar but hardly homogenous, aiding the continuity of Olamide's thought even when topics are not fully resolved on one song. For all the suave English one-liners that Olamide utters across the album, he remains a Bariga-born musician in tune with the humorous ways Yoruba can mask sexual innuendos. On "Cup of Tea," he gets into that pocket, flipping the song's refrain into a verb dripping with intent. A mark of an excellent record is that there are very few ways it can be improved beyond its current form and by the time Olamide utters the last words on the reggae-inspired "So Much More," there are few blind spots on his most curated effort yet.
In the decade since Olamide ploughed his way into the limelight, he has expanded the notion of pop superstardom, transforming the pop arena into an ever-enlarging gallery picking up sonic influences from Lagos' mainland to cities across Nigeria and the world. Through it all, Olamide has kept pace with the industry by first evolving from indigenous rapper to unbeatable pop presence and then totemic cultural figure. With album number 11, Olamide moves into a whole new galaxy where he explores desire, affection, and the man he has become over beats that almost sound gloomy but still seem capable of inspiring elation.
On 'UY Scuti', he's the biggest star in the universe not because he's profoundly reshaping the austere sound of the moment but because he sounds like he is genuinely having some fun in the wondrous galaxy he has made for himself.
---
@walenchi Is A Lagos-Based Writer Interested In The Intersection Of Popular Culture, Music, And Youth Lifestyle.
---