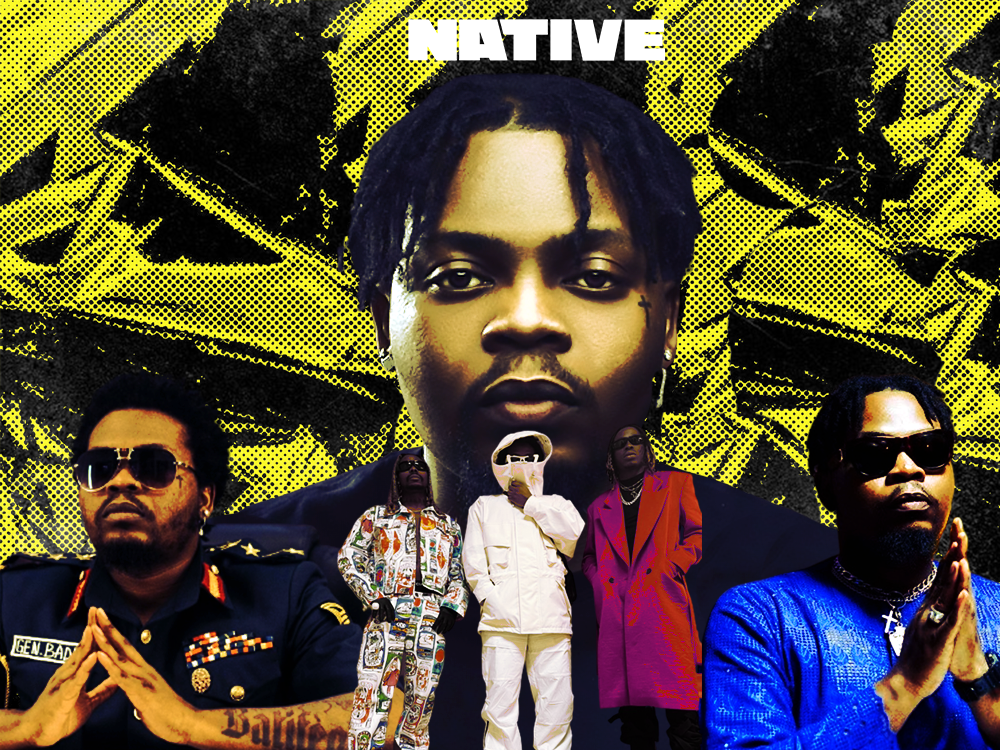 Revisiting Olamide's 'YBNL', the album turned street-defining movement
More than the title of a cult classic project
The more Nigerian Pop evolves, the more we realise how much is owed to Olamide. In those early years, he wasn't the accomplished music executive he is today. He wasn't the darling of the mainstream, neither was he the most gifted rapper you ever heard. He was raised by Bariga, a neighbourhood in Lagos where he didn't have much by way of formal lessons. All he learnt, all he became—that was shaped by the streets, and no one understood that more than Olamide. 
Imagine the year is 2012, a period when young musicians—for the first time ever—were the strongest forces behind Nigerian Pop's push onto global domination. Wizkid's 'Superstar' had galvanised a generation of youngsters onto the plane of popular culture, while Davido and Burna Boy were crafting the nascent core of their stellar catalogues. Of them all, none, however, had the visceral pull of Olamide. From the moment "Eni Duro" dropped, that teenager who recorded during late hours in I.D Cabasa's studio revealed himself as powerfully human. He wasn't the shiny celebrity with no local ties; he was real, and realness was highly rewarded in those years.
View this post on Instagram
In 2011, 'Rapsodi' was released under the tutelage of Cabasa. It's a project that bears all the highlights of what would be known as vintage Olamide: guttural Lil Wayne-esque bars; scratchy beats which borrowed heavily from Fuji and classic Hip Hop; colourful, innuendo-spiced language that was ostensibly from the streets; Olamide's enduring narrative of wanting to make it out, to positively influence the lives of people whose stories he's created art from. Obviously it wasn't a bad album—a well beyond formidable debut project, even—but it barely touched the acclaim of the one which followed it. 
The 'YBNL' acronym for "Yahoo Boy No Laptop" was received with fierce alliance or mild apprehension, often depending on which side of the social spectrum one belonged to. In hindsight, we can accurately interpret Olamide's motivation: working without big budgets and the recognised tools, he was like an internet fraudster who had no laptop. It's hard to tell which came first—the album or the record label, but it's obvious they both shared the same affirmative and cheeky philosophy.
In regards to the album, that was frankly the birth of pop star Olamide. He smoothened the sonic imbalances from the first cover and sounded more confident in his lyrical approach. Nobody was rapping like Olamide. I attended a private secondary school somewhere at the outskirts of Ajegunle, where "First Of All" had become a sort of anti-establishment record. Everyone knew every word, mesmerised by the call-and-response of its chorus—that was the template you'd hear in "Wo!!" and "Oil & Gas" in later years. It didn't help that teachers and administrative staffers liked to say "first of all" whenever they addressed the students. And the students, almost immediately, would scream "Go down low!", much to the displeasure of the scowling adults. 
That lead single embodied the heat of Olamide's gospel. Where others were careful of breaking the rules and presented neat images, Baddo courted rebellion. It's important to note that he wasn't rebellious just for the mere sake; in fact, my usage of rebel could be further exposed as an exaggeration—Olamide simply was. 
The twenty songs on 'YBNL' sounded like music that could have been created from my backyard, or even yours. It was instantly at home, and then moving on to soundtrack Lagos: here, everything was possible and scenes were described just as they happened. Olamide placed himself loosely in the Street Hop tradition of iconic purveyors like Lord of Ajasa and Dagrin, but he also possessed an earned softness. The production carried this personal trait with a fleck of bravado.
If the album is being remembered, songs like "Ilefo Illuminati" and "Stupid Love" would no doubt get much of the accolades, but in fact the mellow songs are as good. "Money" and "Fucking With The Devil" are very subvertive of the images suggested by their titles. They are tinged with airy, chord-lined flourishes which contribute to a certain kind of melancholy. This sadness was sombre because it faced a bleak situation, and getting out as quickly and cleanly as possible was the only solution. 
When he isn't creating bold party anthems or charting his dreams of financial and status ascension, he is often at the service of community. Already the spaces they entered meant the songs were communal-focused, but on records like "Voice of the Streets" and "Jale" he directly linked himself with a larger group of people. You could argue the latter is more boisterous than hood-affirming, but it's perhaps the first and finest instance of the ballroom owambe party record many Street Hop artists would attempt to craft in the future. 
He was really rapping in "VOTS", spazzing over a sample-lined thumper from Tyrone, who also provided similarly hard drums for the iconic "Local Rappers" onslaught. In his first verse, he inserts cheekily, "Mi olohun bi Wizkid, I for dey voice anything," which is illuminating considering how well Olamide developed with his own singing. But 2012 was a different era: A record like "Street Love" had all the vulnerability expressed in raps, while a song titled "Fuji House" bore more semblances with a David Guetta record. It's telling how he closes the album with the "Industreet (Cypher)", a most traditional of rap songs featuring respected peers Reminisce and Base One. 
The production—mostly handled by Pheelz, alongside I.D Cabasa, Samklef, and 2Kriss—offers a potpourri of sounds orbiting the seams of Olamide's favoured Street-Hop. A collaboration with Tiwa Savage is titled "International Local", which is perhaps a pointer to larger influences: there's the brazen touch of Dancehall on "Lights In The Air" and "Remember"; a melancholic soulful vocal sample on "Street Love"; the stirring twang of an Hausa guitar on "Nyarinya" which, judging by his peak standards, isn't a convincing love song but nevertheless displays Olamide's ability to relentlessly dig into a storyline for a new perspective. 
The 'YBNL' album turned ten this year, but there weren't a lot of fireworks. Understandably, that is—often moving at a breakneck pace, not many may be able to revisit the past with the recollection and nuance it requires. That may even be harder because YBNL—the label, not the album—is still in our faces and ears, fresh as Asake's crowd vocals and scene-defining like Fireboy performing main stage at the BET Awards. 
In the years after releasing the album, Olamide went about assembling a great cast of musicians. He'd later sign the soulful Adekunle Gold, but his earliest soldiers were cut from a similar cloth as him: the streets. Lil Kesh's unique gravitas made him viewed as a descendant of Olamide, and he'd deliver until he left the label the year after. Viktoh and Chinko Ekun, though not officially signed, were part of the YBNL family at some point and had invigorating moments, especially the latter who'd go on to create "Able God", the Zlatan Ibile-featuring record which more or less spurred the Zanku era. 
During this time—2018 or about—Olamide was caught in his ever-turning wheels of reinvention by leaning more into eternally-present softness. Mainstream pop was decidedly slower, but he had the awareness to pop up at crucial moments. On "Issa Goal", he joins Lil Kesh in welcoming Naira Marley into the Nigerian scene after years of underground UK dominance. Olamide, by then, was entering his third wave—as an OG who did more behind the scenes than he let on—and the intentional unveiling of Fireboy DML on the 'YBNL Mafia Family' compilation album was proof of that. 
Like many things Olamide that album wasn't accompanied by much buzz, but who was that youngster? On "Jealous" and "I'll Be Fine" he was allowed the entire run-time, flexing both his skills as a pop artist with the occasional alt-pop lean. While the latter was a sombre view of his prospects at making it, the former became Fireboy's breakout record. In the video, the cool schoolboy dressing of Fireboy made it hard to believe this was an artist signed under Olamide. But that is the nature of leaders: they see before others do, and move decisively behind what they'd rather see in the world. 
Street shi wa in charge. pic.twitter.com/BwBUBZq0Hg

— Olamidé (@Olamide) September 5, 2022
In a picture which was taken at the just-concluded 15th Headies, Fireboy DML and Asake stood on both sides of Olamide, who on his social handles captioned it, "Streets shi wa in charge". In that one moment, the most successful players of an empire stood tall—Fireboy is still enjoying a global listenership after the 'Playboy' album followed the success of "Peru", while Asake has unarguably been the man to beat throughout 2022. 
It's surely a tempting prospect to view Olamide as a forefather, but then again his impact is very much alive. He's used his star power to popularise the remixes of T.I Blaze's "Sometimes" and Portable's "ZaZoo Zehh" even while courting less flagrance in his own music. It's also interesting when you remember (or not, in my case) that the Italian sample at the base of Goya Menor's "Ameno", which won Best Street Hop single at the Headies, was sampled much earlier by Tyrone for "VOTS". 
Looking back now, the 'YBNL' album perhaps hasn't been given its deserved flowers. It's not on par with the excellent trifecta of 'Baddest Guy Ever Liveth', 'Street OT' and 'The Glory' but then you have to understand Olamide was yet to reach his peak at the time. At that, he boldness of that project was instrumental in empowering his later releases. 
Its greatest legacy remains its possession of the 'YBNL' title—this, even more than being a cult classic, is a movement. A movement which began in Bariga and spread all over the world, yet burning in the eyes and mouths of the many Nigerians who call Olamide king. As more international corporations would seek to indulge his genius in the years to come, understanding this album would be key to understanding the mentality he carries into those rooms. It's a mentality that can't be defeated, only admired and adapted into the sprawling details of one's own life. 
---