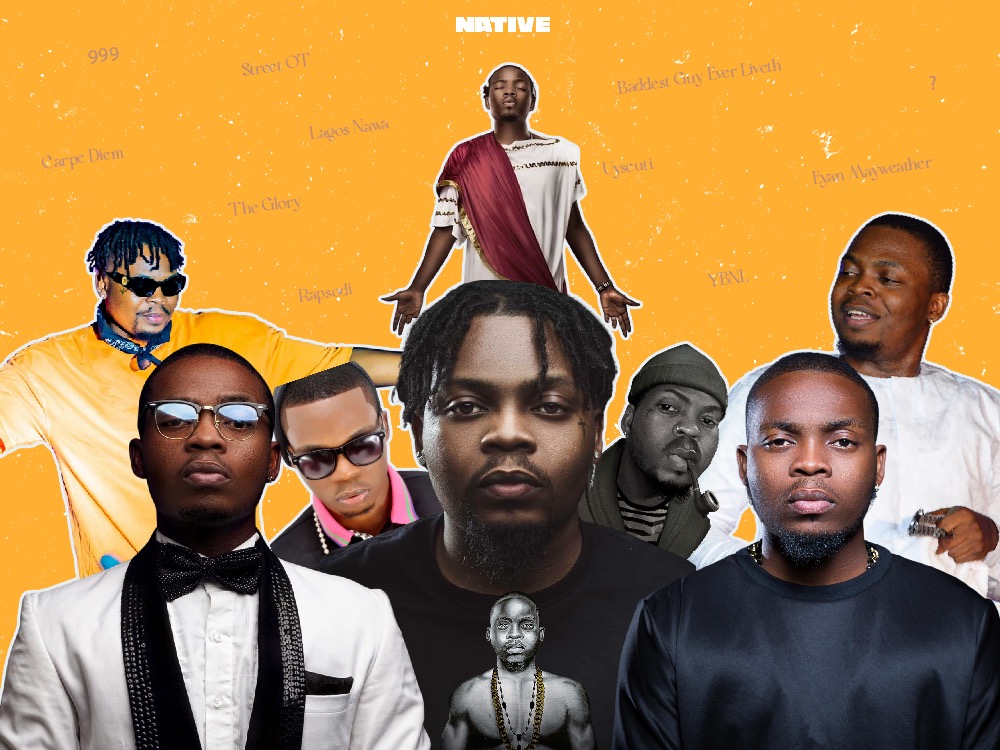 What happens if Olamide retires from making albums after this year's 'Unruly'?
The odyssey might—or might—not be complete.
Over a week ago, Olamide sent the Nigerian pop culture scene into a frenzy, after the rapper stated that he will be dropping his final album titled 'Unruly.' Taking to Twitter, the rap behemoth announced: 
Next Album = #Unruly 95% ready
Release date = I don't know
Taking my time to make it the best ever… probably my last album.. dough I'll drop singles once in a blue moon when I feel like it.. it's been a mad ass run !! giving albums back to back 🙏🏾💛

— Olamidé (@Olamide) February 5, 2022
For an artist who dominated the 2010s with a yearly album release cycle, and entered this decade with the vim of a fresh artist—three projects in two-plus years—Olamide's proclamation of a final album is puzzling, only because he's been moving with even more momentum these days, especially on the business side of things. In 2020, his record label, YBNL, signed a partnership deal with U.S-based label services company, EMPIRE. Many saw this as the start of his plan to launch his campaign for wider international recognition. If that's the case, why would he hang his boots now?
In recent years, Nigerian pop music has multiplied its global reach, gaining popularity in recognisable music hotspots across the world, as well as in more obscure places. Rapping and singing mostly in Yoruba, with a primary emphasis on connecting with the Lagos (and Nigerian) streets that first championed him, Olamide has never explicitly cast himself as a proponent of Afropop's Western incursion. Even as his last two albums, 'Carpe Diem' and 'UY Scuti', featured more vibrant melodies than sturdy rap bars and hewed closer to mainstream Nigerian pop rhythms, Olamide has prioritised authenticity over engineering a crossover. While breaking down Carpe Diem, he told The NATIVE that he wasn't forcing collaborations with non-Nigerian artists, an indicator of his creative stance despite his improved access to more collaborators via his working relationship with EMPIRE.
Perhaps, that deal is more of a strictly entrepreneurial venture, an attempt to consolidate power as a music business magnate. Having signed Fireboy DML in early 2019, he has mentored and helped guide the singer into becoming one of the biggest Afropop artists around. Maybe he's retiring, after all, to focus on another aspect of the game he's excelled in–mentorship. In his time as a record label head, Olamide has an impressive record of being a star-maker, whether it's in signing eventual stars like Lil Kesh, Adekunle Gold and Fireboy, or endorsing artists with career-uplifting guest appearances—in the sprawling list includes Phyno, Naira Marley, Bad Boy Timz and Bella Shmurda.
In the last two months alone, he's exhibited this particular form of greatness on a handful of occasions, bringing Portable, T.I Blaze and Asake—who he's just signed to YBNL—to the limelight with single features. Of course, the idea that he'll become a facilitator of careers is speculative, but whatever may be the case, only time will tell for sure. What is definite, though, is that Olamide's retirement from making full-length projects will be deeply felt, particularly because throughout the span of his career he has been an ever-present figure in Nigerian music.
We often tend to look at an artist's impact through their number of hit songs, which would be scale-breaking in Olamide's case. At the same time, that would be underplaying the fact that Olamide is an album artist at heart, setting and maintaining a dizzying tone for his career before prolificness became quotidian. The global music scene is now fast-paced, and the sheer volume of songs and projects that are churned out every day is staggering. As such, it's easy to forget how scintillating and invincible artists were in their prime.
Olamide came into the Nigerian music scene just when it felt like the curtains of one era was being drawn closed and a new dispensation was being ushered in. He made a mark immediately, sending a cascade of reverberations in the local music scene with his debut single "Eni Duro" and his 2011 debut album, 'Rapsodi.' Just as it is in every epic or legend, where the hero has to pass through a series of trials and tribulations and overcome them before attaining their full potential, Olamide had his giants to slay. His first obstacle to overcome was escaping the shadow of Dagrin.
Dagrin was one of the hardest rappers of his day, widely beloved for his rapid-fire Yoruba raps and gripping vocal cadence that inspired an obsessive following on the streets. Not only did his popularity chart new waters for indigenous rap music, it also redefined what Nigerian rap could be, delivering a burst of fresh energy that helped disrupt and ultimately raise the creative ceiling to Nigerian music itself. It wasn't too long after Dagrin's unexpected passing in 2010, that Olamide made his way into mainstream consciousness, after years honing his rap skills in the underground.
Olamide came in as a scrawny, ambitious kid who was generally acclaimed as being wildly innovative with his sound, delivering raps with guns-blazing, Lil Wayne-inspired lyricism and carefree self-assured braggadocio. But he was unfairly tasked with filling painfully huge shoes. Dagrin was a Yoruba rap legend, Olamide also delivered his raps in Yoruba, hence fuelling natural comparisons. Tasking a youngster with living up to the standard set by a legend is almost always a surefire way to send their careers into a downward spiral. In the world of football, there are the all too familiar stories of youngsters who display brilliance, get branded as the next Messis and Ronaldos, after a few years of the hype, they choke under the pressure and fizzle away. On the local front, there are countless similar cases—Lil Kesh was supposed to be the next Olamide, the DNA twins were supposed to be the new Psquare, the list goes on.
Faced with this boulder in the path of his Odyssey, he did what all heroes do, he got to work moving the boulder out of his path. Between 2011 and 2013 he released three studio albums and an innumerable catalogue of explosive, lava-hot singles. By 2013, with the culture-defining 'Baddest Guy Ever Liveth', he had planted his feet firmly in the industry and become his own artist, tending to his own legacy.
The next challenge he had to surmount was escaping the box street artistes were placed in. At the time, the word 'street' was used as a euphemism in Nigerian music parlance, limiting the ceiling of how high artists who identified as 'street' could peak. Olamide owned the street tag with his full chest, eclipsing those limitations one hot single, one hot feature, and one hot album at a time. His preference for delivering music in quick succession may have come with the occasional moments of diminishing returns, but the bulk of his discography is tilted towards greatness.
By 2017, Olamide released 'Lagos Nawa,' his seventh studio album in as many years. In the next few years, that overwhelming productivity waned after the 2018 run of smash singles like "Kana" and "Motigbana," and the December release of a YBNL compilation album. Around this period of relative silence, so many exciting things were popping up on the street side of the music scene. Young, hungry-for-fame street artists like Zlatan and Naira Marley popped up, driving the abundant period of the brief Shaku Shaku stint that was quickly replaced by the Zanku era. These guys sent seismic ripples reverberating through Nigerian pop music.
At the time, no one dared think Olamide's odyssey was over, but he had stopped moving. On the outside, there were multiple outlooks on the situation of street-pop's most iconic artist—to some, he was weary of the burden of stardom, he had done everything to be done, what was the point in continuing this gruelling voyage? To others, Olamide was simply taking the backseat to allow budding talent blossom. To another set, the situation wasn't so grim, the King was simply laying low to gather strength and let off steam before continuing on his journey. The latter was the case.
In 2020, Olamide swaggered back on the scene with the acclaimed and sonically expansive album 'Carpe Diem,' churning out an album that housed multiple smash hits eight months after putting the game on notice with the very first EP of his career, '999.' In nine months, he followed up with his 9th studio album, the well-received 'UY Scuti.' These albums expanded Olamide's musical purview as a dynamic rap artist and (street-)pop hit-maker.
Maybe with his tenth album and eleventh project in twelve years, Olamide believes his odyssey is complete. For an artist who has shown a compulsive need to create projects, especially long plays, it's a little difficult to fully accept his recent "last album" announcement. Also, add in the fact that rappers never really retire from the album as a medium of expression. If he does stick by his decision and a new LP doesn't materialise after the impending 'Unruly,' there's no doubt that Olamide's legacy is secure for years to come.
It's an amazing story, from being a young upstart fighting the legend of a ghost, to him willing himself to becoming one of the greatest to ever do it. That's the legacy Olamide will leave behind if he does retire this year.
---