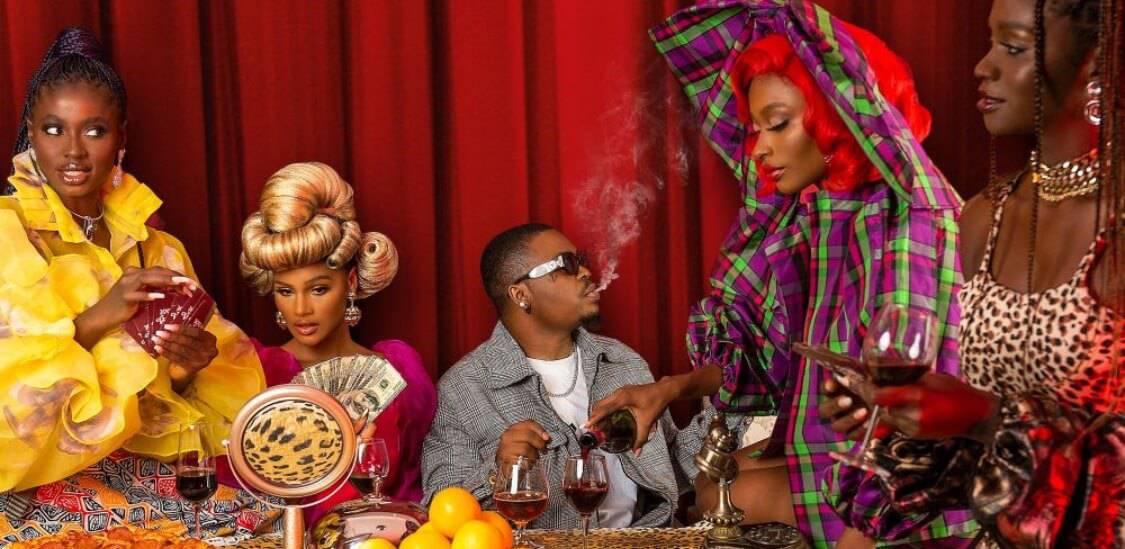 A 1-Listen Review of Olamide's 'Carpe Diem'
"Me I no dey find their validation, I dey another level"
Olamide's 8th studio-album 'Carpe Diem' arrived today and as the title suggests, the veteran hitmaker is confidently seizing the moment with the new release, showcasing not only his ability to grow and adapt sonically with the changing times, but also his penchant for discovering some of the hottest talent brewing underground in Nigeria's musical landscape. Fireboy DML to Bad Boy Timz, Bella Shmurda, producer P.Priime and more, one thing that stands out on the project is the range of young talent involved.
It's surprising that an artist as culturally relevant through two decades of Nigerian music as Olamide would need to reveal a different side of himself, but his need to try on new stylistic choices is proof enough of how competitive the soundscape in Nigeria currently is. Currently, Nigerian music is awash with different styles and Olamide doesn't box himself in one category, and thoroughout his career, he has shown that he can do the club-ready songs and also deliver the more mellow reflective tracks. Adding another string to his finely-tuned bow, 'Carpe Diem' shows Olamide's continued reign as a street-hop legend and a musical savant with a shiny legacy who takes divergent sonic shifts, but stays true to his familiar tough-talking, afropop-infused hip-hop.
It's a bold move, but one that's fully welcome by his loyal following as the album is already topping Apple Music charts in the country. I'm excited to plug in and listen to this, and coupled with one of the sickest album covers I've seen this year, I know that this is going to be yet another banger in his arsenal.
View this post on Instagram
"Another Level"
This is an apt title for an album championed as revealing a different side of an artist and just like Burna Boy's album opener "Level Up", Olamide uses this mellow track to explain his present state of mind. He's reminiscing about his past and the journey he's been through to reach this point in his career. "I be big deal I fit ice water to the sea" is a very fitting bar for a song titled "New Level" and it's clear that Olamide believes he's at a godfather-type, untouchable level in the industry and he's not wrong. This is solid.
"Green Light"
This was one of the promotional singles for the album and my thoughts on it still haven't changed. Olamide is singing about receiving the "green light" (read as consent) from his love interest questioning why she is dulling him and not accepting his sexual advances. I guess every album needs that sexual song where the guy tries to convince the girl of his affection but I don't know that these lyrics are for me 'cause I'm just cringing. I can see how other people enjoy it though, I wish it didn't come immediately after the strong opener but alas! there we have it.
"Infinity" featuring Omah Lay
Omah Lay is one of the greatest musical exports this year and I'm happy to see him getting his flowers in the industry. Now with two heavyweight co-signs from Wizkid and Olamide under his belt. This song is very thotty – permit my lack of a better word, but that's exactly the word to surmise the whole song. Olamide is telling his love interest how much he wants a private rendezvous with her, with lyrics suggesting that if she performs well with the 'banana', she will be gifted a house in the opulent Banana Island. How charming… not lol. I think I'm just fed up with hearing men's sexual desires please but besides that, Omah Lay's vocals are top-notch on this. Will definitely revisit.
"Eru"
Another pre released single and perhaps the most enjoyable out of the two. This bouncy energetic number has already been making the rounds since its release a few months ago and it certainly hasn't weaned in replay value since then. The best part of this song is when Olamide is in his zone on the pre-chorus chanting off inaudible catchy one-liners that will become sweet in your mouth when the alcohol is in the system. This is definitely a banger and one of my favorites on the project still.
"Triumphant" featuring Bella Shmurda
Pheelz is insane on the beat and both Olamide and Bella Shmurda are flexing their lyrical chops and incredible synergy. Bella Shmurda takes the reins from the beginning, delivering the melodies and cadence I have come to expect from him. To him, winning looks like being able to afford all the flashy designer items and the latest cars and I can't even be mad at it. I too would like a custom Ferrari/Porsche. Olamide has always adopted a didactic outlook in his songs and this one is no different. He's winning but reminding his fans that all that glitters is not gold. This is the type of song that you play every morning to kickstart your day. We all have the same 24 hours and that.
 "At Your Service"
Okay, now we're talking. This is something different. The beat, the bounce, and even his lyrics. I think Olamide might be in love but if I was his girl, I wouldn't be so quick to believe his honey-toned words. Niggas be lying. "Girl I'm not tryna make u a sidekick" must be a heartwarming message to hear from your rapper boyfriend, so someone somewhere must be very happy with this. In contrast to the other romantic/sensual songs, this one has more depth beyond the physical. He's saying he doesn't just want the sex but also a deeper connection and asks that she "stops messing with [his] head like E!" hm, Olamide Baddo (if you know, you know).
"Do Better"
The first thing that sounds out on this song is Young John's production. It sounds very catchy and nursery rhyme-ish, but I'm guessing that's to keep up with the fast-paced delivery that Olamide delivers on the song. Olamide does this thing with words where you have to go back and listen at least one more time, but for the sake of this first listen, I will say that the fervour of his pace and delivery is interesting enough for me to want to revisit this.
"Chimichanga"
Streets are already saying this might be the new slang, joining words like 'Forza Speciale' in the growing number of words from Nigerian pop culture that live rent-free in my head. Olamide is really rolling out the romantic numbers on this project and I'm getting more convinced that the veteran hitmaker may be in LOVE love this time and he's making a point of showing it each chance he gets. I'm all in favour of him seizing the moment with his romantic interest and frankly, I would also like to chop a rapper's money like chimichanga so let's have it. The beat is also really nice and mellow. P.Priime deserves all the flowers for his impeccable work on this project. Definitely running this back.
"Shilalo" featuring Phyno
The songs have been short which is great for a full-length album, so it's easy to get through the music quickly. I was most excited about this number because it has two legends on it and they never disappoint when they jump on a record together. Back in 2015, Phyno and Olamide showed that they are a formidable pairing when they released their joint project '2 Kings' and their link-up on this number is no different. The subject matter is still about women and the effect they have on the men in their lives, see why I stan the girls. This woman really had an effect on Olamide cause he compares her to Queen Bey and that really is saying something ("You de baddest b like Mrs Carter").
"Loading" featuring Bad Boy Timz
This is definitely a club banger and I'm living for it. Been excited for Bad Boy Timz since the "MJ" record, so its nice to see him on here showing off more of that irresistible charm. The song is premium enjoyment and Olamide and Timz toast to their vibrant lives, which sees them getting big bags, flexing, dancing, partying, and getting high. The way I see it, this will definitely get infinite replay value at the function with its catchy beat and I won't be surprised if it's a fan favourite.
"Unconditionally" featuring Peruzzi
Pretending I can't see that Peruzzi is featured on this and focusing only on Olamide's verse – fight me. That's hard to do as he starts off this song so here we are. Olamide kicks this off in the sexiest way, his baritone sounds very sensual even though he's singing about resorting to drugs for the pain his lover has caused him. Eish, that's never a good sign. I would like to also beat this Kanye reference with a bat cause such an unnecessary comparison. I get the moaning about how desolate he is without her love, but it's not for me.
"Plenty"
Saving the best for last, Pheelz is the mastermind behind the infectious beat on this song from the YBNL mentor and his ever promising mentee, Fireboy DML. This is a nice song to close off the album, they are both singing about the blessings in their life, it's literally sentimental and well, plentiful. It's nice but nothing really stuck with me other than the fact that they mentioned plenty an unhealthy amount of times on this record. New idea for a drinking game this week, drink each time someone says plenty on this song(LOOL). Okay, it's over now.
Final Thoughts
All things being considered, 'Carpe Diem' is a solid project and a stark reminder that the afropop/rap landscape is always changing and with the boisterous 12-tracks on this project, Olamide continues to show why he will always have the clubs and streets on in a chokehold while giving listeners a newer more-refined side of him. Although the project has its fair share of filler tracks neatly packaged in the form of love songs, Olamide's unbridled confidence in his abilities and that of the upcoming artists he takes under his wings marks the project's sweet spot.
On his eight studio album, Olamide relishes in the joys of his decade-long reign in the music industry. Even though he's trying on catchier sounds and working with underground acts, he can afford to switch it up this late in his career because of his consistency at delivering at the top of his game these past few years and with his omnivorous backlog of music, it's not too far off from the Olamide we have come to know and love. With the majority of the album's production done by the 18-year-old P.Priime, Olamide sits back and lets his tried-and-tested formula do the work and the result is an album that puts him in contention for one of the most influential voices in Nigerian mainstream pop culture.
Featured image credits/Olamide
---
Hell hath no fury like Tami. Tweet her your fave female rappers @tamimak_
---