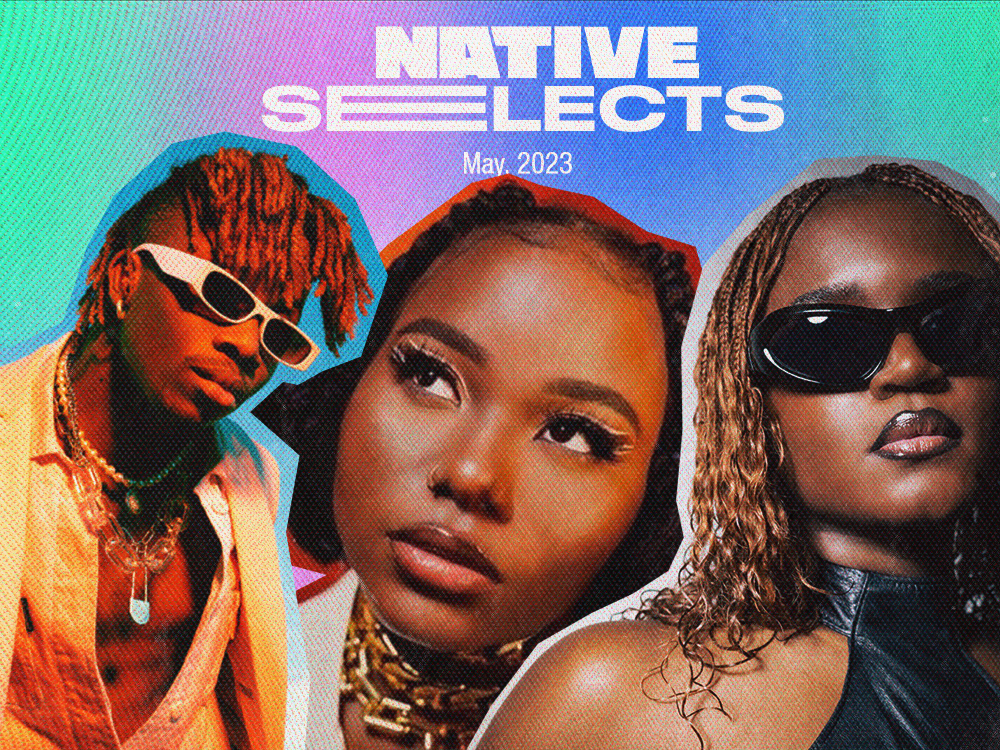 NATIVE Selects: New Music From Amaarae, Gigi Atlantis, Omah Lay & more
new music for the weekend
It's that time again. Every week, new music shows up, sweeping fans and music lovers off their feet while artists gauge reactions to know the effect of their creativity. At the NATIVE, we are committed to keeping our ears on the pulse of the music scene and bringing the best sounds to your doorstep.
Last week, we brought you stellar new releases from Amaarae, Oxlade, Tiwa Savage and more. Today, we have songs that move from Afropop to Amapiano to R&B, with our select artists showcasing their unending talent and passion for creativity. Lock in!
KAYTRANADA & AMINE – "SOSSAUP" FT AMAARAE 
Last month, Kaytranada and Amine debuted their Pharrel Williams-backed "4EVA" for their joint Hip-Hop project assisted by catchy dance-floor hits. 'Kaytranime' features 11 groovy tracks with witty, sex themed penmanship performed by the likes of Big Sean and Snoop Dogg. However, a clear standout -fitting perfectly into the project's theme with her sultry, dulcet vocals- is Amaarae. "Sossaup" leads in Amine's confident wordplay, accompanied by sombre strings and a catchy drum pattern. Taking up the second verse, Amaarae delivers a melodious rendition and airy ad-libs, further elevating the track. 
OMAH LAY – "SOSO" FT. OZUNA 
Since Omah Lay's 'Boy Alone' hit the airwaves last year, standout track, "soso" has seen exponential growth. Though the Tiny Desk performance received varying audience reactions, the track is an undeniable banger. Omah Lay takes the track a step further with a cross-continental remix with Puerto Rican singer, Ozuna. Still retaining its melodious hook, Ozuna comes in shortly after the first introduction and on the backend of the track for a groovy rendition in Spanish. 
GIGI ATLANTIS – "GTK"
Last we heard of the eclectic singer, she was delivering a stellar performance with DETO BLACK and Amaarae on "body count" off Odunsi(The Engine)'s 'EVERYTHING YOU HEARD IS TRUE.' Gigi Atlantis makes a poignant comeback after three years on "GTK" with production contributions from Sholz and a soulful spoken word verse by Tau Benah. The uplifting track features a captivating hook about feelings of self-contentment and finding peace, closing out mental health awareness week on high notes. 
OXLADE & FLAVOUR – "OVAMI" 
Nigerian singer Oxlade had an incredible 2022 with the global success of "KU LO SA" after a COLORS performance. He featured Camila Cabello on the remix and dropped the Mayorkun-assisted "Bad Boy," furthering his ascendency. On "OVAMI," his first single of 2023, Oxlade taps Highlife veteran Flavour for a romance-themed ballad built from Magicsticks' lush instrumentation. The track puts Oxlade in a new light as he showcases his versatility and  growing profile.
BOB MARLEY & THE WAILERS – "WAITING IN VAIN" FT TIWA SAVAGE 
After an undeniably successful first quarter, Tiwa Savage continues her hit streak with an outstanding verse with the Reggae icon, Bob Marley. The pair express the all too familiar feeling of longing for a past love interest despite the inadequacies of the relationship, joined by staccato rhythms played by mellow guitar and piano strings. 
RAYBEKAH – "GONE BACK"
Sometimes, falling in love comes with hurt. It is this sentiment that Nigerian singer Raybekah channels into "Gone Back." She sings about disloyalty she has suffered at the hands of those she has trusted with her affection. "I'm a fool, yes I've gone back/To my ex, I've gone back," she sings—a direct contradiction to her 2022 single "EX BOYFRIEND," where she sang, "I'll be a fool to go back to my ex boyfriend." Entertainment wise, it is a good song that marks Raybekah as one to watch.
BRUM3H – "HOLD YOU DOWN"
Nigerian singer and record producer Brum3h follows up his March release "You Don't Want Me" with a new song "Hold You Down." Co-produced by Brum3h and Cybertiger, the song employs powerful drums and synth-wave-inspired melodies to create an immersive experience as Brum3h belts his heart about the complications rife in a romantic relationship.  
SOUNDZ & FAVE – "FEVER"
Duets will never go out style. For the new song, the duo of Soundz and Fave combine their qualities for a heartwarming number. "Fever" uses the familiar metaphor of not feeling well because of a woman, even though there's a progressive intensity that keeps the listener engaged from start to finish. 
SHALLIPOPI & ZLATAN – "ELON MUSK (REMIX)"
For a while now, this song has been an internet sensation and the artist behind it, highly sought after. Zlatan joins the remix, introducing his trademark energy to the catchy song. The result is a tune renewed, facing the appealing possibility of extending its run at the zenith of online culture. 
FASINA – "RELOAD"
As the Summer approaches, more songs will try to crack a breezy ease into their peculiarities. The true bops however have an air of natural arrangement to their qualities, and "Reload" is one such song. Audibly in his element, Fasina's Dancehall-inflected tone thrills over a shiny guitars and a laid-back drum pattern.