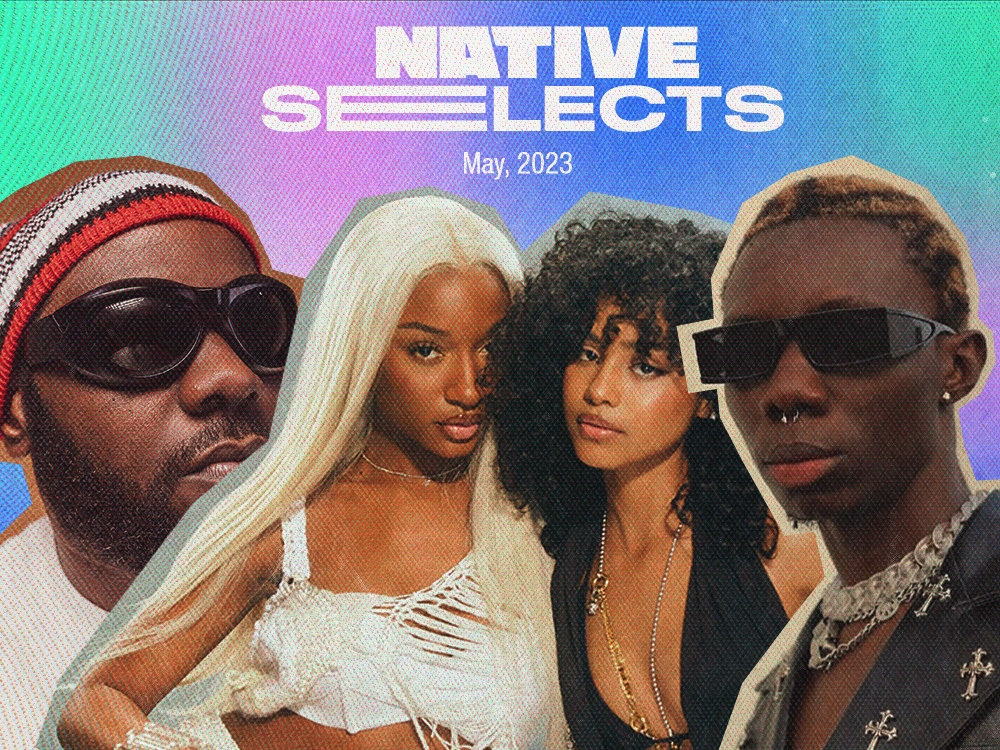 NATIVE Selects: New Music from Tyla, Tay Iwar, Bella Shmurda and more
tunes for the weekend
It's that time again. Every week, new music shows up, sweeping fans and music lovers off their feet while artists gauge reactions to know the effect of their creativity. At the NATIVE, we are committed to keeping our ears on the pulse of the music scene and bringing the best sounds to your doorstep.
Last week, we brought you stellar new releases from Fireboy DML, BNXN, CKay and more. Today, we have songs that move from Afropop to Amapiano to R&B, with our select artists showcasing their unending talent and passion for creativity. Lock in!
TYLA & AYRA STARR – "GIRL NEXT DOOR" 
Representing the new generation of outstanding African talents, Ayra Starr and Tyla join forces on the catchy mid-tempo track produced by P.Prime. The intoxicating, Amapiano-tinged beat opens the track, followed by the honeyed vocals and harmonies by the pair. Their sweet sounding melodies perfectly contrast the direct message to their love interest, warning them of the dangers of their nonchalant attitude. The pair reiterate that they're the it girls singing, "Don't mess this up, I'm not warning you//Got a lot of options wishing they were you" 
TAY IWAR & TWELVE XII – "UNDERCOVER LOVER"
Ahead of his recently announced EP, 'Summer Breeze' -slated for release next month- Tay Iwar's new track gears us nearer to the highly anticipated project. The slow tempo track features Tay's harmonious vocals, expressing his dire need for his love interest. Accompanied with a sultry, almost whispering rendition, he openly calls out to her with showers of praise. 
BELLA SHMURDA & TIWA SAVAGE – "NSV" 
For his third release of the year, following the Nasty C-assisted remix of "Philo," the Street-pop flag bearer taps Tiwa Savage on the new groovy single, "NSV." The track immediately starts on a high note featuring a distorted chant by Bella Shmurda, subtle piano keys and the infamous log drums. Over a mid-tempo track, Tiwa's lush vocals elevate the track as the pair swing back and forth proclaiming themselves as the life of the party. 
BNXN – "PRAY" 
Coming off a big hit earlier this year, "Gwagwalada," BNXN is back with another stunning release, reaffirming his status as a serial hitmaker. The magicsticks-produced track is an appreciative one as BNXN recalls the struggles he has faced and the people who refused to support him in his early career days. He recalls significant career strides like playing O2 Brixton and his incessant need to remain prayerful as he continues this journey. 
KIZZ DANIEL – "SHU-PERU"  
"Shu-Peru," through his catchy beats, relatable lyrics and infectious hook, perfectly showcase Kizz Daniel's musical prowess and further stamps him as a key force in Afropop today. Produced by Reward beatz, the upbeat production creates an inviting atmosphere for Daniel's memorable rendition. The tracks catchy, repetitive hook rings beyond the first listen, proving that the pair have a timeless piece on their hands. 
OBONGJAYAR – "JUST COOL"
Premiered as Clara Amfo's Hottest Record, the Karma Kid-produced track marks Obongjayar's first release since his perfectly curated debut album 'Some Nights I Dream of Doors' released last year. "Just Cool" arrives just in time for summer with its punchy, sun-drenched rhythms and instantly catchy vocals. The rhythmic track seamlessly blends elements of 70's West African funk a la Fela Kuti & Kio Amachree with OB's ice-cool vocal delivery that showcases an exciting new evolution for the experimental artist.  
MR EAZI & YUNG WILLIS – "HAPPY"
Fast-rising musician, Yung Willis has collaborated with Mr. Eazi for an upbeat number dubbed "Happy." Yung Willis sings about his desire to live his best life in a mood while Mr. Eazi in his usual laid back, no-stress attitude emphasises the need to live a happy life. "Happy" is a seamless blend of Afropop and current sounds, creating a feel-good mood that will lift the spirits of any listener. 
TOMI TRYBE & TOYE – "NI NIGERIA" 
Tomi Trybe, a fast-rising star in collaboration with talented act, Toye has released, "Ni Nigeria." Armed with moving lyrics in Yoruba and English, the duo celebrate the beautifully diverse cultures and traditions in the country, over a fusion of Afropop and Amapiano sounds. The Dante Beats-produced track embodies an effortless flow, housed by the celebratory aura and shared pride resonating through its course. The accompanying visuals reiterate the track's message as we see on the flag-painted faces of the children. 
RUGER – "BUN BUN" 
After an impressive run in 2023, Ruger has returned to the airwaves with "Bun Bun," a quick follow-up to his recently released "Jonzing boy." In "Bun Bun," Ruger makes a case for the seductive body of a woman and showers her with praise. The smooth vocals and awesome beat enables Ruger deliver a captivating track that will leave every listener moving their bodies.
DJ TUNEZ – "SHAKA ZULU" FT LADY DU, SMEEZ & D3AN
From his highly anticipated project, 'Triple Threat,' Nigerian singer and songwriter, DJ Tunez, has released a single titled "Shaka Zulu," an ode to the South African monarch, Shaka Zulu. The amapiano soundtrack brags of sizzling verses delivered  from Smeez, D3AN and Lady Du. The synergy of the acts on the song complement DJ Tunez's distinct sound, vocals and production skills.
Featured Image Credits/The NATIVE