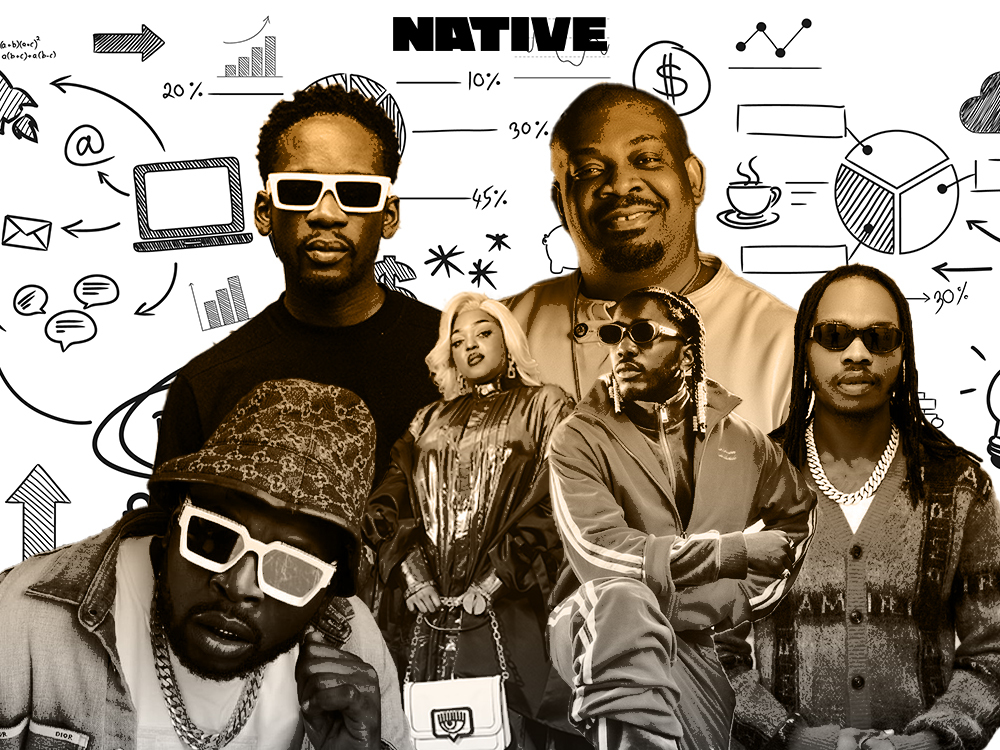 10 African artists who are also music executives
Including Olamide, Davido, DBN Gogo and more.
The music business is a notoriously tricky industry. A lot of artistic minds have been unable to crack it, while musicians have sometimes struggled to make the best business decisions, leading to blow-back on the artists and an associative label, if there's one. It then becomes twice as hard when a music executive happens to be a recording artist, one who's still in the active years of their creativity.
However, a number of people have been able to crack the ice and extend the creativity of their careers onto other artists. In the contemporary African music scene, Olamide is the biggest example that comes to mind, using his YBNL label to break the likes of Adekunle Gold, Lil Kesh, Asake and Fireboy DML over the years. With each passing year and another breakout artist on his hands, the 'Unruly' artist has revealed himself as worthy of reverence, although he's not the only figure in this conversation
To properly highlight the brilliant figures who are music executives while being artists themselves, the editorial team at NATIVE Mag compiled this encompassing list. Spanning the breadth of the continent, from Nigeria to Tanzania and South Africa, we've put forward an esteemed cast of these hybrid personalities, celebrating them but also recognising the joyful moments they've given to listeners through the largesse of their heart and the brilliance of their minds.
DJ Maphorisa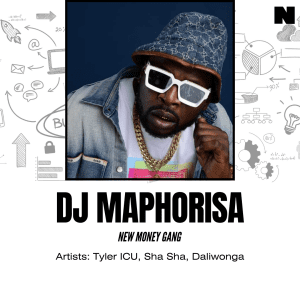 In the South African music scene, DJ Maphorisa is an important and respected figure. He embodies diverse roles—singer, record producer, DJ and songwriter—as a music maker working across genres but with a solid influence in house music and Amapiano. His catalogue of hit tracks features impressive acts in both the South African and African music spaces, including Black Coffee, Kwesta, Uhuru, Major Lazer, Mafikizolo, Wizkid and Runtown, among others. After leaving Kalawa Jazmee Records, the label co-founded by Oskido, another influential name in South African music, DJ Maphorisa floated his label, first named Blaqboy Music and now known as New Money Gang Records.
As a label owner, DJ Maphorisa has continuously nurtured South African music talents, offering a steady stream of opportunities for those artists and their fans to connect. The label has witnessed the entrance and exit of talents such as Tyler ICU, Sha Sha, Daliwonga, Lucasraps, Bontle Smith and MaWhoo, among others. The healthy presence of female artists on the label, in a notoriously male-dominated African music scene, lends credence to DJ Maphorisa's drive to support talents. These artists have made an impact with their music, in turn furthering DJ Maphorisa's legacy as a leading light in South African music.
Don Jazzy
You can't delve into the rich history of Nigerian pop music without mentioning Don Jazzy. The mid-2000s were knockout years stacked with countless hits, many of which Don Jazzy lent his vocals and expansive knowledge of production. He had already attained icon status when he founded Mavin Records in 2012, birthing some of the biggest stars the scene has ever seen. Don Jazzy led the first class of stars, comprising Wande Coal, Tiwa Savage, D'Prince and Dr Sid. Years down the line his influence has only increased and the label powerhouse introduced an even wider range of artists.
Don Jazzy's mastery of the mainstream music market, home and abroad only further established his maestro status as he struck out with endless pools of creative vision. That being said, he's hacked the system but even that well-trained eye for talent in the past couldn't have prepared us for the astronomical success his latest class of stars are currently experiencing. In one corner, LADIPOE is broadening the reach of Nigeria's rap scene with memorable blends of Nigerian Pop  and on the other side, Johnny Drille's sonorous vocals are soundtracking some of the greatest R&B meets Folk records of our time. Beyond home base, Ayra Starr and Rema have achieved admirable feats as they trot the globe with only a few extended plays and two full-length albums between them.
With other notable mentions like Crayon, Magixx, Boy Spyce, Bayanni and the recently signed Lifesize Teddy, Don Jazzy continues to be incredibly influential, consistently shaping the image of an African powerhouse through expansion and peerless longevity.
Diamond Platnumz
WCB Wasafi is one of the biggest employers in the East African music space. Founded by Tanzanian superstar Diamond Platnumz, its roster doesn't only include musicians but producers, artist managers, dancers and photographers. Having ascended an unparalleled level of relevance in the Tanzanian music scene prior to the 2010s and crossed over to continental ubiquity with the Davido-featuring "Number One," the artist has been strengthening the pillars of his empire, parlaying his wealth and connections into cornerstones for other artists to spring forth, and to his credit few have left controversially.
Harmonize and Rayvanny are two big artists who've passed through the Wasafi label, their stylistic similarities to Diamond seldom hindering their chances of breaking out. Both artists were branded distinctly, and that has been a defining trait in the presentation of Zuchu, Mbosso, Lava Lava and Queen Darleen, all four being current signees to the label. The first two are household names, and the rest aren't so far off. Through his own outlandish branding and impeccable sonic choices, Diamond Platnumz has always been a fine businessman but it's something special to extend that grace to such a wide range of artists, while still being active himself.
Teezee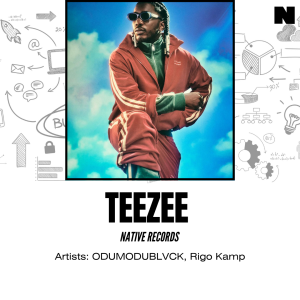 NATIVE Records hasn't been around for more than a year and it's already one of the most influential labels around. A large chunk of its success can be attributed to Teezee, its founder who is also one of the co-founders of Native Networks. Through its affiliation with Def Jam Recordings, the music executive has spearheaded the domination of Odumodublvck, who's unarguably been one of the revelations of the year. Teezee is never far away from Odumodu, in shows or business meetings, guiding the hands of the maverick artist so each move is deliberate and fitting.
English Premier League side Arsenal FC using the rapper's "DECLAN RICE" hit to announce the former West Ham captain is just one of the several instances where Teezee has struck gold with his moves, which should come as no surprise really, considering he's also an artist. He's not just any artist too—he's a part of DRB Lasgidi, the supergroup which influenced the West African alternative movement with their music and branding, starting from the late 2000s. He's coloured the visual presentation of ODUMODUBLVCK with eccentric touches, imbibing communal ethos onto his stagecraft and other aspects of his artistry. Considering that Teezee has scored a masterstroke with his first signing, there's no telling how excellently the next era for NATIVE Records would come off.
DBN Gogo
DBN Gogo makes her own rules. It's an observation that's easy to discern from her career thus far, whether that's DJing with a constant aura of freedom or irreverently dismissing conversations about being privileged or curating bangers that range from lilting to thumping. As part of her influence in improving female inclusion in South Africa's male-dominated Dance scene, DBN Gogo heads her own record label—no mean feat in a space where women have to hijack their respect.
In partnership with UMG Africa, Gogo founded Zikode records as an avenue to upscale her already fledgling career and give a platform to less known talent she believes in. Just over a year since its launch, Zikode Records is blooming. "Bambelela," her debut single under the label, was an immediate hit and her November 2022 debut album, 'What's Real', is a cohesive body of work that strengthened her curatorial cred and also introduced Stixx, Nvcho, EltonK, DJ Stopper, and Unlimited Soul as the mix of vocalists and DJ/producers on Zikode Records.
In March, the crew dropped 'ZIKODE PRSNTZ', an 8-track compilation project that highlights the potential for Zikode Records to become a powerhouse label in Amapiano and South African Dance in general. It would definitely be interesting to see a couple of women join the roster in the near future, but for now DBN Gogo is clearly just following her rules and eclipsing boundaries.
Davido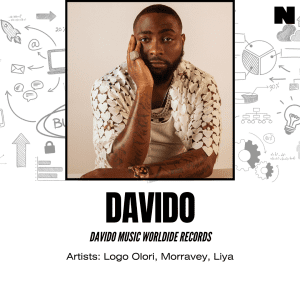 With a decade-long run, Davido is undoubtedly one of the biggest exports of Afropop in our time. His timeless classics and instantly recognisable vocals have successfully spearheaded the domination of the domineering genre on a larger scale, earning him a slew of international co-signs and cross-continental bestsellers. This weighty influence however, only motivates the Afropop veteran to give back to the community that enabled his bottomless reach via his record label, Davido Music World (DMW).
Since his 2018 Headies Awards speech, where he delivered the symbolic words "We rise by lifting others," surrounded by a slew of  mentees, Davido has relentlessly expanded on this ethos. In the early years of DMW's establishment in 2016, Davido sprung a slew of talented acts on the booming scene armed with solo and collaborative hits. Think DJ/Producer E-Cool, street rap luminary Idowest, versatile rapper/singer Dremo, or his biggest protege yet, Mayorkun, to name a few. After two genre-defying albums and chart-topping singles, Mayorkun has continued to deliver bangers, even after parting ways with the label.
The announcement of Davido's fourth studio album arrived with the introduction of DMW 2.0, ushering in two effervescent talents ready to steal the spotlight under the tutelage of the popstar. From their performances on the highly anticipated album, 'Timeless', it became clearer that Logos Olori and Morravey held a promise of capitalising on the launchpad provided by their mentor. Given Davido's evergreen touch and stronghold on the industry, the pair couldn't have asked for a better mentor to position them for global triumph.
D'Prince
Depending on who you ask, D'Prince still had a lot to offer as an artist. When he receded from the ubiquity of the mainstream, the years weren't that far away from hits like "Take Banana" and "Oga Titus," revealing his yet-potent grasp on the language of popular culture, but alas D'Prince had other plans. He wasn't going to be an average player in a good team when he could be the coach of a great one, and so he took the second option.
When Rema was signed onto Mavin Records, it was D'Prince who took his hand. Actually, the Benin-born youngster was signed onto Prince's Jonzing World, which had a subsidiary-esque arrangement with Don Jazzy's outfit, a relationship smoothened by familial ties between both execs. A freestyle had portended the initial link-up, and from there D'Prince, along with the Mavin academy, chiselled Rema into a bonafide superstar, possessing everything he needed to shine in the modern market. Ruger came not too long after, and his Dancehall influences overtly inspired his confidence and swag, but if a thread was strung through both artists, the brazen appeal of D'Prince emerges as an inspiration. Being an artist who knew how to juggle sensual tease and social commentary, he's the best mentor both artists could ask for.
Naira Marley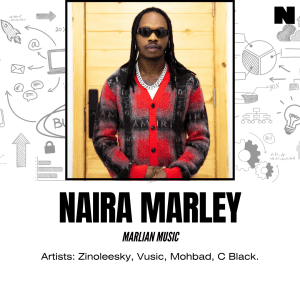 When "Issa Goal" hit our airwaves in 2018, not only did it deliver one of the most memorable records of that year, it also marked the introduction of an unapologetically raw and imperious character into Street Pop. Naira Marley quickly summoned a vivacious cult following with raging fans ready to rally behind the superstar to the ends of the earth. For those that weren't quite onboard the Marlian train, his hypnotic tracks and captivating, high-spirited personality did a great job at convincing audiences of his outstanding influence. With his hands woven deep into the fabric of Street Pop, he took a fresh talent under his wing with the aid of his 2019-established label, Marlian Music.
Zinoleesky appeared hot on the scene with an admirable hunger to win, and a sheer mastery and understanding of the market on the Afro-House number, "Kilofeshe." He crooned a braggadocious manifestation turned reality as the bar, "I'm trending, I don't know why," bolstered him and the label to unimaginable heights. He went on to cement his reign with increasingly notable contributions to the textural and sonic soundscape of Street Pop, invigorated by the genre's grand master. Barely half a decade since its inception, Naira continues to use his core establishment to dig deeper into the streets to fish out note-worthy acts like Vusic, Fabian Blu and CBlack to fling the ropes of the genre beyond its borders.
Mr Eazi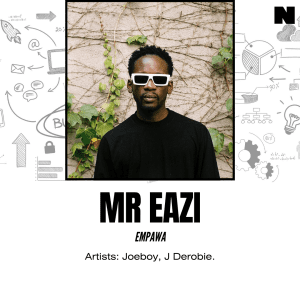 It's irrefutable now: Mr Eazi helped significantly reupholster the sound of urban West African music. Banku Music, the signature style of buttery, highlife-indented jams, is undoubtedly the bridge to a significant portion of  what is widely referred to as Afrobeats. These days, Eazi's music might not induce the same level of mania that it did during his 2016/2017 run, he's definitely grown into one of the most successful figures in African music, through the boutique Label Services imprint, emPawa Africa.
In 2019, the company provided 100 rising artists with funding for new music videos, announcing itself as a space to help talented artists grow. That same year, Joeboy emerged as a fully-formed hit-maker, becoming the emPawa's biggest success story yet. The label is also home to Ghanaian dancehall singer J. Derobie, while supporting a countless number of releases from artists all across Africa. In a reflection of how Mr Eazi has moved throughout his entire career, emPawa is a pan-African endeavour operating on global standards. It's far from an altruistic business but the company is clearly artist-inclined, taking cues from its founder who's made a habit out of deciding his own fate without fear.
Olamide
Olamide's entry into the music space in 2010 was facilitated by Coded Tunez, the record label owned by singer and beatmaker ID Cabasa. From the streets of Bariga, a promising Olamide carried his dreams of stardom with raps brewed from tough-life confidence and mastery. After finding his breakthrough, he founded his music label YBNL Nation, swiftly prioritising a personal touch for his budding career. More than a decade later, YBNL Nation, just like Coded Tunes that had 9ice, 2Shotz, Reminisce and Lord of Ajasa, among others, hasn't only catered to Olamide's career but has been instrumental in the discovery and development of numerous music talents.
Lil Kesh, Viktoh and Adekunle Gold, in addition to the music producers Pheelz and Young John, were the first set of artists on the roster of YBNL Nation. Both Lil Kesh and Adekunle Gold—different in style but similar in their originality for indigenous rhythms—became huge successes, winning hearts across Africa and the world. Pheelz and Young John were essential to the stories of both artists, as they honed their craft while still serving hits. The second set wasn't as successful but Fireboy DML stood out. The artist was the label's conduit to a changing music scene experiencing the ascendancy of new stars. Fireboy DML, under Olamide's tutelage, made an instant impact with two well-received albums (the first is considered a classic).
YBNL Nation is in a new moment heralded by the genre-merging, Afro-centric world of Asake. The artist had a stunning rise in 2022 and within a year, he has become a force roaring through the charts around the globe. YBNL Nation's partnership with EMPIRE (an American music and distribution label) has also allowed the label to reach new heights. Over time, it is clear Olamide's proficiency as a curator of talent is undebatable. 
---
Written by Emmanuel Esomnofu, Nwanneamaka Igwe, Uzoma Ihejirika & Dennis Ade Peter.
---