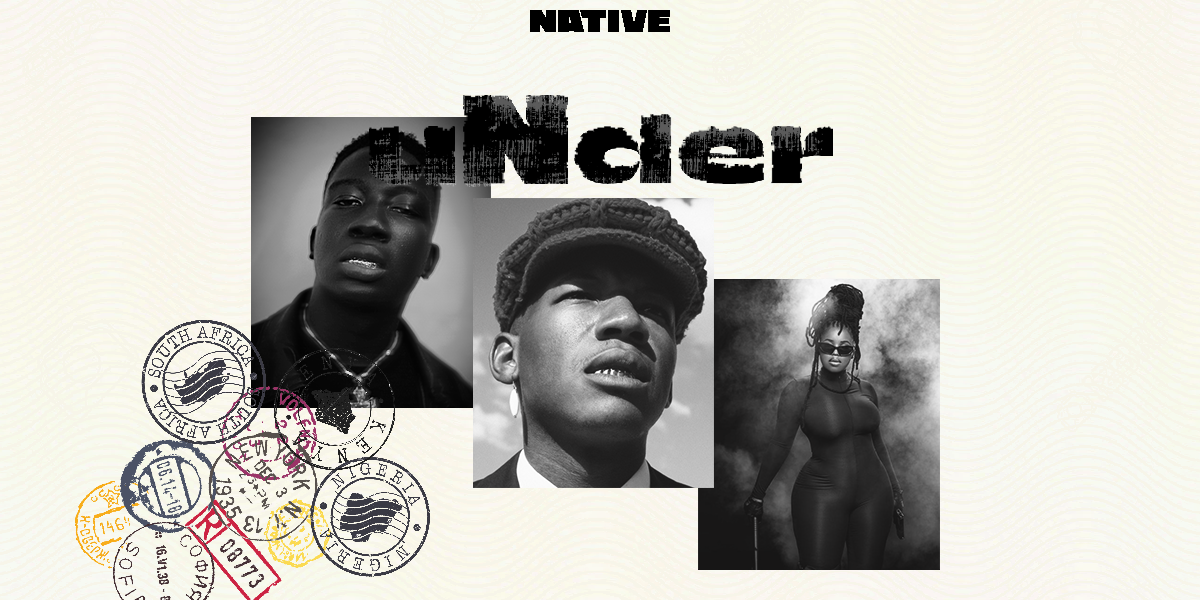 uNder: Best New Artists (July 2023)
Featuring Nkosazana Daughter, xInsomniac, Olivetheboy & more.
Music thrives on freshness. In Afropop, there's no shortage of pop superstars and cutting edge, niche-serving artists, but listeners always have their eyes opened and ears peeled for the Next Best Thing(s). It's exciting proof that our music and the scene surrounding it is growing forward, broadening to allow artists who've been working on their craft in secret, the chance to make their own impact and add to the variety of the music being made by Africans.
This month's edition of uNder features artists who are at various phases in their careers, but the common denominator is that there's sufficient proof of their talent. South African singer Nkosazana Daughter has made hits as a collaborator for producers but her recent debut album feels like she's just getting started; Ghana's Olivetheboy might be a viral star but he's logged a significant amount of his 10,000 hours; Nigerian singer Taves is a rookie to most but his catalogue means it's us that's playing catch-up. There are four more artists we've spotlighted, and we believe each one is worthy of attention because they've already shown why.
Read on for our breakdown for all seven artists and listen to the playlist here.
Nkosazana Daughter
For anyone paying close attention to the booming Dance and House music scene in South Africa, Nkosazana Daughter's dulcet vocals don't venture far away from several mainstream hits and niche deep cuts. While she can be accurately grouped under the high-pitch vocal range, what makes Nkosazana's performances standout within the bass and log drum heavy soundscapes is how lightly they land on the ear. Deep London's "Piano Ngijabulise" perfectly encapsulates this, as well as her her journey developing the sounds of the genre and unique storytelling skills. 
"Ukuqala Kwa ukuhlanganipha, Uku mesaba uJehovah/Ay abezwa labantwana, badlala ipiano," she sings, which loosely translates to "The beginning of wisdom is fearing God/These kids don't listen, they play piano." She floats into the hook singing, "Piano ngijabulise, Piano ngikhulekise" —"Piano make me happy, Piano pray for me." To Nkosazana, 'Piano is more than a genre. It's a religion and her expansive catalogue of only 2 years is evidence of that. Undoubtedly, Nkosazana Daughter's touch across several standout features cements her as a highly sought after collaborator but the recently released LP, 'Uthingo Le Nkosazana,' sums her remarkable contribution to Private School Amapiano and Deep House-led excursions.
Nkosazana's feathery execution slides over varying upbeat and gloomy productions that create her soulful, heartwarming renditions across 13 tracks. She effortlessly holds her own across the conspicuous beats so much so that her fleeting vocals leave an impact beyond their presence. With innumerable cosigns and as one of the most sought after collaborators in urban SA music, Nkosazana isn't just a mainstay—she's charting her part into becoming a beacon of excellence. 
TAVES
Last year, Taves made a cover of BNXN's "For Days" and it caught the attention of the singer who immediately took Taves under his wings. Taves' cover retained the easygoing flow of  BNXN's original but it also showed clean rhymes and deft songwriting. Fairly recently, Taves released "Eleyele," his first single of 2023, under BNXN's indie imprint, T.YE, and it also featured songwriting and vocal contributions from BNXN. While it might seem Taves appeared out of nowhere, proof of his consistency are littered across the internet.
Tavves, born Toluwanimi Aluko, began his career at the age of nine as a songwriter before he proceeded to record music on his phone, which he shared with friends while in secondary school. At 16, Taves took recording and releasing music seriously, putting out records inspired by the music he listened to: R&B and Hip-Hop. Projects like 2019's 'The Nest: First Day Out', 2020's '17', and 2021's '18' documented Taves' personal and artistic growth as he laced his sound, a fusion of R&B and Hip-Hop, with stories of love, heartbreak and other struggles.
In 2022's "Karma" and "Long Time 2.0" with Ned K, Taves experimented with Afropop, replacing the rap bass with Amapiano log drums. His latest single, "Eleyele," clearly situates him in the Afropop territory but it also does in the aforementioned location, an area in Ibadan, Oyo State, which was influential to Taves' formative years. On the song, Taves pins for a lover who has left him for the megacity of Lagos and its fineries; he pleads for her return yet he is aware that there is no return to their blissful past. The level of skill Taves exhibits on "Eleyele" marks him as a promising act with huge potential for a mindblowing future.
Olivetheboy
Ghanaian music never has a shortage of viral breakout stars. Since the turn of the decade, Gyakie, Camidoh, Black Sherif, the entire drill scene, and more new stars have been introduced to the local audience and beyond. This year's biggest breakout story yet is Olivetheboy, the 20-year old singer from Konongo. As with many success stories in music these days, the catalyst was TikTok. A month after the April release of his sophomore EP, 'Avana', the third song "GoodSin" shot into popularity amongst Ghanaian TikTok users after a video by the popular dancer and influencer, Endurance Grand, went viral. It's arguably the biggest song in Ghanaian pop right now.
Even with the fortune of a career-elevating hit song at such a young age, Olivetheboy is far  from an overnight sensation. In 2020, he appeared on Kwadwo Sheldon's YouTube page, after the popular media personality discovered Olive on Instagram, where he would share song covers. In that video, he sang and played the piano, the boyish twang of his tenor voice carrying an impassioned charm. Afropop and Highlife were his chosen genres, he said then, without a release to his name at the time. Shortly after, he signed to Loop Music and released his debut EP, 'Tanga-Reen', a collection of songs that carried an optimistic perspective to romantic feelings, and underlined by giddy melodies.
On 'Avana', he's far more in control. The melodies are still vibrant but there's a little more guile to backup the innate charm of his voice. Where the obvious influence of Afropop superstars like KiDi and Wizkid were overwhelmingly obvious on his debut, there are now mainly references on the path to being a more distinct songwriter. "GoodSin" has put the spotlight on Olivetheboy, he definitely has all the tools to ensure that his budding stardom grows into conversations of greatness.
BIMS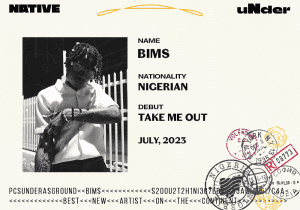 Bims is a musician with many sides. This has been evident since making his entry into the Nigerian scene just before the turn of the 2020s, exciting with hyperrealist bops. "For You" was an early showcase of his range, possessing colourful production even as Bims told the story of an incomplete love. It's the kind of song Bad Boy Timz would create, but the angst in Bims' tone exacts its own poignance, while fitting readily within the kind of records to top playlists or rock at parties.
At the core of afropop resides a percussive and thematic urgency, and Bims emerges from that style, harkening to the formative 2000s era. "Enough" further impressed those sensibilities, but Bims stepped into his own on the 2021 tape, 'Beyond Your Eyes'. Here he merged pomp with renewed sensitivity, the production maturing to capture his expanded focus. The sultry appeal of "In Love" sounds like nothing he's done before; "Bad Girls" reconstructs amapiano deliveries in quintessential Nigerian melody; pulling the heart's strings are "Too Deep" and "Return to the Streets," which, fittingly, are the last songs on the EP.
Ever since Bims has continued to release music, last year putting out "Love Palava (Nack Am)" and "Odd Son". The latter's a reflective number whose drums however coaxes dynamism from Bims. "So many things wey man dun face," he sings amidst the clashing percussion and brazen horns. With a double release coming about a week ago, the stars, surely, would soon align for Bims. "Ife" reaffirms his hit-making quality, the stuff of Asake and Young Jonn, while "Fire" is the trademark Bims record, groove tinged with melancholy, underlining the mission he puts forward on his Spotify biography, to "find expression telling [love] and heartbreak stories". 
Anything with Yusef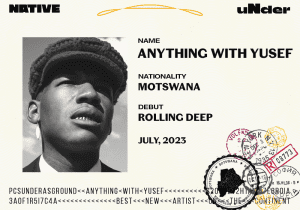 Anything With Yusef made an official resounding debut into the scene with a cover of Smoke of LAC's "Rolling Deep," offering a unique take on the old school Chicago rap record. However, after taking in the vast pool of sounds emanating from these parts, the Botswana-born singer ventured into Afropop armed with inventiveness and undeniable love for genre-mashing cuts. He shared in a recent interview with the NATIVE that the major selling point for him was the genre's ability to create melodies that transcend language barriers.
"When I deliver my music, I always try to go for the emotions before I put the lyrics. That's why it made so much sense for me to do Afrobeat because I don't know what most of these guys are saying, but I do feel the emotion in some of the songs." Anything With Yusef is largely driven by emotion and he ensures to reflect that stark vulnerability in disarming honest confessions about self-acceptance across his discography. His debut extended play, 'I'LL TELL YOU AT MIDNIGHT' expertly showcases a slew of love-themed tracks  stacked with raw depictions and breezy productions that are sure to leave listeners in a reflective mood.
Yusef's emotions translate even clearer on his recently released 2-pack project dubbed 'Chaos Theory'. The dull melodies of "STUCK IN MY MIND" glide smoothly over an upbeat soundscape as he addresses his muse.  "FEEL SOMETHING" on the other hand ruminates over brazen authenticity and self-love on a gloomy production characterised by subtle Trap embellishments. Across a sparse catalogue, Anything With Yusef swiftly displays emotional maturity through his message and confident delivery, taking us along his journey of self discovery.
xInsomniac
Experimentation lies at the heart of xlnsomniac's artistry. The man born Israel Ajayi is a multifaceted creative, combining visual and audio talents with almost peerless mastery. In terms of sound, xlnsomniac started releasing music a few years ago, establishing his bedroom pop sound with flagrant touches of electronic music and other relative influences. His penchant for curating worldbuilding experiences can be associated with his long-honed skills as a visual storyteller, as oftentimes his music can soundtrack the thrills of a motion picture.
"Heartshapedglass," for instance, which is found in his 2021 debut project 'Cerulean' is a rollercoaster of a song. Bouncing with soft rock drums and the brooding vocals of xlnsomniac who narrates the heart-stopping feeling of being in love, it benefits from pristine arrangement and the celestial sonic elements. "Muse" and "Away" have such existential undertones, with romantic love placed at the center of its thematic concerns. "Your smile is like a wave, of joy that sweeps away," he sings before the end of the first verse, before vocal samples depicting tension swoop in.
xlnsomniac's shape-shifting tendencies has seen him work with talented acts in that familiar sphere between alternative music and alt-pop, from Tochi Bedford to T3agray and Icitooicy. Earlier this year, the music producer and artist continued to burnish his rep with the 'House of X' project. It measures just under thirteen minutes but the soundscape is deliriously sprawling, combining his familiar resume of sounds with eclectic rapping ("Runnin") and pointed influences from Nigerian pop ("All I Had"), arriving at a body of work which opens up his future favourably.
ELIJAH KITAKA
Uganda's Elijah Kitaka is on a new path but it is a path that doesn't lose touch with the brilliance of his previous iterations. His 2019 project, 'Son of Kaloli', was a compendium of a man's love for self and country. Dipping into a wide array of genres—Reggae, Dancehall, R&B, Hip-Hop and Rock—Kitaka united intimate and political themes with his great vocals. Utilising a combination of Swahili and English, the music on 'Son of Kaloli' called for both moments of dance and ruminations. 
Newly signed to the Kampala-based label Swangz Avenue, Elijah Kitaka reemerges as a rebranded artist. On his latest EP 'Bedroom Essentials,' Kitaka deals with passionate, sex-filled moments behind closed doors. In contrast to 'Son of Kaloli,' 'Bedroom Essentials' is looser in structure, opting for fun, groovy rhythms.  Yet, 'Bedroom Essentials' doesn't dumb down the listeners; in its new Afropop zone, Kitaka's brilliant voice is the common denominator. Both 'Son of Kaloli' and 'Bedroom Essentials' show the artist's range and skill to make music that resonates beyond themes or genres. It's just the beginning for Elijah Kitaka.
---
Written by Emmanuel Esomnofu, Nwanneamaka Igwe, Uzoma Ihejirika & Dennis Ade Peter.
---