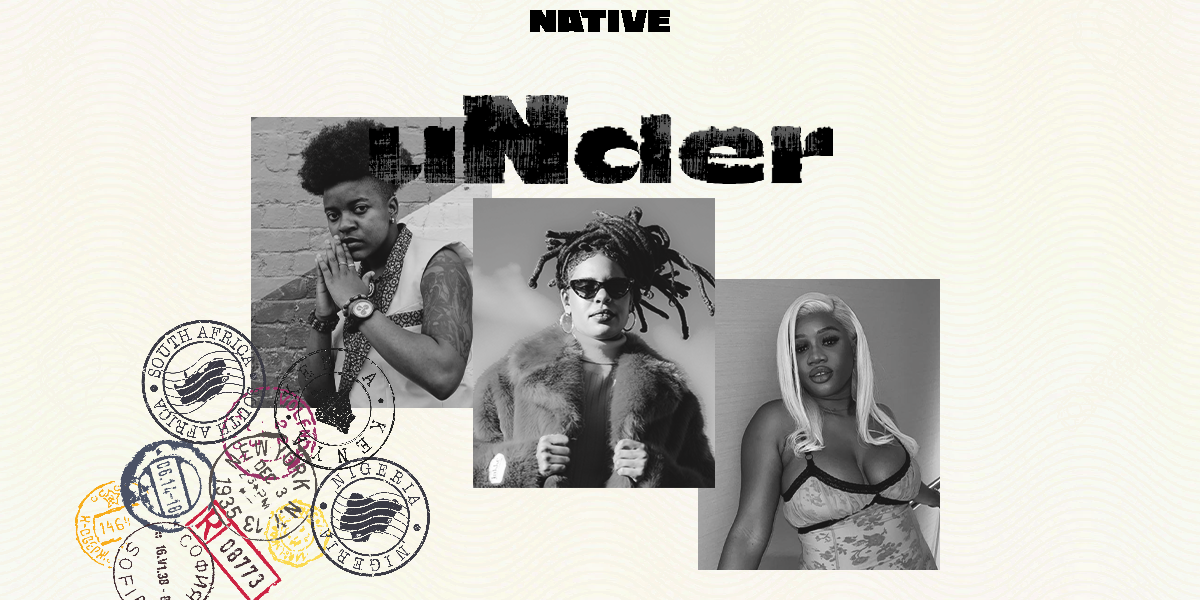 uNder: Best New Artists (June 2023)
Featuring Rukmani, Darkua, Chmba and more artists you need to tune into.
The expansiveness of African music makes it easy to to spoiled for choice when it comes to artist discovery. Between the on-demand infinity pool of streaming and content-driven landscape of social media, there's a long list of rising artists seeking the attention of our eyes and ears. It's exciting and, for us as The NATIVE, it means there's no fear of our music losing its inventive drive anytime soon.
For this month's edition of uNder, the abundance of talent more people need to tune into continues to make our efforts worthwhile. It is even doubly special that this month's curation is dominated by women who make music of differing flavours and appeal, but the throughline is in the stunning talent that you'll find. Nigerian singer Rukmani touches on intimate emotional points with R&B-influenced music, South African rapper Dope Saint Jude champions self-conviction and queer perspectives, while Malawian producer/DJ Chmba is a purveyor of exciting Afro-House. There are three more artists on this month's list, get into the details below and listen to our uNder playlist here.
Rukmani
Rising women stars are impressing their styles on Nigerian pop audiences and Rukmani belongs in that conversation. Although she's just 22, the Port Harcourt-bred musician wields an advanced understanding of her craft and presentation. Of part-Indian descent, her music boasts an amorphous reach, flowing into ebbs of R&B, psychedelia, and local pop flavours. Earlier this year, "Getaway Drug" introduced Rukmani to mainstream audiences, but she's been at this for a while before then.
In 2021, the artist born Udogie Sonia Omosigho released "Bruce Wayne," an emotive cut with a drum base reminiscent of nineties Hip-Hop. She however rendered a soulful performance, mirroring the theme of longing with her lithe inflections. "Satori" flexed her skills over afro-based production, although pairing her effervescent delivery with a groovy edge. Last year, the self-affirmative "Human Blood" set up the children's music–feel of the aforementioned breakout record, establishing Rukmani's artistic vision as distinct and remarkably singular.
'Angel on the Run' showcases her powers in collective form. In seven songs Rukmani covers an expansive soundscape, each song honing on subjects of identity, romance, and pure nostalgia. She sounds like a moment in time. Each note, from the lucid "Purpose" to the ethereal mid-project cut "Lovin" and down to its closing record "Softies Vibe," touches on intimate emotional points. A masterful demonstration of her star power, Rukmani's career has been building up to this point and with genuine fan love and solid industry backing, there's no limit to where she can go.
Emmanuel
Chmba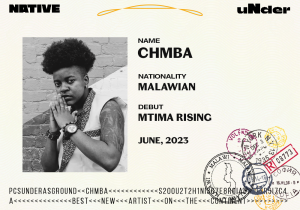 Chmba, like many artists, discovered her love for music at a young age. She combed through a series of genres, taking a liking to african-inspired sounds, paired with more eccentric and futuristic beats. However, she didn't fully tap into creating music until much later, debuting with the EP, 'Mtima Rising'. With her new EP, 'Okongola Caucus', the producer/DJ continues to refine her approach towards crafting Dance music. As Afro-House continues taking the world by storm, Chmba offers a refreshing take on the domineering genre as she expertly layers lush vocals over a series of electronic, time-travelling synths.
'Okongola Caucus' offers only five tracks but across a short runtime, Chmba is able to display a depth of expertise. While the project holds a series of futuristic beats, it maintains a consistently laid back approach through its run time with subtle inclusions of varying vocal pitches in form of guest vocals by the likes of Nyago and nIGEL. At its core, the recent release holds African percussive rhythms paired with the more upbeat house grooves you'd hear in a club. More than the ethereal vocal embellishments, Chmba's slick production is fiery and confident across individual tracks and as a body of work. 'Okongola Caucus' is a solid first offering from Chmba and all eyes will be on her as she continues to push the boundaries of her craft and the expansive sound.
Nwanneamaka
Dope Saint Jude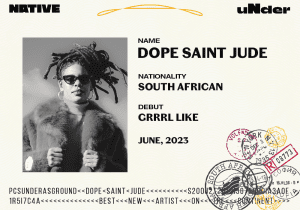 At every listen, Dope Saint Jude's clarity of self is evident. Before choosing music as a professional career in 2013, the veteran wrote poetry and founded and performed in South Africa's first drag king troupe, BrosB4Hoes, where she and others boldly expressed their outlook on sexuality and gender. After leaving the troupe, Dope Saint Jude—born Catherine Saint Jude Pretorius—debuted her self-produced 2016 EP 'Reimagine' and started her journey of documenting her experiences as an openly queer woman.
Dope Saint Jude's music is hinged on both self and the communal. On her 2018 EP 'Resilient', the tracks "Who I Am" and "Inside" call for introspection, while "Grrrl Like," "Liddy" and "Didn't Come to Play" are pro-LGBTQ+ anthems centred on living apologetically in a constantly challenging world. Dope Saint Jude's feminist perspectives are powered by attention-grabbing vocals and flows that breathe confidence and courage, whether doused in vulnerability or celebration.
The 2022 EP 'Higher Self' contains Dope Saint Jude's most-evolved self; here, she fully acknowledges her place as a pacesetter and change maker. "I'm a soldier a fighter a beast/I'm ready I came here to feast/Baptised my passions increased/Ancestors behind me, my power released," she raps on "For You." Throughout the project, she is aware of her insecurities but there's no stopping her from living to her fullest potential. Aside from being a rapper, singer and music producer, Dope Saint Jude is also a filmmaker who utilises her music videos, whether as a director or producer, to establish her pan-African, feminist and pro-LGBTQ+ leanings, in turn, stamping her uniqueness on the continent's music scene.
Uzoma
Darkua
More and more women are improving the diversity of Ghanaian pop music, setting their own standards for excellence through their unique and captivating forms of expression. (It's evident in how up-and-coming talent from the West African country consistently filters into our uNder selections—See: NYA, Ginius, Baaba J, Riycon and Mellissa.) In 2020, Darkua shared her SoundCloud-exclusive first song, the N.O.B-prodcued "E Dey Pain," a breezy showcase of her intriguing capacity as an ear-holding singer with a gorgeous voice, melodic inclinations with R&B influences, and writer with worthwhile, relatable emotions as the premise for her lyricism.
That release, a cool and savage call-out of an inconsistent partner, quickly set Darkua's bar for musical excellence and she's only continued to exhibit those compelling traits. The official 2021 debut single, "Amalelor," sets her heartrending grievance over a failed relationship to a sublime groove that features a lustrous guitar riff and snappy, gentle percussion pattern. Even as she reads out the unfaithful partner, calling him a "presidential liedidate" in an interesting play on words, Darkua projects a magnetic sense of confidence that's a recurring motif in her work, as she explores the complex range of emotions within the interiority of romantic relationships.
Her more recent singles have landed on the more flowery side of devotion, but they've also served as a conduit for experimentation. "Go Low" is a party-ready cut with the now-obligatory inclusion of log drums, while "You" is clearly influenced by Highlife. Darkua recently released 'U've Been Here B4', a compilation of her previously released singles, preceded by the release of "Echo," a sumptuous vision of the pure sensual energy in moments of intimacy between two adoring lovers. The song is a show of increased mastery, that Darkua will continue to aptly translate her emotive ideas into great music as her career inevitably gets bigger.
Dennis
YTBoutthaction
It's been over two years since the Nigerian rapper YTBoutthataction made her debut onto the scene armed with a sparse yet impressive catalogue that channel her experiences as a young black woman. She's as real as it gets. "When it comes to the lyrical content, it's just how I'm feeling," she told The NATIVE earlier this year. "Music is an outlet."
Relationships, career, sex, mental health and relatable life experiences; no topic is out of bounds for YTboutthataction and evidence of that can be traced to her clever and poised lyricism. "Be like say they wan chat to me, that's like winning the lottery//Like someone who sees a doctor, just be calm and be patient please" the intro lyrics to YT's recently released single, "Cool Story Bro" read. Over the past couple months, the standout record off 'love & vex' has deservedly gained traction for its catchy, rhythmic hook referencing the iconic Nigerian childhood rhyme.
YT, across the rest of the 5-track EP, presents her unapologetic truths paired with eccentric, sure-fire production that reiterates her dextrous artistry and sets her apart even amongst the next generation of female rappers in Nigeria. She breezily dabbles from Rap to R&B, sometimes infusing unique elements of Pop, all the while maintaining her rawness. Think "24," a coming of age story that tallies all too familiar whirlwind of feelings that follow self-acceptance or "Pill Head" which reclaims power from antagonising aunties. While her journey started not too long ago, YT holds a ton of promise with the motivation and hunger of a beginner accompanied by the confidence of an expert. We're excited to see where she could go sonically next as she reveals another layer to her artistry with every release.
Nwanneamaka
Sknny
The Port-Harcourt music scene, while known for its distinct musical talents, hasn't produced many notable rappers. Sknny is however breaking out in remarkable style; the young rapper's music features inflections that wouldn't sound out of place on a New York posse cut. His stories imbibe rich originality, aiming to capture the existence of young people residing in contemporary Nigeria. Pulling a wide palette of rap-influenced sounds, he cuts impressive profiles across his songs.
A vibrant percussive mix emboldens "Omo Worry Worry," his earliest uploaded single on Spotify. Flexing musicality with a rapper's nuance, it set up his career for imminent blooming. 'YnC', an abbreviation for Young and Clueless, had the introspective broodiness that was the mark of pandemic releases. Sknny's vision was however incorporating social nuances; on tracks like "No Clues" and "Nomophobia," he raps tightly-wound bars on the contrast of familial expectations and individual desires. The latter's poignance makes it one of his biggest songs till date, espousing a human perspective behind the little-known condition of mobile phone addiction.
"Social media killing my social life," he raps over the Trap production, skating amongst video game-esque loops and a bouncy drum base. On later cuts, Sknny has been consistently brilliant. The short projects, 'DARKEST HOUR pack' and 'The Vibe Pack', embraced collaborative energy, birthing an assortment of flows unpacked over breezy beats. "Meanwhile In George Reynolds" and "No Lie" had the stateside swag that's the M.O of Sknny, imbibing aspirational storytelling with distinct perspectives. With the technically excellent "Dues" being the rapper's sole release in 2023, it's evident that Sknny has clear sight on the path he aims to trod on his way to the top.
Emmanuel
---
Written by Emmanuel Esomnofu, Nwanneamaka Igwe, Uzoma Ihejirika & Dennis Ade Peter.
---