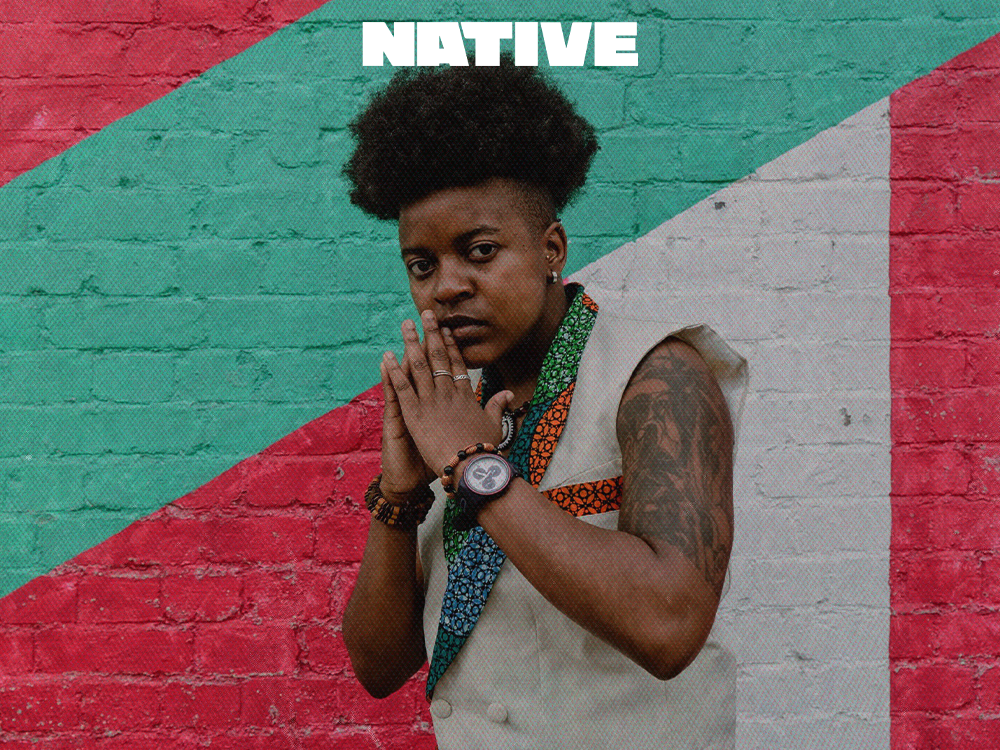 Track-By-Track: Chmba Breaks Down New EP, 'Okongola Caucus'
an ode to love and happiness
Chmba's 'Okongola Caucus' is a movement in love and the sweet feelings it breeds. On her debut 2020 EP 'Mtima Rising,' the Malawian DJ, music producer and NGO founder mourned the passing of her mother. Over soulful Afro-house and Afro-techno productions, the project examined the grief and the honour owed to loved ones. On 'Okongola Caucus,' that laser focus is aimed at the act of love, as regards self, parents and lovers. 
Chmba prefers timelessness to temporariness. "I'm always inspired by something that Drake once said: 'I make music for when you're driving alone at night,'" she says, "which I think it's very important for me to think about like, 'Okay, what's the song that will last with you for life?' I'm just creating something that will mean something to someone." Chmba's five-track project, noted for its refreshing ride through space and time, is a fine fusion of African and Western elements marked for global appeal.
In this track-by-track analysis of her new project, Chmba takes us behind the scenes to experience the big and small details that form the structure of her ode to love and happiness.
View this post on Instagram
"OKONGOLA" FT. NIGEL
With Nigel, we met through a mutual friend and I was working on a commercial for him; it [the commercial] was to promote an event and so it was like, "Oh, I have this friend who has this weirdly but beautifully also deep voice. We're gonna put him on for the commercial." So he [Nigel] came through and I was like, "Yo, have you ever done music?" when we were recording the commercial and he was like, "Yeah, actually music is my first love but I just do this other stuff on the side. But I wish I could do music more." But he's also busy working and all of that. And so when I told him about what I was working on [and] when he heard my first EP, he was like, "Whenever you have a beat, just send it to me. Any beat, just send  it my way." And I was like, "Yeah, sure."
When I sent him the "Okongola" beat, I think it was less than an hour because I was just like, "I made this overnight and I thought you might vibe, but let me know." And I sent it and within the next hour, he sent a voice note where he had recorded himself on his phone and he was like, "I'm into it." It just really flowed for both of us, even when he came to the studio. With some others, it takes a while; we might schedule a day at the studio just to maybe do backups. But with him, we were done with recording and everything within an hour and he just flowed. 
"Okongola" means "Beautiful" in Chichewa and basically the song is flirty. It's like you're on the dance floor and you see someone beautiful and so you're calling them and you're throwing game. So basically Nigel is throwing game in the song. And with the synth and also the combinations of electronic and Amapiano, it's more like a when-the-sun-is-setting kind of vibe before the party really gets boom boom boom 
"PATALI"
"Patali" is quite electronic. The intro is very similar to "Okongola" because I was in this realm of being very inspired by electronic music and also the rise of Amapiano. I was exploring just messing around with log drum bases, and so they both have a log drum base. But with "Patelli," I teach so I was going a lot to the lake region and just being around the lake region and the sunsets. I wanted a song that you listen to when you're driving along the coastline. And so it makes me think of the sun in this way, it's a love song, it's a happy song. 
I sang on it because I think I felt very much close to the emotion that I was working in the song. And so "Patali" means "Far." And the song is saying, "Let's go far together," and it's more about encouraging a lover to go with you on the journey, to trust you and be with you. It's a love song but the vibe is very much for a drive when you are just solo or with people and you are just really gazing at the land around you and the environment around you.
"NITEMWE" FT. NYAGO
"Nitemwe" means "Love me." And when we did this song, it was post-pandemic and during a time when a lot of young people in Malawi lost [their] parents. And so there's a lot of mourning but no one was really talking about it. But also as young people, you dream that you're gonna graduate, you will get a job and then you will get your parents a house, just you'd do stuff for them but then with the way our parents would go to college and graduate and get a job, it's not the same with us. Now there's high unemployment, people have degrees but are at home and it's a whole different game where what you believed when you were young like "Oh, I'll do this. Yeah, yeah," you don't get that anymore. 
And so there's a lot of frustration with young people where you just feel like you can't show up as you had dreamed and sometimes you feel low about it. And in "Nitemwe," which Nyago wrote, she was thinking about her mom and her mom has just always been like, "All I want is for you to show up. Come through. You're enough and even if you can't do all of these things for me, just you being there, you being present, you coming to see me, that's good." And so "Nitemwe" is about parental love and how sometimes the most you need is family and then the other stuff can follow.
"DZUWA" FT. MS FAY
"Dzuwa" means "Sun," and "Dzuwa" is in Tumbuka, which is a language spoken in most of the northern region here in Malawi. "Dzuwa" is also a romantic song. It's very much a happy song as well where you're calling your love dzuwa like they're the sun to you, where they bring all the warmth. So I was playing the beat for Ms Fay and she started humming and I was like, "Whoa, wait. You're humming really well." And she was like, "Yeah, yeah, I could do this vocals but I think you need this kind of vocalist." And so I went back and I was thinking about it like, "Wait, you sang really well. Why don't you just try?"
And so this is her first released song and she is coming to the scene but she also wrote it in the moment and also what I love most are the guitars and the way they flow with her voice and the backing vocals. "Dzuwa" is really just an exploration of joy and warmth.
"GUSTA"
"Gusta" is Spanish and also a love song. So this whole EP is a collection of love songs. There' are different forms of love, romantic and parental. My first EP was around grief where I was grieving the loss of my mom. So I wanted to make a happier EP to also show my appreciation for my healing from grief. And so "Gusta" is very vibey, it's leaning to Amapiano but not fully in. Also, very electronic in a sense. "Gusta" is Spanish for "Like," so basically it's just someone expressing that they're liking the vibe, they're liking how someone is making them feel, and it's really just groovy in the sense of you're in a good mood.
Stream 'Okongola Caucus' below.
Featured image credits/NATIVE