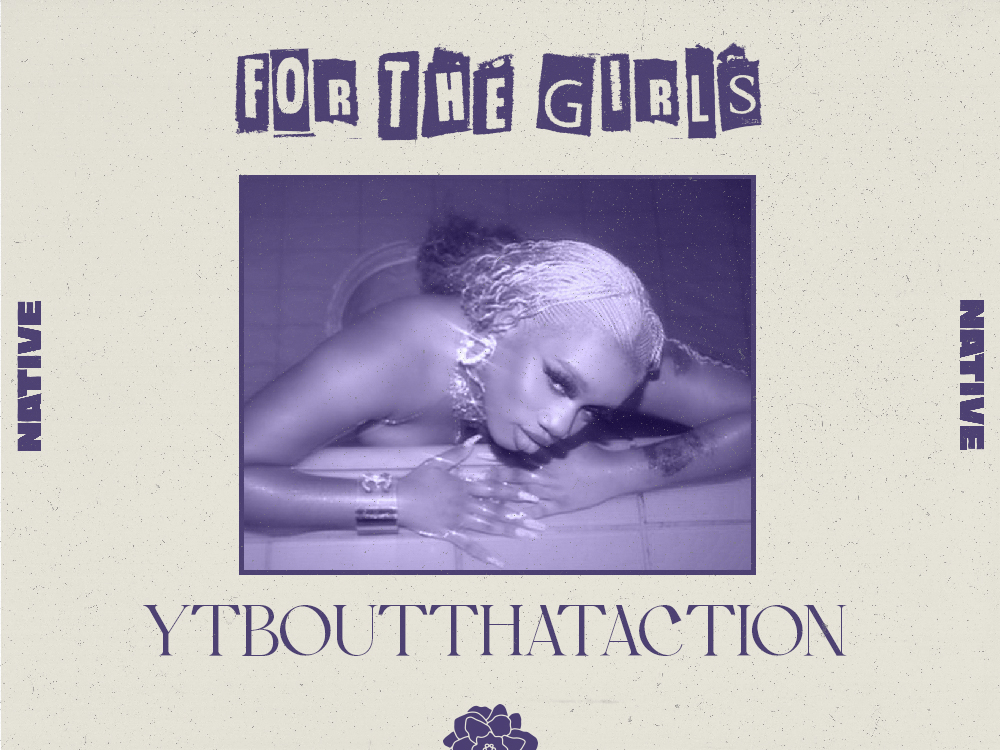 For The Girls: YTboutthataction Is As Real As It Gets
she means business
It's been nearly two years since the fresh-faced Nigerian rapper YTboutthataction made her debut on the scene. Armed with a small but mighty catalogue that divulges her reality and experiences as a young Black woman, YT has spent the past two years affirming herself as a fresh, promising act emanating from these parts. Born Adetutu Aderogba, YTboutthataction–also referred to as YT–the budding rapper continues to fashion herself into her own type of rap star, easing into her career by showcasing her enviable wordplay.
With her distinctive vocals and punchy lyrics, she's been able to garner a sizeable following of listeners and set herself apart as the poster girl for saying things we don't want to say outright. In 2021, she released her debut EP 'Sage Mode,' a dizzying collection of 4 tracks which find her waxing unapologetic truths and delivering hedonistic street-talking. That same year, she followed up with her sophomore EP, 'It's Not Me, It's You,' a 5-tracker packed with a string of feel-good flexes.
While lumping her under the 'rap girls' may be tempting to some, YTboutthataction is a multi-genre artist producing a stretch of records including Pop, R&B and Rap. Channeling a range of emotions with her captivating and profound penmanship, she touches on subjects ranging from sexual freedom to mental health. Standout tracks such as "geeked up!" from her debut EP, 'SAGE MODE' and "sleepless nights" off 'it's not me, it's you' serve as perfect examples of her no-holds-barred approach to songwriting. In such a short time, she has successfully created tracks that make her audiences feel seen and heard in their experiences. Take "Pill Head" for instance, a menacing track biting back at the all too relatable interactions from judgemental, antagonising African aunties.
For her latest release, "24", YTboutthataction captures a coming of age story as she looks back on her years, the experiences gathered and lessons learnt. A sonic blend of her sharp lyricism, tuneful hooks and hype beats, "24" tells a story of self-discovery and self-acceptance. The single is set to feature on her upcoming project due for release very soon. Ahead of this, YT sits down with the NATIVE to talk about where it all started, from her debut to how her eccentric moniker came about. Alongside her new single, she also gets real about her journey this far and what we can expect from her in the future and more.
View this post on Instagram
Our conversation, which follows below, has been lightly edited for clarity. 
NATIVE: Let's go back to where it all started. You officially came into the scene last year, what was your introduction to music prior to this? 
YT: Prior to last year, I've always been a music connoisseur. I've always been the person that people come to for playlists. I was the person on the AUX. So I've always been interested and had an ear for music but I never really thought about making music until 2020. With COVID and a lot of spare time, Tblu, one of my female friends who makes music, played one of her songs for me. She's been making music for a long time but this time was different. This was July, 2020 and I thought, I want to see if I can do this. I wrote my music and recorded in my voice notes. I was also trying to get in studios but it's very hard as a woman, especially as a Black woman. People aren't really willing to give you access because they don't know what you're working with. 7 months later, I got studio access and I made my first song "Sage Mode". I didn't think anything of it. I just wanted to put it on Apple Music so I could listen. I didn't think it would have the reaction that it did. It was a very nice surprise and I definitely did not have any foresight. 
NATIVE: Shoutout to Tblu for that. I think it's really good having people in your space that could motivate you unconsciously. It's super important. 
YT: Literally! If I did not have the community of people around me right now, I don't even think I would've put out any music. Having that support and people around you that are doing the same thing as you is amazing. I don't think I could've done it by myself. It's very nice to have that community. 100 percent.
NATIVE: Who or what would you say inspires your music?
YT: The main driving force for my music is what I'm feeling at the time. When it comes to the lyrical content, it's just how I'm feeling. Music is an outlet. I journal as well and when I was younger, I used to write books and my dad would get published. I've always been a writer. Music was just a new mode of getting my writing out. My feelings inspire me. In terms off my sound and my cadence, I didn't realise until after I dropped and people were telling me I sound like Sahbabii. I was subconsciously studying him as I was listening. I guess I'm his student. The fact that I grew up in Lagos as well as London, I feel like I've had a blend of cultures. Anime as well. My friends, family, people around me, experiences and so on. My last project was called "Boolean Logic" which is a programming language. I do AI as well so I'm inspired by science and math.
NATIVE: Tell me more about the journey to establishing YT. Let's start with the name, how did that come about YTboutthataction? 
YT: I actually had a private story from 2018 that was called 'Young Toottss boutthataction' and that was just following my journey. 2018, I was in second year of uni and I was just doing whatever. The name stuck but only people on my private story knew that was my name. When I decided that I was going to make music, I was always going to be Young Toottss but I thought, I'm not gonna be young forever.
NATIVE: Moreover, there's a lot of Yung's out right now.
YT: Exactly. I can't call myself young, like, I'm turning 24 tomorrow. I'm not young anymore. I still want to keep YT but not Young Toottss. There's so many Yung's like you said. So I did a poll on a private Twitter account, and it was honestly a split vote between Young Toottss and YTboutthataction but ultimately I knew I'd pick something that's different. Even if it's a mouthful, they will catch on. That's why in my first EP, I made sure I pronounced the name so there's no mixup.
View this post on Instagram
NATIVE: Talk me through 'SAGE MODE'. What was the creative process for the debut project like and how did you feel releasing that? 
YT: My creative process is very random and sporadic. I signed a distribution deal in June and I didn't know that you have to basically upload your music four weeks prior. This song that I am dropping tomorrow I thought of the concept, wrote and made it 2 weeks ago. The reason I did this was because I liked the sporadic nature. I was just going with my gut and my feelings. With "Sage Mode", some guy had just annoyed me and I was pissed off in a way that I needed to make a song about it. Like this is not journal/ranting-to-your-friends angry. First line of "Sage Mode" was "Boy don't approach me if you scared/When it comes to YT you gotta get prepared". When I recorded it on my voice memos, I had COVID and I planned to record it whenever I got into a studio.  I knew it was the one but when I released, I thought just my friends would roll with it. I didn't think it would have a wide reach. The response was surreal.
NATIVE: You've been consistent with the release of with two EP's out last year and some singles. What would you say you've learnt in your time so far?
YT: The one thing I would say is don't overthink it and don't stress about what you think would be the reception. 9/10 times you can't predict it. Ultimately, all that matters is if you like it. I used to send people my unreleased music before but I've stopped doing that. Before I released "Sage Mode" there was someone I sent it to and he told me it was too long. People only criticise your music when they feel like they have the power. It sucks the fun out of it and people don't always have the same vision as you. If you're critiquing the technical aspects, that's ok but not the art of it like the length.
NATIVE: You would have reasons for making decisions that you made. It was intentional so that sort of feedback may throw you off. 
YT: Exactly. It almost threw me off. My opinion matters the most to me. It doesn't matter what they say, I would still release. I believe whatever I create is good.
NATIVE: If anything, everyone has their own niche. You would always find someone that will like it regardless.
YT: Exactly and that's one thing I learnt. You can't please everybody and I'm not trying to. I do this for fun and that's always going to be the main premise.
NATIVE: Describe an average YT listener to me, what would you say they're like?
YT: I love my listeners. It's always the free-spirited and open minded people. They're always confident and fashionable women. I even have a demographic of teenage boys that listen to me and that was the biggest shock to me.
View this post on Instagram
NATIVE: Talk to me about "24", your most recent drop and on your birthday as well. What's special about this particular record? 
YT: I guess every year is a year of awakening so I'm excited for 24 but this my year of 23, I feel like I have learnt so much more than I have in any other year. 23 was an eye opener to me for sure. I became closer to my values and principles. I finally aligned myself with what I truly believe at my very core. It's a song that reflects on every year I've had. It talks about what I expected from life and now the reality of it. It's a letter to myself. At the end, it switches to my younger self, talking to me now. It's a very reflective and poetic piece. The song is still very hype though. I'm dropping on my birthday as a present to myself as well.
NATIVE: What does success look like to you on a larger scale? 
YT: I want to able to earn a living off my music and people to be impacted by it. I'm actually helping people. I have a deep connection with my favourite artists. I feel like music is a very powerful way to connect to people. I want people to feel the way my favourite artists make me feel. Knowing that people that listen to YTboutthataction know they are in for an experience is the best thing. I'm very happy and proud with where I am right now but onwards and upwards from here.
NATIVE: What more can we expect from YTboutthataction? 
YT: Get ready for the most random sounds you've ever heard but in a good way. I've experienced all sorts of things in different places and sometimes they come together in the most bizarre ways. Be prepared for amazing visuals and amazing music. Be prepared to hear things that you've never heard before.
Listent to "24" here.
Featured Image Credits/NATIVE
---
Nwanneamaka couples her creative interests with her individuality, using writing as a vessel for her expression.
---