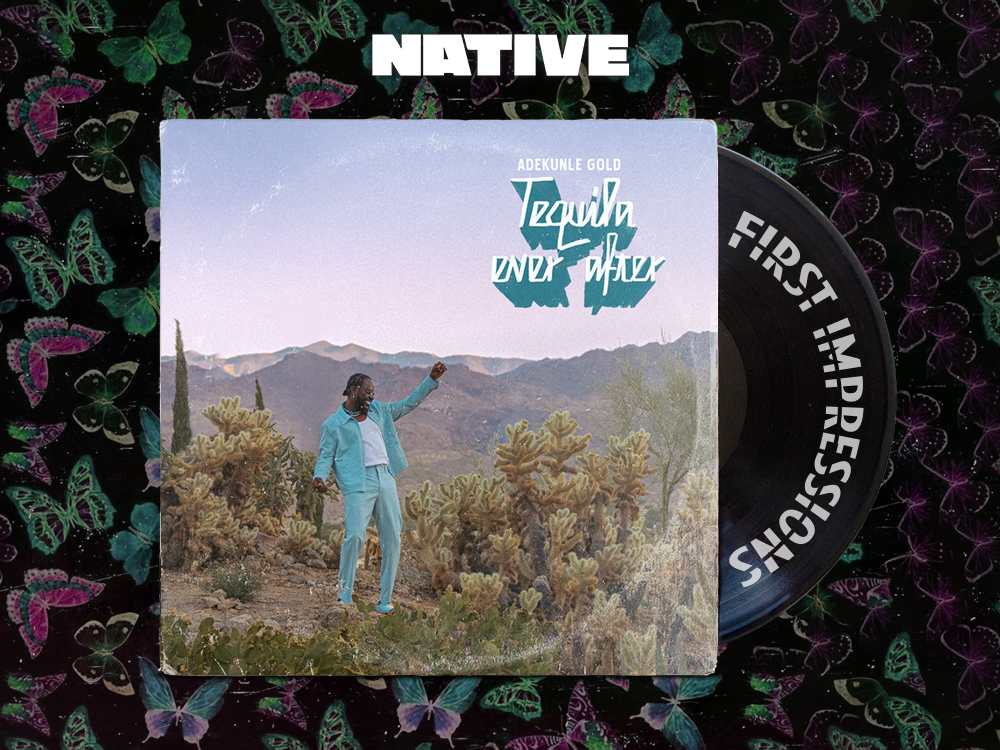 Our First Impressions of Adekunle Gold's 'Tequila Ever After'
the most joyous album he's made yet
Adekunle Gold's career trajectory has shown he is unafraid of transitions and pivots. After his folk-centric debut album 'Gold,' he began his experimentations with pop sounds, marrying the modest ideals of his debut project with a forward-facing craving on 2018's 'About 30' that flowed from within him to the world. In 2020, Adekunle Gold became AG Baby—fashionista and connoisseur of rich Afropop melodies—turning heads with the fantastic 'Afro Pop, Vol. 1.'
On 'Catch Me If You Can,' AG Baby furthered his brand of music, pulling heavyweight African and global collaborations. At the start of 2023, he partnered with Def Jam Recordings and introduced Tio Tequila, a new member to his lineup of avatars. Every step leading up to his fifth studio album 'Tequila Ever After' has been carefully curated to show the latest dimension to Adekunle Gold's artistry. With the project now in the public arena, the artist invites listeners to dive into his lively, tequila-spirited world.
The NATIVE editorial team also steps into Adekunle Gold's 'Tequila Ever After' to give our initial thoughts on aspects of the project. Dig in!
View this post on Instagram
FAVOURITE SONG
Uzoma: It's "Chasing Peace of Mind." Adekunle Gold's lyrics about wanting to escape from the pressures of life are relatable. The production is heavenly with the rich instrumentals drawing me with your mellow energy. And Ami Faku and Habib Koité add colour to the song with their contributions. 
Daniel Banjoko: "Tio Baby" sounds like the perfect club banger with its awesome afro swing production and smooth lyrics. I was just drawn to it from the first listen, and I haven't found a song I enjoyed more on the album.
STANDOUT PRODUCTION
Nwanneamaka: This is kind of a no-brainer, I have to give this to "Falling Up." The introduction, as you'd expect, opens with Pharell's iconic four-count beat drop. AG's velvet vocals are layered so smoothly over the melodious drum pattern, accompanied by the lush choir chants in the background. It's essentially a praise song and Pharrel does a good job communicating that with the outro. I can't fault it. 
Alex: 'Tequila Ever After'  is proof of Adekunle Gold, now AG Baby's stunning talent. The tracks in the album are almost perfect.  The track that stood out more prominently as regards production has to be "Kere," although I can't get over "Falling Up" featuring Pharrell Williams, but I have to go with Kere. We could hear the folk sound that Adekunle Gold was known for before his evolution. It's heartwarming hearing a rich folk sound with AG's smooth vocals adding flavour to the beats. 
BIGGEST POTENTIAL HIT
Emmanuel: There are a lot of possible hits on here but I'm leaning right now towards "Wrong Person". It's a song ready-made for the dancefloor, perhaps the highest tempo throughout the album. The songwriting is familiarly incendiary, the sort of middle finger lovers of pop culture have been known to like over time. Odumodu's verse also makes for a fine pairing, and it's a really catchy song. In the ideal world, "Chasing Peace of Mind" would also be a hit song. Let's keep our fingers crossed on that. 
BEST FEATURE
Moore:  "Falling Up" is a song filled with such pure joy that it's impossible to not appreciate it. The standout features from Pharrell Williams and Nile Rodgers give the song a unique sense of spirit and blend together with distinct instrumentals to give listeners a wonderful listening experience that's perfect for the middle of summer.
Uzoma: I think the chemistry on"Falling Up" was really good. Pharrell brought his distinct style to the track and Adekunle Gold made sure his originality shone.
BIGGEST SKIP
Daniel Akins: This 'Tequila Ever After' came with a no skips tag. Case closed.
Alex: 'Tequila Ever After'  is one of those projects that doesn't have a skip. On the first listen, I didn't see myself skipping any track on a later listen. All the tracks were perfectly produced. All the sounds are distinct and different, I can't take any track out. AG Baby ate and left no crumbs. 
Daniel Banjoko: I can't say I found any of the songs remotely skip worthy. The whole project was perfectly crafted and in my opinion one of his best bodies of work.
OVERALL IMPRESSIONS
Chigoziri:   Adekunle Gold has really outdone himself with this album. It's clear that he enjoyed himself on this album and so did I. The collaborations are really impressive and had me bopping my head with almost every song. 'Tequila Ever After' is truly a masterpiece from the first song to the last and we're here AG baby. 
Dennis: 'Tio Tequila' is a flex. It's the most joyous album he's made yet, the first he's made without anything to prove. The stakes are completely his, the range is remarkable, and the music is generally intoxicating – like the drink it's named after. Perfection is not the goal; making music that represents the feeling of invincibility is, and that's what Adekunle Gold delivers. Salud!
Israel: 'Tequila Ever After' is a representation of AG's Journey so far, a journey filled with joy and triumph. Each song efficiently erupts a different feeling from you the more you listen and gives you a peek into Tio Tequila's State of Mind. This album is the definition of Infectious, Euphoric & Suave.
Stream 'Tequila Ever After' below.
Featured image credits/NATIVE
---