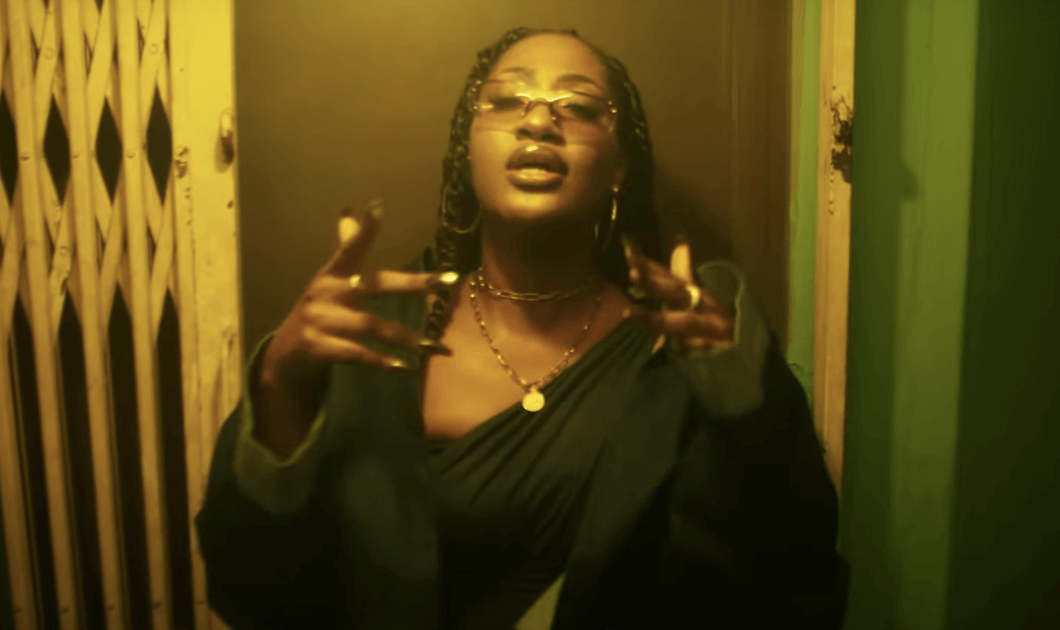 Tems' "Damages" is topping the charts
Tems is charting at home and in the diaspora
Tems' stellar rise over the last couple of years has been expeditious. In just about two years since breaking out with "Mr Rebel", the singer/songwriter and producer has garnered considerable fanfare that constantly ranks her on a level comparable to longer-established acts in the scene. This year already, she's teamed up with Khalid and Davido on "Know Your Worth", released her highly-anticipated debut EP 'For Broken Ears', featured on Wizkid's 'Made in Lagos' and been named Apple Music's Africa Rising artist of the month.
Tems is far from taking her foot off the pedal. Just two months since the release of 'For Broken Ears', it's almost impossible to not have heard the project's afro-dancehall promotional single "Damages" around these parts. The earworm track has featured on Instagram stories and captions around the world and has enjoyed near-constant play, having already garnered over 1.3 million views on Youtube in the last month. The single's unavoidable ubiquity was the first indication that the girl on fire was soaring to newer heights, but now it seems that the singer is making more than just ice tea these days, she's also topping charts – locally and internationally.
Top 10 African songs on on the top 20 Afrobeat chart UK 🇬🇧
#1 @wizkidayo – Ginger x2
#2 @burnaboy – Real Life
#4 @wizkidayo – No Stress #Re
#6 @IamOlakira -Maserati
#7 @Olamide -Infinity
#8 @davido -Fem
#11 @davido -So Crazy #New
#12 @temsbaby – Damages
#14 @Olamide -Loading #New

— ChartsAfrica📊 (@chartsafrica) November 15, 2020
Currently, "Damages" is making the rounds both at home and in the diaspora. This week, we learned that "Damages" sits respectively at the #8 spot on the Nigerian Turntable charts and #12 on the official UK afrobeats charts. Released over two months ago, it's noteworthy that Tems is still topping charts with this single, as it has now enjoyed a kind of longevity that most songs do not in today's fast-paced music scene. Tems emerges triumphant confirming that the magic we saw in her over years, with "Mr Rebel" and then "Try Me", did not just happen by chance, but because of her incomparable talent and superstar status which is continually growing.
The uptempo number, "Damages" is also charting on Apple Music, currently sitting at #2 in the Apple Music R&B songs chart, with 'For Broken Ears' also peaking at the #2 spot on the R&B charts for projects. Across all the charts mentioned, Tems is also the only woman in the top 10 spot, securing a space amongst top-charting singles like Wizkid's "Ginger", Davido's "FEM" and Olakira's "In My Maserati". At this point in her career, this is a notable feat to attain, especially when existing and manoeuvring an industry that's bent on pigeonholing women or shifting them to the background or worse, pitting them against one another.
This is not the first time that Tems will rise up and dictate her own rules, however. In fact, she's been doing it for quite some time: her 2019 ubiquitous single "Try Me" enjoyed similar chart-topping success. At the time of its release, the fiery anthem of triumph garnered sizeable fanfare, peaking at #1 on the Apple Music charts in Nigeria and even charting in Sweden.
Tems' confidence is perhaps her most magnetic trait and she constantly exudes an undeniable self-assuredness in her releases, leaning into everything that quickly endeared initial listeners to her music. With "Damages" still topping the charts, it is clear that Tems' position in the industry is cemented more than ever and she's truly the leading vibe. 'For Broken Ears' is a stunning debut from an artist who has honed the craft of making music designed to slice through complicated emotions with the precision of a scorching blade. Of course, we are ever thankful for the aural therapy.
You can listen to "Damages" below.
Featured image credits/Tems
---
.@tamimak_ Is a Staff Writer at The NATIVE
---