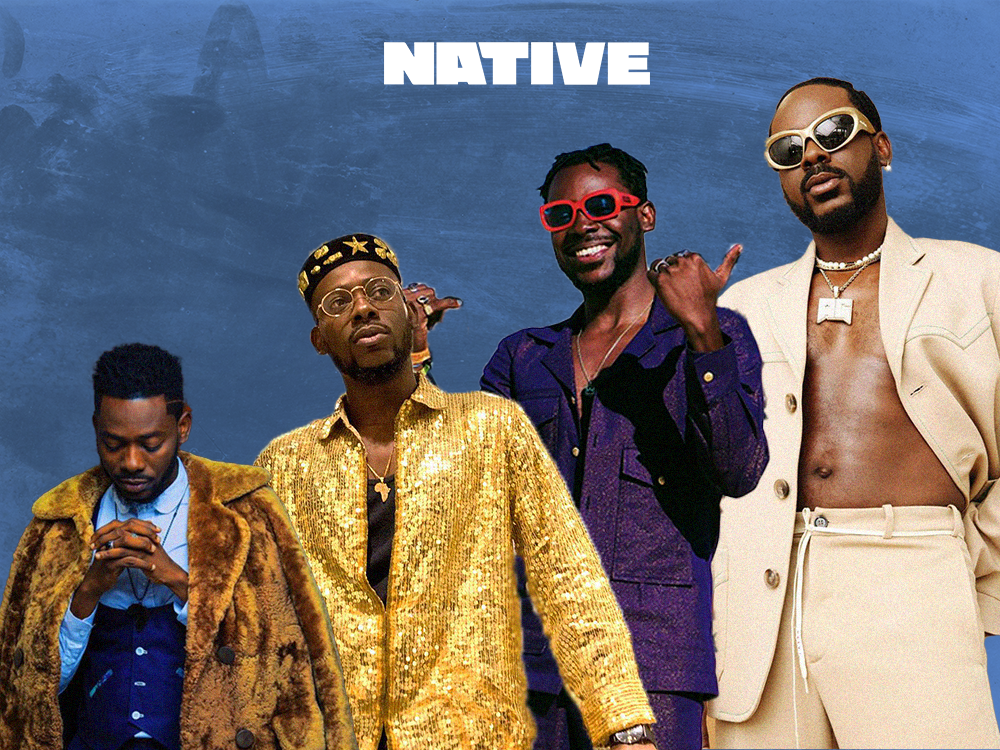 Adekunle Gold is reshaping the look of the conventional pop star
From AG Baby to Tio Tequila
Since his debut on the scene, Adekunle Gold has unveiled new layers of his artistry with each new release. His skilled penmanship and striking vocals showcase his rapid fire abilities, which have continued to widen and expand in scope through his many different eras and albums; from 'About 30′ to 'Catch Me If You Can.' More than most, Adekunle Gold emerged on the scene as an alternative singer, who feeds the fancy of both mainstream pop channels and traditional folk and highlife predilections. Beyond the music, his commendable style evolution through these sonic eras has set him as the touchstone for purposeful talent presentation. 
View this post on Instagram
Back in 2015, Adekunle Gold was a fresh-faced charmer on the music circuit, newly signed to YBNL alongside its all-star roster. His standout single "Sade," was making rounds across radio and streaming platforms. The Folk-Pop ballad features Gold's velvet vocals pleading for a woman's hand in marriage over highlife and folk-inspired instrumentals punctured by pensive violin strings. He presents the all too familiar lover boy trope in the most humbling way, as he tells the story of heartbreak, betrayal and jealousy. At the time, he was an alternative artist, forgoing Pop sensibilities for highlife patterns on his debut album 'Gold.'
AG represents a wanted evolution in Afropop's canon. In a scene largely dominated by leading male figures such as Davido, Wizkid, and Burna Boy, Adekunle Gold offered a visible shift from the traditional norm. Unlike his contemporaries at the time, Gold wasn't too perturbed with commingling Western influences with his music, instead, he was more focused on blending traditional folk and highlife into his sonic orbit with standouts such as "Orente," showcasing his penchant for folk music.
His influences aren't without reason. Adekunle Gold grew up in the Kosoko family. His father loved to listen to indigenous Yoruba music: Juju, Highlife, Fuji, which soundtracked his childhood and formative years. This extended beyond the music to the sartorial choices as well; on the cover of 'Gold,' Adekunle Gold is dressed in his most regal attire–adorned in gold from head to toe. He's clad in Traditional Yoruba garments–agbada, buba and sokoto, both embellished with the most magnificent gold, as he clutches a gold neck piece and wears a crown fashioned from gold.
It's a similar disposition to the one Wizkid wears on his 2017 album 'Ayo,' adorned in traditional native attire as women sit at his feet. Both albums are typically left out of conversation today, but their importance to the overall progression of both artists is not lost on any of us. The year 2017 was a pivotal time for Afropop, with numerous stellar collaborations that earmarked the scene, as it made its way from our shores to the West. AG was still at the start of his sprawling career, and he was already making clear that he valued and championed his West African roots, no matter how far they carried him. 
View this post on Instagram
'About 30' mirrored his debut album's visual identity. Once again, Adekunle Gold donned his traditional attire, but this time, he was not alone; as he mounted a horse, a symbol of wealth. His style, like his sound, still held a unique element of his previous self, as he ushered in a new year with limitless possibilities. Adekunle Gold addresses the prospect of movement and growth across the project but most heavily in the later parts of the album with tracks such as "Fame."  He touches on the growing pains of success and fame, singing , "everyone says don't change, but how will I grow?" 
By the time the socially distanced days of the pandemic rolled around, AG's evolution was complete and he'd emerged a pop star, growing even more sure of himself and daring with his choices. Now, a husband and a father of one, Adekunle Gold welcomed change in his later years; rather than reject or run away from it. His dazzling major label debut 'Afropop Vol.1,' released under Universal Music Group subsidiary, Virgin EMI Records, was a bold proclamation of his biannual progression.
On its cover, he stared confidently ahead with freshly woven shoulder length braids adorned with beads, paired with a red silk shirt and layered accessories. He embraces the flamboyant ring stacking common amongst the biggest stars but in a more mellow and seemingly personalised fashion. He had officially peeled back a new layer, adopting bold and striking colours, loose-fitting pants and trousers, tailored suits and garments into his wardrobe.  
View this post on Instagram
His style choices weren't without criticism. It's not lost on anyone that Adekunle Gold is a 30+ (we all know the significance of that) mainstream artist (in all but his music) so freely donning his fashion-forward, loose-fitting co-ords and glimmering suits, crowned with his now signature braids and beads, can be open to misinterpretation. True enough, some of AG's fans found his new style alien to where he had come from, while others embraced the change and welcomed the new vision.
That was a major touchpoint for AG's now refined and modern approach to style, distinguished by his form-fitting silhouettes and revived flare for colourful and textured ensembles. Travel always widens the scope of any artist, the new perspective he gained from his travels was expressed through a more experimental wardrobe that paid homage to the cultures of the countries where he performed. He continues to stand firm in his convictions with a newly progressive mindset, allowing him to garner new audiences and push the boundaries on what's expected from artists like himself. His self-confidence in his abilities and his embrace of change, has earmarked him as one of the most interesting Afropop stars of the now. 
Now, the arrival of 'Tequila Ever After' is imminent and AG Baby is in full swing as he welcomes a new personal and sonic era. He is continuing his trend of expressing personal growth through the visual branding of his musical eras by elevating it with superlative tailoring and craftsmanship as shown in his 'Tio Tequila' 3-pack release which arrived a few months to the new drop. Scrolling through his feed gives you the greatest examples of his sartorial universe, and from the multicoloured durags to tailored suits and baggy pants, you can see why we're endeared to his style. Here are a few of the best looks Adekunle Gold has worn. Enjoy.
View this post on Instagram
View this post on Instagram
View this post on Instagram
View this post on Instagram
View this post on Instagram
View this post on Instagram
View this post on Instagram
View this post on Instagram
View this post on Instagram
View this post on Instagram
View this post on Instagram
---