Photography: Mahaneela Choudhury-Reid (@mahaneela.jpg)
Photography Assistant: Sarah Harry-Issacs (@sarah.harryissacs)
Creative Direction: Daniel Obaweya (@nigeriangothic), Mojoyin Durotoye (@moj_bot), A'alia Boyo (@queenoftheyouth)
Styling: TJ for Blac Ribbon & KK Obi (@kkobi___)
Styling Assistant: Kennedy Clarke (@yuungflava)
MUA: Fey Adediji (@beautybyfey)
Production: Object & Animal (@objectanimal)
Producer: Jess Ajose (@jess.ajose)
Gaffer: Joe (@lightingbyjoe)
Studio: YoYo Studios
Set Design: Jade Adeyemi (@adeyumyum)
Set assistant: Sofia Mpanda (@Mustbesofia)
BTS Photo: Tife Idowu (@tifeid)
BTS Video: Barbara Broadley (@outtake999)
For nearly a decade, Ayo 'Wizkid' Balogun has been Nigeria's most consistent image maker, influencing a whole generation of millennial Nigerians through his creative body of work and his sartorial choices. Appreciating his evolution from an aesthetic which was crafted to appeal to a young audience, to the global fashion ambassador he is today, requires an understanding of how music, media and an almost preternatural swagger have kept Wizkid at the cutting edge of fashion. From teenage heartthrob, to style icon, from Supras and snapbacks to D&G runways: this is the story of Wizkid's style through the years.
SUPERSTAR
Wizkid's formal introduction to fashion borrowed heavily from the skater aesthetic brought to mainstream hip-hop by Lil' Wayne. Young Money Entertainment boasted two of the biggest music acts of the year, Nicki Minaj and Drake, both of whom bought heavily into the skater aesthetic of their label and had massive fan bases of tween audiences who bought every part of the image they sold, wholesale. It made sense that Banky W, a repatriate who returned to Nigeria to pursue music, would model his star signing after a label with the most influential collection of music artists in 2010.
Under the management of EME and with a concept album that announced the singer as Nigeria's next big talent, Wizkid was the first Nigerian popstar to visually brand an era of music with an easily discernible dress code. His debut album, Superstar was released at the height of Lil' Wayne's popularity and influence on pop culture, and the label sought to capitalise on it by creating a dress code for Wizkid that included G-shocks, snapbacks, Supra hightops, flannel shirts and fluorescent skinny jeans, graphic tees and keffiyehs worn as neck scarves.
 More than aligning Wizkid's personal style with global trends, this chosen aesthetic helped the emerging singer distinguish himself from an industry which was largely homogenised around brand names and informal yet strictly enforced social expectations. In the "Holla At Your Boy" music video, we were given a glimpse into the artist Wizkid would become. The legend tees worn in the music video became a short hand for that era, a quick and easy way for Wizkid to show his personality without straying from the label's direction for him.
Music in the 2000's was heavily influenced by hip-hop and adopted many of its socially repressive views, including how to dress. Even Wizkid's earliest collaborators M.I, Naeto C and Ikechukwu were all rappers. His decision to embody a visual aesthetic which was completely at odds with what was popular in Nigerian pop culture helped usher in a new era of pop-stardom. He committed to the aesthetic and the vast majority of images from that era (of which there are quite a few) shows Wizkid always in 'uniform' – a baseball hat set at a jaunty angle, neon skinny jeans, khaki jackets, wayfarer sunglasses and Beats by Dre headphones, which gained popularity in that period thanks to Wizkid. 
As the album's popularity grew, so did the proliferation of neon skinny jeans and ironic tees on campuses across Nigeria. Unilag in 2011 seemed an extension of Wizkid's music videos. Beats by Dre headphones, favoured by Wizkid and his crew during that era the accessory Du Jour, separating knock-offs from originals. This era solidified Wizkid's marketability as an image maker. His preference for monochromatic looks, ability to distinguish a popular look with personal modifications and interest in timeless accessorising, have all become stopping points for younger pop stars looking to signal their transition into pop stardom cycle through, before finding their own aesthetic.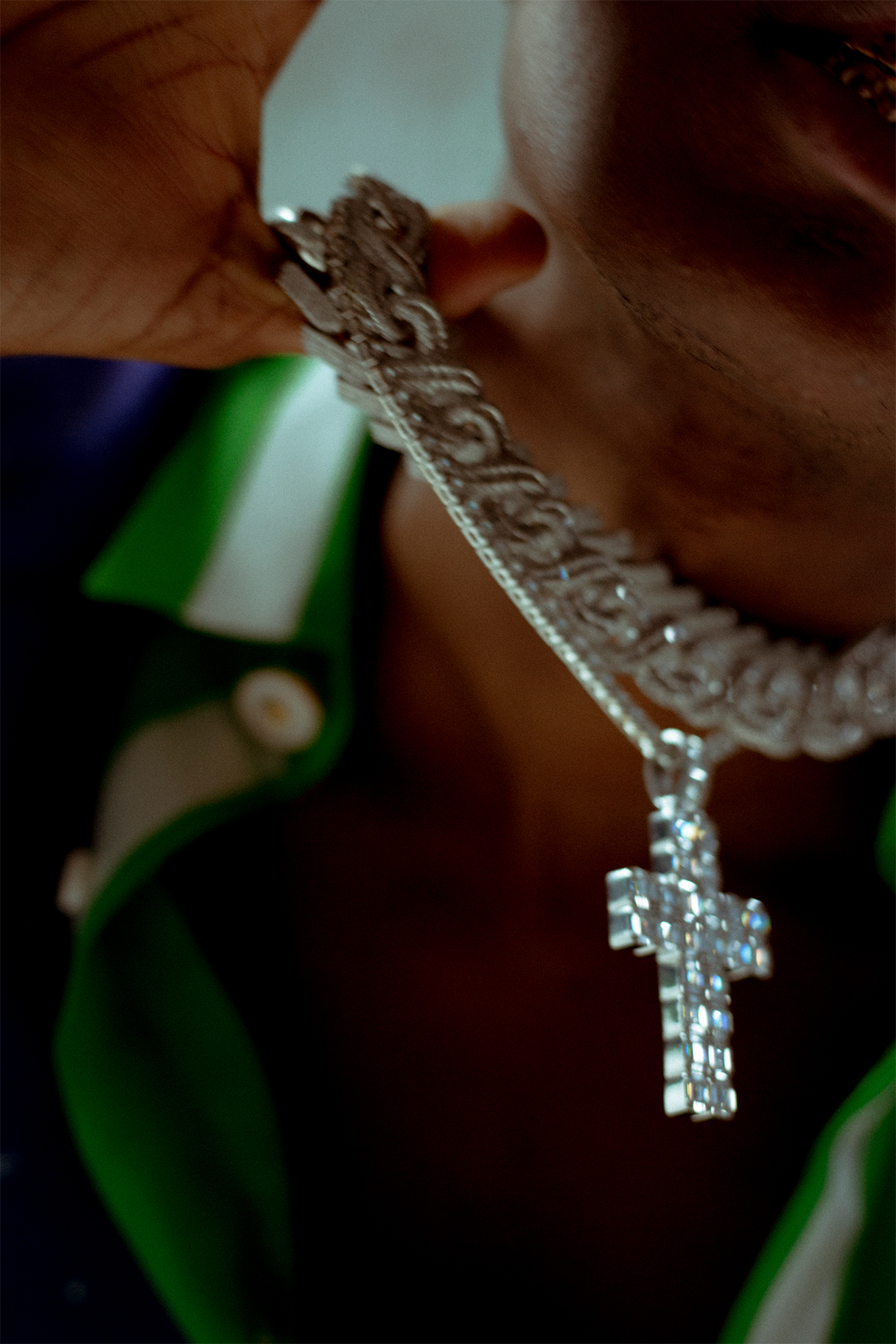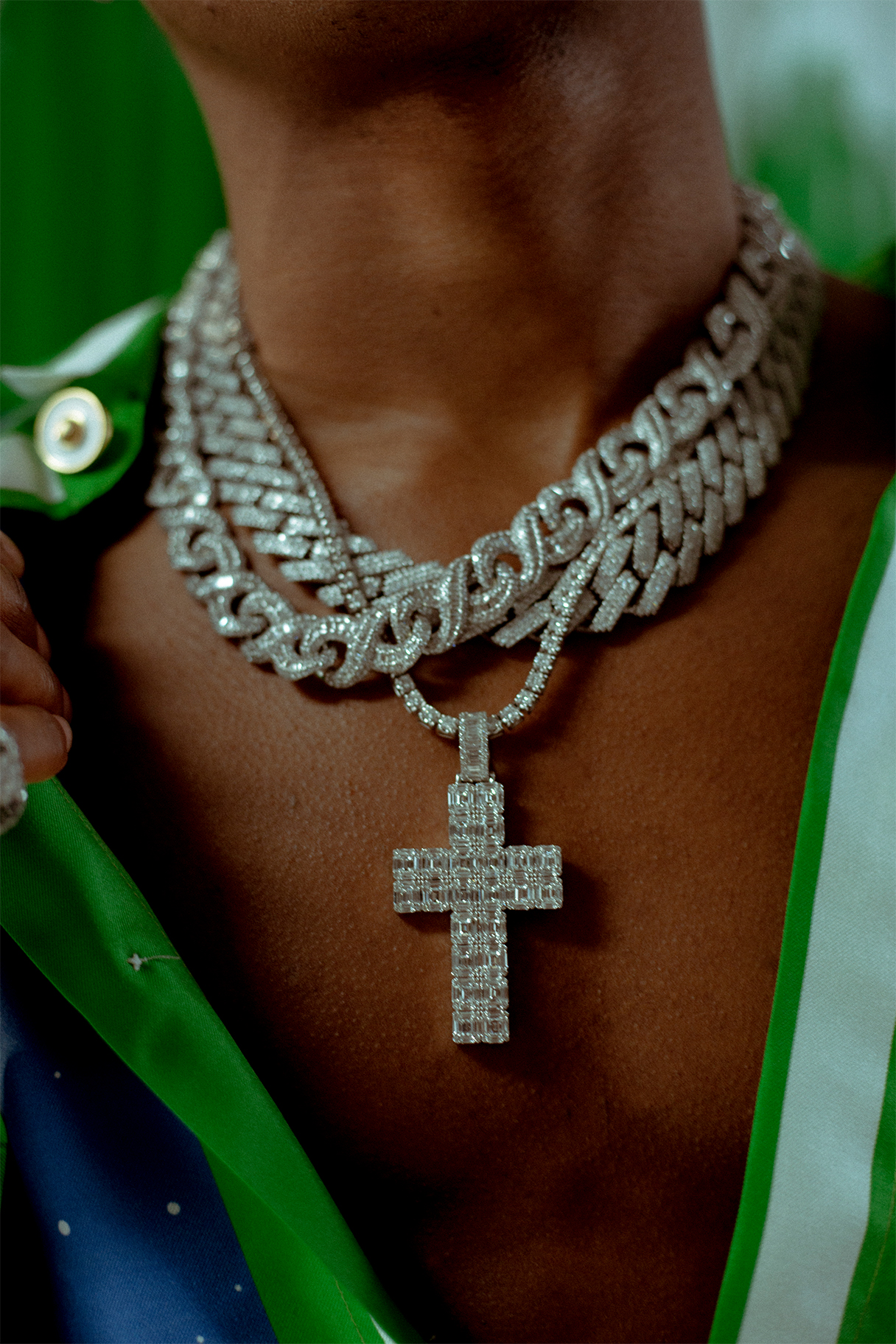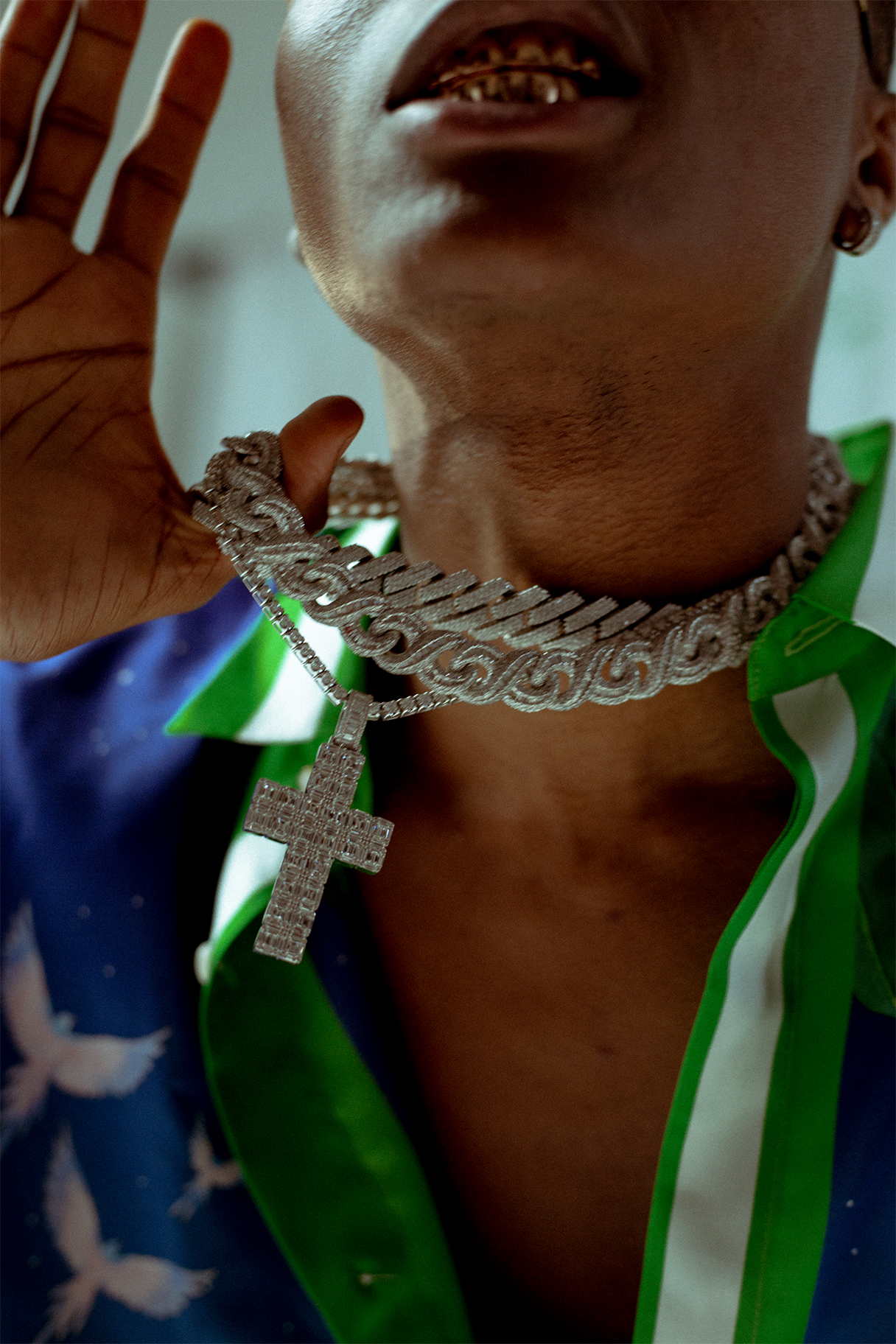 Shirt: Casablanca Jewellery: Wizkid's own
AYO
While Wizkid's visual branding during his time at EME inspired a generation of Nigerian tweens to embrace hip-hop inspired fashion, the aesthetic was dated by the time Wizkid's first album run was done. He was also beginning to experiment with a more muted personal style, ditching the brightly coloured ensembles that defined the Superstar era in music videos to promote the EME All Stars album.
By 2014, Wizkid was no longer under contractual obligations to EME, freeing him of the pressure to conform to global trends and truly experiment with his style. To reflect his new outlook, Wizkid stripped down, hybridising the American influences in his aesthetic with a celebration of his Yoruba heritage. This transition is best expressed through visual the branding of his new musical era. He first began borrowing elements from Fela Kuti's aesthetic with the cover art for the project's lead single, "Jaiye Jaiye" featuring Femi Kuti. Only recently in the last decade, have traditional Nigerian outfits been included in fashion forward conversations, and Wizkid's ankara co-ord sets from the Sesan-directed video for "Jaiye Jaiye" and the bright red aso-oke agbada on the cover for his sophomore album Ayo, were the most 'traditional' we've ever seen Wizkid in. Founder of Style House Files and Lagos Fashion Week, Omoyemi Akerele believes this to be the best of Wizkid's fashion evolution, stating that she "would really love to see him wear more African these days". Music videos from this era see him embrace monochromatic or understated looks with subtle hits of luxury such as the introduction of silk scarves and some ice on his neck. 
Media platforms such as BET took notice, creating categories in their award ceremonies that incorporated the growing interest in African celebrities. It was one of those categories that Wizkid would get his first international co-sign, with a nomination for BET's Best African Act category. Nominations like this introduced him to international media markets who were intrigued by the level of sophistication he represented. This combined with a number of prominent Nigerian designers announcing themselves on the global stage saw fashion's media power house Vogue US turn its gaze to Nigeria.
Back home, Wizkid's image had become social currency of its own, with millions of knockoff shirts, trousers and accessories featuring Wizkid's image and likeness sold by Nigeria's booming counterfeit fashion industry. His tattoos and experimental coloured hair was quickly replicated by his core audience and Wizkid's style became a shorthand for emerging singers looking to distinguish themselves. At the same time, however, his music brand, the vehicle through which he was most influential, appeared to be suffering, as his much awaited third album was long teased and then delayed. It's common for artists to experience an artistic lull and focus their energies on other creative endeavours as a way to stay in the public eye and continue to engage their fan base. Rihanna's Fenty empire, Beyonce's Ivy Park and Jay-Z's Rocawear are all examples of popular musicians leveraging their fame to foray into fashion. Wizkid seemed to choose this route while he worked out the kinks of his record deal with RCA and decided on the next steps for his music career. This pause saw the launch of StarBoy merchandising as an extension of his label, StarBoy. In January 2016, two years after Ayo was released, and Starboy had established itself as a viable label, Wizkid was interviewed by Vogue US journalist, Alex Frank who gave him the ultimate fashion co-sign, announcing him as 'Nigeria's Best Dressed Popstar'.
SOUNDS FROM THE OTHER SIDE 
2017 marked a stylistic transition for Wizkid. Following the stratospheric levels of success he reached following his star-showing on Drake's Grammy-nominated "One Dance", this led to notable US pop stars sounding particularly Starboy-inspired for the rest of the summer – and this did not go unnoticed in the music or fashion industries. Signing with RCA Records was affirmation for Wizkid's vision and provided the funds he needed to extend his new hybridized aesthetic to his visual branding and personal style. He worked with Oladapo 'Daps' Fagbenle and Alan Ferguson to produce two music videos for his lead single "Come Closer" that showcase his updated afrocentric visual branding and reintroduced labels into his wardrobe, but only with brands who publicly aligned with his brand.
At this point, Wizkid's legend had grown sufficiently that he was being invited to different parts of the world to perform. Travel always widens the scope of any artist, the new perspective he gained from his travels was expressed through a more experimental wardrobe that paid homage to the cultures of the countries where he performed. Silk kaftans inspired by Pakistani traditions and jellabiyas from his many jaunts to the Middle East were prominent additions to his wardrobe at the time. Travel also meant Wizkid's interest in jewellery and accessories were no longer limited to Western tastes and aesthetics and the singer really began to build his personal collection in this time. With money to spend and a much more diverse appreciation for fashion, the "Sounds From The Other Side" era was one of Wizkid's most experimental and his black fashion contemporaries sat up and took notice. 
He forged an enduring friendship with fashion legend Naomi Campbell, accompanying her to a number of high-profile events in late 2017 and early 2018. High profile collaborations followed, first ambassadorship with Jeremy Scott's Moschino and liquor giant Absolut Vodka and a limited-edition version of their now iconic Vodka bottle, debuted at the Moschino show at Milan Fashion Week. He also announced a capsule collection of jerseys for Starboy merchandising, launched in partnership with Nike, building on the success of the viral Naija x Nike jerseys of early 2018. A runway appearance at the Dolce and Gabbana SS19 show put him on par with the world's most powerful millennial influencers and put to rest any doubts of Wizkid's influence on global fashion. Wise to the need to consistent reassert himself in both musical and fashion spaces, he followed his 2018 projects with Soundman Vol.1, a surprise EP from Wizkid's Starboy entertainment featuring artists he had signed to his label over the years and reintroducing the label as bonafide creative outlet for the singer and paving the way for his next era, Made In Lagos.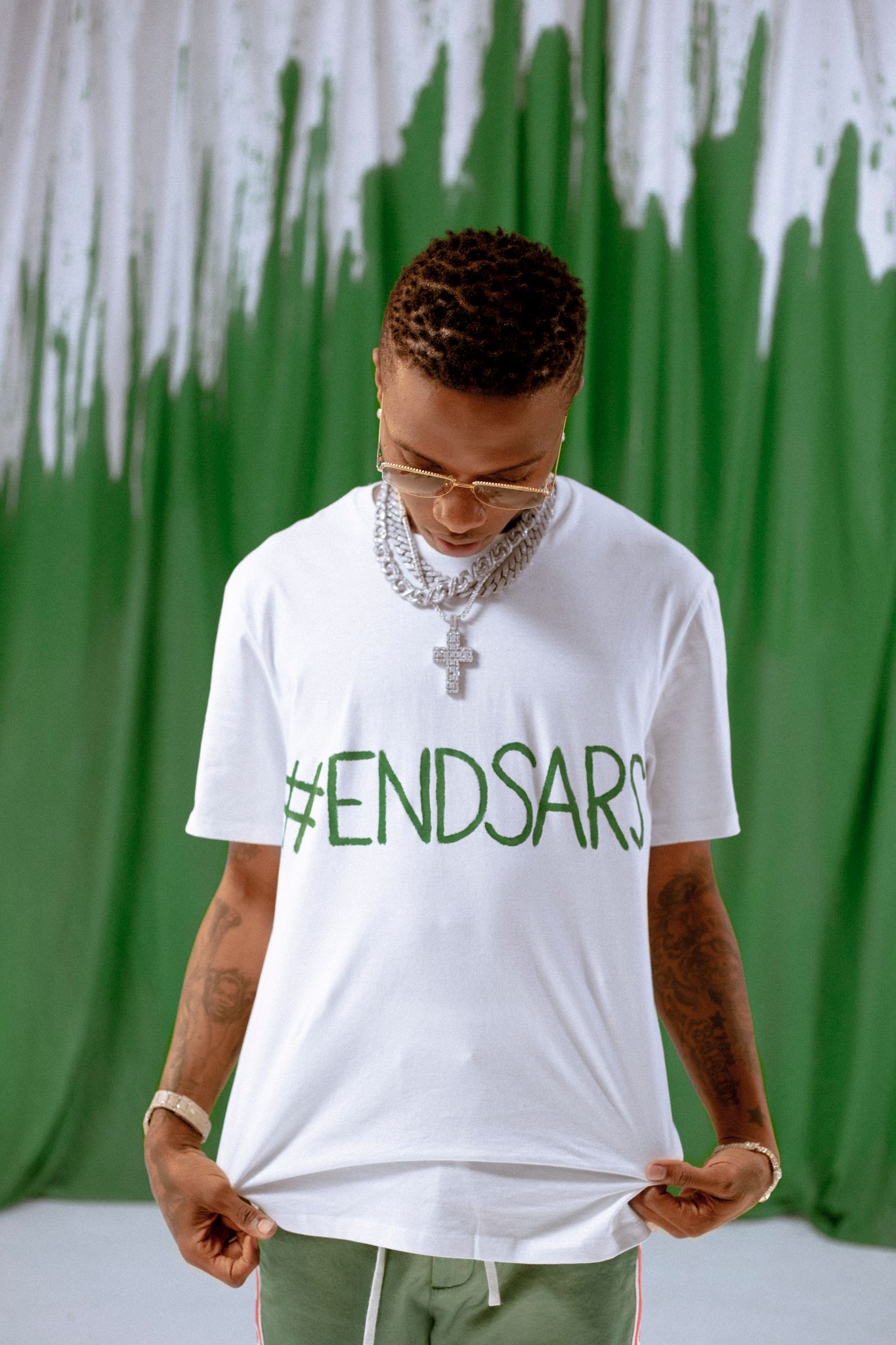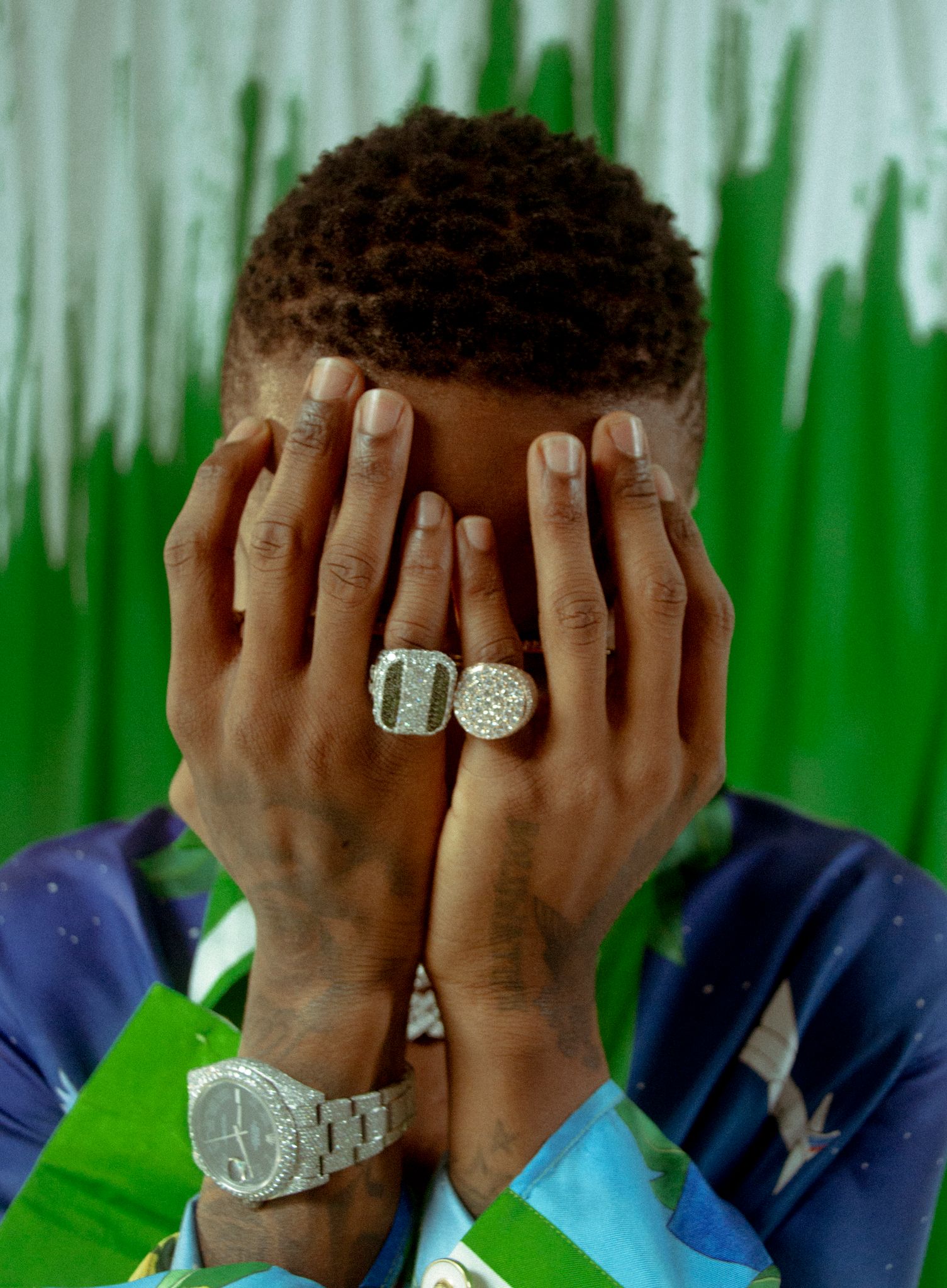 MADE IN LAGOS
Consolidating on the gains of 2018, Wizkid has expanded his fashion empire to include a coveted partnership with athleisure giant PUMA, whose previous collaborators have included Rihanna and Solange Knowles. He has also released the long awaited Made In Lagos, an album critically received by critics and fans as wish fulfilment for Wizkid's proto-fan base, older and more appreciative of a more mature sound. He is continuing his trend of expressing personal growth through the visual branding of his musical eras by returning to the muted tones of the "Ayo" era but elevated by superlative tailoring and craftsmanship as shown in his "Smile" and "No Stress" videos. For fashion photographer, Stephen Tayo, Wizkid's style evolution goes in tandem with the evolution of his music, he tells me "see what he was wearing at the YouTube Live event. Not many people can pull off wearing slippers and still look fashionable, but Wizkid does. His clothes tell you everything you need to know about him, like right now, with his monochrome looks and all, you can tell he's really about that 'no stress' life". 
Feeling no pressure to be an 'African' artist, cashmere sweaters, silk shirting and casual co-ords are the hallmarks of this new era, a statement to emphasise private pleasure, rather than public signalling through brand recognition. The Wizkid of Made In Lagos wears bespoke tailoring from Lagos's best artisans mixed in with offerings from the world's most luxurious brands with not an iota of self consciousness. Tayo agrees, continuing that "I won't even say he's avant garde or anything, his look is clean, and that's what his music is telling us too." His aesthetic has become truly aspirational to millennial and Gen-Z audiences while his music remains accessible across generations.
Ten years after his debut, piggybacking of a global trend from an industry once admired, Wizkid shows he is finally comfortable in his brand, in total control of his image and aware of the influence he wields on a generation of Africans themselves transitioning out of their 20's and into a new phase of adulthood.