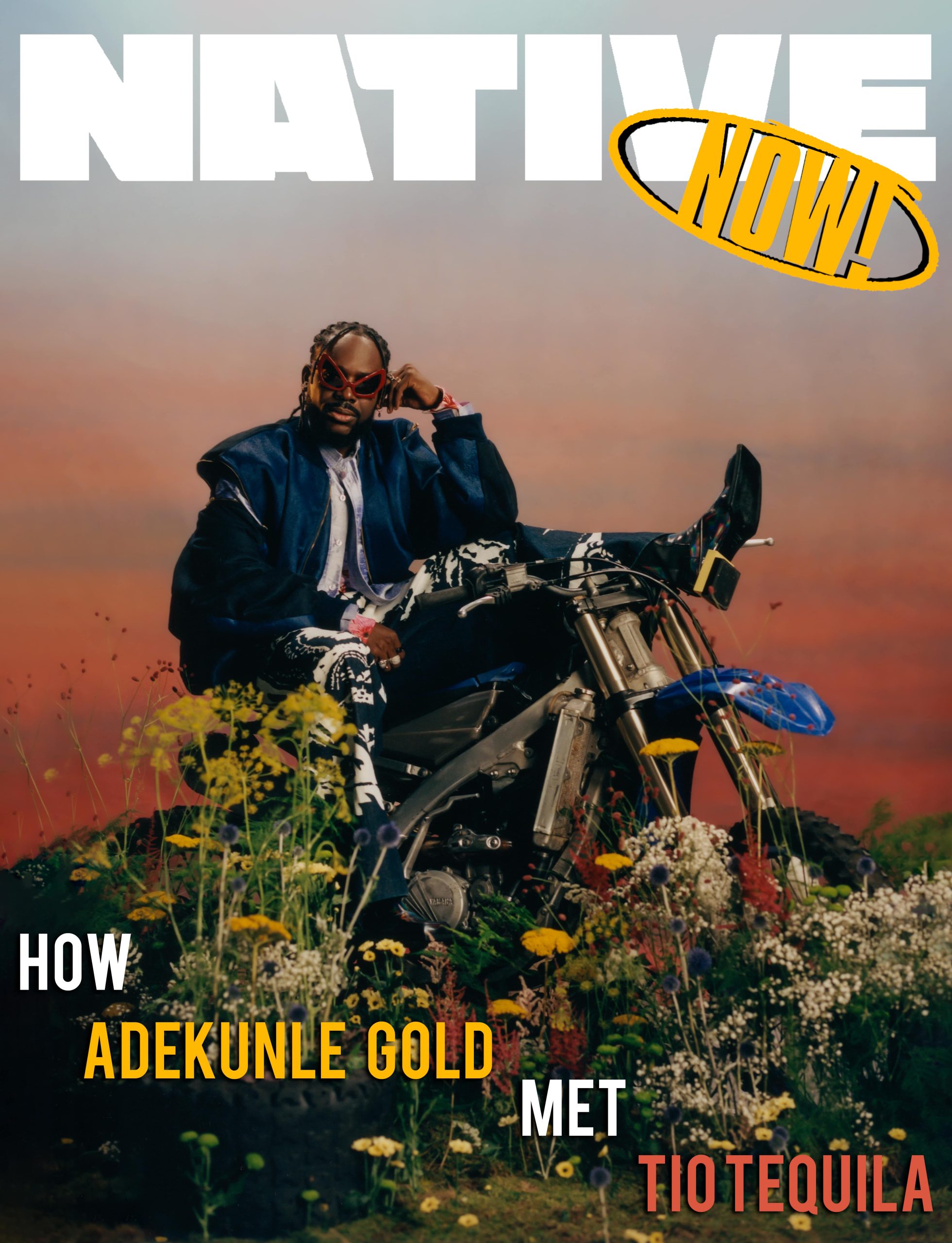 Words by Emmanuel Esomnofu 
Photographer: Elliot Hensford
Creative Director: Elliot Hensford
Stylist: Kennedy Clarke
Creative & Styling Assistant: Zena Giwa-Osagie
Editor-In-Chief: Seni Saraki
Head of Content Strategy: Damilola Animashaun
Managing Editor: Tami Makinde 
Head Of Digital: Shina Ladipo 
Lighting: Kenneth Liew
Art Director: Skye Halsey
Photography Assistant: Finlay Gleeson
Assistant Stylist: Lara McGrath and Qasim Oshokhara
BTS Video: Johnny Cooke  
Grooming: Ellie Durbridge
Barber: Darren Greenway
Graphic Designer: Israel Ajayi & Elliot Hensford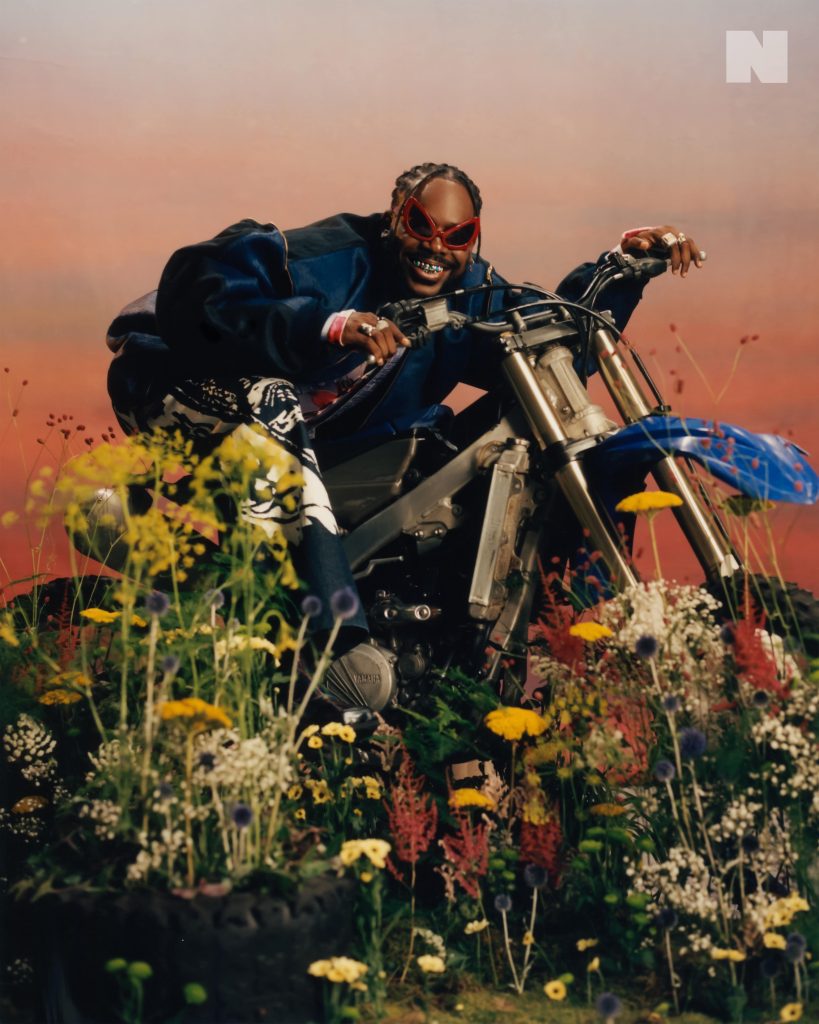 Adekunle Gold is constantly on the move. Over the phone, his voice trickles in with an audible crack. It's a far cry from the honeyed embrace we know from his colourful music; now, it's urgent, having been immersed in the grit of everyday living of a pop star. For much of the day, the acclaimed singer, songwriter and father of one, was on set of his NATIVE Now cover shoot at a North London studio, led by Elliot Hensford. The whole affair ran longer than expected and Adekunle Gold's exhaustion is clear, but it was testament to his dedication that he's on time for his interview via Zoom that same evening. His remarkable career incisively cut into great stories. 
With his forthcoming fifth studio album 'Tequila Ever After', the singer has been reaching deeper into his bag of tricks, his artistic awareness visible in how he seamlessly merges music creation with skillful performance. In recent months, the 36-year-old artist has been busy on the road. His penchant for delivering memorable performances makes him a favoured name among concertgoers around the world, as he brought his AG Baby tour to North America and Europe last summer. It's clear that creating music however resides deep in his spirit, and he's been walking the path ever since, one awe-inspiring production at a time. 
Not long ago, the singer's brilliance was at the centre of conversation. As he performed his 2021 hit single "High" at Roskilde and Rock & Werchter, he incorporated electronic music into his set, thrilling the audience in ways few Afropop performers have done. A rockstar in every sense, the energy was palpable even from the mobile devices millions of people had watched from home. However, rather than appreciate this honed-in extension of his artistry, a smaller section considered it as mere diligence, an attempt to appeal to the sensibilities of his audience.

He disagrees with that opinion. "When I see people comment about these performances at the festival, it just goes on to show that people don't pay attention to these things or they forget," he says. "I listen to a lot of people. I already fell in love with electronic music listening to David Guetta and Diplo. So I've been about it; I didn't just jump on it. It's not something that's trendy for me; it's something that I have been trying for a while."
Initially released in 2017, "Call On Me" is the last record on the artist's sophomore 'About 30', and the track blended EDM influences into its sonic texture. A strategic delve from his then established Highlife sound, it was a significant record for Adekunle Gold, who emerged as an alternative artist with vulnerable, fluid and adept songwriting. In the early 2010's, he was listening to a lot of indie music and training his pen to reflect those saccharine sensibilities. Among his favourite acts were Bruno Mars, who was then his biggest influence, the boy band The Script, Kodaline, and Maroon 5, whose 'Over Exposure' was the first album he ever bought. "I constantly rinsed that album," he shares with the NATIVE.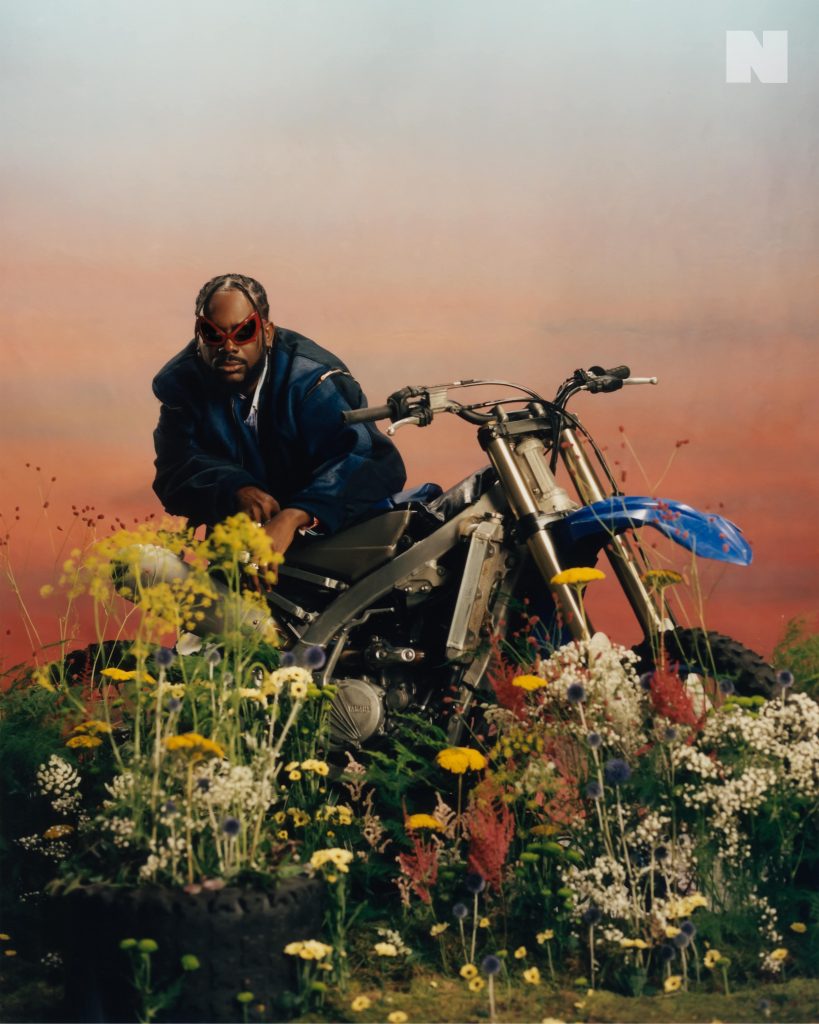 Although he was intentional about picking up pop influences, it took more than a decade's half before he released an album which charted that direction. He wanted to "perfect [his] pop writing skill," he says. "Highlife is easy for me. Wake me up anytime, I'll make Highlife easily. But the thing that was hard for me to do then was writing pop records. Even though I attempted it a couple times, I didn't really get the hang of it like I wanted to." 
It was during this time of experimentation that he created 'Gold', his debut album. Preceded by the country ballad "Sade," it was a culmination of Adekunle Gold's life until that point. That debut single had covered the One Direction song "Story of My Life," one leg of the artist yet in those Western plains. The vocal inflections were however indebted to the sentimental allure of eighties Nigerian pop, harkening to an era many remembered for its pristine quality. 'Gold' is a classic album by every critical merit available. Unified in sound, expansive in subject matter, it bore witness to Adekunle Gold's genius. In many ways, it was autobiographical, condensing two plus decades of life experiences into gold-minted records. Adekunle Gold grew up within the royal Kosoko family of Lagos, which must have opened him up to colourful cultural practices. 
Musically, he's cut from a long line of skilled artistry. His father loved to listen to indigenous Yoruba music: Juju, Highlife, Fuji. These genres are acclaimed for their sonic brilliance, but they also wielded great social currency. Between 1967 and 1970, Nigeria witnessed a ghastly civil war with the country's southeast, which had seceded and declared itself an independent republic. The cultural life of the country was put on hold; revered musicians were called up to the military as performers, bars and nightclubs shut down, the social life was almost nonexistent.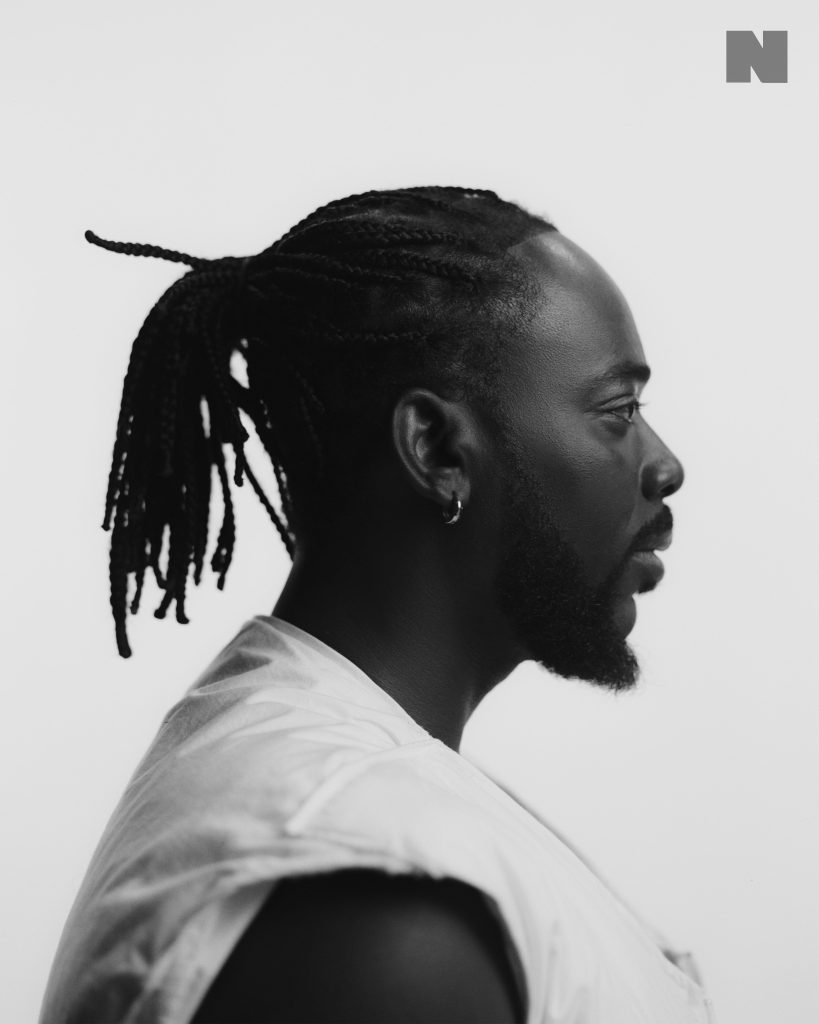 In the aftermath of the war, it was music, more than anything else, which was utilised to salve the deep wounds of memory. In the severely-depleted east, Highlife became the sound of rebirth. Revolutionary figures like Chief Osita Osadebe and Oliver De CoQue adapted foreign influences such as the Congolese merengue and Cuban guitar styles. In the southwest, which had the advantageous position of being the country's national centre, the mood was more joyous; a war that had claimed so much humanity was finally over. Music was there to remind Nigerians of the beauty of living, even while relating experiences that weren't necessarily positive through that prism. 
And so, genres such as the aforementioned trio were decidedly upbeat, more percussive, and quite outlandish in its presentation. Among other artists like Dipo Sodipo, King Wasiu Ayinde Marshall and Sir Shina Peters, the melodious guitar playing of King Sunny Ade and Commander Ebenezer Obey were a recurrent fixture in the childhood of Adekunle Gold. With a father who must have experienced the bitter taste of war, these sounds which sprang from its ashes were like sugar on the tongue. He played them everywhere. "My dad would play them on our way to school," says Adekunle Gold. "I didn't have a choice; I just knew them. And I fell in love straight from there." 
To this effect, 'Gold' feels like driving through the red sands of a Southwestern village. The stories are intimate and the mood effervescent. Adekunle Gold could weave a ballad about being satisfied in love ("Orente") as easily as he justified the potentials of dedication ("Work"). A song like "Pick Up" united the distinct motivations of those records, drawing a straight line through the plea for divine assistance, striving hard to better one's life, and also achieving upward social mobility so as to become a better lover and partner. Commercial success therefore wasn't the crowning feature of the album; it was just another feather in a cap full of them. 
Before he released his debut album, Adekunle Gold had gradually began pushing himself up the levels of popular music. Although he was born to a Muslim family, his father allowed his children to frequent a church. There, he joined the teens choir, which was where he "started falling in love with the idea of making music and singing." 
He met his best friend Michael when his family left Ifako Ijaye, a small neighbourhood in the Ikotun axis of mainland Lagos. Together they formed a band, with the latter producing and Adekunle Gold; the writer and singer. They played at small locations, mostly in churches and bars, soon advancing their respective skillsets and earning early accolades. Adekunle Gold auditioned at talent shows such as Peak Talent Show and MTN Project Fame, but he never made it through the trials. "But all that didn't stop me," he says now with triumphant verve. "I just kept working on my own sound, trying to create a lane for myself."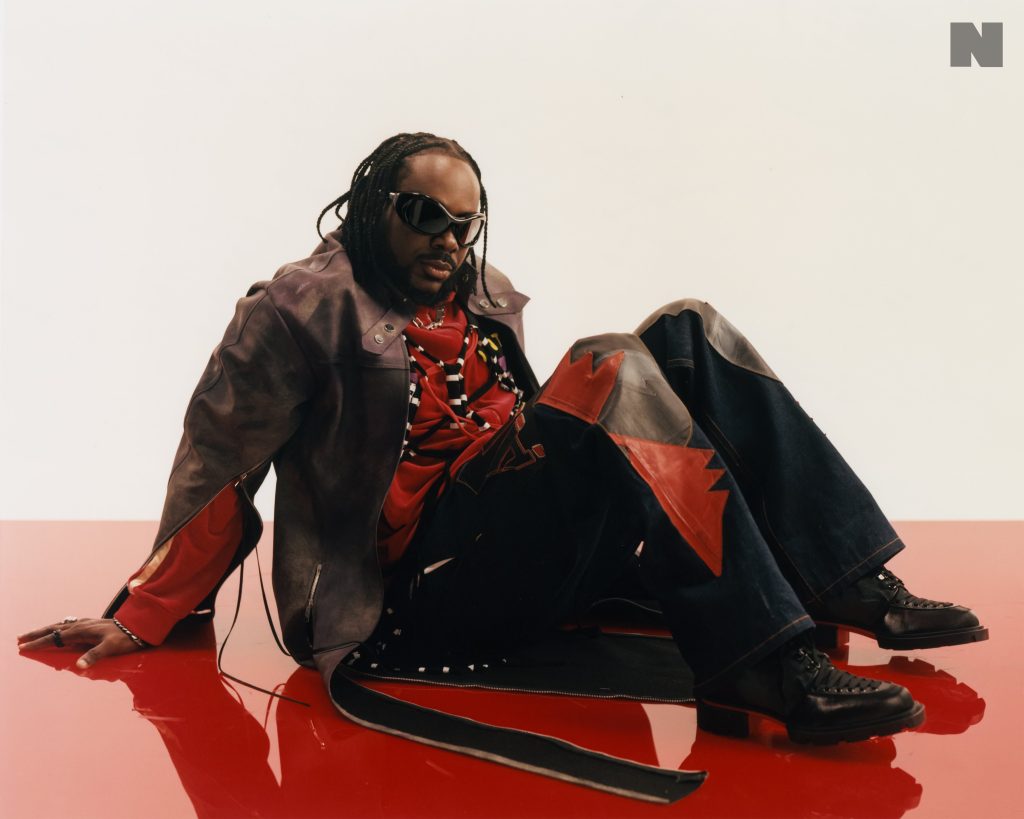 With the success of 'Gold', there was little need for immediate change, at least to the casual observer. But Adekunle Gold wasn't going to remain complacent. He admits that he was concerned about moving towards pop music, but he forged on anyway. "It's about my art first, like it's my offering, you know?" he says. "Either you like it or you don't. That's okay. So that was kind of my energy then. It was terrifying to switch, to change what was working, but I did it anyway."
***
Adekunle Gold's success today is as a result of the strong dedication and overwhelmingly strong sense of purpose he channels into his personal and professional advancement. "I just knew I loved art generally," he says about his childhood interests. "I knew I was excited about the idea of making music. I sang everywhere in the house, even though my parents always scolded me about making noise but I'd do it anyway. I was never afraid to put myself out there."
Taking it back to where it started, he recalls the days where a close family member helped him to make that first step. "She was in a choir, some church she used to attend," he recalls. "So, she would sit us down and she would teach us different harmonies. That's the only person that encouraged it and I was the only one in my family that really picked up on it. My sisters just did it as something they loved as well but for me, it was personal. I loved it, a lot more." 
While music was his first love, he also nursed a strong affinity for the arts. As the son of a sculptor, he was influenced to study Art and Industrial Design at Lagos State Polytechnic University where he majored in Graphics. He also spent considerable time indulging in other artistic endeavours such as textile and sculpting, before gaining an internship at a photography studio where he perfected the Photoshop skills that featured on his early Instagram feed. After school, he gained practical work experience with leading local brands such as Jumia and Konga. "These places helped me because it was my 9 to 5, just designing and editing pictures," he says. "And I did a lot of freelancing, I did a lot of logos." 
At the same time, the gospel of YBNL was sweeping through the streets. Olamide's mercurial figure had translated into a record label which aimed to dominate the country, starting from the southwest. A crucial way of achieving that was through establishing its visual identity, and through the photoshopping skills Adekunle Gold shared online at the time, the rapper reached out to him to design the YBNL logo. He would also design covers for other YBNL artists, creating the framework through which its never-die ethos thrived. When "Sade" was released in 2017, Olamide contacted him again and the partnership was sealed in sound. 
Till this day, Adekunle Gold has designed all his album covers by himself. He's the inimitable hand behind the sepia-toned portraiture of 'Gold'; the urban-evoking tautness of 'About 30'; the remarkable singularity of 'Afro Pop Vol. 1' and the orange-hued melancholia of 'Catch Me If You Can'. Even the nature-flecked frame of 'Tequila Ever After' demonstrated his awareness for colour and atmosphere, all of them being works of art in their own right.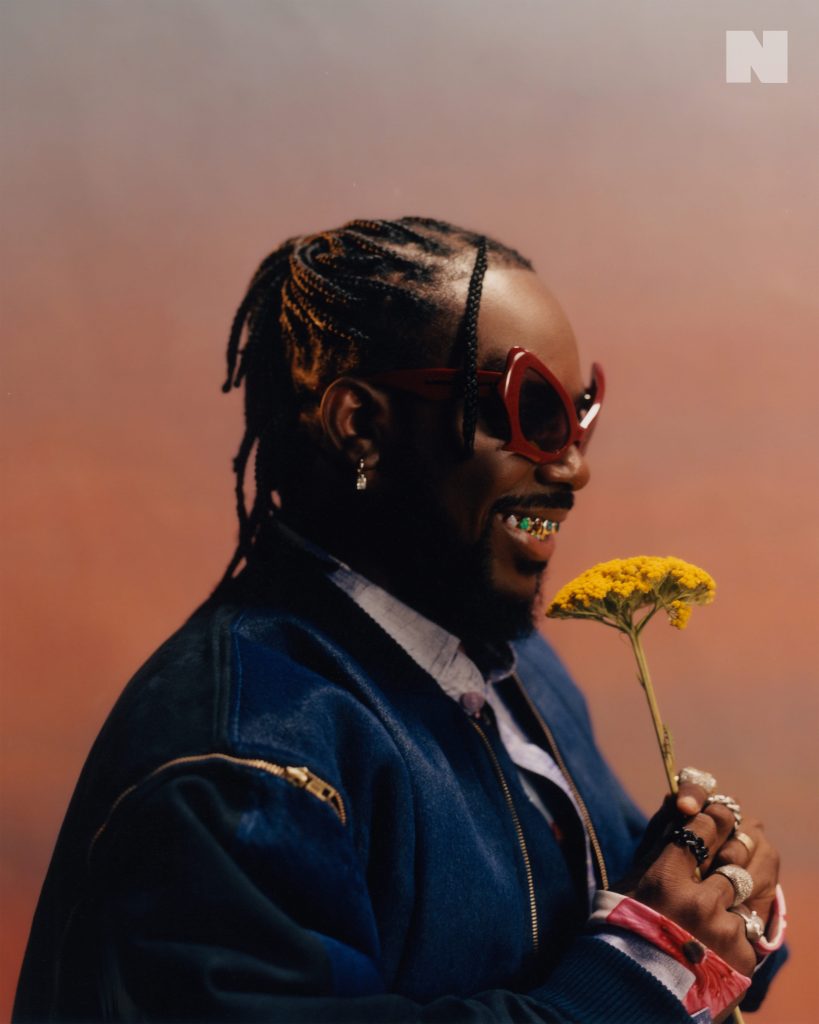 "What do you provide in this particular context that other designers can't?" 
"Let's just say it's how I still keep myself grounded as a creative," he responds. "If I don't design for myself, I don't have time to design for any person, right now, right? Because I love graphics a lot, I love the idea of brand development and all. And it's something that I studied; if I wasn't making music, that's something that I was doing before music picked off. That's one angle to it. Also, it's hard to explain my ideas to people. Most people don't get it, and that's not to shit on anyone's skill, it's just harder to explain; I might as well just do it myself. It's even as deep as photographers not getting my editing right and I explain, explain—it gets tiring." 
**
For as long as he's been aware of art, Adekunle Gold has always led with a keen eye on painting the full picture. Beyond designing his album covers, this also manifests in his intentional approach to his overall branding and strategy. When he made his entry with 'Gold', the aesthetic was that of the guy next door–an alternative Nigerian artist who feeds the fancy of both mainstream pop channels and traditional folk and highlife predilections. He paired adire prints with beaded jewellery, his hair combed into an afro crown. He seemed like the guy you could bump into on the street, and both of you would frequent a nearby restaurant to devour a plate of amala and ewedu while going over the mundane details of your respective lives. 
That version of Adekunle Gold appealed to the sensibilities of everyday Nigerians, young and old people alike. He was a breath of fresh air in an industry full of smoke and mirrors. With 'About 30', he still retained the everyman aesthetic, but was parsing it through an urban perspective. In place of the afro, he now wore a cap, the adire shirts traded for exquisite pieces. That sophomore, in my opinion, is the most important body of work Adekunle Gold has released. Accommodating both his past and future, it was a masterclass in evolution, demonstrating the peerless ability to reflect the variant sides of him with equal depth. 
On a musical level, the album also opened him to the gaze of the public in a way he had not previously experienced. "Because I got so much love from 'Gold', I had no idea what criticism was," he says. "It was until I dropped 'About 30' that I started to get criticised. So, for the first time, I just learnt to take the good from criticism and not dwell on it. People found out the album for themselves; I felt like a lot of people reacted to things that pundits said and later found out the album was really good. So months after it was released, I started getting the accolades for it."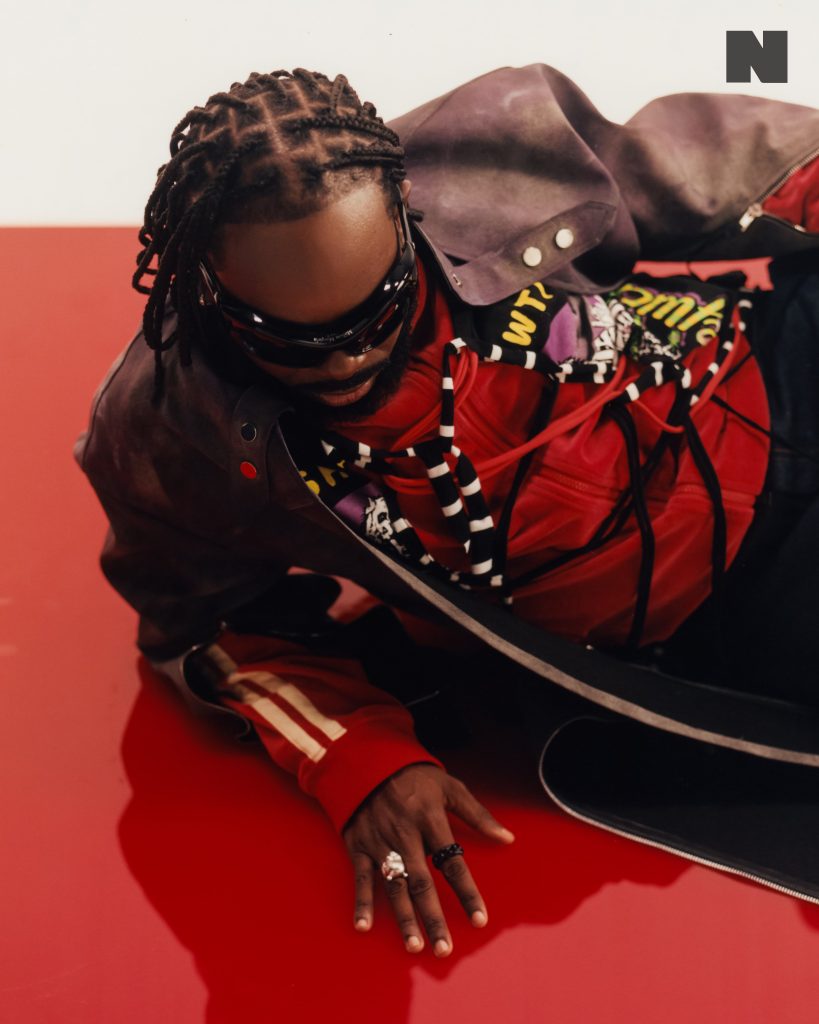 By the release of his second album, Adekunle Gold's contract with YBNL had come to an end. Having contributed no small deal to the label's gargantuan wins on the national front, he was free to chart his own path; this time, with more experience than he entered the game with. After taking a much needed break, he returned to music with a new vision and began crafting afropop genres into Western-defined pop songs. 'Afro Pop Vol. 1' relayed that growth, a concise body of work that advanced the didactic motions of his earlier albums. Living the good life and being at peace with oneself was the focus of his new persona, AG Baby. "It made me do a lot more," he says of that new act. "I felt like it made my personality more fun. It opened me to more opportunities and new demographics."
This era marked the beginning of pop star AG, and as always, his fashion was in-sync with the music. In the music video for "Something Different" and "Okay", he donned intricately beaded braids, the clothing decidedly more upscale. You wanted to reach out and touch him. To feel the muscular formation of his physique, to become closer to that celebrity allure he now effortlessly exuded. 
Adekunle Gold always had an affinity for fashion, right from his youngster years. He recalls loving prints, putting pieces together to achieve the swag he wanted. "Even before Adekunle Gold, I've always been a vain guy," he tells me. "If you see my pictures from earlier years, you can tell. So I just knew that I needed to be able to afford the lifestyle that I wanted". 
Even with this taste for high art, he's a champion of simplicity. "Whatever I feel looks good on me, I try it on and I just rock it," he says. "You know, fashion is comfortability. Fashion should never be pain". He's inspired by Nigerian brands, which he wore on the visuals of his album's promotional single "Ogaranya." Included in his favourites are Orange Culture, Banke Kuku and Kemakolam, who's a childhood friend of his and a longtime design partner. "I'm a fashionable guy and I just love analysing designs and everything, so it's just natural for me to look good."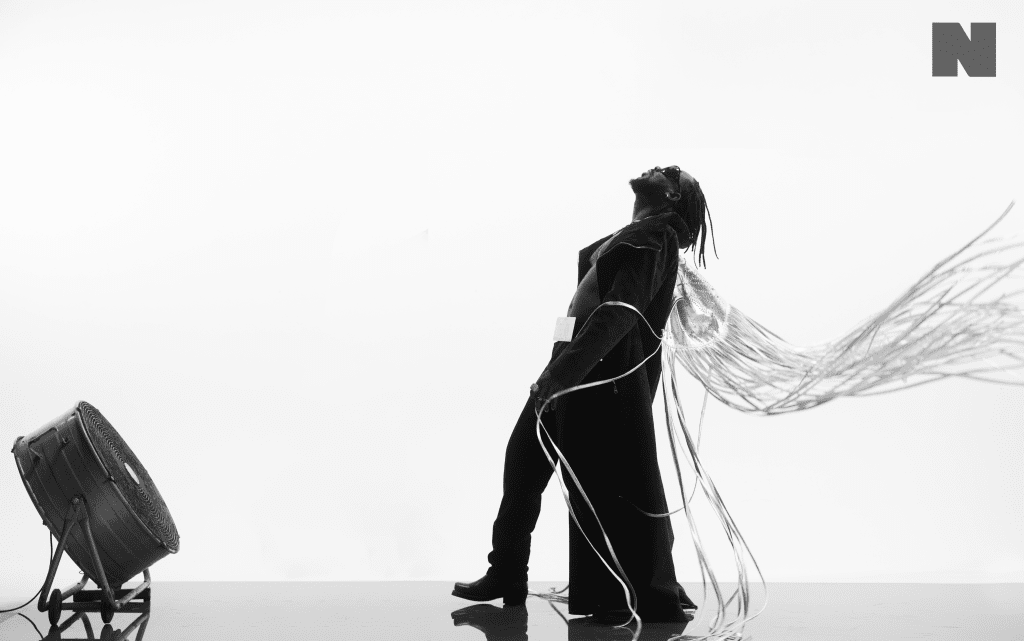 **
Last year in April, Adekunle Gold discovered tequila. He was in Los Angeles working with new producers and inviting them into his world, allowing himself time to unwind and craft a new vision. "It made me feel good," he tells the NATIVE. "I wanted to describe the feeling of tequila. The way tequila made me feel that one time; I wanted people to feel the same way with the music. The songs that I made for this album are lighthearted and conversational; they're conversations you have with friends when tequila kicks in." 
The creative process was as fun as you'd expect. His collaborators were usually in the studio, during which he and his collaborators would drink tequila, talk honestly and make music. Often, the music was the least important aspect of those meetings; as AG's focus was on creating a relaxing atmosphere and letting the truth shine through. 
Tio means 'uncle' or 'mister' in Spanish. The singer adapted the term because it encapsulated those sessions and how he felt in those months making music. "How else do I describe myself as a tequila man?," he shares. "Tio made sense, and I love the sound of it. I've been enjoying my time, going clubbing and having fun with friends. So I guess it's just reflecting in the music." 
True to his words, 'Tequila Ever After' is a sprawling album of celebration and pride in his abilities. He created over sixty records for the album and chose the "hardest eighteen," he reveals. On those records, his music pulses with transparency; saying the quiet parts out loud while letting other voices weave in, over, and through the beats.  Hear, for instance, the liquid serenade of Ami Faku's vocals on the meditative opener "Chasing Peace of Mind," which also features the Malian folk legend Habib Koite. Moving with the assured flagrance of a ballerina, the song's warmth sets the mood for what to expect throughout the album. 
As though charting previously uncovered terrain, each song on 'Tequila Ever After' bursts with ingenious energy, with detailed touches revealing the craftsmanship of Adekunle Gold. On "Soro" he compares himself to Osadebe, the previously mentioned Highlife icon, urging the music to build around him with cadences which evoke the activity of dance. He steps into the dancehall for "Wrong Person," establishing the grit of his persona alongside ODUMODUBLVCK, an artist whose brash confidence has been the mark of his breakout year. "Nothing you do go tension me, you messing with the wrong person," he sings with a reservation that truly underlies his potential, the calm before the storm. International acts Khalid and Labrinth feature on "Come Back To Me" and "To My Own" respectively, their breezy contributions highlighting the atmosphere of Adekunle Gold's poetic frame, whether it's a plea for a lover's return or the realisation that one's safest home is themselves, bare in all their qualities and insecurities, yet forging through with resolute belief in the beauty of existence. 
With five albums deep into his career, he's confident in the form. It's this self-confidence that's palpable on earworm records like "Party No Dey Stop" featuring Zinoleesky and "Sinner" with Lucky Daye, allowing his music for the most part to create his narrative. Having the power, confidence and belief in your talent, enough to mould yourself into the musician you aspire to be, is admirable in a day and age where the industry is saturated with new acts looking to get their share of the audiences' attention. Adekunle Gold has faced no problem gaining his own share of attention; with his songs which gain residency atop the charts including the Billboard World Chart and TurnTable Chart, Nigeria's premiere music charting system.
On 'Tequila Ever After,' he returns to the duet form, for the first time since 'Gold' featuring his partner, Simi on a track titled "Look What You Made Me Do," which he candidly shared to his social media followers through a behind the scene video earlier this month. "I told her, I said I wanted to feature her on this one, and I wanted the best duet," he says about the collaboration. "So, whatever it takes to get the best one, if it means writing ten songs before getting there, so be it. And that's what we did. We wrote five songs together before we got to "Look What You Made Me Do," the album's thirteen track."
Speaking about how 'Tequila Ever After' challenged his creative process, he shares, "It made me realise that I can outdo myself. My previous albums, I would just write a couple songs and I would settle for that. On this album, I was a lot of things; I had my rapper moment, I had my reggae star moment, I had my pop star moment, I brought my Highlife back. It's different versions of me and I'm proud of myself for being able to pull that off."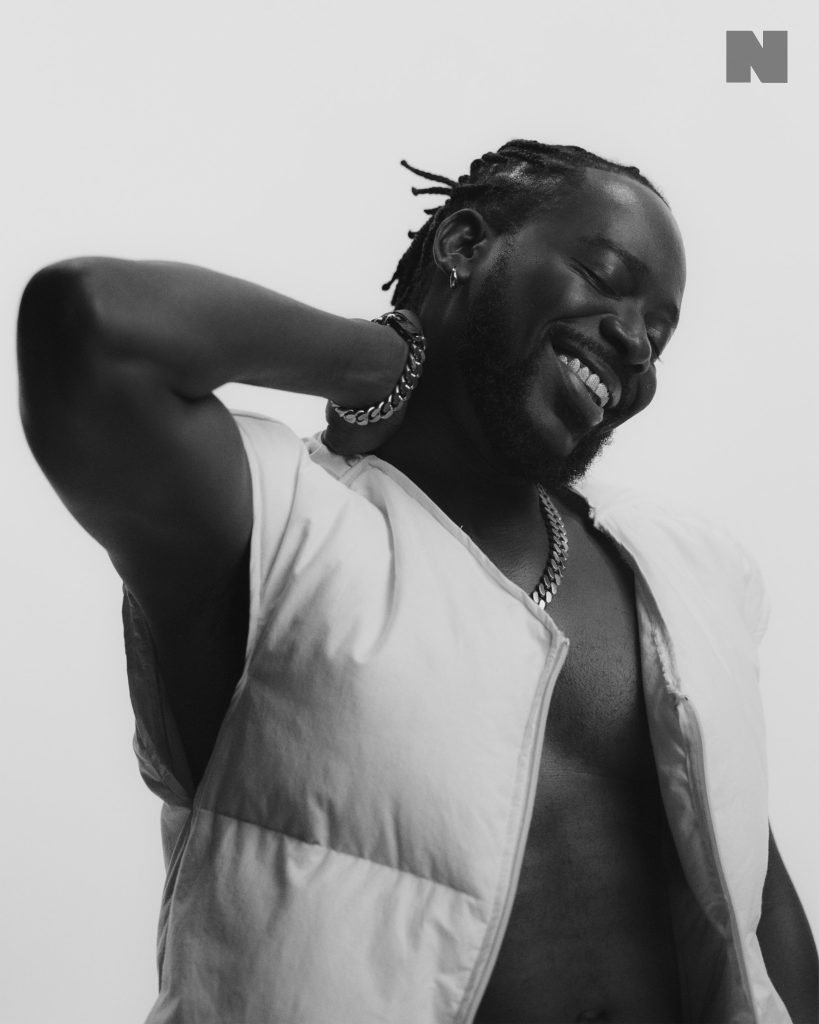 As always, the moments behind the project are ideated by AG Baby and his well-oiled team, led by his manager Elizabeth Sobowale. "My manager and I come up with a lot of ideas and we execute them," he reveals. "All of the things that you see me do, comes from both of us first, before it gets to the larger team at Def Jam. Most of the videos are our ideas and then we tell the director—album art, everything. We think of it and I design sometimes and all of that". 
'Tequila Ever After' is also the singer's first major label debut with Def Jam Recordings. Like many things AG, there was a personal precedent to the deal. He'd met Tunji Balogun during the promotional run of 'About 30' and when the music executive became the CEO of Def Jam Recordings, he wanted Adekunle Gold to come on board. As fate will have it, when the time was right, AG was welcomed to Def Jam's all-star roster. "It's an amazing feeling to be with a company of people that care about your music," he says. "They care about me and we've been recording successes together so far". 
**
In conversation, Adekunle Gold comes across as extremely thoughtful and self-aware. He peppers his responses with nuance and anecdotes, revealing his deep involvement with his own creative process. In his new arc, he's more attuned to life's ebbs and flows; he takes his morning walks seriously, to get into the right frame of mind before the hubbub of the day begins. He's a dedicated reader, especially audiobooks of self-help titles. "Every night, every morning, I listen to them; on the plane, I listen to them," he says. "It's a crazy world that we live in and as a creative, I need my mind in check. And I listen to sermons from pastors, sometimes."
On the other end of the literature spectrum, Adekunle Gold is also a writer. For years now, he's sent newsletters to his legion of loyal fans. "I've always believed in personal touch, even as a marketer, when I was working with Mobiliser," he says. "In earlier years, when I released 'Sade', I would DM fans that respond to my music, I would check on them, I would make posts checking on people asking how they're feeling; randomly on Instagram I would call some of my fans, I would drop my phone number for people to call me. I've always done that. My newsletter is just a way to check in on my fans, remind them of their purpose, also keep them up to date with what I'm up to, and it's been the best thing for me."
Talking to Adekunle Gold, his refreshing perspective is illuminated. "I just remember that I'm human first," he says now. "That's the most important thing for me; just knowing that before all this, I'm human first. Just staying human; that's the best way I see it."
The best way to glean this humanity is through the world he and wife Simi build around their young daughter Deja. As a family man, this is an essential aspect of his purpose. "I mean, I have respect for my family and I take that away from work," he shares. "I only let you know what I want you to know. I'm not one to put my business out there; it's important for me that way." It's a delicate balance in modern day artist-fan relationships, particularly given the proximity that social media affords music fans but this is a part of AG's life that he's come to master. The music always comes first, his fans next; and constantly improving his skills. This formulaic reaction to life showcases a talent widely adept to the ever-changing world with undeniable versatility and incisive vision. Above all, Adekunle Gold is an artist who hasn't run out of stories to tell.
With 'Tequila Ever After' on the horizon, his future shines with new promise. "I don't know what it holds yet, but I know it's onward," says Adekunle Gold as we wrap up our conversation. "There's so much more, there's so much more that I have to offer. I'm not done; I'm definitely not done, there's so much more coming. As I grow, as I learn more about me, I'll put myself out there more. My experiences, I'll put into music. There's just so much more to do, and I'm looking forward to that time."