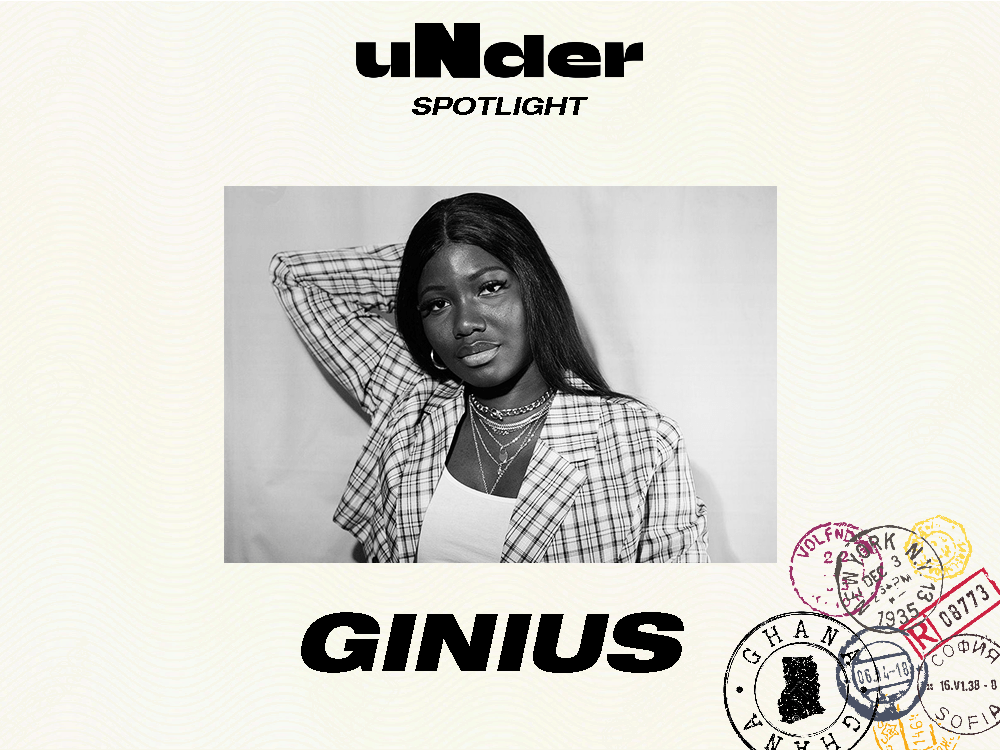 uNder Spotlight: Ginius keeps growing forward
Ginius wants to remain authentic as her ambitions continue to grow
---
For most of her life, Georgina Baker saw the alchemy of instrumental arrangement and the behind-the-boards control of music production as the exciting part of the music-making process. "When I started this music journey, I didn't want to sing," the British-Ghanaian artist, who makes music with the moniker Ginius, tells me over a video call. "I just wanted to produce, so that's why I learnt how to play the piano and the drums. I never started out music like I'm going to be the next Beyoncé or the next Tiwa Savage, I was thinking more like, 'I'm going to be in a room with Sarz.'"
That admission, described with a zest that makes me think she still believes in music producer supremacy, colours the refreshing perspective that guides Ginius' artistry. Tellingly, that bias is because she started out as a producer, but the origin story stretches further back to her early adolescent years in Ghana, when she was "the weird girl playing congas in church." Drawn to music from a very young age, Ginius took a keen interest in rhythm, learning how to play local percussions from a musically-inclined uncle. Those formative years planted the seeds of making music, but it wasn't until her early teens that she started watering those seeds.
View this post on Instagram
"When I moved over to the UK in 2010, that's when I started learning about DAWs. Everything I know is self-taught," Ginius explains. While figuring out the technological tools required to make music, the then-budding producer also had to learn the rudiments of melody, and that required learning how to play the piano. "The first song I actually learned to play on the piano was "Price Tag" by Jessie J," she fondly recalls. From replaying the bright chords of a hugely popular hit, Ginius began remaking beats. All the way down her YouTube page, there's a remake of J. Cole's "She Knows" from mid-2013, a reference point for the number of years she's been honing her craft.
In Afrobeats—the catch-all term for pop music pioneered between Ghana and Nigeria—everyone knows that the swing of the drums and the patter of the percussion are a definitive part of a song. As much as the rhythm brings the groove, the colour of a song is almost always dependent on its melody. In the years of learning to play to the piano and remaking beats, Ginius was training her ear for melody and, even though that meant some level of deference to British pop, American rap and whatever else caught her fancy, it was a necessary period in helping her properly appreciate the multi-element nature of music and understand her own possibilities as an artist.
"I've been in this music thing from time, but it's when I understood the music theory and merged it with all the drumming, that's when I decided to start making music that's true to me," she tells me. The way Ginius explains it, there's never been a time, since moving to the UK, that she's not been plugged into the pop music trends from back home. During the Azonto heydays and the early superstar days of Wizkid, she wore love for pop music from Ghana and Nigeria like a gold badge, even though that meant being teased by those around her. "I remember when I moved here, I was called the African girl because I couldn't let my Africanness go, and that was before they were all out here singing "Essence"," she says with a big laugh.
For Ginius, becoming an Afro-fusion artist was really the only option. She was already making her own beats as the last decade wore on, and would pull influence from any and every contemporary style of African music that caught her hear, from mid-tempo highlife-influenced pop to Gqom. Mostly creating in private and with few collaborators, her goal was to work her way into conversations of producers helping to move African and Black UK music forward. "For a while, I thought I was weird because they weren't any female producers I knew of," she tells me. "Then I heard of someone like Wondagurl and I just figured I'd keep going."
Somewhere along the line, though, singing became a prominent thing. The nudge came from a producer friend who would always ask Ginius to help with vocal reference for singers he was working with. "You know you have to sing, right?" she recalls his words. After repeated reminders of the same sentiment, she finally decided to record. Using one of those headphones with an attached mic, Ginius made a song and immediately uploaded it to SoundCloud. Seeing the positive comments trailing it, she decided to record more songs while setting up her home studio one piece of equipment at a time.
In 2019, she officially debuted with "30 Seconds", an easy and brawny Afro-swing cut featuring rapper Zee. On the song, the raw potential of Ginius' honeyed voice is evident, and she continued to refine with subsequent releases, like the early 2020 single "No Sponsor", another Afro-swing track but with a lusher feel and a more assured performance from the green singer. In the months that followed, Ginius skewed more experimental, asserting herself as a producer even as she was gaining more ears with her voice. There was "Che Che", a mostly instrumental Gqom track, which was followed by 'Happy to Be Outside', a 3-song pack leaning into Amapiano just as the South African dance sub-genre was beginning to gain wider notoriety.
That mini-project, released in the pandemic-wracked summer of 2020, set the initial bar for Ginius as an increasingly competent singer and a producer willing to be influenced by whatever sound catches her fancy. In the following year, she raised that bar with 'How It Feels', a romance-themed EP with a much more diverse palette than its predecessor. On its six songs, she sang of the giddy highs that accompanies being deeply enamoured by a person, the EP forming a soundtrack to that sometimes nebulous middle between a talking stage and a honeymoon phase.
Growth is the guiding force of Ginius' career as an artist. Having spent years learning to produce, and still in the process of fully wielding her voice, the singer and producer is focused on incremental development with each new song or project she puts out. It's why her most recent project, 'Her Notions Since '97', is easily her best and most rounded effort yet. From the breezy oeuvre of "Feels like Magic" to the intoxicating lilt of "Secret", Ginius finds an impressive balance between strengthening her abilities as a captivating singer and relatable writer, curating a colourful sound palette to augment her voice—with external production work on half of the eight songs—and making a case for herself as a star.
"The growth from my last tape to this tape is very intentional," she tells me. "As much as music is something I feel the rhythm is a part of me, I'm also being like, 'I need to up my game here', because I've got eyes on me." For 'Her Notions Since '97', Ginius matches the technical refinements with a wider thematic interest, in a bid to "make something that helps all of us feel good." On the Joker-produced "Melody", she crafts a buoyant ode to chasing success and generally expels bad vibes, infusing her lyrics with lines sung in Twi—which she explains came from reminiscing on Jama raves back in Ghana.
"As much as I'm influenced by the UK sound, Afro-swing and all that, I'm still very, very, very in touch with the music from back home," Ginius says just after we switch to Google Meet—our time limit on Zoom had been exhausted. "I genuinely pull influence from Africa, and I lived in Ghana all those years, so the culture is still a part of me. If you deep my tape, I work with a lot more people back home than here, because the authenticity is back home."
View this post on Instagram
During the course of our conversation, authenticity is a word that comes up multiple times. Beyond her reverence for the home-grown sources of Afropop, Ginius proclaims her admiration for artists who've been able to reach their own version of success without bending to fit whatever fits the mainstream mould. She references the scenic route Burna Boy took to reach global superstardom, the niche Show Dem Camp have created in the last half decade, and Tems' recent explosion into global fame while still controlling her sound as a producer. Ginius sees the authenticity that's the denominator amongst these acts as a trait worth emulating, deeming this period in her career as the time to pay her dues as she works towards her big break.
"For someone who's just finding her way in the game, I'm happy with what I've achieved so far," Ginius says wistfully. Currently juggling a 9-5 with her "expensive" music career, the singer and producer is working her way through the rigours of turning her passion into notable successes, and she's confident that she doesn't need any gimmicks to improve her chances of impact—after all, more ears tune in to her with each new release. "I get that it's a business, but music is something within you that should not be played with, and I feel like it's going to come out right if you're true to yourself."
---