Words: Debola Abimbolu
Photography + Styling: Stephen Tayo
Special Thanks: XII Glover
I could see Divine Ikubor – now strictly known as Rema – riding shotgun through the clear glass window frames of the Hyundai he pulled up in. I only arrived at the venue of our meeting a few minutes earlier so either I was finally getting a hang of the fashionable celebrity timing or I was about to interview the most down to earth teenage celebrity ever.
One of the two guys who accompanied him stepped out so I went over to introduce myself.
"Oh, you're the one interviewing the king of the charts."
He wasn't lying. Rema's self-titled debut EP, his first outing since signing to Mavin Records, has been a streaming behemoth. Less than a week since its release, "Dumebi" the standout cut was number one song on Apple Music, with all 4 tracks on the EP featuring on the streaming platform's top 10 chart in Nigeria.
Rema stepped out of the car and we quickly got acquainted, before he was whisked away by a hairstylist who seemed eager to get her hands on his jewellery adorned dreads. Like me, she had heard his project but was more fascinated by his Instagram account, which offers more of an insight into his true personality.
"When people see me, they think I grew up abroad but I actually grew up in Benin. You know there's no Shoprite in Benin," he tells me rather bluntly, as Ewa, his hairstylist for the day, gets to work. Rema is alluding to his style, which is distinctly not what one would associate with Benin, or a traditional young Nigerian at all. With his just above chin-length dreads embellished with dangling crucifixes, his iced out double chokers, his impressive ring collection; Mavin's new golden-child is more Zone 3, Atlanta than Ugbowo, Benin. His natural cadence and musical leanings are more Young Thug than Korede Bello. And in that, Mavin may have unearthed a gem.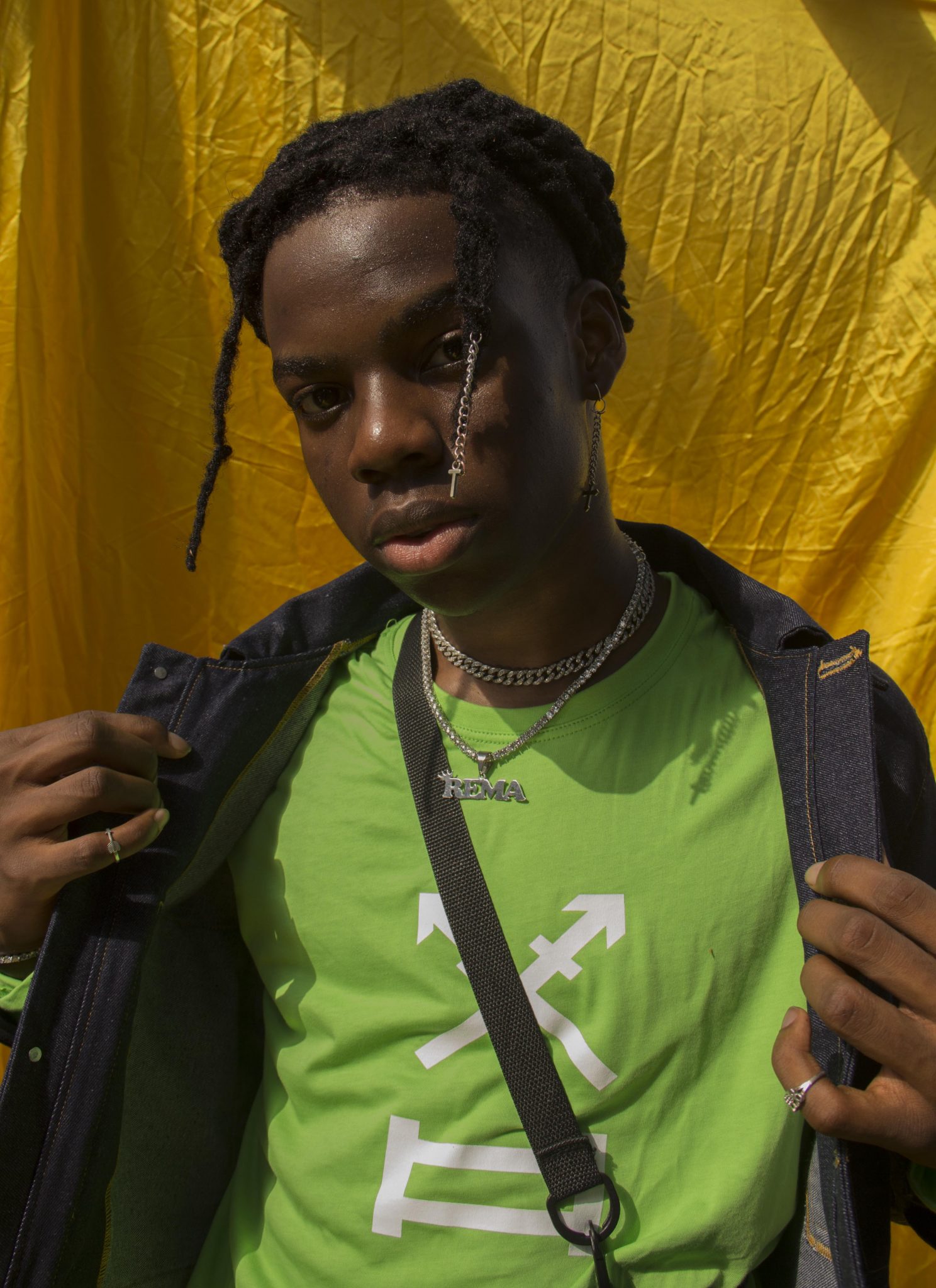 Rema has been making music in Benin since he was 11, starting out as a rapper in a church group but eventually changing his sound to fit the popular sound in his community. "They told me if I want to make it to Lagos, I have to sound commercial. I tried to vibe to it but I wasn't really good at it." Eventually, his fondness for subverting the conventional and drive to be distinct led him to look to social media where his hip-hop leanings were more appreciated, sharing free verses and partaking in music challenges to grow his audience online. Cue D'Prince's "Gucci Gang" challenge, and the 1-minute freestyle that got Rema the attention of his new label boss.
"I remember being bored on that Thursday. I'm just happy my eyes were open to the opportunity because I actually wanted to scroll past it. I had never freestyle'd over any Nigerian beat before then."
D'Prince liked Rema's entry enough to ask him to come over to Lagos and has since helped the young talent hone his Afro-Pop sound – something that he himself had to do when linking up with Mo'Hits way back when.
Rema admits he's finding his feet in the Pop world, but credits some of that success working with producers who are willing to step outside of the box . "Ozedikuz told me that he's tired of the artists [he usually works with] because they just want him to makes beat like Wizkid or Davido or like Kizz Daniel. He played me some rare beats that aren't regular. Like 'Iron Man', it's not a regular beat. I didn't even understand it but I did what I had to do," he says, describing how they combined Bollywood score inspired harmonies with a hybrid of street rap and pop music.
But Rema's catchy new sound wasn't achieved overnight. "We rehearsed for months. Day by day, I got better. Then I when I stopped taking it so seriously, it just started coming naturally." The result of months of practice can be heard on "Dumebi", a chart-topper he tells me he didn't expect to do as well as it has done. "I didn't even pick the song for the EP. I wanted to release one song but D'Prince told me Don Jazzy said I had to release two after we already dropped 'Iron Man' a couple of days before."
The way he tells it, the beat for Dumebi had been refused by three big artists he spared the embarrassment of naming. When he heard it, he freestyled to it on the spot, hoping to return to add finishing touches later. But to his surprise, D'Prince liked the raw vibe of the song. "He said I didn't need to put actual words. He said I could leave it and I agreed since I wanted to sound different anyway. A lot of things don't make sense on the song but it's number one on iTunes. It's crazy."
Rema laments about how it's been over a decade since anyone broke out form Benin City. He lists his early success as not just a win for him, but one for his hometown. This isn't just a win for Rema the artist – it is one for the 10 year old Divine Ikubor, who had just lost his big brother, barely two years removed from losing his dad. That day, he vowed to make something of himself. Originally drawn to the intergalactic sound of Daft Punk, Rema was driven to seek out music that aligned with his new psyche. As much as he appreciated the popular music being blasted from the radio at home, he was more aligned to the rock music and American cartoons. "It just always made me feel like I'm not supposed to be under my mum's roof. I'm not supposed to be eating my mother's food right now. I'm supposed to be somewhere doing great things. I just woke up and felt like I was the chosen one."
Rema may only be 18, but he clearly knows what he wants. Perhaps this is why his current situation at Mavin is working so well for him. He understands why onlookers may have reservations about signing to major labels, he admits as much: "I am actually scared of deals, but then I heard some of the plans they had for me, and it aligned with my vision." One notable point that can't be ignored is the disparity between Rema's intoxicating freestyles delivered on his social media pages – the ones which grabbed the attention of the whole industry – and the Afro-Pop dominated which dominates his debut EP. But Rema believes in timing, and refuses to box himself in: regardless of which version of him anyone prefers.
"They [Mavin Records] accept my sound for what it is; crazy as it sounds. The trap and the rock and everything. Most people would try to change your sound but they believe in mine. I'm not scared of dropping any type of song cause I'm very confident. Everytime I get in the studio, I create something crazy. I'm ready, I'm talented, I record as much as I want, I release as much as I want."
When I push him a bit harder on conforming to the popular sounds of the day instead of being true to himself, he takes a moment to think before letting me in.
"We're planning a build-up. The less complicated ones first. The Iron Mans, the Cornys. We're just grooming Nigerian ears so when it's time to bring out the real deal, they'll help us push it to the world."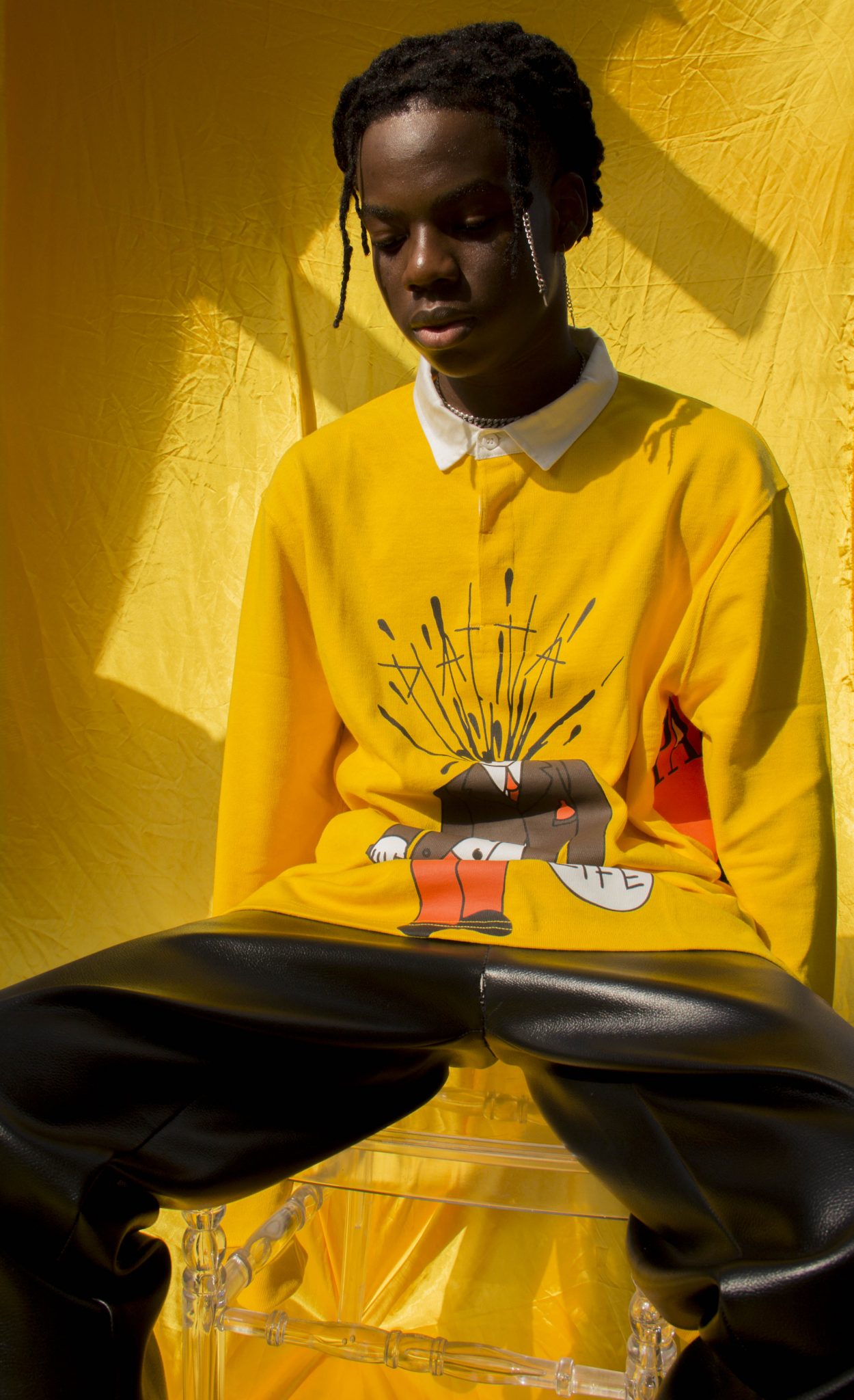 As he broke down the marketing plan for the EP and beyond, Rema seemed well in the loop of the day to day running of his music business. Even though his manager was around during our conversation, he mostly slunk in the background, making his presence felt only when Rema needed something.
Despite the recent multi-million dollar investment from Kupanda Holdings into Mavin, it does not appear that there are many outside influences when it comes to the creative side of the business. Rema deals most directly with D'Prince, and that seems to give him a level of tranquility, knowing his mentor will always look out for him, as he himself was once where Rema is now: a young, fresh-faced artist, trying to convince a whole nation to try something a little bit different.
Rema holds up his name-branded choker chain to the flashing light of the camera – it may or may not be a a VVS, but it sure looks like one. As Stephen Tayo, the photographer and stylist of the day, coaches him through the looks, a small gathering has developed. The staff from the neighbouring shops are all sneaking a peek at the boy who has the world at his feet. There's this feeling you get when you meet a star before they fully soar. You want to savour the moment, because you know it may not come again. This time next year, Rema probably won't be riding shotgun in a Hyundai. This time next year, I probably won't be guessing if Rema's chain is a VVS. This time next year, Rema's masterplan will be in full motion.
Divine Ikubor has put Benin City on his back, and he's ready to take them to the world. I wouldn't bet against him.