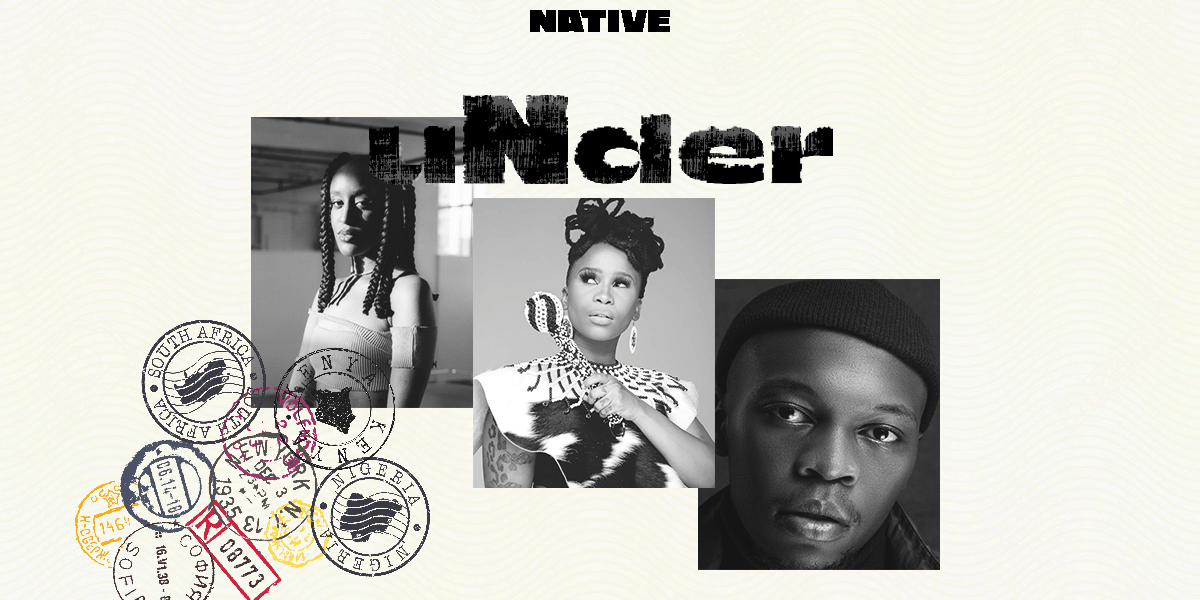 uNder: Best New Artists (April 2023)
Featuring Morravey, Mysie, Karyendasoul & more.
In the past five years, the NATIVE has keenly explored, championed and identified the wealth of rising talent on the African soil extensively. From the underground scenes of Shrap bubbling in Kenya to the dusty log drums of South Africa's revolutionary Amapiano movement to Nigerian street pop's message of hope and perseverance, no stone has been left unturned in our mission to put our readers on to the who's-who of Afropop and her neighbouring sounds.
This month, we haven't lost sight of that vision. Following our partnership with Femme Africa back in March, we return this May with a pretty solid list (if we do say so ourselves) of dazzling talent who are redefining what it means to be a star today. From Zimbabwe's Bantu Spaceship who are pioneering a forward-facing sound that combines the past and the present, to Morravey, a new named and face on the scene launched off the back of the illustrious Davido Music Group (DMW) and Kenya's latest R&B starlet, Zowie Kengocha; there's something in here for every listener. 2023 is poised to be a great year for music, and while there are plenty of new artists that we're excited to watch each passing moment, this is who we think you should have on your radar today. Read the full story below and listen to the playlist here.
LWAH NDLUNKULU
Breaking through the South African music scene can be daunting, although being a well-branded talent surely helps. Ndlunkulu has always positioned herself in that light; about eighty percent of her Instagram feed features her striking face and disarming smile, with her music often playing in the background. Her songs draw from her unique experiences coming through the northern Kwazulu-Natal region in Durban, giving Ndlunkulu's music a distinct identity which has propelled her from regional acclaim to nationwide dominance. In 2020, she was nominated for Best Pop Single at the heralded South African Music Awards (SAMA).
Lwah Ndlunkulu made her bow in 2018 with the locally viral "Mina Nawe," then following up with a series of live performances. 'Ilembe' was released as her debut EP the following year, but didn't quite make the impact she hoped. The Sjava-assisted "Home" would introduce Lwah to the popular scene, bending isiZulu inflections into urgent percussions. With the song's biographical direction polished with a mix of earthiness and dreamy ambitions, it was both a longing to leave home and then return. Ndlunkulu's vocals emerge more powerfully on "Ithuba," her storytelling exquisitely rendered in emotive notes.
Signed to Nkabi Records, her 2023 has been off to a great start: "Ngiyeza" continued her preference for Dream House production, its guitar-laden plains offering soft landing for her expressive melodies. No surprise there, since Lwah learnt to play the guitar at ten years old; now into her twenties, it's remarkable how the several facets of her life are coming together to spur a potentially great music career. At this point, all she needs to do is keep singing.
Emmanuel Esomnofu
BANTU SPACESHIP
Out of Zimbabwe emerges the duo Bantu Spaceship, who are pioneering a forward-facing sound that combines the past and the present. Comprised of Ulenni Okandlovu (Vocalist/Emcee/Journalist) and Joshua Madalitso Chiundiza (Producer/DJ/Video Artist), Bantu Spaceship are drawing inspiration from the music of their childhood—Zamrock, Mbaqanga, Sungura, Chimurenga, Mbube and Jit—fusing them with Western influences in the mould of synth-wave, electro and Hip-Hop. Last year, they released their debut single "Don't Break" via French label Nyami Nyami Records, known for its experimental yet essentially African sounds.
Like every efficient workforce, Okandlovu and Chiundiza complement each other. On their self-titled debut album, Okandlovu's singing and rapping intertwines English and his native tongue, while invoking cultural and spiritual nuances. As the producer, Chiundiza's interesting sonic variations burrow into Zimbabwe's rich musical history, punctuating with tracks with guitar strings here or a bass there. Across the ten-track project, Bantu Spaceship establishes a promise to find newer yet catchy interpretations of Zimbabwe's sonic treasures.
Uzoma Ihejirika
MORRAVEY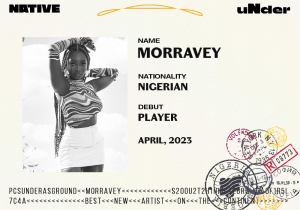 In a world riddled with an endless stream of content, several talented artists struggle to gain the attention of the audience. With dedication and persistence however, you may be—in her own words—as "blessed" as Morravey to debut on one of the most anticipated albums by an Afropop great. At only 21 years old, Morravey caught the attention of Davido with her freestyle of Fireboy DML and Asake's "Bandana." "When I came to Lagos, we wrote some songs together and I recorded some, nothing serious," the singer says of her first IRL meeting with the superstar. "I think he heard it and said 'I love this. This is going to be on my album' and I just froze." As one would expect, that debut appearance on such a huge scale was a momentous occasion for the artist—one she does not plan to waste.
Appearing on a stacked tracklist with memorable showcases, Morravey's appearance on 'Timeless' is stellar. On "IN THE GARDEN," Morrvaey's lush vocals warm up the love-themed track as she confidently lays her intentions bare to her love interest: "Far far in the garden, I wanna give you loving/Be the one to hold my hand, I want you to be my man." However, the track's catchy hook presents a vibrant feminine energy that pairs perfectly with Davido's bravado, making the track deservedly one of the highest streamed since the release. Beyond her talent in the recording studio, Morravey's eminent star qualities shine through her captivating stage presence at the Lagos leg of Davido's Timeless tour at the Tafawa Balewa Square. As we anticipate a bigger breakthrough in the near future, the latest member of Davido Music Worldwide (DMW 2.0) is an artist we should keep our eyes peeled for.
Nwanneamaka Igwe
ZOWIE KENGOCHA
Ever since African music became a global phenomenon, its sound has been impacted by artists in the diaspora. These musicians born to Africans but growing up in diverse places across the world pine for home, and connecting diverse strands of sound, get to create something that keeps their fire aflame. Zowie Kengocha is one such artist; born to Kenyan parents, she's been residing in New Jersey for a while now, going through the regular school programmes and the not-so-regular programme as a musician.
As a young person, Zowie listened to her dad's collection of R&B: Faith Evans, Usher, Stevie Wonder. The 21-year-old also belonged in the choir and has a backlog of song covers on her YouTube page, a foundation that has helped her build her own style. In the last months of 2021, Kengocha released "red flag" and "space." The former was muted, with languid strings underlying the narrative sequence of her writing. As the title suggests, it was a reckoning with toxic loves, and the latter song seemed to expand that storyline, although its shimmering atmosphere was more pronounced. The 2-pack release,'Nightshot', is an immersion in a neo-soul soundscape, further teasing out the drums in "chokehold" and "faq." Both harped on themes of love and self-worth, a thematic signature of Zowie's.
Early this year, she turned up the pace, with NGE-THE-PRODUCER's ominous loops segueing into a disco-esque progression on "Touch." Her first project 'You Never Learn' was released this April, a spellbinding collection of six songs produced by Mark Gerson. Atmospheric without sacrificing narrative depth, it's a fine entry point for Zowie Kengocha, who introduces herself among the generation of East African women changing perceptions of the region's sound.
Emmanuel Esomnofu
KARYENDASOUL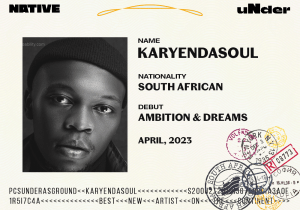 Afro-house in South Africa continues to make outstanding strides in recent years for a number of reasons. While a plethora comes to mind, a distinct cause would be the sheer ability to evoke strong emotions with a series of perfectly arranged keys and rhythms. Producer and DJ Karyendasoul is building a catalogue of inventive deep house, helming songs with an affecting pull and sumptuous, visceral feel. In 2018, he caught his first bouts of attention with a co-production credit on the Zhao-assisted "Any Other Way," a synth-packed highlight on Black Coffee's 'Music is King' project.
Receiving a co-sign from a luminary like Black Coffee undoubtedly played an amplifying role in his already blossoming career, subsequent releases have justified his growing prominence and unique touch in SA's abundant dance music scene. Earlier this year, Karyendasoul released 'We Live 4 Our Music', a 10-track project studded with features from Ami Faku, Msaki, Zakes Bantwini and more. Named after the record label he recently co-founded, the album is a tacit celebration of his cult appeal and consistent focus on turning out music that converses with the SA House mainstream on his own terms. Pulling in afro-tech and electronic elements, the producer crafts a booming yet soulful canvas for his guests to offer balmy performances.
Undeniably one of Afro-House's best kept secrets, Karyendasoul's seamlessly strung eccentric keys and lush chords set him apart from his peers as he experiences a steady rise and dominance. With every release, he reiterates the unifying forces of music and its power to eclipse any language barriers.  
Nwanneamaka Igwe
MYSIE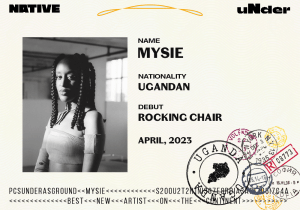 It took Mysie a second coming to revitalise her sound and place as an artist. She first released music under her birth name—Lizbet Sempa—but dropped it when she felt stifled by the lazy comparisons touted within the industry. There were parts of herself, sonic-wise, that she wanted to explore, and so in 2019, she released her breakthrough single "Rocking Chair" with a new stage name: Mysie. She followed it up with her debut EP 'Chapter 11'. In 2020, she won the Ivor Novello Rising Star Award and was assigned Grammy-winning music producer Fraser T. Smith as a mentor.
Mysie and Smith had an instant connection and his guidance helped her dig deep into her emotions as well as emboldened her to create music from a blend of Western and African influences. In her EPs 'Undertones' (2021) and 'joyride' (2022), which Smith executive-produced, Mysie, born in south London with Ugandan descent, sifts through personal collections of love, heartbreak and inner strength over sound beds of indie-pop, R&B and Afropop. For her music videos, Mysie lets her thespian skills shine through, embodying the emotions of the song, whether it be fun-filled like on "gin + juice" or solemn and ponderous on "Keep Up With Your Heart"
In her recent single "Ctrl," an empowering song about "receiving a phone call from an unfaithful ex who aired me for 6 months after saying BRB," Mysie finds a sweet spot between fun and assertive. In the accompanying visual, she utilises a captivating collage of familial joy to strike home the point of the song. (Side note: Mysie's grandfather Israel Magembe Wamala was a member of the jazz band Kampala City Six in the 1950s.) With her career on an upward trajectory, Mysie's music is food for both the body and soul.
Uzoma Ihejirika
---