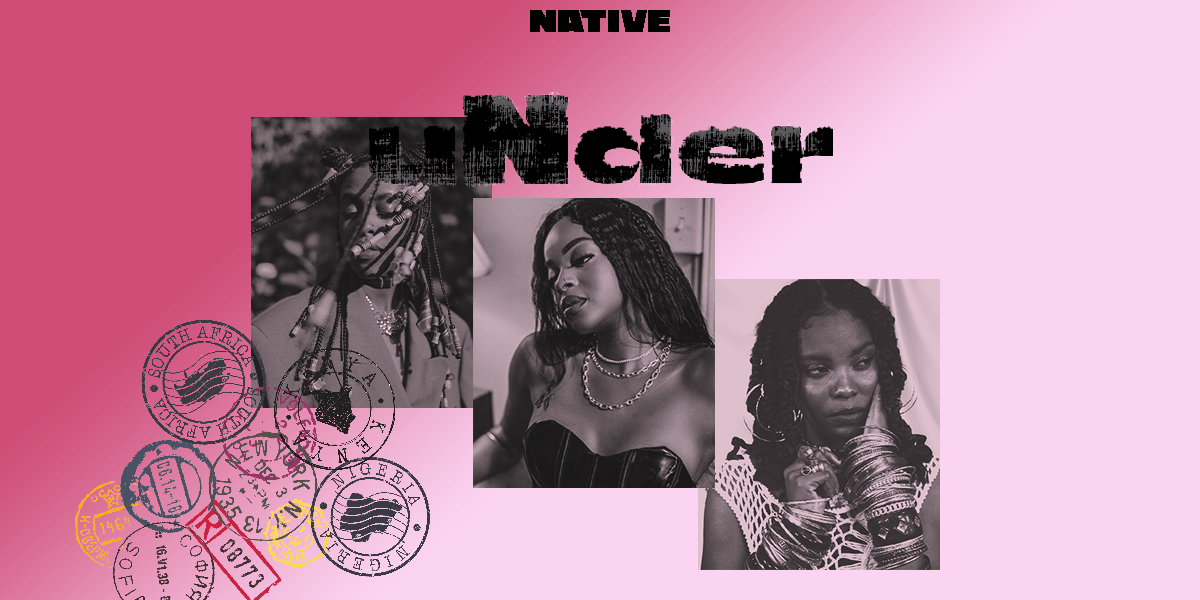 uNder: Best New Artists (March 2023)
Featuring Winny, Brazy, Gaidaa & more
It's no known secret that Afropop is growing at a breakneck pace; from welcoming ascendant stars to garnering the attention of audiences beyond its home and selling out big-ticket venues across the globe. According to the IFPI Global Music Report, Sub-Saharan Africa was the only region to see more than 30% growth, becoming the fastest-growing region for recorded music revenues in 2022. 
Despite this growth, women in Afropop, who have always been an integral part of the culture's fabric, are still being shifted to the background either as decoration for their male counterparts, or pitted against one another, and in some cases, maligned by critics and fans alike. Thankfully, we have community-driven initiatives such as Femme Africa bridging this gap in the industry, and creating a space where artists, producers, DJs, A&Rs, music execs and enthusiasts can harness their skills and talents, and increase their reach through live music performances that endear them to listeners. That's why this International Women's Month, we're partnering with the women over at Femme Africa to present our first-ever women-focused curation of Best New Artists across the continent.
With 2023 poised to be an even greater year for the music coming out of Africa, there are plenty of new women artists that we're excited to watch out for; from bilingual Nigerian rapper Brazy to Ghanaian singer with a voice of gold, Melissa, and Cameroonian singer, Posi, there's something in here for every listener. Tap in if you wish to be that friend putting people on to good music or if you're an A&R, looking for the next best thing, this is the group of artists you want to be paying attention to.
WINNY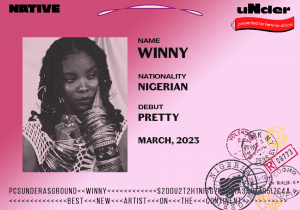 In association with Femme Africa.
Last year, Winny released "Pretty," a riveting track that contained a litany of proclamations bordering on abundance, both financial and emotional. "I'm pretty in my own way/And I like to dey sing what's on my mind/I love broke inna rich way/Stay humble, to make my money with pride," she sings. It's both the lyrics and Winny's emotion-laden vocals that demand attention; the simplicity in her words does not belie the profoundness they carry, and her voice, which reverberates with a certain ache, pulls at the heartstrings. While the Benue State indigene is relatively new to the music scene, a little digging uncovers her consistency with covers of songs from other artists and a 2018 single "Toluwani."
In music videos for her songs, which she calls "short films," Winny also offers visual treats alongside the audio delights. In the Prince Akpa-directed video for "Pretty," Winny favours minimalistic backdrops, allowing her striking fashion style—hair, clothing and accessories—to convey her sense of individuality and expression. In her latest single "Don't Leave," Winny recreates the magic of "Pretty" with a patois-influenced delivery as she shares her fear at the possibility of her lover exiting her life; she encourages him to ignore the detractors and stick by her side. 
The video for "Don't Leave," directed by Prince Akpa, also shares stylistic similarities with that of "Pretty"; both videos evoke the mood of intentionality that runs parallel with Winny's brand of Afro-inspired R&B/Soul. With her debut, self-titled EP scheduled for release on April 7, Winny's journey promises to be exciting. It's a must-watch.
Uzoma Ihejirika
BRAZY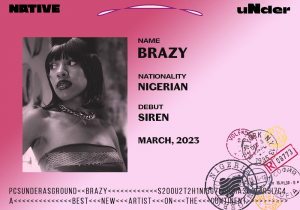 "Attends Shekeleva" was the phrase that had a stronghold on several TikTok users in Lagos and Accra late last year. Off her song, "Attends," Brazy's catchy track, adorned by a witty pre-hook, "cheat on me and I'll cheat on you" made it clear that this rapper was a name that mustn't be omitted in conversations about the next generation of audacious female rappers in the country. But before the Velli-produced track took audiences by storm, Brazy's airy, euphonious vocals graced the intro track, "MATILDA" for Cruel Santino's star-studded album, 'Subaru Boys: Final Heaven.'
Sitting amongst music industry heavyweights in their own right, Amaarae, Gus Dapperton, Koffee and more, Brazy delivered a clutch, stand-out performance, leading her to accompany Cruel Santino on his Europe tour last year. When we last spoke to Brazy, she shares that she randomly decided to record "Attends"—translating to 'wait' in french—before the Paris show held in October 2022 and in 10 minutes, her biggest track yet was born.
However, that wasn't the genre-fluid, bilingual rapper's debut on the scene. Still relatively new to the scene, Brazy's first attempt at music can be seen on the L0la-assisted "Siren." And for all her singles including "1st Place" and "Gingerbread," or her numerous collaborations with other female rappers as seen on "Selecta" or "ARI," Brazy has taken the organic approach to create music. Despite starting her journey out as a means of having fun with friends, Brazy stands out from the crowd not just for her self-assured lyrics and witty penmanship, but also for her eccentric production and sheer ability to create tracks that instantly put you in a good mood. With Brazy already displaying many layers to her artistry, we're excited to see where she could go sonically next. 
Nwanneamaka
MELLISSA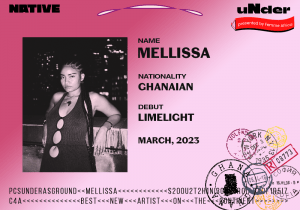 In association with Femme Africa.
With only a few songs under her belt, Mellissa has proven that she is an artist we should keep our eyes out for. While she made her solo debut in 2021 with "Limelight," audiences first got a whiff of Moliy's dulcet, hypnotic vocals on "FEEL A WAY" off Amaarae's critically acclaimed debut album, 'THE ANGEL YOU DON'T KNOW.' Assisted by her serial collaborator and sister, Moliy, Mellissa took Amaaarae's nihilistic party girl anthem to new, unimaginable heights. Pairing perfectly with the two vocalists, the Ghanaian singer's sleek vocals blended so smoothly that they would all be briefly mistaken for one voice. But that was just the beginning of her stellar collaborations as with each release, she proves to be a versatile artist transforming the worlds created to another dimension.
Another clear standout cut, Boj enlisted Mellissa and Moliy for what would be one of the most streamed tracks on his solo album, 'Gbagada Express.' On "In A Loop," the trio go back and forth over the rhythmic, groovy track as they sing of being stuck in the cycle of a toxic relationship. Carrying the track's infectious hook, Mellissa's luminous vocals are especially affecting as she sings, "What we fi do? We're stuck in a loop/Nobody gonna win this game," underscoring the romantic tension which vivifies the record. Reiterating her sheer artistry, she delivers another memorable performance with Not3s on "Hear My Sound," the outro for Ajebutter22's 'Soundtrack To The Good Life.' Still awaiting more solo releases, Mellissa is already a sought-after collaboration with evidently more tricks up her sleeve.
Nwanneamaka Igwe
QING MADI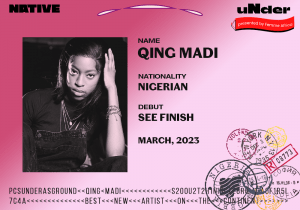 In association with Femme Africa.
Snippets of Qing Madi's 2022 debut single "See Finish" were already floating on her Instagram and TikTok pages before she decided to enter a studio and complete the song. The teenage singer had shared that she was in a bad place when she conceptualised the song as a means to purge her emotions. While gloom is the anchor of the finished version of "See Finish," Qing Madi delivers the song with a mastery that belies her age. "Say I used to be the life of the party/Now the energy inside of me is drained," she sings as she shares her disinterest in the happenings around her to avoid disappointment. It is a sentiment that many people would relate to and Qing Madi captures those emotions with astute songwriting and great vocals.
In her sophomore single "Why," Qing Madi's disappointment is of the romantic kind. She tells off an admirer whose vibes she isn't comfortable with, preferring her solitude. With a Hip-Hop/R&B bedrock, "Why" and "See Finish" offer a peek into Qing Madi's personality and artistry, revealing an artist unafraid to share her truest thoughts. In the Jyde Ajala-directed visuals for both songs, Qing Madi also shares her love for dancing, with the choreographed moves paying homage to the late 90s and 2000s R&B. She's one artist whose name will soon be on every lip.
Uzoma
KEZIAH MALLAM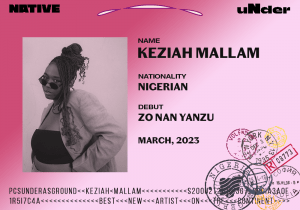 In a generation where relationships are casual and undefined, Nigerian songbird Keziah stands out with her love-lorn pleas. Commanding attention with her voice on songs like "Over X Over," Keziah Mallam's catalogue is a cannon of creative wit characterised by cathartic singles. 
Since making her debut in 2020 with "Zo Nan Nyanzu (Come Here Now)," Keziah has only been assuring of her position in the industry. Dedicating her 2022 to music, Keziah set off on an 11-month journey of finding her voice. Releasing 11 self-produced tracks including "Real Me," she showed off her skilled penmanship by teaming up with groundbreaking artists such as SGaWD, moving on an upward trajectory and receiving nods from her numerous fans. Rapping on an upbeat 808, Keziah and SGaWD show boast of their womanhood "come from London to Lagos and still kept score/ I am my own superman s on my chest I depend on my plans."
Rounding off 2022 with the Funk-inspired "Goodbye," Keziah metaphorically bids farewell to a lover as she comes to her senses. Rounding off a chronological journey of falling in and out of love, the bass guitar accentuates her silky vocals as she is ready to step into the next chapter of her life. Her evolving persona and skills as she sets different moods to make her a perfect addition to a relaxing playlist. 
Tela Wangeci
POSI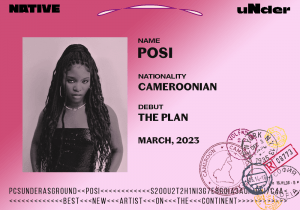 Teresa Eposi Chando has a voice that will wash over you. It's a cathartic experience to hear the musician sing, with lucent vocals covering the pensive motions of the romantic heart. Living in North Carolina, the artist of Cameroonian descent was a prodigy. By eight years old she could play the piano and violin and for her training, she replicated arrangements on songs such as Beyonce's "Pretty Hurts."
In Posi's music, self-investigation flows alongside the worthy mission of seeking peace. Her debut 2022 debut song "The Plan" featured a moving performance enriched with great perspective. "You don't have to be on your knees/ Oh, I can't let life get the best of me," she mulls over a colourful production that's right in place with Afropop. Her next single "Trying" had stripped elements with subtly emotive songwriting. Poignant lyrics such as "even when evil comes to me, I deserve to be living free" see Posi holding up the affirmative energy of women musicians like Tems, Asa and Jhene Aiko, all of whom serve as touchstones for her progressive R&B sound.
She released her debut project 'Troubles of the Heart' early this year; it was put together alongside Posi's longtime collaborator DJ Wicked. A meditative collection pulsing with intimacy, Posi's vocals are measured in tone and tradition. It's a deftly-ambitious project in its use of her vocals and with stories of life and love at the ready, 'Troubles of the Heart' becomes an essential look into Posi's vision of the human condition. Quite the talent, Posi's career has unfurled to a definite start, and good things would inevitably find her as she continues to stay true to her sensitivity.
Emmanuel Esomnofu
VALERIE OMARI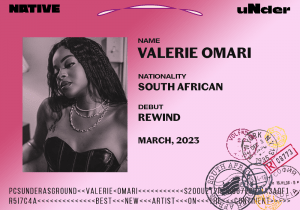 Not many artists find success in their first album especially when it precedes a debut single. Valerie Omari preaches a different testimony. On her 2017 single "Pray for Me," a source of solitude for hopeless romantics, it was her clear and emotive vocals that immediately caught your attention.
"Just Like The Rain," her warm, seductive ditties invite you into her world as she fusses over love that's exhausted. What's most interesting about Valerie is her bold approach when penning her lyrics. As she sings "Just as the rain she had me dripping way down," the bass-assisted single set off a perfect introduction to her escapist lyrics. Releasing the album 'Therefore I am' in 2019, she continued to edge closer towards stardom as she curated a confessional letter of self-love and identity.
Taking a slow but sure approach to releasing her music, Valerie has been on a musical journey of releasing intentional pieces that speak to her fans. "If I Tried" lives on the reminiscent 90s R&B singles that pay an ode to true love. Starting her 2023 on a high note, Valerie delivers a stellar performance showcasing her growth as a musical journey. 'Closure' is a follow-up of her debut album as she trails on self-discovery after the early stages of a breakup. Valerie Omari is a promising artist peeling a new layer of her artistry with each release.
Tela
GAIDAA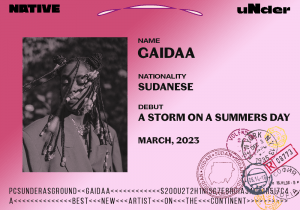 In 2018, Gaidaa burst onto the scene with a show-stealing performance on Dutch-Armenian DJ and producer Full Crate's "A Storm on a Summers Day" and showed glimpses of her brand of honest R&B/Soul music. A child of Sudanese heritage, Gaidaa, born and raised in the Netherlands, hasn't shied away from her roots and the unique intersection of cultures at her disposal, as exemplified by her 2019 debut single "Morning Blue," which she performed in A Colors Show. She followed up "Morning Blue" with "I Like Trouble" and "Falling Higher," both tracks that entered her 2020 debut EP 'Overture.'
'Overture' was an intricately-woven project that highlighted Gaidaa's honest lyricism and soulful vocals. On the Saba and Jarreau Vandal-featuring "Stranger," Gaidaa pondered about life's unpredictabilities and her need to make sense of them. She pledges to stick to her values on "Ride My Way," and on the Joshua J-assisted "Say Yes (Turquoise)," she proclaims success in her life despite any challenges, singing, "I'ma say yes every time/Yes every time/I'ma stay blessed every time."
The independent act has performed on stages in the UK, US, Netherlands, and most recently, in her home country of Sudan. In her 2022 single "Figures," she cites the multiple roles that society foists on individuals, preventing them from living to their fullest potential. Gaidaa's music is about being honest to oneself and finding your way in the world's maze – it calls listeners to the power they have to decide their present and future.
Uzoma
Featured image credits/NATIVE
---