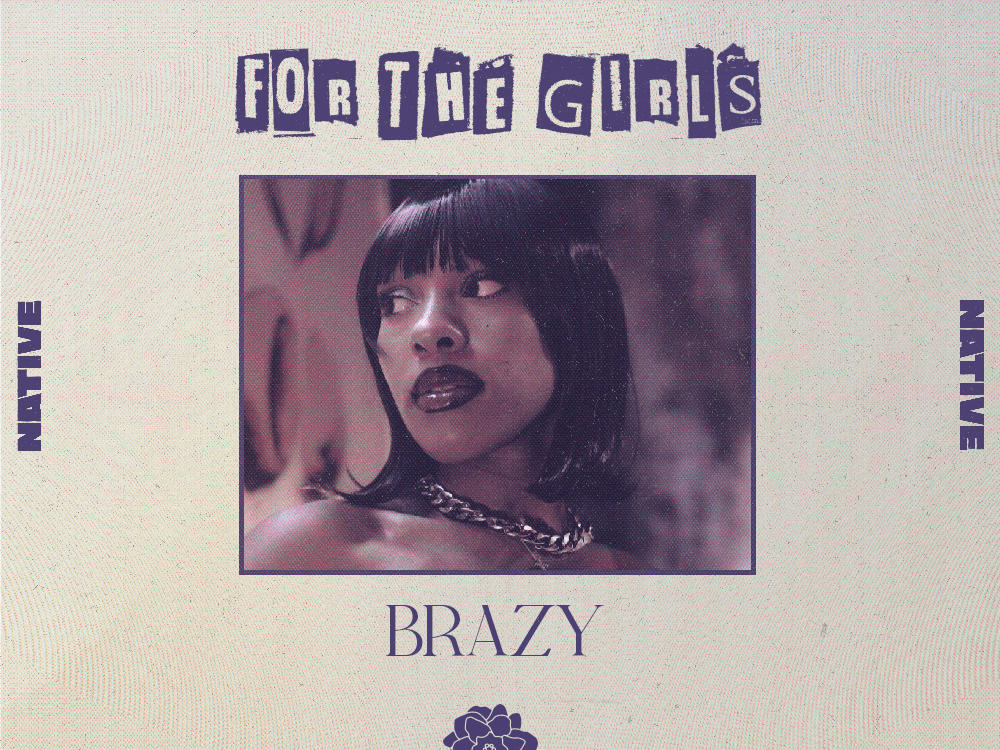 For The Girls: Brazy's versatile and carefree artistry
"Attends Shekeleva"
While female rappers have always been present in Nigerian, evident in the legacy of rap artists likes of Weird MC and Sasha P, their prominence within mainstream conversations is always overshadowed by the inherent dominance of their male counterparts. In recent years, more women—armed with braggadocios lyricism and standout vocals—have made it loud and clear that they are not to be sidelined. As they tell their stories unapologetically and spit the bars like no one's looking, SGaWD, YTboutthataction, Daisy and more in the budding class of women in rap are taking up space. Another unforgettable frontrunner in this group of artists is Brazy.
Still a relatively new name to the scene, Brazy has been causing a stir since her debut on L0la-assisted "Siren" and one thing that's remained consistent from the 2021 release till her Velli-produced breakthrough track, "Attends", is the spontaneity of the craft. Preferring to go down the organic, easy-breezy route, most—if not all—of Brazy's released tracks were recorded in one take. "I wouldn't say I've started taking music seriously yet," she responds rather honestly to the question of when she started taking music seriously. "It's still very much about me chilling with my friends."
As she takes her time figuring things out and going with the wind of her creative inclinations, Brazy still manages to standout out from the crowd for a number of reasons. Her self-assured lyrics and ear for beats that match her effervescent tone, mostly produced friend and collaborator Babyrixburger, as well as her ability to deliver something different on every track makes listening to Brazy refreshing each time. 
View this post on Instagram
Within reason, this drew the attention of alternative rap auteur and alté pioneer Cruel Santino. Sitting amongst many popular names like Koffee, Amaarae, Gus Dapperton and Skepta on Santi's sophomore LP, 'Subaru Boys: FINAL HEAVEN', Brazy's clutch performance on opening track "Matilda" offered a standout cut from the 21-tracker. Her airy, mellifluous vocals and memorable adlibs, paired seamlessly with Santi's eccentric production and futuristic sounds, set the pace for what many would consider one of the best projects from 2022. Just like that, from making music as a hobby and fun activity with friends, Brazy was opening act for Santi's Europe Tour and recording the soundtrack that rocked the sound waves of many end of year festivities in these parts, "Attends." 
If you couldn't already tell from the witty pre-hook, "cheat on me and I'll cheat on you," Brazy is here for a good time. She's experimenting different sounds and genres but one things for certain, Brazy's songs are one of one. We caught up with the genre-fluid rap artist on what these moments have been like for her. She goes into detail about working with one of her major inspirations, recording "Attends" in 10 minutes, her new collaboration with UK artist Len, what the future holds and much more.
Our conversation, which follows below, has been lightly edited for clarity.
NATIVE: Let's kick off with your name. What inspired the name Brazy?
Brazy: It's actually quite an uninteresting story. You know when finsta's were a thing, my username was Brazybih and when I went to Uni I didn't want people to know my real name. My Instagram was previously my full government name and when I went to school they butchered the pronunciation. I put my name as Brazybih on instagram and all my friends started calling me Brazy.
NATIVE: Lots of listeners don't know Brazy studied engineering. Is this a career path you're pursuing and how do you navigate that alongside the music?
Brazy: I studied Bio-medical Engineering at Uni and that's when I was making most of my songs. I've always called myself a DIY queen. I'm always multitasking. When people find out that I studied Engineering or I speak Mandarin, they're usually surprised. That's what I enjoy doing. I like being able to have different sides to me. I will always purse dreams I have for myself alongside creative things. I'm actually not pursuing a career in Engineering because Uni was a scam. However, I am going to be working in sales at an investment bank from July. A lot of my music is based off the knowledge that I have and nothing is wasted. It's a very integral part of who I am and if you don't know those things about me then you can hear it in my music. We're a package.
NATIVE: How would you describe your music to someone who's never listened?
Brazy: I would say that my music is very, very fun. It's full of personality. When you hear any of my songs, you instantly have a reaction and it's normally a positive reaction. It would get you moving and you can really feel my personality in the song. All my songs are different so there's not one way I can really describe it for now.
NATIVE: We can both agree that you have a distinct sound. Do you have any inspirations or reference points for this?
Brazy: I'd say my sound is similar to how I talk. When people ask me this question and I give a response, I usually hear 'you sound nothing like that.' Ajebutter is a huge inspiration to me. Isabella Lovestory and Sho Madjozi as well. I sound nothing like those people. Those are people that I like listening to and you can feel their energy and character through their music. That's where I take inspiration from. Anytime I listen to their songs, I feel good. I'd say my sound sounds like me. In terms of inspirations, it's people that make music that leave others feeling good. I'm inspired to put that same feeling and personality into my songs.
NATIVE: While you had been releasing a number of songs, the moment all eyes were on Brazy was after your verse on 'Subaru Boys: FINAL HEAVEN' intro, "Matilda." Definitely a personal favourite from the project. Had you known prior to the project's release that you were recording for the intro track?
Brazy: Thank you, I appreciate that. I certainly did not know that. Santi is one my of favourite artists. I've always known he was a Nigerian in the Alte crowd but he wasn't accessible to me. He was like SANTI. During A-Levels, I listened to Mandy and The Jungle all the time so when he reached out to me I couldn't really believe it. As I said, music wasn't a thing for me yet so I was surprised. I did my verse and sent it over. The way he took my adlibs and put it at the beginning of the song, making it into such a cinematic piece was crazy. I thought to myself, 'This is why you're Santi!' I knew the song was going to be standout on the album but certainly not the intro. It was a huge moment in my life to be the first thing that you hear when you listened to my favourite artist's album. That reassured me big time.
NATIVE: Your verse on "Matilda" really showed me and a lot of listeners that more than anything, your sound is versatile. It was unlike anything I'd heard from you. Would you say you're targeting any specific genre or still figuring that out?
Brazy: With my music it's all depending on how I feel at the moment and I guess that's why a lot of my songs sound very different. I think you can hear how organic it is. I did not sit down for hours writing the over and over again. I think that's the beauty in my music and that's what makes it sound the way it does. I'm going to try not to put myself in one genre just because it might be an easier way to package myself. I'm still going to go with the flow and do what I want. Ideally, I would love to a Dance artist. Someone that makes music for clubs and the Ibiza vibe but when I hear the beat I might do something entirely different. I don't have a certain direction im trying to go into. I just want to be the best that I can be in whatever lane I find myself.
NATIVE: Speaking more on collaborations, one consistent thing I would say it that you collaborate a lot with other female rappers like YT, Deela and T6lu. In such a male dominated space, why do you think its important to build that community?
Brazy: Definitely. I think I have the most fun working with other women, especially my friends. There's so much talent that women have that men don't always give the opportunity to explore freely. For me, creating music is about the vibe. I don't work with people that I don't like or have fun with. The energy in the room is super important and working with women is always a good time. When I work with male producers, it's not that same vibe and you can definitely hear it. For me it's about how organic it feels and working with other women that are confident, hot and have the same vibe as me feels most natural. I also believe in surrounding myself with confident women. It creates the best sounding songs.
View this post on Instagram
NATIVE: Let's talk "Attends." You released a snippet on tiktok and it blew up in a matter of days. Were you expecting that and what did that moment feel like for you? 
Brazy: I wasn't expecting it at all but when it happened I thought it made sense. I made the song when I was opening for Santi's Europe tour. I wanted to make a song that I could perform on the tour that no one had heard before. I sent my producer friend, Velli, a playlist. At the time, I was listening to a lot of Brazilian Funk, French Bouyon, Reggaeton, Dancehall, Trenches music and so many more random selections. Velli sent me a beat, drawing inspiration from these genres and I was so ill but pulled through. I heard the first beat and went "Attends, Shekela" and that's just how it happened. I did it in ten minutes.
I didn't even have time to listen to the song again. When he sent it back to me, I really liked it. I didn't think it would go off that much especially in Africa. When I performed it in Paris, I hadn't put the snippet out but the way the audience reacted was insane. I thought because it had that Bouyon feel it was nostalgic to them or other black people in Europe like Amsterdam. Then I heard it took off in Ghana. My friend from Ghana told me it sounded similar to what they used to listen to when they were kids.
NATIVE: You had performed on a couple of stages having been on tour with Santi but what did it feel like performing "Attends" and seeing how much your own song resonated with audiences? 
Brazy: I think it was crazy particularly in Lagos where people go to concerts to pretend and stand still. For everyone to forget all of that and go crazy, I knew the song was something special.
NATIVE: Even if you don't want to move, you'd have to when that song comes on.
Brazy: Exactly. No other option. When I'd perform my other songs, people would come up to me after the set saying they enjoyed it but "Attends" is instant. Once they hear the first five seconds they get excited immediately. It feels good especially because it was spontaneous. Excited to see what results I can bring when I put in the maximum effort.
NATIVE: You lent your vocals on Len's new song "Addiction." Talk to me about that. 
Brazy: Len is a huge artist and his music is amazing but it's very different to what I sound like. When he asked me to do the verse I was excited. My vocals on "Addiction" are reminiscent of early days Brazy. The rap, "JPG" Brazy rather than the dance Brazy. I like to know that I still have that. I'm excited to see what the reaction is going to be when it drops.
NATIVE: So far, it seems like you're on the cusp of something much bigger. What more can we expect from you? Any projects or visuals in the near future? 
Brazy: The "Attends" video is hopefully coming out soon. I hope to record an EP and drop that soon. I'm just looking for the right people to work with. More performances and more features too. I love doing features. This is just the beginning. 
NATIVE: Do you have any one you're keen on collaborating with? 
Brazy: I would love to collaborate with Sho Madjozi. I really want to work with DJ's that make their own beats. So someone like DJ YK Mule and DJ Cora. I like their beats and I feel like together we can make something crazy. Bouyon rap is mostly dominated by women and I love that. I'd love to work with a lot of women in that space. Any women doing similar things in their space that I'm doing, I'd love to work with.
NATIVE: How would you describe your average listener and what audience do you anticipate targeting in the future? 
Brazy: My average listener is someone who loves to have fun and isn't too stuck in their ways. They would listen to me singing on "Gingerbread" but they'd also listen to me giving dance music on "Attends." That's my ideal listener and that seems to be my audience. They're very open minded. They love everything that I do. For the audience I anticipate targeting, that would be the nightclub scene. Songs that can be played over and over at parties and nightclubs. I have that with "Attends." I could never perform it just once. I performed at a concert once and did that song back to back 5 times. An audience that wants to have fun and vibe just like me.
Featured Image Credits/NATIVE
---