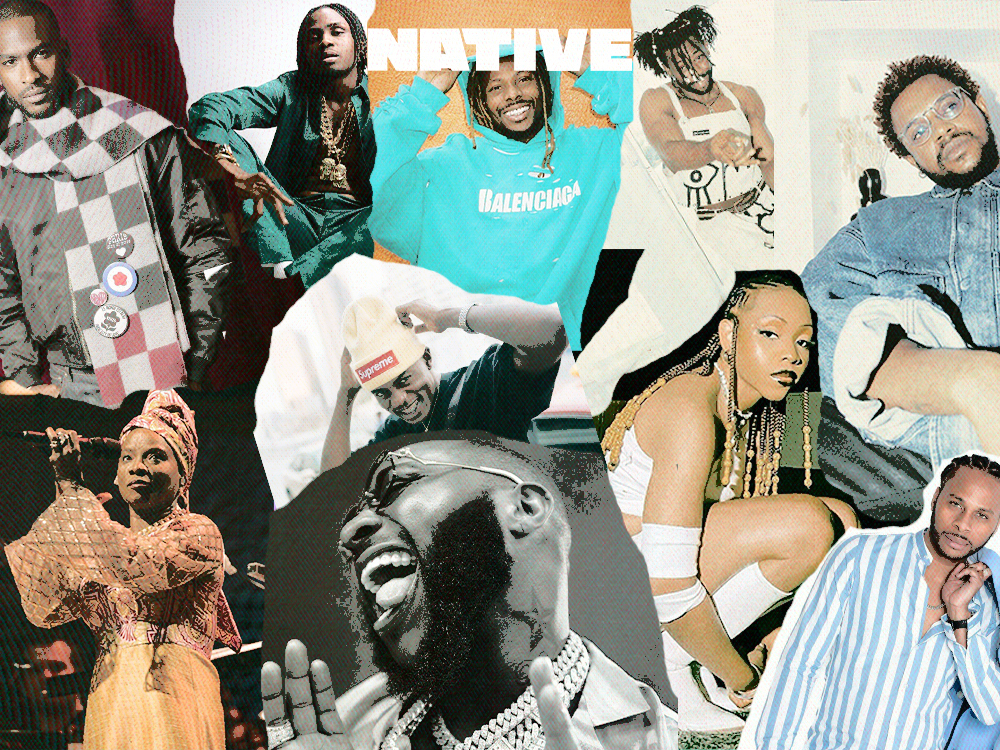 The Best Features on Davido's 'Timeless,' Ranked
Including Musa Keys, Morravey & more
Since his debut on the scene in 2017 with "Dami Duro," Davido has edged out the competition with ease. From his debut album 'Omo Baba Olowo' with standout tracks such as "Back When," "Ekuro," "For You," and more, he's consistently spoken directly with his audience through his music and bypassed naysayers on his way to the top. His omnivorous album fast-tracked Davido's name as a household name in Afropop history. While his return to a cohesive body of work didn't come till almost seven years later, Davido never strayed from the limelight, keeping his legion of fans satisfied with groovy cuts and meme-able chrouses from 2017's "FIA" and "Fall" to 2018's "Assurance," and more recent cuts such as Popcaan-assisted "Risky," "FEM" and "Ke Star" featuring Focalistic.
His latest and fourth album 'Timeless' arrived last Friday after personal delays, but its record-breaking reception so far shows that its suffered very little from this. With the release of his new album, Davido brings to full picture the decade-long journey to the top of his game. A serial hitmaker in his own right, he wastes no time threading high concepts and innovative imagery buoyed by the album's well-tuned production. While he establishes his signature identity and litters the project with delicious new slangs, he also welcomes a talented spate of artists into his world, both new and experienced–making way for their talent to shine while keeping him in the limelight as the skilled auteur.
There are nine features on 'Timeless,' a notable decrease from the stacked guest features on his 2020 album 'A Better Time' which welcomed artists such as Nicki Minaj, Lil Baby, Hit-Boy, Nas, Sauti Sol, CKay and more into his orbit. On 'Timeless,' no feature is out of place and Davido ensures that his guests flex their muscles and capabilities across the project's 49 minute run time. Set up by outstanding performances by Davido and stellar production by Magicsticks, all collaborators on Davido's highly anticipated fourth studio album, 'Timeless,' had big shoes to fill. From Skepta's sleek bars, the dulcet vocals by new DMW signee, Morravey and more, here are The NATIVE's best features on 'Timeless,' ranked.
View this post on Instagram
9. "U (JUJU)" – SKEPTA
Skepta has a soft spot for his African kindred and it's visible in his numerous collaborations with Nigerian Pop stars. Whether it's working with Wizkid on "Glow In The Dark," Skepta has continuously tapped into his African roots bringing Africa to the world while simultaneously bringing the world to Africa. On Davido's "U(JUJU)," the alluring saxophone paired up with the mid-tempo log drums accompany Skepta as he puts his best foot forward. The romantic number finds Skepta rapping about his adoration for his muse, "…while guys were switching sides you were there for me…" while tackling the challenges experienced in a relationship with a star. Closing off with lamba as he raps, "I never sleep sabi no dey worry me," he puts a perfect cap on the single as Davido picks up the chorus.
Tela
8. "BOP" – DEXTA DAPS
Davido and Jamaican act Dexta Daps had previously collaborated on the 2021 single "Scripture," a sensual, R&B-flavoured tune. They continue their connection on Davido's "BOP," an uptempo production with Dancehall influences. Like on "Scripture," Davido and Dexta Daps are concerned with their affection for the female anatomy; with his verse and chorus, Davido sets the pace, while Dexta Daps, on his verse, utilises his patois delivery to add colour to the track's hedonistic tendencies.
Uzoma
7. "NO COMPETITION" – ASAKE
Asake and Davido are a match made in heaven. After emerging as the undisputed champion of Afropop '22, his appearance on 'Timeless' seemed fated–a further crowning of his hit-making abilities. To the host's credit, "NO COMPETITION" isn't usurped by Mr Money. They're both rather in synergy with the warm vibe the song exudes, their distinct styles making for a great record. Davido does absolutely fantastic on the opening and closing parts, paring down his vocals to mirror the theme of love. Asake's verse however bursts in so unpredictably, taking on a rhyme scheme that elevates the mood as the production swells about him. In a way similar to Lil Durk on Drake's "Laugh Now, Cry Later", the feature thrills and then cedes way for the host. 
Emmanuel
6. PICASSO- Logos Olori
On "PICASSO," there are two winners: Davido and Logos Olori. Both label owner and latest signee exhibit a chemistry that portends great fruits for the future. Before signing to Davido's label and making an appearance on 'Timeless,' Logos Olori was making music independently, playing with diverse sounds and genres and fashioning a way out of the Nigerian underground music scene. From 2020's "Shine" to 2021's "Iregullar" to last year's "Lale," the music act was building the foundation of the moment he enjoys currently.
On the R&B-tinged, cravings-full "PICASSO," Logos Olori's post-chorus is sweet and memorable, employing simile and metaphor as he sings "So baby draw me closer like Picasso" and "Make I sing and make you dance Awilo." It's his smooth vocals that give those lyrics their potency, and Davido, too, offers a fine showing with his impressive performance. While Logos Olori's talent is undebatable, the major takeaway is that music lovers should expect—and will love—more tunes from both artists. 
Uzoma
5. "KANTE" – FAVE
When Fave first caught onto Afropop audiences through a freestyle released during the pandemic, her voice was the decisive trait. It was fully embodied yet dynamic and could be playful and sensual if it needed to be. In the years since, those distinct vocals have been on wonderful display on her 'Riddim 5' EP and features with the likes of Olamide and Ajebo Hustlers, demonstrating a range that's seen Fave mentioned in the same breath as the greats. 
On "KANTE," she gets unarguably her biggest feature yet and boy, does she own it! The beat nodding to Dancehall's rhythmic pomp, Fave finds herself in familiar terrain. Enunciating the perspective of a lover enjoying intimate moments, she conducts the record, setting the perfect atmosphere for Davido. "Like Kante your skill is precious, you can't change the whole direction," she sings on the chorus, using the celebrated French footballer as a parallel for the iconic figure she shares space with on this 'Timeless' record. 
Emmanuel
4. "CHAMPION SOUND" – FOCALISTIC
Released as a single and sitting within the soundscape of 'Timeless,' "Champion Sound" is a revered banger. Like the rest of the project, loaded with great vibes, joy and optimism -as expected from Davido- "Champion Sound" couldn't have been a more perfect choice for the album's closing track. Like the game of tag, the duo effortlessly glide in and out of the track, bragging in Pidgin English and SiPitori with verses bursting with catchy bars and distinct adlibs. Sitting within the spectrum of Amapiano's buzzing synths, the dance track closes out the highly anticipated album on a cheerful note, capping off a welcome return for 001.
Nwanneamaka
3. "NA MONEY" – ANGÉLIQUE KIDJO & THE CAVEMEN 
When the track list of Davido's album was released, "NA MONEY" was one of the songs that instantly caught the attention of music lovers. Sibling duo Kingsley and Benjamin Okorie (of The Cavemen.) have introduced excitement into the African music catalogue with their style of experimental Highlife, recalling old sounds and modernising them for a younger audience. Angélique Kidjo is…well, Angélique Kidjo: Grammy winner and renowned performer of multiple genres around the world. What would be the result of combining a veteran, a pioneer of contemporary Nigerian music and two new talents? "NA MONEY" holds all the answers.
Produced by 1da Banton, who is also an artist, the track is a comfortable setting for The Cavemen.: Highlife. The surprise, though, is Davido. He easily finds a spot for himself on the song, matching the energy of the Okorie brothers without missing a step. It's pure synergy, as all three flow in and out of one another's verses, absorbing themselves into the percussions and delightful guitar riffs. Angélique Kidjo, as the master that she is, adds icing to the cake with an effortless, melody-rich delivery. In tandem with the theme of the song, Davido, The Cavemen. and Angélique Kidjo contribute to making "NA MONEY" a tastefully-made piece of music.
Uzoma
2. "IN THE GARDEN" – MORRAVEY
Morravey's debut on 'Timeless' was nothing short of charismatic. While we all know Davido's wide range palette in crafting love numbers, Morravey added a new feminine spice that came with authentic naivety that equalled the sincerity in her words. As she crooned over the bouncy afrobeat production "..never seen a man like you.." Morravey's verse adds an extra layer of depth and dimension to the track. Showing off her sultry vocals and her daring nature as she hit the high notes while opening the track, "IN THE GARDEN," was precise with one message clear: it's Morravey's time and we should all make way for the queen. 
The glistening production from Rore only brought Davido's vision of the project to life as he and Morravey exchanged verses of love that is pure. Sounding like an ancient love letter to your significant other, "IN THE GARDEN" is a sweet remorse of the beauty that love embodies.
Tela 
1. "UNAVAILABLE" – MUSA KEYS
Considering standout tracks like "Kancane," "Selema (Po Po)" and more under his belt, South African Afro-House frontliner Musa Keys and his eccentric artistry are visibly drenched in gently syncopated synths and rich harmonies. So when the 'Timeless' track list was revealed with a feature from Musa Keys, any fans of Nigerian Pop and Amapiano were bound to be excited. Having collaborated with the likes of Focalistic, Abidoza and Sho Madjozi, Davido and Musa Keys would expectedly be a perfect sonic match and the pair did not disappoint. 
With Davido's delivery on the catchy hook, "I'm unavailable, dem no dey see me" and Musa's euphonious vocals paired with the glittering production by Magicsticks, "UNAVAILABLE" is deservedly already a crowd favourite a few days after the project's release. Operating within the familiar soundscape layered with intoxicating drum patterns and rhythmic keys, Musa Keys is set up for a stellar delivery by Davido's outstanding verses. Following the second rendition of the track's captivating hook, Musa Keys' mellifluous sound perfectly contrasts Davido's rustic one, expertly riding the wave of beat. In a few short seconds, Musa Keys is able to elevate the already glimmering verse with an increased pace on the witty two-liner, "Cause I'm a big propeller, save the remorse/Girls go jealous, cause I dey Banana." 
Nwanneamaka
Featured Image Credits/The NATIVE
---