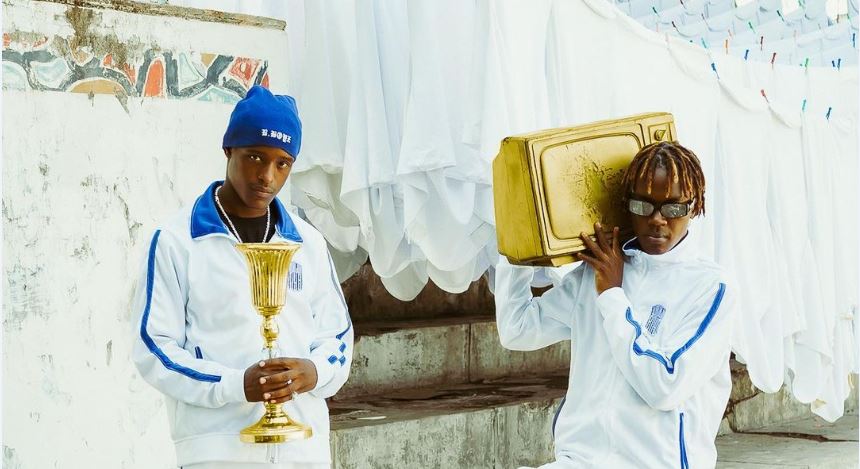 A 1-Listen review of Buruklyn Boyz' 'East Mpaka London'
solidifying themselves as East Africa's premiere drill act
It is undisputed that Kenya's Drill scene is buzzing with new artists that are taking over with dark, ominous 808's and inviting flows. Pioneering acts Buruklyn Boyz have been on the frontline of that shift with a mix of urban appeal, slang-infused lyricism and varying song structure.
The dynamic duo, comprising childhood friends and long-time collaborators Ajay and Mr. Right, have delivered some of the most essential drill songs in Africa, starting with their breakout song "Nairobi," which introduced their notorious tag, "Kwani Ni Kesho," and set them up for a blistering 2021 run—the group was named one of NATIVE's Best New Artists and Best rappers in 2021.
Keeping the momentum going, Buruklyn Boyz have entered this year with a handful of releases, setting an expectant tone for their anticipated, newly released debut album, 'East Mpaka London'. Watching A-Jay's Instagram Live on the eve of the album drop, you could tell the blood, sweat and tears that had gone into the album, as he constantly thanked the fans for their love.
In keeping their buzz going with "Location 58," "Dream Ya Kutoka Kwa Block" and several more singles, Buruklyn Boyz have built on their rep as East Africa's premiere Drill act, with a rabid audience to sate. In less than an hour of the release of the album, their Spotify streams amounted to over four hundred and fifty thousand.
Their tough but laid-back sound and business-minded image is a template for the dominant attitude in their 16 track debut album. Infused with 90s Hip Hop beats, Drill beats and R'n'Drill , which is a fusion of R&B" they epitomise the world as they see it. From being barred from performing in shows to being one of the biggest artists in East Africa, their rise to stardom has been intentional and calculative. Despite being their debut tape, my expectations are extremely high, "Pree" and "Dream Ya Kutoka Kwa Block" are already released singles so I can't wait to dig in, Kwani Ni Kesho?
"INTRO"
This is quite an emotional opening. I know they are also a Hip-Hop group but I was expecting a drill number Not that I am not loving it, I am impressed and blown away. Ajay opens a vulnerable vault saying despite their come up they can still see the hate in people's eyes. Ajay's part is quite self reflective over a 90s Hip-Hop beat with recognition that music has always been his destiny. A soulful intro into 'East Mpaka London,' I guess it's a rollercoaster of emotions?
"USIKAM HII SECTION"
Okay, this is R&Drill guys. When Mr. Right drops a line you definitely wanna do what he says. The growth of his command of language and delivery has been outstanding. Taking charge of the first verse and you know the boy is always busy chasing the bag, he gives a smooth delivery, never forgetting his catchphrase and transitioning smoothly into the sticky hook. I can't deny the hook is catchy especially when Mr. Right says they have been looking for Juliet the whole day because they have Romeo. When Ajay gets to the second verse I have to restart his verse. He gets playful with his sentence structure with lines such as , "…baby girl imma getchyu the prada because I am proud of you…" I have so much tension because at the moment I am not sure what the tape contains. Are all the songs R&Drill?
"CONFESSION"
Guys! Who curated this tape? Less than 15 seconds into this song and we have to restart the song. This is a dancehall beat infused with drill, who does that?  The back to forth verse exchange between Mr. Right and Ajay with a percussive backdrop has you throwing gang signs. They throw boisterous lines "..we so sick rappers are in quarantine..". Produced by Clue Ameshaivisha Track and Metro Suka Doba, this song is seriously infectious as they drew inspiration from Stefflon Don and Ms Banks' "Dip".  You can tell the form of the album is already taking place as you progress.
"NISKIZE" (Feat. Maya Amolo)
This has been one of the awaited tracks from the tape. Just like everyone I wondered how Maya would sound on an ominous 808s as opposed to her sultry soulful numbers. The build up to the song is gentle as it tells the story of hood love, the drum patterns complement the piano keys during this monumental moment the exemplary artists map out the Drill scene with unorthodox numbers. Maya's background vocals take you back to Ja Rule's "Always On Time" with Ashanti. 
"CATALYST"
This is my favourite song from the album. Slinging out his rhymes in a cocksure cadence, they offer an unapologetic delivering iconic verses. I can already visualise the live performance of this song. With creative alliteration "..zinapanda shuka panda," the vibrant number is a testament to their come up and dominating the scene. I am predicting that this might be the song of the year. It's brief, boisterous, and still relatable.
"PREE"
Released in April, the beat to this song is undeniably hard. It's only A-Jay who would casually play around with sexuality and Justin Bieber. This was a perfect choice for a lead single, its lyrical simplicity and unique delivery makes it a fan favourite. Talking about a babe who wants to always hang out with them for their clout acknowledging their success.
"BLICKY"
Paying homage to Ziggy, creator of Mbichwa rolling papers, they give a raw delivery over a bouncy production. The song is mid and passes by quite quickly for me. I wish the bars went deeper. I will have to spin this one again.
"LAST AIRBENDERS" (Feat. Silverstone Barz, Big Yasa)
This is currently the strongest music bond. Each playing a role in the rise of  Drill,  Buruklyn Boyz have the ferocious Silverstone Barz and Big Yasa. Breaking the monotony in sonic production, they jump on a Hip-Hop beat as Silverstone turns the table with her hard knock lines with a venerable supporting cast. Big Yasa's guttural voice immediately grabs your attention, I wish he gave more delivery to allow his verse to take form.
"COINS"
The more you listen to the album, you get to understand their story and vision for 'East Mpaka London'. Once you hear the Clue Ameivisha Track Tag you are assured of an earworm production. The delivery is hard and tenacious with the rewind worthy hook, while Ajay gives a gritty delivery.
"EX"
At this point I am beyond dumbfounded in the production and creative details of this project. Sampling 2021 AFRIMA Best Female in East Africa, Nikita Kering's "Ex" the vocals perfectly tie together creating a harmonious background. My favourite part of this album is its rawness. Mr. Right offers an honest delivery quantifying expensive beauty products with local beauty products.
"NOTHING BUT LOVE" (Feat. Younglouie 58)
This beat is so bouncy and so far this is the best hook. The back and forth lines between Mr. Right and Younglouie 58 is smooth. I can't wait to hear the latters verse. I find it important to incorporate Kenyan slang despite being an assimilated sound. The switch between Swahili and English brings a swaggering spin on it. The different artists bring a new flow as the bass drums knock over an insistent beat.  
"TALIBAN"
A new beat is introduced and it can't be what I think it is. Once again the producers have mixed two sounds: Persian melodies and drill composition principles. The head busting track has a bouncy beat comparing their brotherhood to Phineas and Ferb, Ajay gives a star studded delivery. The thunderous drums and dramatic strings are heavy and epic. 
"CELLIE" (Feat. Younglouie 58)
When you listen to this song, it's amazing how the industry's transformation is happening. The new school artists are employing new ways to export their music. While at it learning to build their brand, this song sounded very foreign to me. It was somewhat hard believing it is a Kenyan production.
"DELETE"
Starting off with their tag line "Kwani Ni Kesho", Mr. Right uses the soulful backdrop as an opportunity to release his woes on his muse who hardly spends time with him. The tinny piano lines, preset drum sounds and roaring synths have resulted in a playback-worthy track.
"23"
Ajay's menacing voice gives a gritty delivery with cocky delivery. Stating his influence even terming themselves as the coolest kids, this is a boisterous track of who they are. They associate their success with the hometown five eight (Buruburu). Mr. Right takes to boast about earning money from music. I do understand where they are coming from as most Kenyan artists only receive payments from live performances.
"DREAM YA KUTOKA KWA BLOCK"
Talking about liberation from the hood, this profound number is accompanied by a crisp video from Omoke. Serving as the perfect song to close off the album serving as a sequel to the intro which was about their come up. The production in the song is unique with a rattle-like sound standing out and drawing you into the song. From the piano keys a hopeful mood is set assuring their come up is not stopping their success
Final Thoughts
As I earlier said, this album is an emotional rollercoaster. especially if you have seen the come up of the group since "Durag na Slice." The variety of artists' collaboration has given the album an identity bringing Buruklyn Boyz closer to regional breakthrough. If there is anything 'East Mpaka London' does for the group, it's setting up Kenya's drill versatile possibilities. The curation of this album is meticulous, creating a build up in thoughts and emotions as you listen through the songs.
The album has defined the groups and position in the build up of the genre. Their pen game, delivery and flow will continue to mature overtime, but in the moment, 'East Mpaka London' is a standout exhibition of their rap prowess. My expectations have been surpassed. The album is a combination of live-worthy performances and ear worm production
Buruklyn Boyz are known to never rest so we should expect several videos soon. The album's sonic perfection as the production gleams with catchy hard-knock bars explains the long wait fans had to go through. Showcasing their lyrical prowess over various Hip-Hop beats, Mr. Right and Ajay keep solidifying themselves as a duo and as solo artists. Also, one thing is clear with this, Buruklyn Boyz still have more to dish out.
Listen to East Mpaka London here.
---