The most obvious thing about Davido's new single, "FEM", is that it reinforces the fact that he won't bite his tongue for nobody. To an extent, we all saw it coming. In May, the singer posted a photoshopped image of himself and Wizkid with the tag, "The 2 greatest of all time! No Cap [emoji]". Soon after, Burna Boy took to his Instagram stories with a slew of not-so-cryptic subliminal, which the public quickly deemed as shade-packed reactions to Davido's instantly viral post.
The 2 greatest of all time ! No 🧢 pic.twitter.com/W4GRMQ9yYJ

— Davido (@davido) May 22, 2020
Allegedly taking jabs at Davido being born into wealth and the role it played in his rise to fame, Burna's incendiary comments became indicative of a tiff brewing. Throughout his high flying career, Davido has been outspoken about how he's had to claw his way through dismissals and lack of overwhelming support from the "industry", due to being perceived as the rich guy who bought his way into popularity. Last summer, after releasing the Chris Brown-assisted "Blow My Mind", the singer went on a tirade on the difficulties he's encountered because many insiders think he's undeserving of his achievements due to his financial status.
It's not dissimilar to the rant he went on after his headlining concert at London's Indigo O2 arena in January 2019, constantly referring to the "they" who didn't believe he could pull off such a grand show. According to many artists and stakeholders, the Nigerian music industry is a toxic maze of gatekeepers who often create unnecessary obstacles on their path towards achieving their version of success. For an artist like Davido who's been operating at the pinnacle of Nigerian pop music for nearly a decade, his recent claims that there are hurdles in his path have been treated at face value, considering all the success he's continued to amass.
No matter how cynical you are, it is impossible to deny that Davido has been extremely hardworking and prolific on his way to becoming a perennial Afropop superstar and global brand. Even with only two albums separated by a 7-year gap under his belt, he's held the African audience spellbound with an unrelenting run of hits, while making in-roads as one of the most important players in exporting African music to the world. With all of these items on his credentials, Davido shouldn't have anything to prove or censor calling himself one of the greatest, however, there are still naysayers who feel he's undeserving of that pedestal—or at least dictating who's on the pedestal with him.
just call me #ABT pic.twitter.com/a1NZ3cWF51

— Davido (@davido) May 26, 2020
Burna's alleged missives towards him for tagging himself and Wizkid as the two greatest could've sparked another rant, but if there's anything Davido loves more than ranting, it's addressing his issues with other people on wax. A week after the alleged subs, Davido planted the seeds for a good old-fashioned diss track, sharing a video that contained the introductory seconds of "FEM", with the tag, "just call me". When the full song and accompanying video came out last Thursday, it confirmed the initial suspicions of many people.
On the Napjil-produced song, Davido doesn't attempt to veil his target, getting right to it within the first minute as he sings, "you wey dey find pity, tell Odogwu say we like to party", referencing two of Burna Boy's hit songs, "Odogwu" and "Like to Party". Entirely written by Davido, this particular line and the whole song itself plays into his established knack for being as direct as possible, such that his intentions have no wiggle room for misinterpretation. It's a tactic he's employed whenever he feels a major slight has been directed towards him.
Between 2015 and 2016, legendary Nigerian media mogul and former presidential candidate, Dele Momodu, was between the singer's crosshairs, after a family-related controversy went public. On two occasions, featuring on Falz's "Bahd, Baddo, Baddest" and the remix of Humblesmith's "Osinachi", Davido threw out caustic, unmistakeable taunts, even going as far as performing his verse on the former song at a live event that had Mr. Momodu in attendance. In 2017, he used the same approach on his smash hit, "FIA", a song where he explicitly railed against the Nigerian police force and actress Caroline Danjuma, for insinuating he was involved in muddying details of the passing of close friend and associate, Tagbo Umeike.
While he's steered clear of such level of controversy since, Davido uses "FEM" to reiterate that he can get it jumping whenever the need arises. As familiar as this energy is, though, the way Davido addresses this circumstance is a bit more peculiar. "FEM" has its fair share of taunts, with lines like, "you see say my own jeep pass G-wagon", but the defining attitude isn't just confrontational, it's downright instigative. "Before the whole matter gets dangerous, you need to make sure you don't say too much/'cos if you say too much, I fit to run up on you", he sings at the top of the second verse. Touting the support of his fans and the backing of his crew, the 30 Billion Gang (30BG), "FEM" is Davido drawing a line in the sand, much like Kendrick Lamar threatening his peers to say "candyman" at the potential of grave risk.
Predictably, "FEM" has quickly become a phenomenon, sitting at the top of Apple Music's daily top 100 songs since it dropped and the video has racked up over five million views on YouTube in less than a week. It's also been a prominent topic on social media, with Davido fanning the flame with insinuating remarks since returning back to Twitter. It clearly points to the fact that controversy sells, but the looming effect many people are overlooking is that the direction of this beef could have real life effects that go beyond trading words on wax.
Davido is familiar with being in a cold war with a rival superstar, with his prolonged tiff with Wizkid reportedly devolving into a physical brawl at the One Africa Music festival that took place in Dubai in November 2017. While that allegedly happened somewhat coincidentally, "FEM" is the first time Davido is openly threatening physical violence rather than simply hurling incendiary jabs. What makes the situation a little more volatile is, the artist on the other side, Burna Boy, is no alien to finding himself in and dealing with controversies.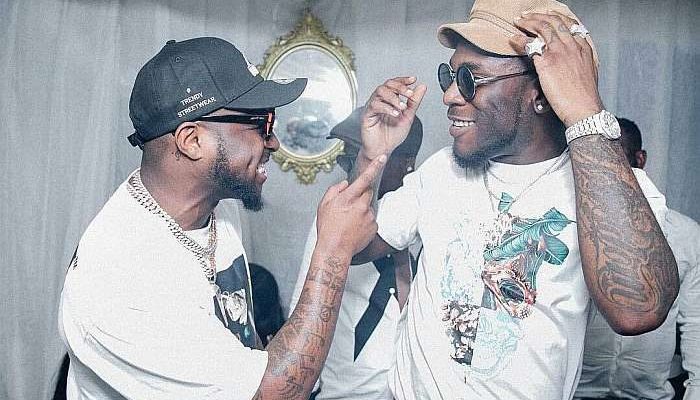 In 2017, reports surfaced alleging that Burna was involved in a robbery and physical attack of Nigerian singer Mr 2Kay, a situation that apparently escalated after 2Kay took exception to a comment Burna made about Nigerian pastors. Burna has since denied any involvement in the attack, but many hold his denial at face value, because he's never cut the figure of someone who's averse to violence. In the thick of the xenophobic attacks on Nigerians in South Africa last year, the singer went at SA rap artist AKA, threatening bodily harm after several of the rapper's tweets were translated as being prejudiced towards Nigerians.
For anyone who's been watching him, Burna Boy has never come across as one who's comfortable with letting things go—"FEM" is the allegedly product of him being aggrieved about a Davido post. So far, he hasn't reacted to the Davido call out, which is a bit abnormal because Burna addresses things instantaneously instead of letting them simmer. A reaction from him is the next logical step to determine whether this beef becomes more intense or eventually dies down. Whichever way the pendulum swings, fans of Nigerian music will be watching with peeled eyes, because we've proven that there's nothing we love more than beef—even if it has no significance beyond the ensuing drama.
Featured Image Credits: YouTube/Davido
---
Dennis is not an interesting person. Tweet Your Favourite Playboi Carti Songs at him @dennisadepeter
---