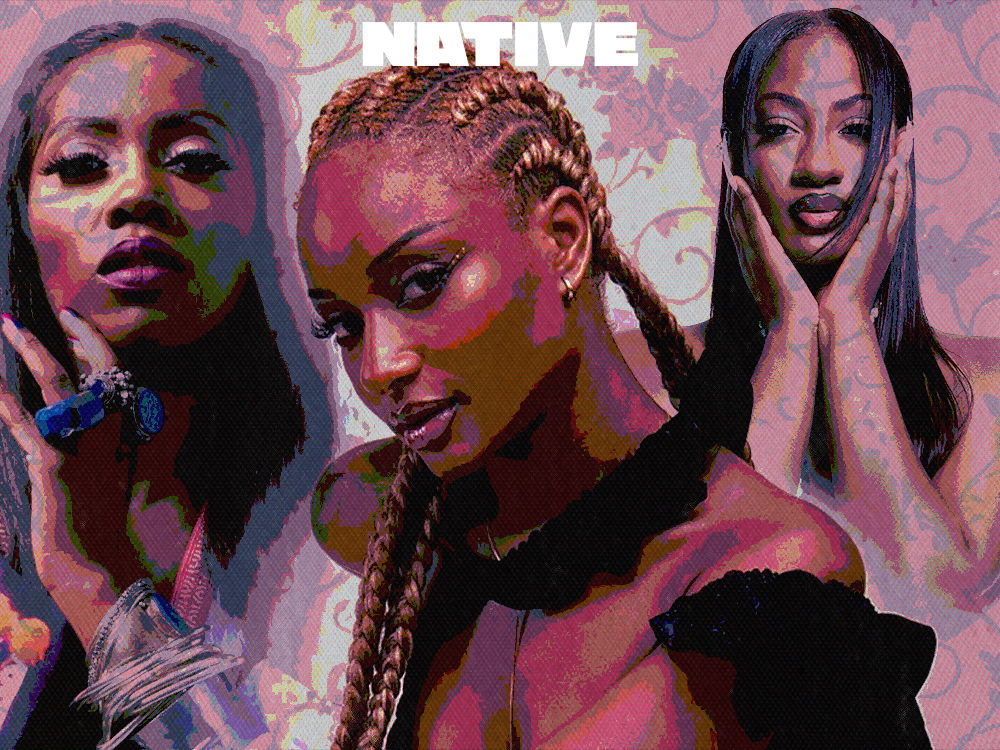 The Erasure Of Women In Afropop
The glass ceiling for women is constantly shifting
In sports, a team or individual is typically awarded a medal, trophy or some sort of physical emblem to represent the success they've achieved from playing the game. In music, award season is the equivalent of this emblem, and it serves to confirm to artists and their audience that they are the best players on the field.
Earlier this month, Nigeria's premiere awarding body, The Headies, held its second edition abroad at the Cobb Centre in Atlanta. In a groundbreaking year for African music littered with grand, weighty strides made by our homegrown talent, The Headies should have been an extra special moment for the culture's evolution and the efforts made in recent years to cement Afropop as a global phenomenon. Since its inception in 2006, the industry's biggest night faced the all too familiar issues of low production quality. This year's edition added a glaring lack of regard for the women in the music industry under their belt.  
View this post on Instagram
Out of the 25 categories billed to be announced on the night, only 12 main categories were announced including Next Rated, Best Male Artist and Rookie of the Year. All of these were male-centred categories with winners like Asake, Rema and ODUMODUBLVCK, leaving out six major categories which were won by their female counterparts. Rather than earn similar glory as male artists and producers of the same ilk, women such as Ayra Starr, Tiwa Savage, Waje, Simi, Libianca, had to earn their stripes from a congratulatory post on The Headies Instagram account. It's alarming that on a night as important as this for Afropop, women were missing out on the glory despite their invaluable contributions to the genre's sonic fabric over the decades. This year, The Headies made dubious history by deciding to snub women, omitting to properly celebrate the full scope and spectrum of music coming out of the country. 
This glaring omission is indicative of a larger problem in the industry and by extent, society at large. Women have to work twice as hard to get the music heard, garner an audience and maintain this audience through their career span and life changes. Working against an industry where prejudice and structural limitations exist, it's rare to find a woman who is able to crack the code and win the love and attention of audiences. Instead, only a few spots are reserved for a select few to occupy, where they are pitted against each other and constantly beat down by warring fans. Despite these odds, Afropop women are not backing down from getting their voices heard and conveying important messages. 
Following the recently concluded show last Sunday, pop star Ayra Starr, who was up for two awards including Best Female Artist and Afrobeats Single of the Year, announced in a statement on X that she would never be grateful for winning a category that wasn't deemed to be announced on stage.  At this year's show, there was not a single woman who graced the stage to receive an award, neither did any perform unlike their male counterparts. Throughout the show, major categories featuring women nominees were excluded from the show's runtime and awarded online and backstage. Among these categories were Songwriter of the Year, Best Female Vocal Performance and Best Female Artist of which the recipients were Simi, Waje and Ayra Starr respectively. 
The omission becomes more glaring, considering only four women emerged victorious in an award show with 25 categories. While the absence of these women-led categories on the stage might be chucked up to poor timing or organisation from the producers, it gives way to a larger problem. Women are systemically underrepresented despite their achievements and contributes to fostering an ecosystem where a lack of female visibility is the order of the day. Considering the astounding influence women have in enabling Afropop to become a global phenomenon, such attempts to shadow their influence are impermissible.
Take Ayra Starr for example, an inescapable force since her debut on the scene in 2021. For the sake of this conversation, a recollection of her impact and deserving accolades will hinge on the past year alone. The Mavins signee released a follow-up to her chart-topping debut album, '19 and Dangerous,' in the form of a deluxe album with five new tracks. One of these featured iconic Destiny Child singer and superstar, Kelly Rowland, for a euphonious remix of her memorable single, "Bloody Samaritan" and her smooth Dancehall melody, "Rush." Beyond expanding the scope of her instantly recognisable sound, Ayra has proven to be a highly sought-after collaborator, lending her vocals for peerless contributions on projects by Wizkid, CKay, Zinoleesky and UK-rapper, Stormzy. Ayra Starr has, in only two short years, successfully stripped away the performative respectability politics expected from the industry newcomers, armed with self-affirming bangers spearheading the new generation of contemporary Pop music. 
Anyone with their ears to the ground has witnessed the global superstar consistently push the envelope and surpass all previously set expectations in more ways than one. The world, as well as the organisers of the Headies cannot ignore this hence why she was awarded the Best Female Artist. However, her award was not deemed worthy of on-air recognition when her label mate, Rema, was granted several minutes to express his gratitude for winning the Best Male Artist. In his speech, Rema shared his sentiments pertaining to incessant support of our institutions like The Headies, "It's very important that I let everyone know that I am not here because of the awards. I am here because it is important to support our institutions. When I say institutions, I mean the bodies that support you to be able to achieve these major successes."
While this perspective comes with a lot of merit, it is difficult to support an institution that takes every opportunity to sideline the impact of women in the industry. The acts of indiscretion are buried deep in the fabric of what is supposed to be the biggest celebration of Nigerian music. Looking back at the nominees of the Album of the Year category since 2006, 7 out of 62 nominations belong to women and only 2 in 16 winners were women. Similar stats fall in other categories and as a result, women often only emerge victorious in categories dedicated to them. 
"Best female artist na beans? We work hard, every single one of us! I've seen Tiwa record 4 hit songs in the same night, Tems breathes and lives for music. We didn't deserve such nonchalance! Nigeria , you didn't raise me to settle for less," shared the Mavin starlet in her post on social media, which has now racked up over 2.9million views. Despite her very public outburst, neither the Headies nor its executive producer, Ayo Animashaun has commented on the statement and the show's lack of visibility for women performers. 2008 Headies Album of the Year winner, Asa, shared in an interview with CNN "In Nigeria I have to fight (for my) gender. I was very aware of my femininity, so when I went into studios, I had to wear baggy clothing, because I didn't want to accentuate the fact that I was female," she said, speaking on the early stages of her career. "I didn't want to bring attention to myself, I wanted to go there and do the job." With several years passed and many albums under Asa's belt, the degrees of inequality in Nigeria's music space are still just as rampant. 
Given the system that rewards on merit and merit alone, music is a mirror reflecting and often magnifying larger cultural and societal failings. It only takes one quick look at the top percent of artists today to realise that popular music often fails to recognise the contributions of women. By March 2022, Billboard music reported that only 21.8% were women. "This number has been stagnant for a decade, with women representing 21.8% of artists across ten years and 1,000 songs on this chart," the report shared. When the lens is narrowed down to these parts, we're sure that within the Nigerian music industry, these numbers are even lower, within the different areas of the ecosystem from DJs and producers to songwriters and rappers.
The glass ceiling for women is constantly shifting and obscured as they make their way to the totem of their powers. Since the late '90s to early noughties, it has always been the case where only one woman can win at the same time, ascribing only one main position for female artists to operate within. As such, other female artists were pitted against each other with varying sides arguing about their sartorial choices or their tenors. Nowadays, there's seemingly more room for women to get their voices heard. Thanks to platforms such as YouTube, Twitter, SoundCloud, and Instagram, women can tap into their audiences directly and find measurable success. However, now that there are more women operating in the scene, it's easy (through incidents like what happened at The Headies) why this erasure on a prestigious award night is harmful and downright wrong. They ignore their valuable contributions as evidenced from the dearth of women to perform at shows, and little to no visibility for their craft. 
According to its Afrobeats-dedicated website, the total number of hours male artists have streamed on Spotify is about four times more than that of female artists. It's cold, hard numerical evidence of a hegemony that continues till date, even with the consistently increasing number of women making great music. Beyond the consumption pattern, the myriad of issues female artists have to face behind the scenes is sometimes obscured by music industry jargon like branding and funding, but real ones know that it's just plain ol' misogyny.
Women only come into play to become a recurrent punchline for lyrics and a chance for men to express their sense of entitlement over women's bodies, choices and lives. This comes at an expense to women, but men in an attempt to drive their machismo and score points, present women as objects of their desire. We could go as far back as Fela's "Lady," an open condemnation of women's liberation in a patriarchal society or "Cough (Odo)," by Kizz Daniel, who at this point is a serial offender. He expressly stated being entitled to a woman's body after doing her some favours, a follow-up from his brazenly inappropriate and outright misogynistic lyrics for his previous hit songs, "Yeba" and "Fvck You." These songs, in their typical fashion, show men reinforcing the power they have over women financially and physically, while fixating solely on what the woman 'should' provide in return- usually something sexual. That is, when they aren't the subject of explicit music videos or serving as the butt of misogynist jokes. Meanwhile, women continue to hold crucial responsibilities in the background, puppeteering the operations with impeccable supporting vocals and ghost writing.  
Whether or not audiences and industry key players choose to acknowledge, Afropop is producing new female stars. The younger generation of women have spent years refining their craft and putting out genre-redefining music as a means of expression and empowerment for women, as well as an act of rebellion. Through the music of young women such as Brazy, Ugoccie, Ictooicy, Bloody Civilian, SGaWD, DEELA, Qing Madi, Ebun Yele, Lifesize Teddy, Morravey, Liya, Somadina and many more, other young Nigerian women can hear and feel their emotions, truths and feelings soundtracked in real time, showing us that they can make music in their own right and in their own way, solely for expanding the sound of Afropop and disrupting what the world has come to know of the genre. It's about time we recognise these unrivalled forces for their copious footprint in African music. 
[Featured Image Credits/The NATIVE]
---
---