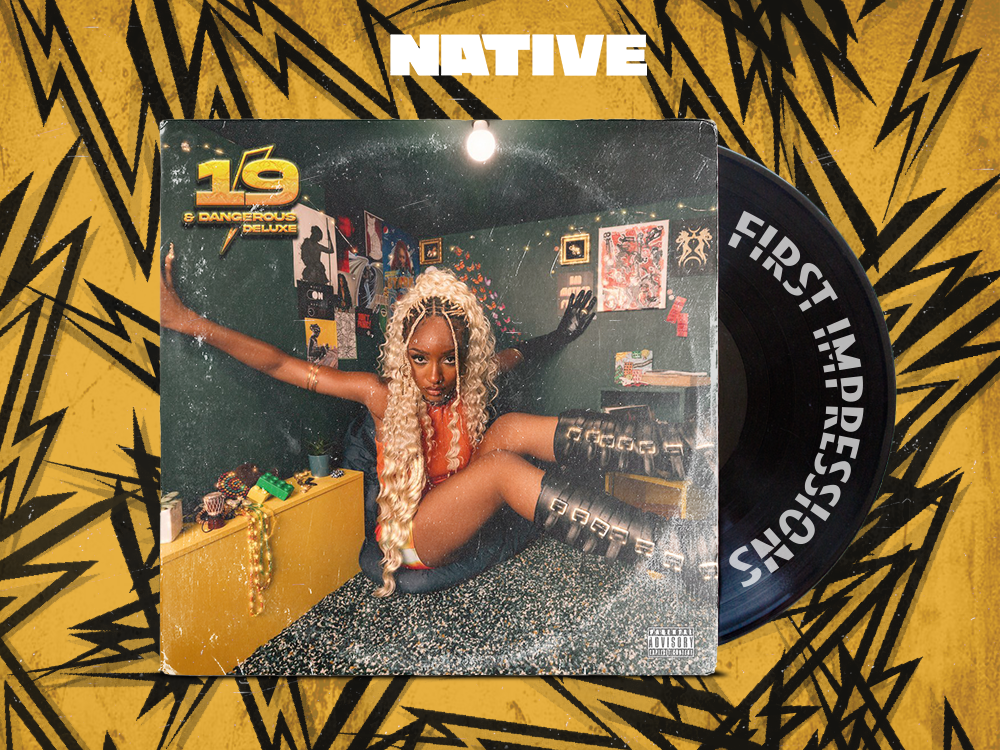 Our First Impressions of Ayra Starr's Deluxe of '19 & Dangerous'
Featuring six new tracks
Ayra Starr's moment in the sun turned into a very promising career. Her magnetism exceeds her obvious stunning looks, and rather includes the singer's refreshing willingness to explore her femininity and youth from several viewpoints. On her classic debut album '19 & Dangerous,' she combined lyrical awareness with astounding vocal range. Whether on stripped, soulful records or colourful bops, the singer was able to reflect her personality honestly and intimately.
Records such as "Bloody Samaritan" and "Beggie Beggie" became anthems of a generation recognising their shortcomings as easily as they championed stories of triumph. Ayra's crucial ability to switch when desired is essential to her ongoing success at the zenith of African pop music. Her most recent single "Rush" is currently the number-one song in the country, possessing Ayra's characteristic vibrant energy which has enabled its transcendence beyond age and social class strata. 
Extending her grasp on the scene, Ayra Starr's deluxe version of '19 & Dangerous' is now released. She calls up more voices to enliven her vision and goes a relatively novel path by structuring the new records in between, updating the original's ethos with a daring edge. Considering how gracefully she's ascended in her skills and stardom over the past year, a lot of takes have immediately followed the project's release. Within The NATIVE editorial team, we have also collected our early thoughts on the project from Mavin Records' glittering Starr. 
HOW DID THE ORIGINAL '19 & DANGEROUS' GROW ON YOU? 
Tami: I've always always enjoyed Ayra Starr's formidable output. Right from her debut eponymous EP which featured "Away," I've always known it was only a matter of time before she completely found her footing in the game. '19 & Dangerous,' is testament to Ayra finding her voice and her vision as an artist in her own right. For me, it is her vulnerability, fluidity, and adept songwriting that stole the show.
Nwanneamaka: Despite being a fan of her self-titled debut EP, I didn't hop on '19 & Dangerous' immediately after it was released. It took me hearing "Fashion Killer" in a car ride to finally listen to the project a couple of months after its release. After listening a couple of times, some tracks like "Bloody Samaritan" and "Amin" stood out but "Fashion Killer" remained my favourite. 
Tela: I have always been a big fan of Ayra. Her voice and writing skills have always stood out since her breakout. It was a little bit surprising hearing '19 & Dangerous' since it was a bit different from her R&B catalogue. Despite this, she stepped out of her comfort zone giving us a timeless capsule. I immediately fell in love with the project after hearing "Bloody Samaritan" and can we just take a minute to appreciate "Bridgertn." 
DID YOU EXPECT A DELUXE OF THE ALBUM?
Daniel: I didn't see this one coming. Was expecting a new R&B-focused project after the "Skinny Girl Anthem" snippet. But yes I'll take this! 
Emmanuel: Honestly, I thought Ayra would take the single route to establishing dominance, especially because '19 & Dangerous' did so well. The machinery behind popular music has fashioned many ways to keep the artist in discussions without necessarily putting out new music, but Ayra's deluxe proves that she's in her bag. She extends the idea because she's able to, and a year after the release of the OG album, proves herself all over again. 
WHAT'S YOUR BEST SONG ON THE DELUXE?
Uzoma: "Fashion Killer" is still a bop for me and there is the soul-stirring "Toxic" and "Snitch" with Fousheé. Out of the additions to the deluxe, "Skinny Girl Anthem" with KayyKilo is a standout track for me. Don Jazzy had hinted about the song in his interview with Toolz and Gbemi but he didn't reveal it was Ayra Starr's. "Skinny Girl Anthem" embodies Ayra Starr's fearlessness about her lifestyle and sensuality. Her and KayyKilo's sassiness on this track is a delightful recipe and the beat by London has a 90s feel that is so calming.
Dennis: I'm still going with "Fashion Killer" because I firmly believe it's the perfect encapsulation of what makes her a star, both persona-wise and in relation to her songcraft. It's a shame that there's no equally stunning video to accompany it. Of the new additions, though, I'll go with the Lojay reunion on "Running." They just sound so damn good together, and the way they play off each other in terms of the thematic narrative makes me hope they can do a joint full-length project that reflects and ruminates on the grizzled nature of modern romance.
Moore: The best song to me is definitely "Rush." It's a song that represents the career stage that Ayra is in right now, where she's received enough success that the inevitable hate is beginning to roll in. Ayra sings about ignoring the naysayers, but with a slightly sombre tone that may betray the growing pains that come with such a career regardless. It's a song that, while very specific to Ayra's journey, is still relatable to those dealing with difficulties as they try to make it in life and the complicated feelings that come with it.
WHAT FEATURE IMPRESSED YOU THE MOST? 
Emmanuel: Every feature did well, but I have a slight Zino bias. He absolutely shakes things up on the "Lonely Refix," colluding with Ms. Starr to create new life from the already existing. In terms of chemistry, Lojay and Kelly Rowland are no doubt closer to Ayra's R&B sensibilities but Zino—Zino knows perfectly how to embed emotional turmoil into otherwise party bops. "Running" featured a great verse from Lojay, too, and after NATIVE Sound System's "Runaway," it's audible how well he speaks Ayra's musical language. 
Uzoma: It's Zinoleesky on "Lonely Refix." Niphkeys, his trusted producer friend, combines well with Louddaaa to create a space for him in Ayra's world. In this story about unrequited love, Zinolessky views loneliness from the perspective of distance from a loved one. His smooth vocals give life to his emotions as he shifts from romantic to erotic. It's another win for the singer. 
Daniel: Ayra x Miss Kelly! It was the ultimate feature, Kelly Rowland came into Bloody Samaritan with amazing vocals like it was made for her. It just goes to show the trajectory Ayra is on. She's a superstar.
WHICH OF THE NEW SONGS HAVE UNDENIABLE COMMERCIAL POTENTIAL?
Maria: I will say "Blood Samaritan (Remix)." "Bloody Samaritan" was already a certified hit before the remix, and it's certain that Kelly Rowland's immense success will surely rub off  and boost it to a wider audience.
Tela: It has to be "Skinny Girl Anthem." The production is exquisite while the rhythm is super catchy. I can already see the TikTok dances and Instagram captions. I am sure so many people will use the song snippet in their Instagram stories – I for sure will quote a couple of lyrics. 
Moore: I think the song with the most commercial potential is definitely "Lonely Refix." The Zinoleesky fans are already going to majorly contribute to the streams this song gets. The song's lyrics are filled with a yearning that will certainly connect with its audience. The upbeat tempo also makes it a song that will be very popular at clubs during the December period. It'll be hard for a listener to not find something to enjoy about it.
WHAT IS YOUR OVERALL IMPRESSION OF THE PROJECT? 
Nwanneamaka: Interesting collaborations. Lojay, Zinoleesky and Kelly Rowland have very different sounds but Ayra seems to blend effortlessly with them. I'm loving it so far, but "Rush" does it for me. 
Israel: It is an extremely well-put-together Project and Ayra consistently proves why she continues to blaze the trail of African Pop music. It makes me very excited for what else she has in her arsenal of bangers and I can't wait to see what she does next.
Uzoma: This deluxe project reinforces everything we know about Ayra Starr: she is a budding artist with immense talent and versatility. Also, the sequencing style of placing new tracks in the middle of old ones works a treat. It gives the project a refreshing feel, like an old story you fall in love with again because of its new characters. 
Dennis: Unchanged from how I felt about its original version. '19 & Dangerous' was a resounding statement the moment it came out, a wonderful showcase of skill and poise from a singer eager to prove that the initial hype that came with being introduced by a star-making label was even underselling her. Thankfully, this deluxe doesn't come across as an indulgent flex; if anything, it frames the sterling ascent of a generational talent and it's a reiteration that Ayra Starr will continue to play by her own rules as she grows forwards.
Featured image credit/NATIVE
---