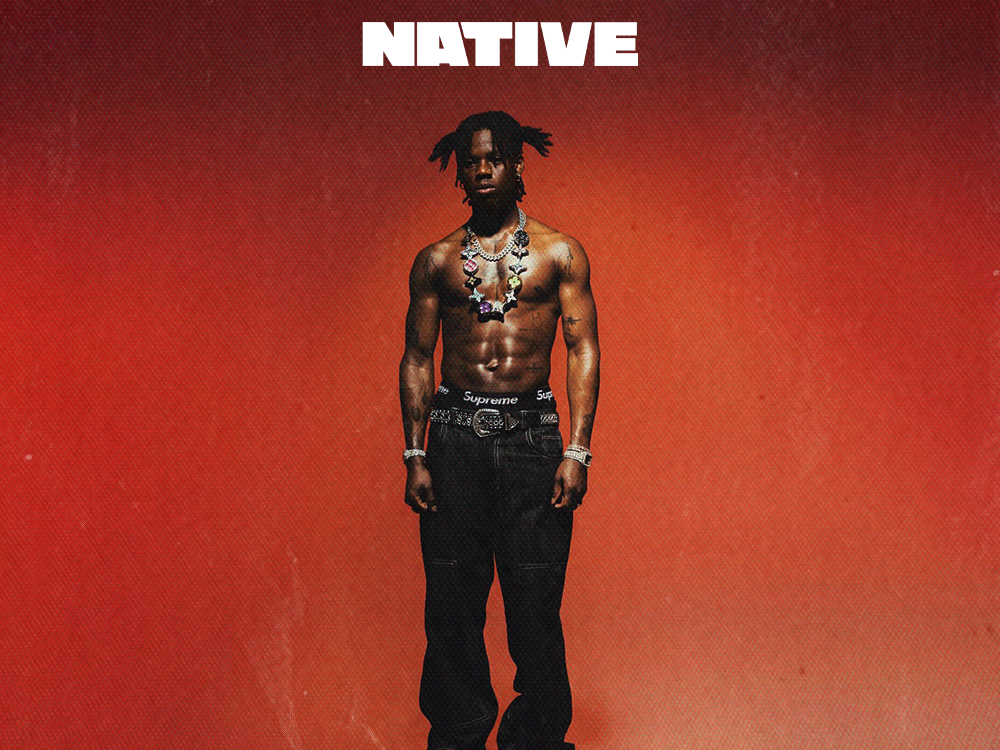 The significance of Rema's tour of India
An expansion of a cross-cultural relationship that stretches back decades
Barely four years ago, Rema made his debut on the Afropop scene. What has happened in that time has become a gloried tale of musical shape-shifting, positioning the Benin-born artist as one of the most complete, dazzling, and purposeful superstars we've ever seen. On one hand, he's juggling myriad sounds in his orbit, and on other, playing around with different motifs, cultures and countercultures, uniting the music with narrative background that draws from his own interests. His recently announced "Calm Down" tour of India continues to burnish these ambitions, even more poignantly than few things the musician has attempted throughout his audacious career. 
The tour banks on the phenomenon of "Calm Down" to strengthen Rema's presence to an Indian audience. It is scheduled to be held in the cities of Mumbai, Pine and Bangalore, between May 12 and May 14. Through the immensity of the 'Rave & Roses' breakout hit, the tour however continues an underlying relationship with Indian culture and sonics for Rema. Few can easily forget the humorous, even if ignorant, criticism thrown his way in the aftermath of "Dumebi"—his flamboyant vocalisation bordered on feverish indulgence, coating the song's chorus with, essentially, inaudible adlibs. Indeed for most, those vocalisations undercut Rema's potential, especially in Afropop where words and meanings are of utmost importance.
View this post on Instagram
Playing the long game, the artist born Divine Ikubor continued to bank on his high-powered fusion in his sound. "Corny" and "Iron Man" continued to blend Bollywood sonics into Nigerian pop-coloured production, harping on melancholic melodies and pensive, drawn-out synths, evoking even if lightly, the bright flamboyant gowns associated with Indian damsels.
If listeners couldn't place the intent behind the sound, at least they could visualise it. Turning inside out the expectations of what off-the-mic ad-libbing could sound like, Rema moved without boundaries. Those vocals you'd hear complementing the main lyrics contributed to the songs' atmospheric quality, and by doing so, forming great cultural linkages with the globally-iconic conventions of Indian culture, particularly its film industry.
The more Rema progressed as a superstar, he doubled down on his sonic origins. Although he ditched the much-beloved emo rap perspective for the explosive allure of Afropop, he's carried this particular influence into his other musical iterations ever since. 'Rave & Roses' nodded in that direction; with its second track "Hold Me" featuring similar brooding elements, which was carried into later tracks such as "Soundgasm" and "Calm Down". Whereas the latter was spiced yet with Latin pop influences, especially its upbeat production, his vocals, the "Oh, oh, oh" refrain sounded like something you'd hear in a Bollywood film. Likewise on "Soundgasm", its breathless mutterings seemed to be mirrored from the romantic tensions palpable in such movies.
By converting genuine appreciation into a marketable enterprise for his brand, Rema is operating on a very strategic level. To his credit, the seeds of this relationship has been watered over time, in its distinct way contributing to a larger conversation about the overlapping  nature of the Nigerian and Indian cultures. 
Several generations of Nigerians have been aware of Indian culture. Mere awareness doesn't even begin to describe the intensity of the relationship; before the craze of Korean and Chinese movies, Nigerians have always loved films made by Indians. This was a norm even before Independence in 1960, as Lebanese and Syrian traders pulled off the commercial masterstroke of importing the Bollywood films which had cheaper import licenses than Hollywood into the country, so that by the early sixties, "Nigerian moviegoers were just as likely to see a poster of Shammi Kapoor in Junglee as they were of James Stewart in Vertigo at their local theatres". 
The era's social landscape must have contributed to this multicultural interest. Emerging into its national existence, the temperament of the period was largely positive. An immense, promising future seemingly laid ahead for Nigeria, which had discovered oil just four years before Independence. Among locals and international businessmen with a penchant for the cultural, it was a prime period for galvanising public interest in the arts and by doing so, making profit for themselves. The several hotels and bars in metropolitan cities such as Lagos and Port-Harcourt were in service of this idea, patronising the talent of (mostly Highlife) musicians and positioning themselves in the centre of an imminent cultural boom. 
However, for all the credit Lagos tends to get, it was the North which championed the merits of Indian cinema, which would later be described in its rightful term of "Bollywood", a conflagration of America's Hollywood and its premier cultural centre, Bombay. With historical links to Asia and the Middle East through the trade in spice, silk and other materials of certain allure, the North saw the obvious similarities between their culture and that of India. From the layered gowns to overtones in sound, the Indian culture was completely and colourfully embraced, first and foremost as a tool for fostering artistic interest rather than just another commercial venture. 
Growing up in a middle-class area of Lagos which was proliferated with Lebanese who frequently inter-married with Hausas, the culture was in obvious view. From donning the popular Saree and Ghagra choli gown styles to using red-coloured cosmetics and intricate Laali designs, you'd be forgiven for thinking you'd stepped into an overseas Indian state. Just as the rest of the country embraced the Eastern-created films which defined the conventions of Old Nollywood (starting with 1992's 'Living in Bondage'), so did channels of distribution spring between the North and metropolitan cities, with frequent travellers, family members, and traders moving between those spaces to return with loads of Indian movies, which were then seen in the film shops popular until the popularisation of mobile phones and the internet. Among the most popular films were 'Dus Numbri', 'The Burning Train' and 'Nagin: Snake Girl', about two lovers who could transform to snakes, which was a narrative premise that was subsequently used in Nollywood in the 2000s. 
In a paper, the anthropologist Brian Larkin related this intriguing relationship through the prism of postcolonial artistic formation and relations. The author of 'Signal and Noise: Infrastructure, Media and Urban Culture in Nigeria' focused on the culture's impact within Hausa societies, recognising the proliferation of littafayan soyayya (love stories) which became popular from the late eighties. Merging wildly imaginative sexual storylines into Hausa social landscapes, the oft-criticised pamphlet literature was however an extension of the cinematic relationship, and more poignantly was something Larkin described as "the local reworking and indigenising of transnational media flows that take place within and between Third World countries, disrupting the dichotomies between West and non-West, coloniser and colonised, modernity and tradition, foregrounding instead the ability of media to create parallel modernities". 
"Indian films," he writes, "offer Hausa viewers a way of imaginatively engaging with forms of tradition different from their own at the same time as conceiving of a modernity that comes without the political and ideological significance of that of the West". 
This relationship succeeds in the establishment of its narrative tropes, which is something Rema hones into brilliantly. With characters such as the hero, mother, and comedic friend reigned in from Indian religious epics, viewers know what to expect before the scenes unfurl, but the exhilarating quality makes it worth sticking around for. The Director K visuals for "Calm Down" has a particularly Indian sequence: at a crowded house party, Rema sets his eyes on his beloved for the first time, and throughout the video their relationship goes through motions of getting her to like him to actually being heads-over-heels in love, at the kind of pace viewers of Indian cinema would surely relate to. 
The record, and by extension, the piercing admission in the lyric "Baby girl, if you leave me, I no go love again" thus constructs meta-level significance. It harps on the song's individual quality while linking arms of storytelling with conventions in the established tradition. If a writer like Omah Lay highlights the hedonist thrills associated with dangerous love, and Fireboy DML craves the tender reach of feminine souls melting into his, Rema exists in the centre: he can be as fierce as he is tender, bringing into his songwriting a dramatic flair whose roots can be found in the storylines of the many Indian films he must have watched growing up in Benin City. 
In recent years, the media industries of both Nigeria and India have attempted to capitalise on its long-shared relationship. Obviously due to the central position of film in this interaction, it is film, rather than music, which has led the charge for cross-national collaboration. In early 2015, the Acting High Commissioner of India in Nigeria revealed plans to facilitate a partnership between both film industries, which were in the mid 2000s heralded as the two largest producers of movies in the world, even ahead of Hollywood. 
However, the report in a decade's time proved that Nollywood was experiencing dwindling fortunes. Since 2013, those fortunes have so far improved, as Nigerian Cinema is back on course, both as an art form and as part of the commercial ecosystem. In 2020, the big-budget 'Namaste Wahala' was released to generally mild reviews, but prior to watching a lot of viewers were intrigued by the possibilities. It was billed as the first crossover movie of its kind, although eight years before a lesser-known movie titled 'J.U.D.E' was premiered across cinemas, bearing similar motivations. 
Over the years, a small number of Nigerian actors have starred in Bollywood films, thereby bringing the relationship to a full-circle moment. These include Zainab Balogun, who featured in 'Cocktail' (2012); Daniel Lloyd, a former music business professional who was the titular Jude in the aforementioned movie; and in 2018, Samuel Robinson took on a principal role in 'Sudani from Nigeria', playing a disillusioned character whose love for football takes him to India where he represents an international team, amidst the social struggles of navigating his own past and the strange environment he's found himself. Last year, it was revealed that Nigerian actors Sola Sobowale and Brodda Shaggi were going to star in a movie by the acclaimed Hamisha Daryani, although further details about the production haven't been revealed since then. 
Being the first of its kind, Rema's tour opens up a lot of opportunities in the attempt of this cross-cultural reconstruction. More than a lot of Nigerians and Indians know, the similarities between their urban cultures are myriad. In terms of geographical sensibility, the sprawling population and the heat; also in characteristic, as Bombay could easily be taken for Lagos during certain periods of the day. The people are also hardworking, opening themselves to the gruesome necessities of labour while being able to water the flowers of their creativity in the same, sometimes lesser, measure. The return to India would then—and very crucially—give us the opportunity to write new stories, to reconstruct our own narrative alongside this culture that has become so familiar and yet so far away. 
It would be interesting to hear the stories Rema tells on those Indian stages. More interestingly, to gauge the reaction of the people when they learn how one of the most important pop stars of this era was influenced by their culture. Times of India have reported that Rema, in obvious appreciation and calculation, would feature an array of that culture on his stage, including dance forms such as Lavani, Kathak and Kuchipudi. 
No doubt, the memories would last a lifetime for many Indian fans of Rema. As an industry, it's also a cue for Afropop to look past the West and find cultural alliances with other regions across the globe, particularly in Asia which shares the so-called Third World tag with the African continent. Due to the colonial, oppressive history African countries have with the West, it's almost psychologically influenced how much we'd seek to enter their much-vaunted spaces, but it's that same history that makes countries like India and South Korea such potent spaces for seeking long-lasting collaboration. 
Rema has again proven to be ahead of the conversation, and it's only going to get better for his brand if he pulls this off successfully. There's no such thing as wasted influence, and it would demonstrate a multicultural, multifaceted edge to the art of creating music and the business of international tours, if more Nigerian musicians took a closer look at the cultural strands that have formed the texture of their artistry.  
---