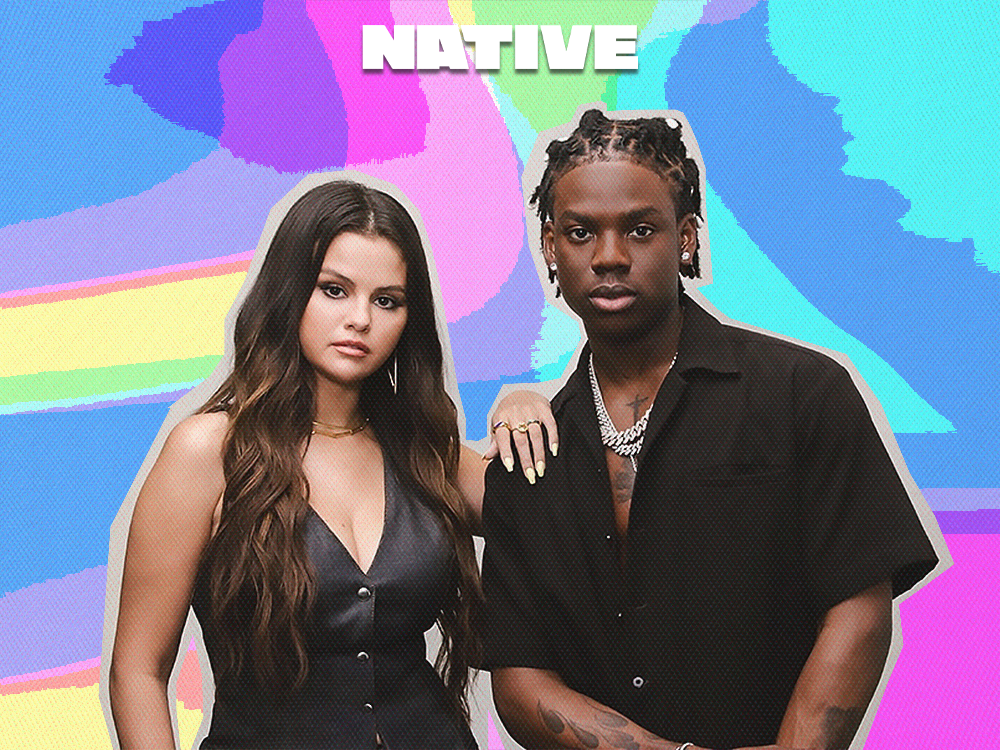 The Alluring Rise of Rema's "Calm Down" Remix With Selena Gomez
The NATIVE discuss Rema's biggest hit song yet
Hits aren't new to Rema but the trajectory of "Calm Down" has been special. Listeners would vary in accounts of when the Andre Vibez-produced song first held them spellbound, but for most, its appeal was instant. It was released in anticipation of an heralded debut album, and before progressing on that journey, the dazzling genius from Benin City showed his hand. Exuberant and vocally dynamic, the record's potential wasn't overshadowed by other songs on 'Rave & Roses', and rather took the album's great stature beyond 2022 and into the future. 
Two days ago, the announcement came that the Selena Gomez-assisted remix of "Calm Down" had climbed into No. 8 on the Billboard Hot 100 chart. A career-first, the song's achievement of cultural and commercial acclaim was one scarcely recorded in crossover records, proving Rema's amorphous style as artistically rewarding. "Trying to hold in the tears," he shared on social media accounts, "I know how hard I worked to get my sound here." 
Traditionally, songs are known to court peculiar audiences depending on its sound but "Calm Down" has a universal appeal–it cuts across generations and countries. From football icon Cristiano Ronaldo sharing a video of his kids dancing to the song, to pulsating raves and filled-out stadiums, there's no scene where the tracks feels out of place. The song was at the center of a national moment when it was revealed five kids in Iran were detained for sharing a dance video without wearing the mandatory headscarves. In response, Rema had tweeted, "To all the beautiful women who are fighting for a better world, I'm inspired by you, I sing for you, and I dream with you."
The engineering of such a global hit song usually demands sturdy label backing and in Mavin Records, Rema has the experience to go with talent. In this roundtable discussion, members of The NATIVE's editorial team explore the record's success and other relative considerations. 
WHAT WAS YOUR INITIAL REACTION TO THE SONG? 
Nwanneamaka: Following the release of 'Raves and Roses,' I leaned more towards songs like "FYN" and "Oroma Baby" so the release of a remix for "Calm Down" didn't necessarily spark my attention. While I understand the benefit of a remix in taking the track to new heights, I was not enthusiastic about this because I couldn't see Rema and Selena blending on a track. While this wasn't a bad attempt, I can say I still prefer the original. 
Wonu: I usually don't listen to Rema as I personally don't connect with a lot of his songs but "Calm Down" was that song. It instantly did it for me, I remember having the song on repeat for weeks when it initially came out. The record at the time was a fine addition to his ever evolving discography. 
Uzoma: I loved it the first time I heard it. The production from Andre Vibez was instantly catchy, and how Rema was slipping in and out of pockets of melody was masterful. I have been a fan of Rema since "Iron Man" and "Calm Down" made me know that the young star was here to stay. Also, Director K's colourful visuals for the song heightened its appeal.
Daniel: It was love at first listen for me. Having not dropped a record for a minute before "Calm Down", I immediately fell in love with the feel of the record and sonic shift from Rema. 
DID "CALM DOWN" NEED A REMIX? 
Dennis: I stopped believing in remixes a while ago, so I didn't believe "Calm Down" needed a remix when it came out. In fact, I still haven't listened to the remix since the first time I watched the video. Hindsight is 2020: Without that remix, that song's potential wouldn't have swelled into the undeniable behemoth that it is.
Uzoma: Honestly, I never imagined a remix for "Calm Down" because I believed Rema did a great job on the song. When the news broke about the Selena Gomez feature, I didn't know what to expect. On first listen, it didn't feel too different from the original. But after a couple of more listens, I had to admit that Selena Gomez came through with top effort. She and Rema had good chemistry and the success of the song is proof of that synergy.
Emmanuel: In the weeks before 'Rave & Roses' dropped, "Calm Down" was the song I listened the most to. For me, it was such a perfect song; the writing, the beat, the adlibs, even the video. So naturally, I'd be sentimental and say it didn't really need a remix. However, the remix is very well done, and doesn't rub off the wrong way on the OG version. Business-wise, I can't fault the young man too. 
HOW WELL DOES SELENA GOMEZ DO ON THE REMIX? 
Nwanneamaka: Undoubtedly a good attempt especially when comparing some of the international contributions we've had on the big Afropop songs from these parts. Selena is a good vocalist, no doubt about that, I just wonder if the song was actually elevated sonically.
Wonu: Selena Gomez did good on the remix. I wouldn't have been bothered if there was no remix to the record but it was a great move for the record, the track surely needed the elevation.
IF YOU WERE TO SELECT AN ARTIST TO BE ON A "CALM DOWN" REMIX, WHO WOULD YOU CHOOSE?
Daniel: Honestly, I would have been fine without a remix, but if I were to choose, I'd have definitely loved to hear Tems on the track.
Wonu: I would have loved to see Nasty C on the remix actually, that would have been an interesting pair. 
Emmanuel: Well, songs by Rema are usually versatile so a lot of names come to mind. I think Rema has shown more than any contemporary that he's willing to stretch his sound outwards, and for novelty, it would have been exciting to see an Africa-facing remix. Perhaps something with CKay or a South African producer, something that spices up the song in an unexpected way. I'm a sucker for freshness. 
HOW BIG COULD REMA BECOME GLOBALLY?
Dennis: If you ask me for a shortlist of Nigerian artists that could perform on the most prestigious stages, with an obsessive fan base and possibly the type of mammoth world tours guys like Bad Bunny and The Weeknd have pulled off, Rema would be one of the first two I would name. (The other is Tems, but I digress.) Rema isn't just talented, he's a magnetic character with a sound that's both pop and edgy, and this remix is another example of the great decisions that he consistently makes.
Emmanuel: Musically, I don't think we've seen the best of Rema and that's frightening. Not for him, though. He'll definitely be enjoying the start to the year and if anything, the dual release of "Holiday" and "Reason You" is a great way to embark on another journey. With the right moves, I see Rema tapping more into the sporting and fashion aspects of culture, especially after his appearance at the NBA halftime show. And given the world-dominating status of this "Calm Down" remix, it's expected that Rema would mark out those spaces where he hasn't yet penetrated, and make a targeted push for ubiquity there. 
Uzoma: It feels like Rema is just getting started. With every new release, he keeps elevating his artistry and breaking new ground. His exploits on his songs and other projects—say the 'Black Panther' soundtrack—have proved that he can function effortlessly as both a singer and a rapper. With consistency and fresher sonic iterations, he will cement his legacy as one of Nigeria's biggest music exports.
Nwanneamaka: The growth he has experienced and the boundaries he has managed to break with only a couple of extended plays and one debut album is insane. A crucial trait he also possesses for an artist on the cusp of a breakthrough is good stage presence. Watching how his electrifying energy translates to audiences and to me on the other side of the screen is incredible. A star in the making, without a doubt. 
View this post on Instagram
Featured image credits/
---