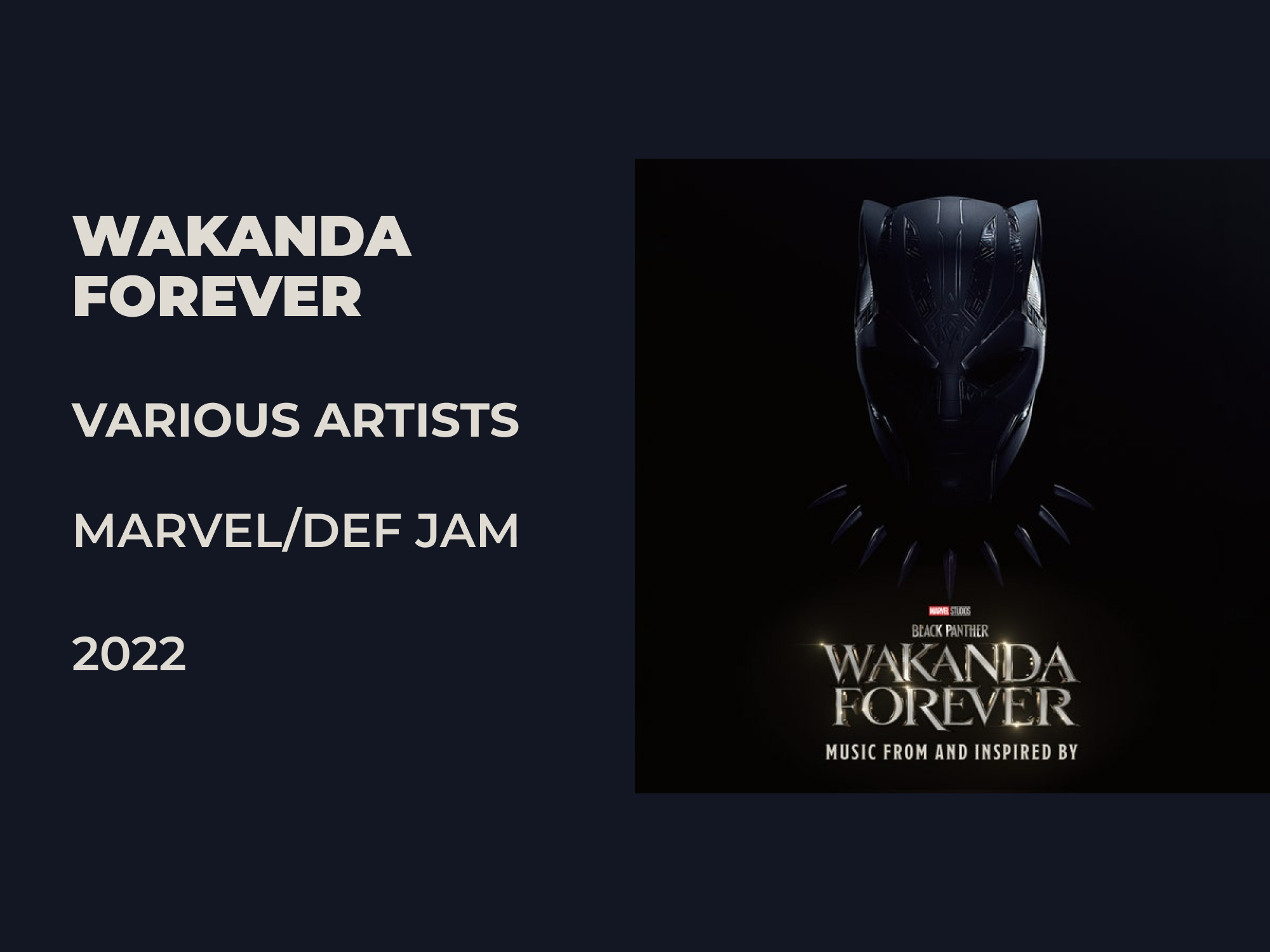 Review: 'Black Panther: Wakanda Forever – Music From and Inspired By'
adeptly capturing the movement from grief to celebration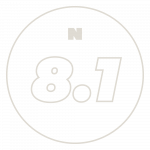 The death of Chadwick Boseman changed everything for Marvel's 'Black Panther' franchise. The first stand-alone film featuring Marvel comic's royal cum superhero quickly became a seismic cultural event when it arrived in 2018 garnering over $700 million domestic gross and $1.8 million worldwide. Thanks to an inspired screenplay by writer-director Ryan Coogler, the late Chadwick Boseman who had introduced the character earlier in 'Captain America: Civil War' stepped into his cinematic purpose. It was clearly, the role Boseman was born to play and everything he'd done in his career led up to that moment. Leaning into the character's symbolic significance, Boseman turned in a regal performance in tune with just how much the character meant to people around the world, particularly for Black people. It sometimes seemed like an outsize responsibility being T'Challa but Boseman shouldered it with grace.
This year, arriving during the hazy summer days in July, came the stunning teaser for 'Black Panther: Wakanda Forever' which soon set the mood for the sophomore film that followed later in November. At the time, heartrending scenes of grieving characters who were part of T'Challa's circle of trust including Nakia, Queen Ramonda, Shuri, were set to the tune of Tems' emotive cover of the 1974 Bob Marley and the Wailers classic, "No Woman, No Cry," as they ostensibly grieved the loss of T'Challa and by extension–their friend and colleague, the late Chadwick Boseman. These sequences in the trailer soon gave way to the defiant refrain of cathartic release promised by Kendrick Lamar's rallying anthem, "Alright." For many of us, it was clear from this teaser that music would be crucial to the mourning process in 'Black Panther: Wakanda Forever,' just as plays a special role in the burial rites of many African cultures.
According to Ludwig Göransson, the Oscar winning Swedish composer who masterminded the musical architecture of both 'Black Panther' films, the plan with its sequel, 'Black Panther: Wakanda Forever' was to create a rich, immersive music landscape that visualised the characters experiences as they discovered the underwater world of Talokan, while serving a dual function of paying tribute to Boseman. Speaking about the release, Göransson shared "Thematically, we wanted to move the audience from grief to celebration. When you listen to the soundtrack, you can close your eyes and relive the experience of the movie. That was the intention."
The new soundtrack follows an epic first album, curated by Kendrick Lamar, for 2018's 'Black Panther.' Featuring artists such as SZA, Travis Scott, and the Weeknd, the album trended at the time of its release, with over eight songs charting on the Billboard Hot 100 just over a week after the film's release. The first 'Black Panther' album also won two Grammy awards–one for the score and the second for Best Rap Performance for "King's Dead" by Jay Rock, Kendrick Lamar, Future, and James Blake. It's safe to say that the expectations for the new release were sky high anchored by the record-setting firsts of its predecessor.
Even though the original 'Black Panther' was packed with brilliant performances and incredible world building, Boseman remained both the film's moral leader and soulful epicenter. His character–T'Challa, the noble king of Wakanda, a fictional African nation blessed with endless natural resources–was a new age hero. A dignified, aspirational figure tasked with maintaining the isolationism that had served his country so well, and fulfilling his duty with his Avenger colleagues in world-saving business. However, when Boseman tragically fell ill to colon cancer in 2020 at the age of 43, Coogler and the studio were compelled to reimagine the direction of the franchise. An early decision was made not to recast the character and with this established, Coogler went to work on its sequel while mourning his leading man and close friend.
View this post on Instagram
The result of this excursion is felt in 'Black Panther: Wakanda Forever.' Coogler and his cast and crew pour all of their emotional response, both immediate and delayed, into creating both the film and its soundtrack. The sequel is powered by the themes of grief and mourning as reality and fiction are blended in often uncanny ways that might have been exploitative in other people's hands but feels cathartic in sensitive, well-intentioned ways when Coogler is the firm hand behind the material.
The film's plot introduces the new sub-marine kingdom of Talokan and with that, a whole new culture that claims its ancestry from Mexico's ancient Mayan civilisation. The film's antagonist, Namor (Tenoch Huerta) and his indigenous underwater nation had suffered the devastating effects of colonialism, being nearly wiped out by germs and guns brought on by Spanish colonialists. In this regard, there is a sense of shared experience with the Wakandans as Coogler seeks to comment on the geopolitics and cultural ties between two would-be marginalised communities.
Working on both the score and the soundtrack projects at the same time, Göransson travelled to Mexico while the film was shooting. In Mexico, Göransson worked with an eclectic crew of established and upcoming artists not to mention music archeologists and historians to unearth the instruments and sounds that would form the sonic scape for Talokan. Some of the earliest result of this deep dive appeared on the 3-track prologue EP that followed the release of the teaser. Fast rising Mexican rapper Santa Fe Clan contributes "Soy," a hard-hitting rap single.
Themes of trauma and loss are common to both the Wakandans and the Talokans and the music of Wakanda Forever is fully in tune with this. The entrancing "Árboles Bajo El Mar," recorded by Mexican performers Vivir Quintana and Mare Advertencia Lirika deploys drums, breathing, shakers and lyrics that dwell on rebirthing, to relay a seductive otherworld. "Con La Brisa" is a lilting love song laced with the flirty vocals of singer Foudeqush. While talented vocalist Blue Rojo delivers a show stopping dirge "Inframundo."
View this post on Instagram
For the world of Wakanda, thrown into mourning by the loss of their king and protector, Coogler and Göransson seeking authenticity decided to look to the obvious corner, Nigeria. In recent years, contemporary Nigerian pop music has been on a steady incline on the global stage, and Göransson tapped into this swell of activity. After principal photography wrapped, Coogler and Goransson flew to Lagos and connected with the Co-President of NATIVE Records, Seni Saraki, who in turn marshalled a revolving door of big-name talent- Burna Boy, Ckay, Rema- and session musicians to write and record songs that would eventually make up the soundtrack.
Afropop and mourning would instinctively appear to be strange bed fellows. A generous portion of this ascendant music culture is characterised by uptempo tunes that work best as dancefloor prompts prioritizing fast living. But this conclusion would be an incomplete reading of this musical renaissance that goes back at least to the early noughties. The embrace of Afropop has in some way, paralleled the economic downturn that Nigeria has experienced in the last decade. Afrobeats has emerged as a form of respite to these tough times, creating distractions, upliftment and in its own way, documenting the struggles even. A recent example would be a record like Omah Lay's debut album 'Boy Alone' which clearly has a lot more on its mind than just dance- although there is plenty of that. The singer chronicles his struggles with the fame monster crafting catchy tunes about alcoholism, loneliness and depression.
The soundtrack's lead single "Lift Me Up," written by Tems- with contributions by Coogler- is notable for marking Rihanna's return to recording music following a six-year absence spent pursuing other interests. While the new mother was not keen to sign on initially, she was ultimately unable to resist the powerful teaser as well as the themes of motherhood connecting both Wakandan and Talokan worlds. The resultant product is a serviceable ballad peppered with non-committal lines such as, "Burning in a hopeless dream/Hold me when you go to sleep," anonymous enough to project emotions surrounding Boseman's demise onto it- or any other emotional experience to be honest.
Working as a more precise reflection of loss within the context of the film is the Burna Boy-performed, P.Priime and Tay Iwar-produced title, "Alone" which soundtracks some of Wakanda Forever's most palpable emotional beats. "Alone" has some fine colourful writing: "Don't let them take my head/And dance over my dead—Body, yeah," Burna Boy wails mid tune as the record builds to a swirling crescendo. Whil evidently solemn and self-reflective, Burna Boy finds space to wink to his audience by including the line, "Mr DJ gbemi trabaye." In 'Wakanda Forever,' "Alone" is preceded by Stormzy's tone poem which is inserted as an interlude on the album. The British superstar sings and raps about moving through the world alone following the loss of a loved one.
In some African cultures, it is believed that the dead do not exactly leave their loved ones but are on a continuous journey to the afterlife. The Black Panther films have embraced this belief and with the films' ancestral plane, Coogler has set up a space where living and deceased can communicate. Fireboy's "Coming Back For You" is a celebration of this life after life, with reliably vague Fireboy lyrics hinting of a kind of omnipresence. This is backed by a melodic chorus and chants delivered in Yoruba. With this song, the film dwells on the beauty of the grieving process and celebrates solitude and reflection as well as the burning of the mourning attire that usually marks the end of the period.
View this post on Instagram
CKay takes the lead on "Anya Mmiri" which is literally translated as tears– a superfluous affair that wastes the brilliant use of the melodious oja flute. The flute is also incorporated in the film's climactic battle scene, and is used to better effect on the Amaarae stunner, "A Body, A Coffin" on the prologue disc. Mexican and African cultures collide on songs like "La Vida," a lively celebration of cultural identity that also stresses the links between minority communities. Snow Tha Product and American rap icon E-40 share lead on this hip hop mariachi fusion. Elsewhere Rema puts in a surprisingly confident verse and more than holds his own alongside rapper Alemán on the braggadocious, "Pantera."
Just like the film that inspired it, the soundtrack album is more than its mournful parts. The South Africans DBN Gogo, Sino Msolo, Kamo Mphela, Young Stunna and Busiswa get the party started-twice- on Amapiano anthems, "Love & Loyalty (Believe)" and "Jele." And Tobe and Fat Nwigwe are delightfully boisterous on the highlight, They Want It, But No. The soundtrack serves as further proof that as far as African cultures go, the grieving process can also be a celebration of life.
Stream 'Wakanda Forever – Music From And Inspired By' below.
---
Wilfred Okiche is a writer, culture critic and all round great guy-at least that's what people say. He tweets from @drwill20
---