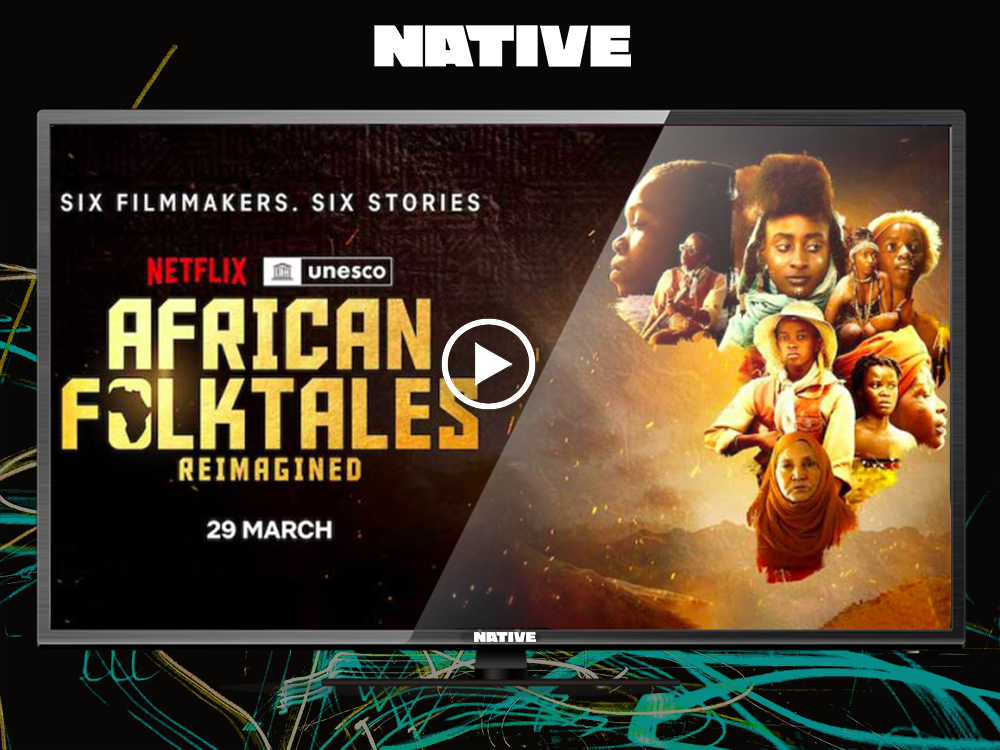 AV Club: 'African Folktales, Reimagined' Explores Indigenous Stories Through Short Films
rich in storytelling & feminist viewpoints
In 2021, Netflix and UNESCO partnered to launch a short film competition on African folktales to discover new voices and to give emerging filmmakers in Sub-Saharan Africa visibility on a global scale. The six winners were trained and mentored by industry professionals and provided with a US$75,000 production budget to create short films alongside also receiving $25,000 each. The result of that competition is the six-part short film anthology 'African Folktales, Reimagined.'
'African Folktales, Reimagined' is the brainchild of six African film directors, which include Korede Azeez from Nigeria, Loukman Ali from Uganda, Voline Ogutu from Kenya, Gcobisa Yako from South Africa, Walt Mzengi Corey from Tanzania and Mohamed Echkouna from Mauritania. In tandem with the theme of the competition, all six directors take an old tale unique to their country and spin them into modern yet inventive interpretations for new audiences. These short films also incorporate indigenous African languages for their dialogues, as well as English and French.
View this post on Instagram
Loukman Ali's "Katera of the Punishment Island" starts the anthology. The Ugandan director is no novice (his 2020 film The Girl in the Yellow Jumper is on Netflix and he directed the Jade Osiberu-produced 2022 film Brotherhood). Set in the early 1900s, the film is based on the old western Ugandan island of Akampene, a Rukiga word for "punishment," where unmarried pregnant girls, whose conditions brought shame to their families, were abandoned to die. Katera (Kababiito Tracy) is one such girl. In her case, it isn't her family who sent her to the island; it is Gregory (Michael Wawuyo), a general who is a sympathiser with the British colonialists. 
After being rescued by Omar (Michael Wawuyo Jr.), Katera plots revenge against Gregory. Loukman Ali's grip on "Katera of the Punishment Island" oozes confidence; he knows the kind of thriller he wants to make the film—drama-like yet action-packed—and does so flawlessly. He also maintains his working relationship with father-and-son actors Michael Wawuyo and Michael Wawuyo Jr, from The Girl in the Yellow Jumper, and the 2021 short films The Blind Date and Sixteen Rounds.
In the world of Nigerian director Korede Azeez's "Halima's Choice," 99% of the world population has uploaded themselves into a virtual paradise called Napata. Deep in a Fulani village in this postmodern, AI-enabled space lives Halima (Habiba Ummi Mohammed), a young girl desperate to escape an arranged marriage. He meets and falls in love with Umar (Adam Garba) but their union is threatened by familial, societal and technological difficulties. Azeez, who has been honing her craft with other short films (like 2020's Tip of the Edge), cites the Nigerian folktale "The Disobedient Daughter Who Married a Skull" as inspiration for her short film, which received production assistance from Kenneth Gyang's Cinema Kpatakpata.
Kenyan director Voline Ogutu's "Anyango and the Ogre" slightly toes the sci-fi path. Based on a children's folktale, the film portrays Mama Otis (Sarah Hassan) who, with her three children, is stuck in an unhappy marriage rife with violence. In the film's world, citizens are divided into two groups: Grey Zone and Blue Zone. The former is an abandoned territory full of single and unmarried women (sometimes with children) whose lives are shown to hold no meaning until they get into the Blue Zone. The latter is paradise-on-earth: colourful, serene and a place strictly for married couples and their families. Otis (Trevor Jones Kamau) is the driving force of "Anyango and the Ogre," as he, unhappy with the attitude of his father (Lucarelli Onyango), seeks better fortunes for his mother and two siblings. 
For Mauritanian director Mohamed Echkouna's lead character (Zainabou Ahmed Mohamed) in "Enmity Djinn," who is in her late seventies, her nemesis is always seeking her. From the sand-covered fields of the desert to a bustling Mauritanian city, a djinn—an ancient spirit—terrorises the grandmother, serving as a reminder of a haunting past. Echkouna's film, just like his 2016 short film Trail of Hope, through the purview of culture and religion, casts a light on how both function in the lives of its characters. In Tanzanian director, Walt Mzengi Corey's "Katope," culture and community collide in the life of the eponymous character (Rahele Matete), a young girl, whose destiny, from birth, is tied to the fortunes of her village. South African director Gcobisa Yako's "MaMlambo" borrows inspiration from South African mythology as the aforementioned river goddess, played by Simphiwe Dana, resurfaces in present-day South Africa to pursue her duty of watching over troubled bodies.
One underlying thread connecting all six short films is their feminist viewpoints on the topics of domestic violence, sexual violence, forced marriage and female empowerment. The films are written entirely by their directors (except for "Enmity Djinn," which Mohamed co-wrote with Connor Syrios, and "Katope," which Walt co-wrote with Rebecca Mzengi Corey) and feature female characters who fiercely defy the status quo and handle any situation they find themselves. Even in the Otis-led "Anyango and the Ogre," it is his mother's decision that ultimately changes their lives. These short films join a list of recent productions on the African continent that centre women as major and important characters, including King of Boys (2018), Rafiki (2018), Lionheart (2018), Binti (2019) and Lingui, The Sacred Bonds (2021).
While there are male characters who contribute to the development of the films' plots, there is a deliberate act to shield the lead characters away from the male gaze. In the six films, the lead female characters face male figures in their lives who want to knock them into submission. For Katera in "Katera of the Punishment Island," it is Gregory; for Halima in "Halima's Choice," it is her father, played by Sani Mu'azu; for Mama Otis in "Anyango and the Ogre," it is her abusive husband; for the grandmother in "Enmity Djinn," it is the djinn; for Katope in "Katope," it is an elder in her village; and for Amandla (Zikhona Bali) in "MaMlambo," it is an unnamed male voice that haunts her sleep. Still, the male characters are also important figures who rouse something in the female characters—like Omar in "Katera of the Punishment Island," Umar in "Halima's Choice" and Otis in "Anyango and the Ogre"—but they don't steal the agency of the female characters, as the filmmakers ensure the bulk of the decision making lies at their feet.
View this post on Instagram
It might be that, due to the theme of the competition that birthed the short films in the first place, there is also a conscious effort to portray diverse cultures of Africa, majorly through setting, costume and dialogue. Each film is richly textured with the elements of its location, whether it recalls the past or is set in the future. The filmmakers are also bold to venture into genres such as fantasy and science fiction, offering glimpses into the stylistic choices of Africa's new generation of filmmakers. 
On the technical side, the films are of high quality; the cinematography and sound, in particular, are not pedestrian, as they feature both experienced hands in Loukman Ali ("Katera of the Punishment Island"), Baba Agba ("Halima's Choice"), Enos Olik ("Anyango and the Ogre"), Sheldon Chau ("Enmity Djinn") and Konstantinos Koukoulitos ("Katope"). But as is bound to happen, some filmmakers in the anthology exhibit a level of mastery that is exemplar for all to follow suit. Yet, 'African Folktales, Reimagined' is a rewarding ride.
The filmmakers in 'African Folktales, Reimagined' have, rightfully, utilised the opportunity from Netflix and UNESCO to showcase their talent. With the attention of a global audience fixed on them, they are certain to benefit because the works that have contributed to the anthology are excellent. In the greater scheme of things, it is a win for African filmmakers and the continent as a whole.
Stream 'African Folktales, Reimagined' here.