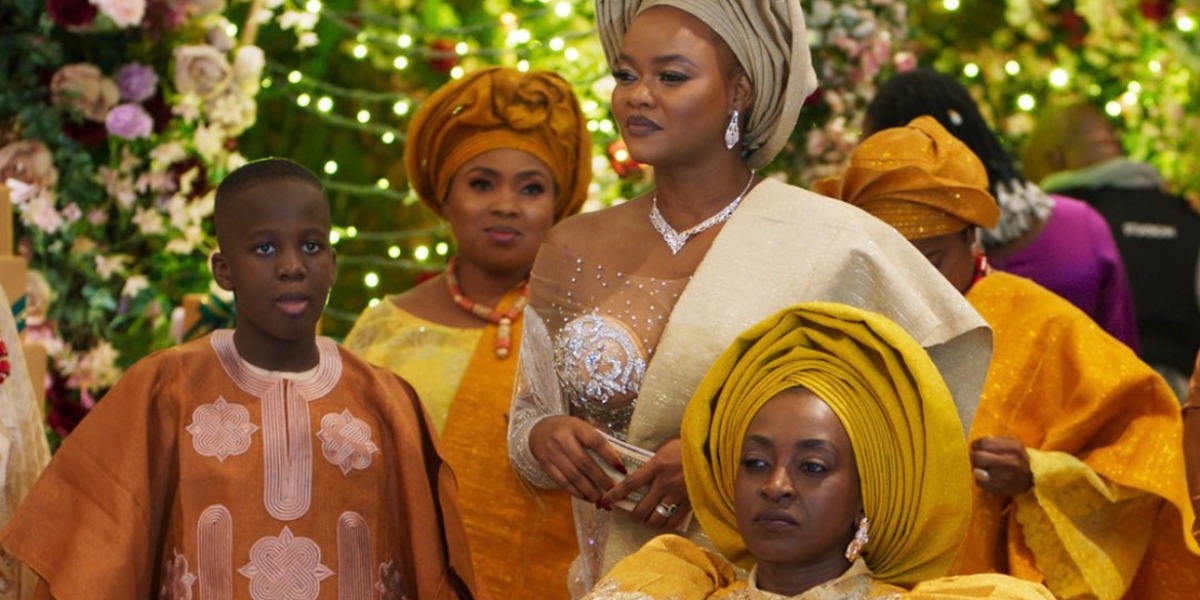 All You Need To Know About the dysfunctional Ademola family in Netflix's 'Blood Sisters'
Now streaming
Netflix's new series 'Blood Sisters' is finally here, becoming the first Netflix Naija original to hit the streamer since its foray into African entertainment. Set to follow two best friends, Sarah and Kemi as they deal with the fallout of the disappearance of Sarah's wealthy fiancé, Kola Ademola, on her wedding day. The Netflix show focuses on the bond between the two women, while also dealing with heavier topics such as abuse, addiction and toxic families.
The series is an exciting development in the recent string of deals between the Nigerian film industry and international markets. While the limited series only began streaming officially today in Nigeria, we were able to secure some exclusives with the series leading family: the dysfunctional Ademola's.
In Sarah's world, Kola makes all the decisions. What happens when she finally stands up for herself? #BloodSisters is now streaming 🩸 pic.twitter.com/GUAs47DTfb

— Netflix Nigeria (@NetflixNaija) May 5, 2022
In 'Blood Sisters,' the family is the focal point of the series, epitomising the dysfunction that occurs, particularly through the three siblings who live under the watchful eye of their mother. Deyemi Okanlawon plays Kola Ademola, the family's golden boy. Far above Sarah's social status, Kola represents everything that the Ademola family would like to represent to the outside world. To the public he is an intelligent, hardworking and well mannered young man who leads his family's business with grace. However, like the rest of his family however, not all is as it appears with him.
Gabriel Afolayan plays Femi Ademola, the oldest child with a chip on his shoulder. More than anything, his character wants to take control of the family business from his brother and finally be the celebrated one, something that he sees as his birthright. Scheming with his wife to upstage his brother, Femi represents the resentment and division that can develop in families where success and image is prioritised over all else. 
Genoveva Umeh plays Timeyin Ademola, the youngest sibling and only daughter. She is an addict who at first appears brash, announcing that she was in rehab to a dinner party as if daring anyone to judge her for it. Timeyin is more vulnerable than she first appears however, as the show follows her struggles with addiction as she tries to prove herself in a family that sees her as permanently defective.
In this exclusive interview, we speak to the three actors that make up the core of this dysfunctional family. They tell us more about the value they place on playing such complex characters, what drew them to the project and what audiences can expect from the show.
Our conversation which follows below has been lightly edited for clarity.
What made you sign onto this project?
Deyemi: It was the money. We can be honest! They said 'you people, we're paying you this amount of money'. And we said 'anything that you want us to do!'
Genoveva: It was Timeyin for me. Absolutely Timeyin. I read her bio and I was like 'geez I want to play her character.'
Deyemi: You know when they sent me the sides and told me to send a video, my wife was reading for me. We got to this except, and that was the first violent scene. My wife was in shock, we were both in shock. You know in the other excerpts he seemed like a regular guy. Also, I fell in love with the character, the story, and the fact that I'd been told the actors I was going to work with. And then, it was EbonyLife productions again.
Genoveva: And you can imagine me, I didn't know who I was going to work with. I was just like me, you're giving me this role? Me? And then I walked into the table read and I was just like 'what am I doing here?'
Speaking about your characters, the three of you play quite flawed characters. Would you say there was anything you could relate to in them, whether in spite of their flaws or because of them?
Gabriel: Once you judge a character you can't play them. So for me personally it's because of those flaws that I'd want to play a role. You have to be vulnerable to the process. So it's nothing so big that one can't handle once you understand the arc of things.
Genoveva: Timeyin was extremely flawed, she's an addict. But I think I played her in a way that you're not looking at her flaws. As someone that's been failed by her family. She wants support and she wants to be believed in right? But she doesn't get that support in her motivation to change. She wants to quit drugs but she doesn't get that support from her family. I'm an extremely flawed human being and I love playing characters. And I will defend Timeyin because regardless of what she does, it's the reasons she does the things she does that is important.
Deyemi: The problem is I don't understand this whole 'flawed, flawed' thing, because I'm perfect. I'm sure if you sit down and you wake Kola Ademola up in the morning he'll say 'I'm perfect' too. So you know a perfect guy playing a perfect role. But Kola is a deeply, deeply flawed individual and it's always exciting to  embark on a journey towards finding a character, for me that's the height, that's the juice, that's it. Forget the film, forget the money, forget everything else but that journey into finding a character, getting to a point where you actually empathise and you can say 'I get it. I don't agree with it but I get it'. As Gabriel said, you cannot play a character that you judge. So until you empathise, that's when you find out how to be the character. For me that was the process.
View this post on Instagram
What do you think will surprise people the most when they see the show?
Deyemi: Just how beautiful everybody looks.
Genoveva: How thrilling it is, it's binge worthy. You start episode one and you are going to sit there until episode four..
Gabriel: The fact that there's no missing link in the characters.
Genoveva: And these characters are so different, which is nice because then you're following peoples stories and peoples lives. And you can see relatable characters.
Deyemi: I feel like as you're watching, you'll see somebody you know. I think people will totally love it.
Gabriel: It's quite an ensemble, everything just came together.
Without giving any spoilers, what would you say your favourite character moment was?
Gabriel: Hmm.. Blue Film loading. 
Genoveva: I'm screaming. Do you care to elaborate on that?
Deyemi: I think Gabriel should have paid to play this role, because we did all the work. He had all the fun. 
Gabriel: You know when you work all the years and one job comes where you can just flex?
Genoveva: I had so many great moments. I don't think I had just one moment where I thought, 'this is amazing'. Perhaps her entrance? Timeyin's entrance is like, this is who i am, love me or hate me. I think the finale as well. Look out for that!
View this post on Instagram
Deyemi: So for Kola, because of the level of aggression I was gunna bring, I was in the gym for three months. More intense than I'd usually go. I was doing weightlifting then I was doing boxing. And then you see there's a fight scene in the series, so I wanted to build a specific fighting style. So between what the choreographer had and what I'd done over the past months to get ready. 
Gabriel: That was one of my favourite scenes too.
Genoveva: It was lit.
What's your best memory from set? Whether on or off screen?
Gabriel: The food. Me, I chop. You don't understand, it was sweet. The costumes, superb. Then the directors, two different flavours. It was so on point that you couldn't even feel the difference. It was just like one person anchoring us into another person's hands.
Genoveva: I think everytime i had a conversation with the directors, anytime I had to rehearse, it was just vibes. And I live for this so it was just nice to just have the freedom to do what you want. And the production value of EbonyLife is huge. And Netflix made sure that everything we had on the script was actually brought to life so there was no reason why we couldn't have fun.
Deyemi: I entered a helicopter! 
Gabriel: The production value was top notch. He looked perfect with it.
You can watch 'Blood Sisters' here.
Featured image credits/NetflixNaija